Year 6
Our recent activities in Year 6
Below is a snapshot of what Year 6 have being doing in school. Click on Year 6 photos to see more photos and details.
R.E.
Year Six took a break from their Book Week celebrations to visit Birmingham Central Mosque as part of their RE topic on Islam. The children were incredibly well-behaved and respectful as they had a guided tour of the mosque and saw many of the features they'd been learning about in school. Thank you to our guide, Nazeem, who made use feel so welcomed as she shared her extensive knowledge with the pupils.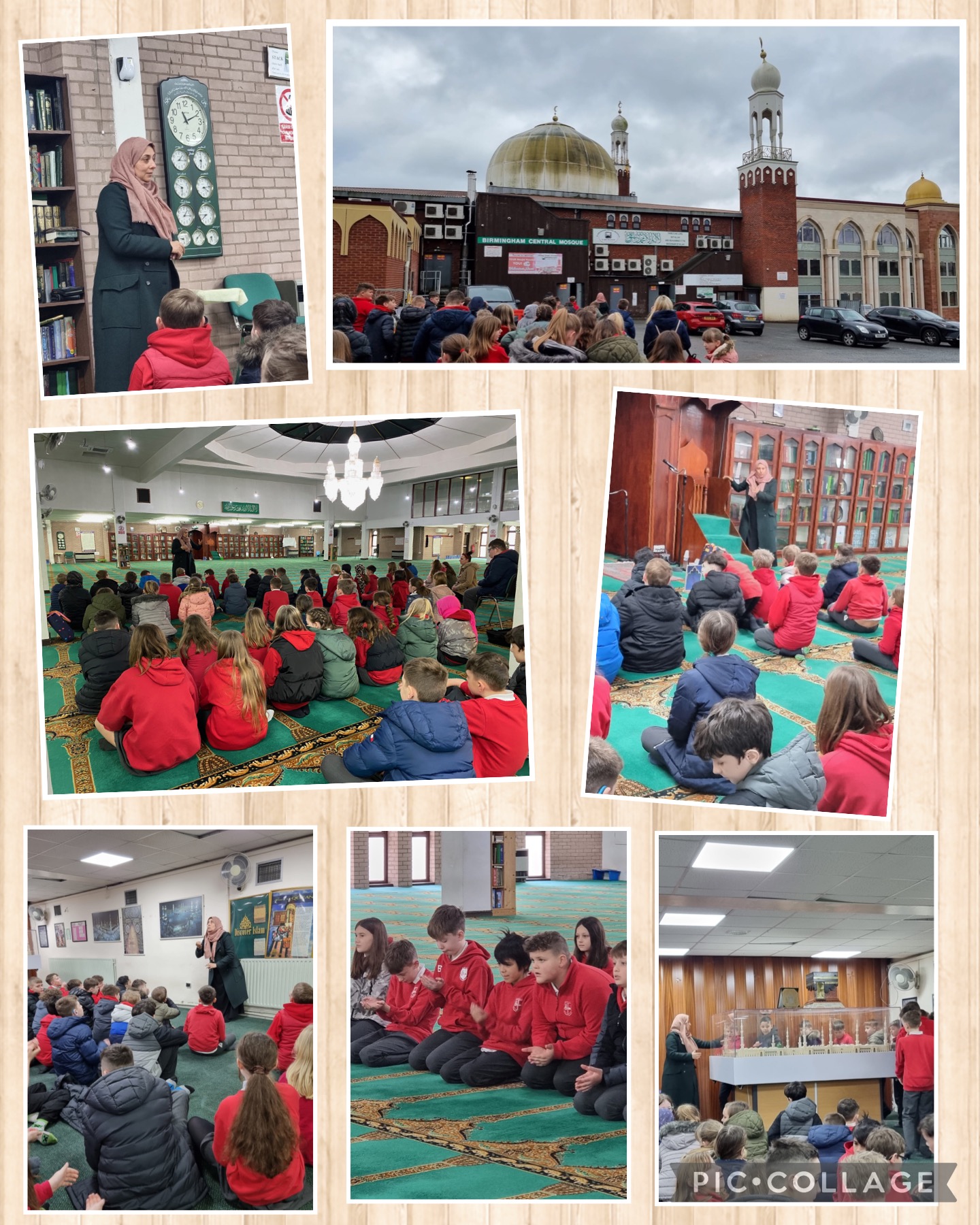 Art and DT
Year Six are loving their Art lessons this term, using clay to sculpt the figureheads to go on the top of canopic jars! They've learned all about the symbolism of the jars through their Egyptian history lessons and are now recreating one of the four traditional designs to make their own (without the traditional internal organs!). They've used a range of tools to carve and add shapes, textures and patterns and they're now looking forward to the next step of painting to add extra details.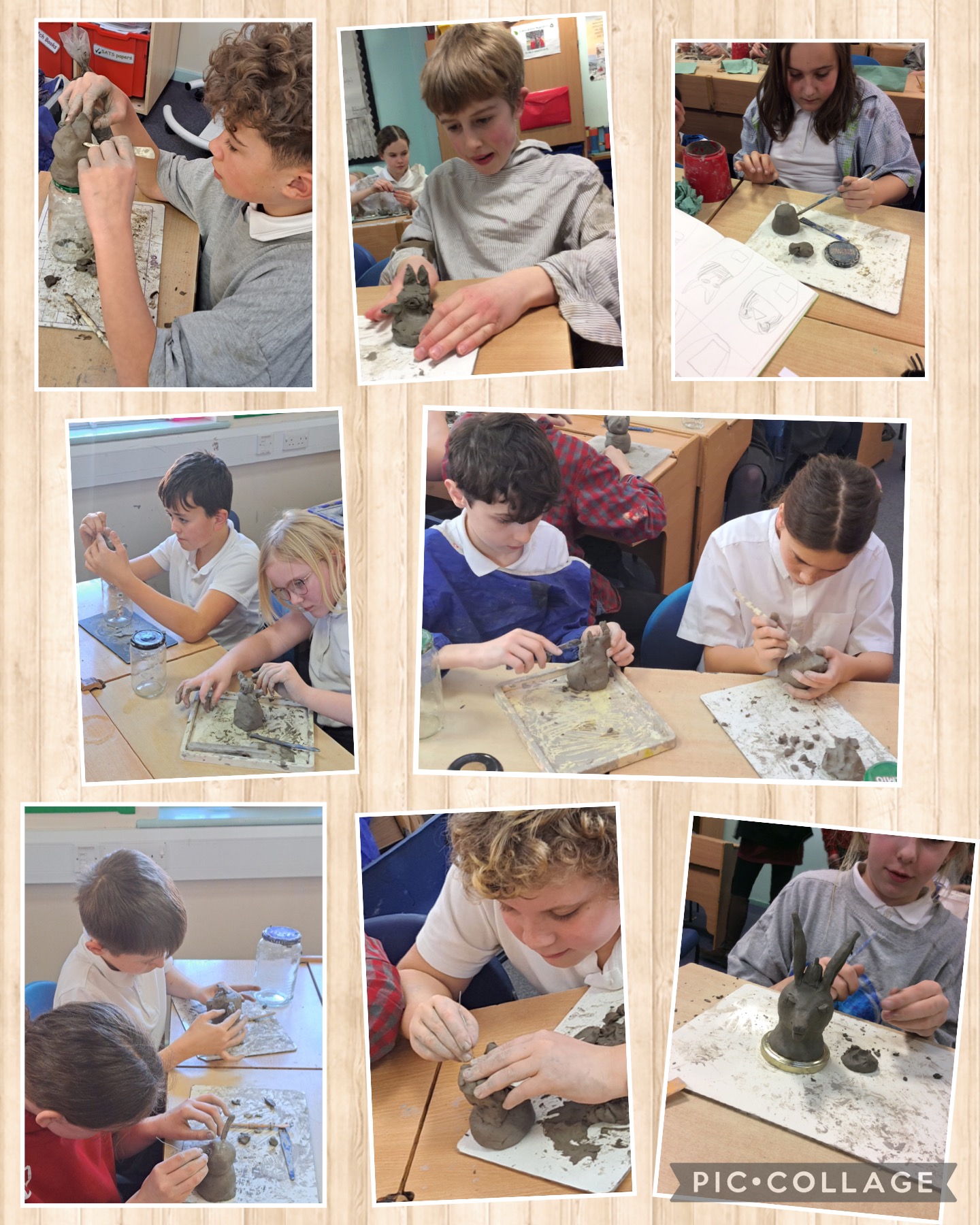 Gymnastics
Year Six have been looking at different partner and group balances in their gymnastics sessions this half term. They have been exploring safe and effective ways to support each other, and having lots of fun along the way!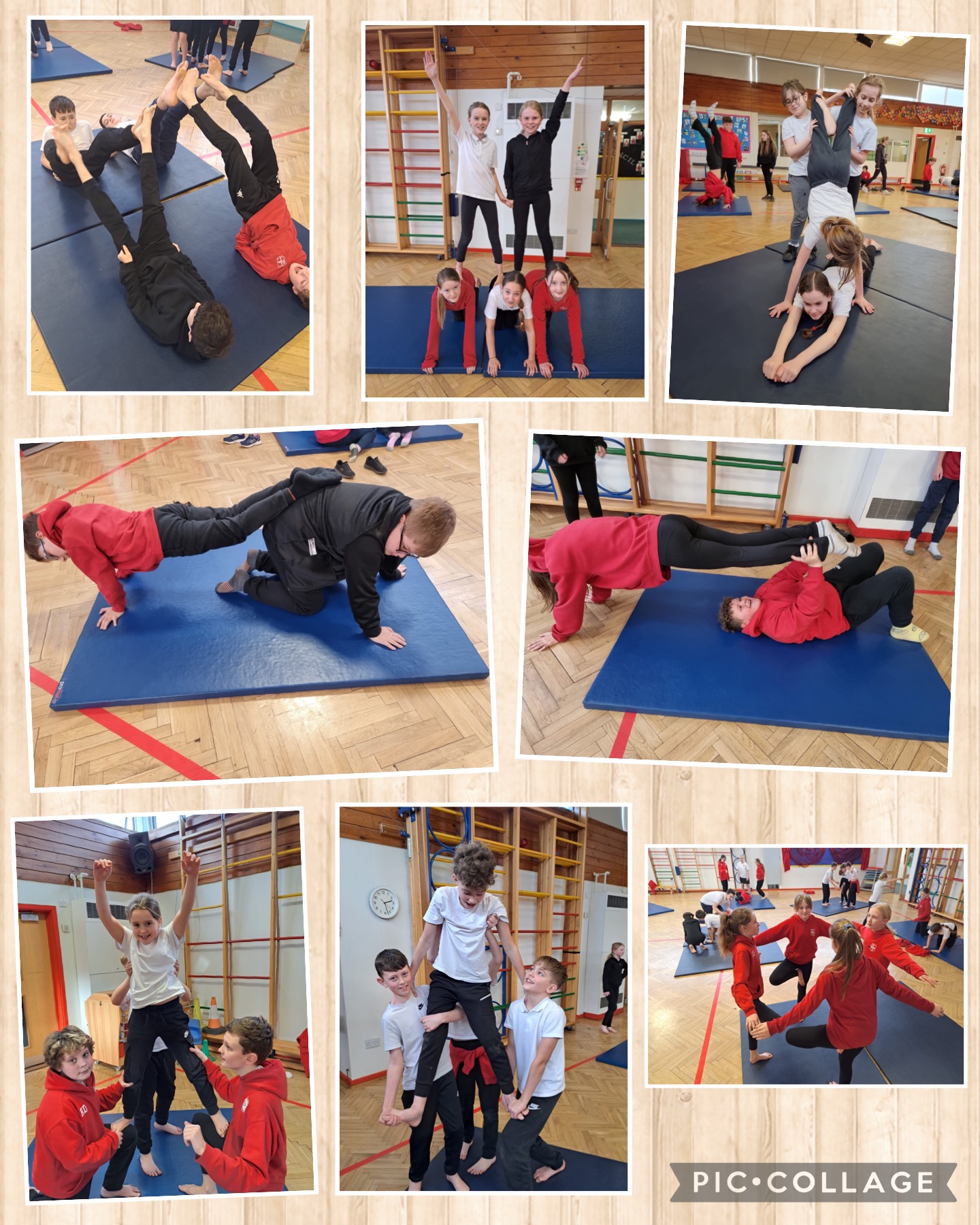 History
As part of their Time Traveller topic, Year Six have been learning all about the last pharaoh of Egypt, Cleopatra VII. After learning all about her incredible life, they then had to share their knowledge in a format of their choice - which created a brilliant range of projects. They created podcasts, stop-motion animation, role-plays, stories, PowerPoints, posters, flip books, cartoon strips, news reports and Scratch projects!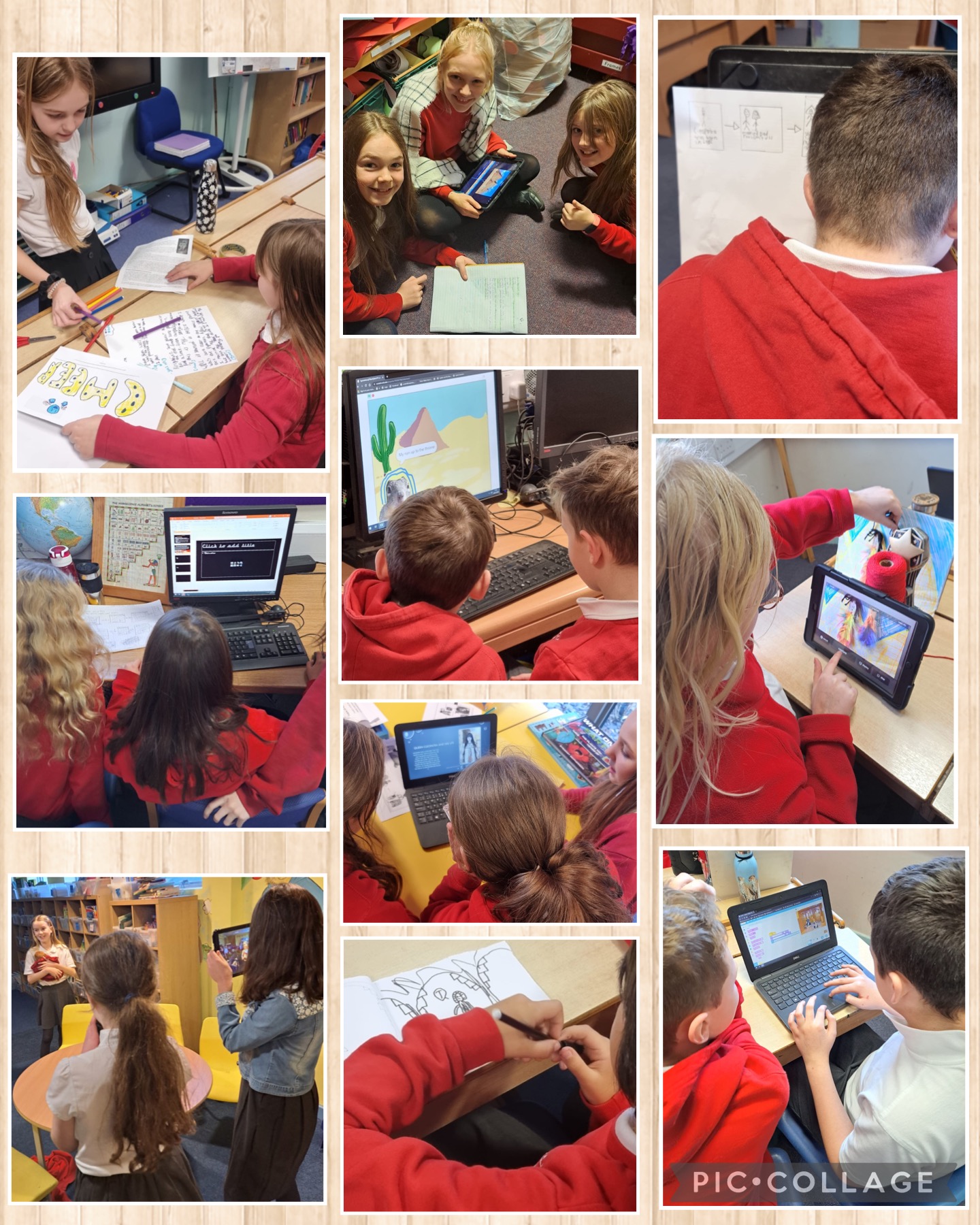 Literacy and History
As part of their Literacy and History work, Year 6 travelled back in time and across continents to Egypt in 1922 as they discovered the long-lost tomb of Tutankhamun! They channelled their inner Howard Carter and uncovered treasures throughout the tomb. They then used their oracy skills to describe their discoveries to the other archaeologists to build up a picture of what was hidden inside!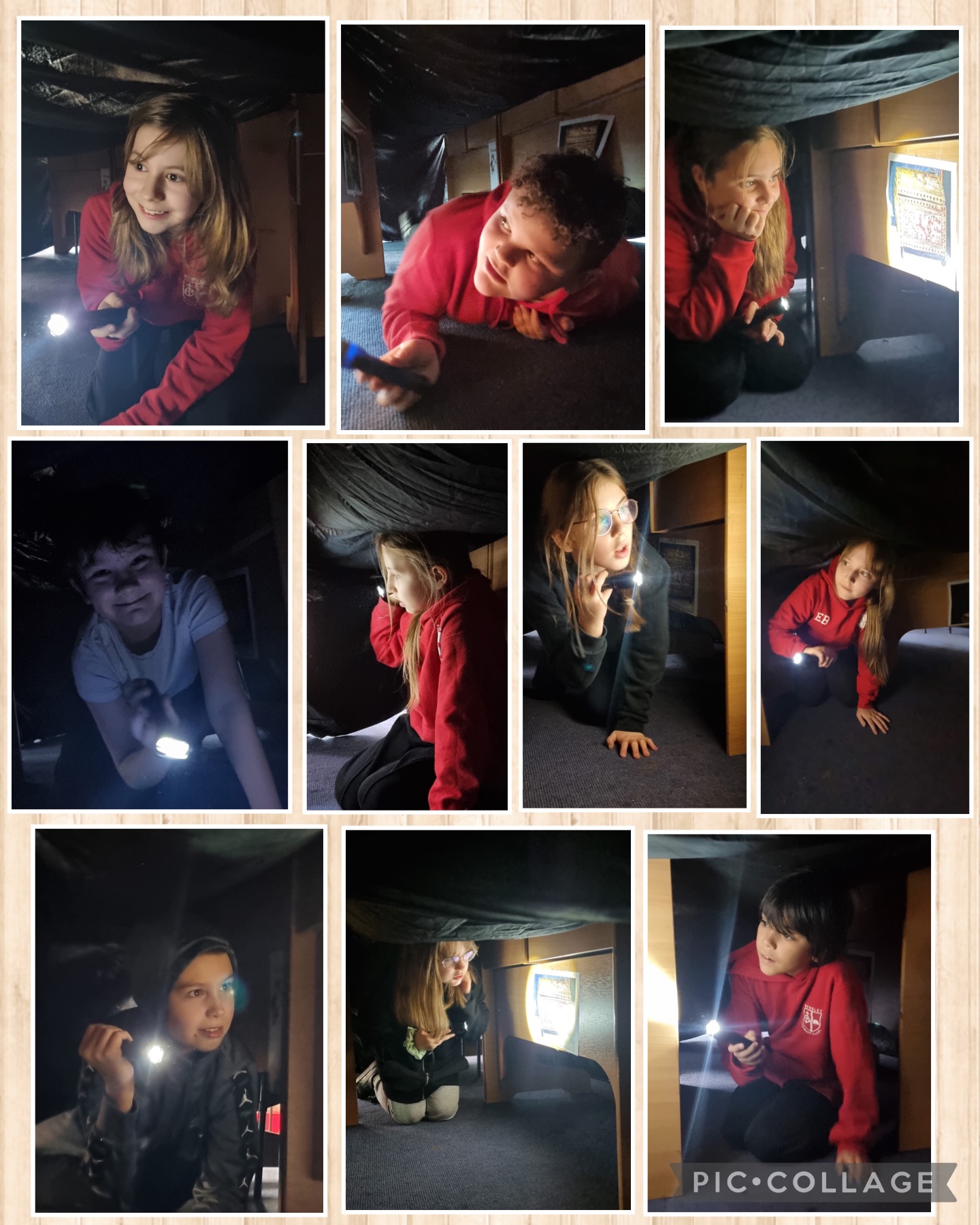 D.T.
As part of their Survivor topic, Year 6 were set the task of creating tasty snack bars that would be suitable for explorers to take with them on their Antarctic adventures, to keep their energy levels high!
The children were given a basic recipe, a budget and a price list to help them to create their sensational snacks! They then designed their new, improved recipe as well as its packaging and a marketing campaign.
After making their treats, a special guest judge arrived to do a blind taste test to decide which group had created the tastiest bar. Congratulations to the creators of 'Razzle Dazzle Raspberry' in Blackman and 'Biscoffi Bar' in Carroll who were declared Star Bakers!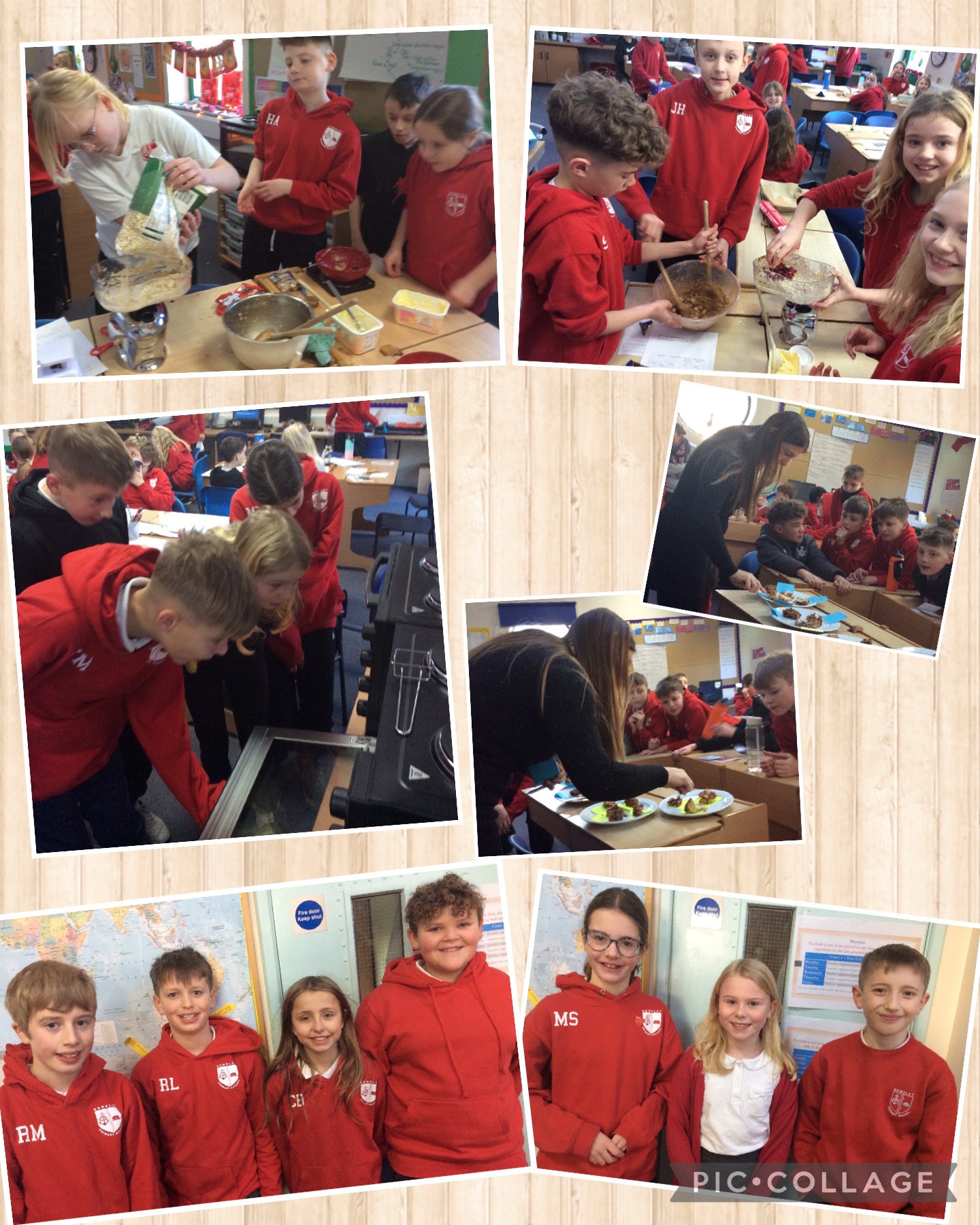 Science
Year Six have been channelling their inner-bird recently, as they took part in the Bird Beak Buffet! They've been learning all about evolution, adaptation and the story of Darwin's Galapagos finches. They were each given a 'beak' to investigate which of the birds would be most successful and which would, unfortunately, be the victims of natural selection! They discovered that the tools with a curve or a pincer movement made the best beaks as they allowed the birds to scoop up most of the foods available.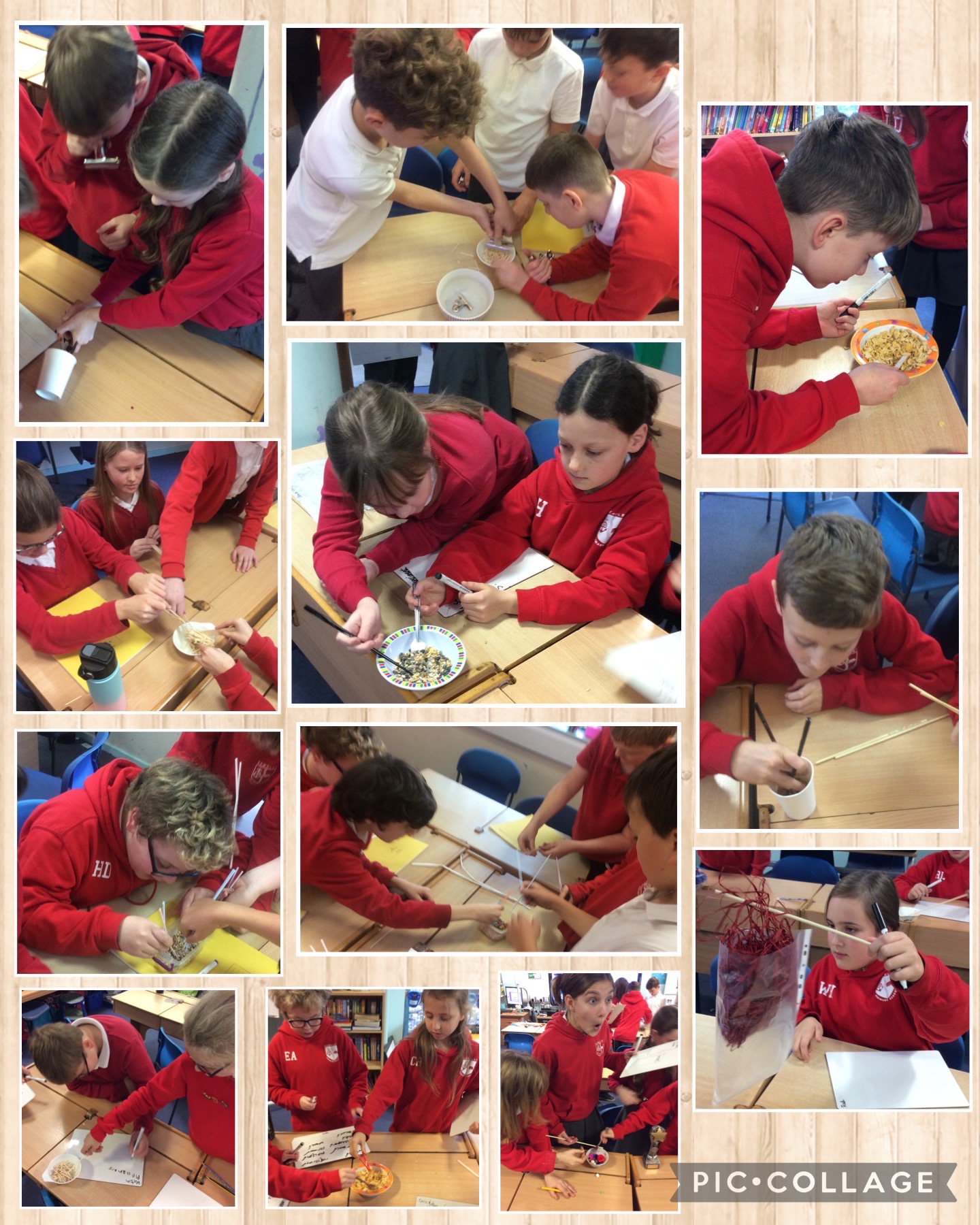 History and Computing
Year Six had quite the adventure yesterday when they visited Bletchley Park, the top-secret home of the Second World War codebreakers, as the grand finale in their iSpy topic. They enjoyed a whistlestop tour of the estate, including a recreation of Alan Turing's office, a replica of the Turing-Welchman Bombe machine and a look inside the huts where the magic happened.
The highlight of the day, though, was seeing an original Enigma machine in action, understanding just how incredible the encryptions were and marvelling at the 158,962,555,217,826,360,000 different possible codes it created!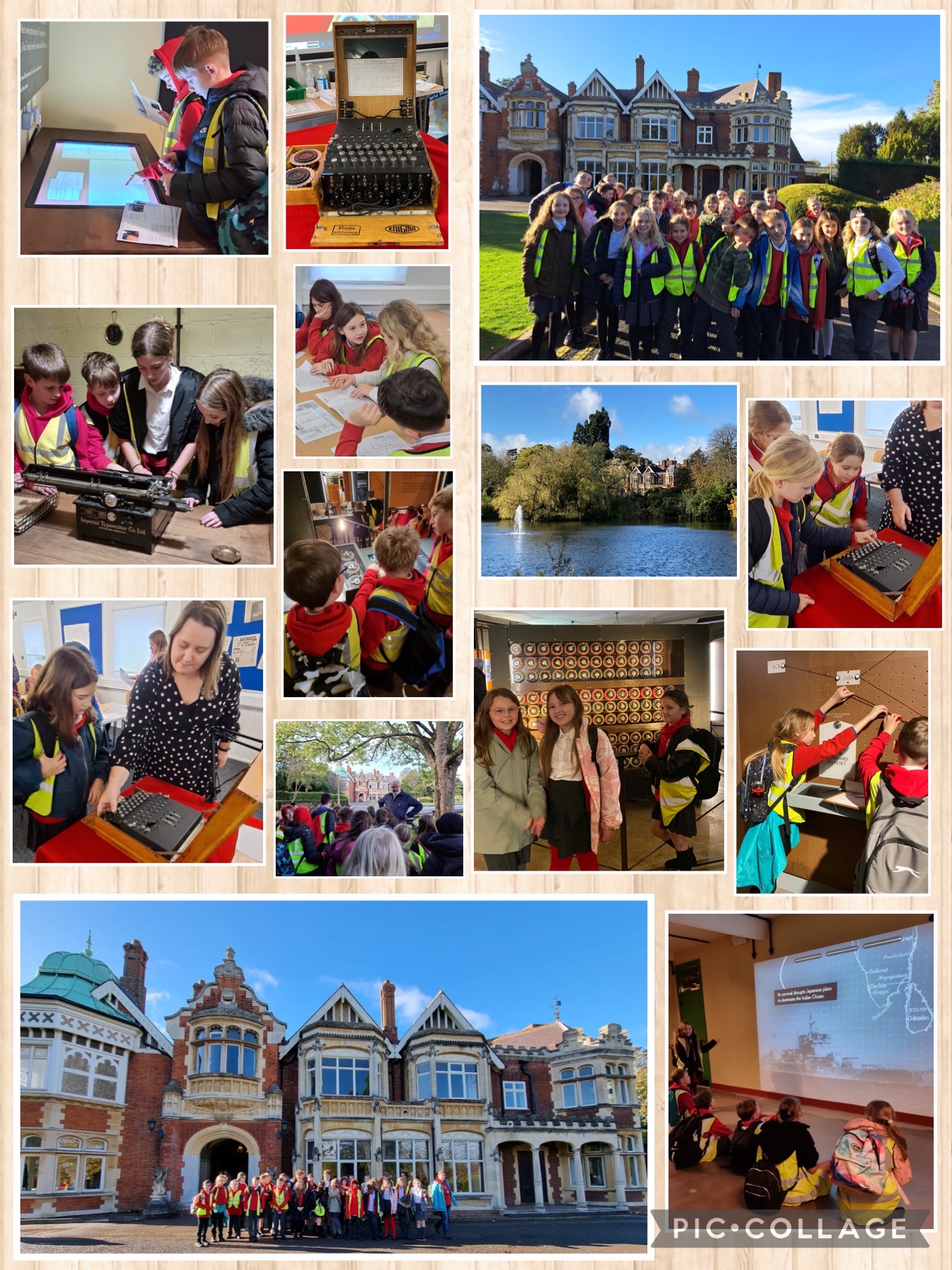 Hockey Tournament
Congratulations to the Year 6 Hawkbatch team which won the Year 6 inter-house hockey tournament this week. There was some great sportsmanship on show and some nail-biting finishes which led to Blackstone coming second and Wyre and Severn tying for third place!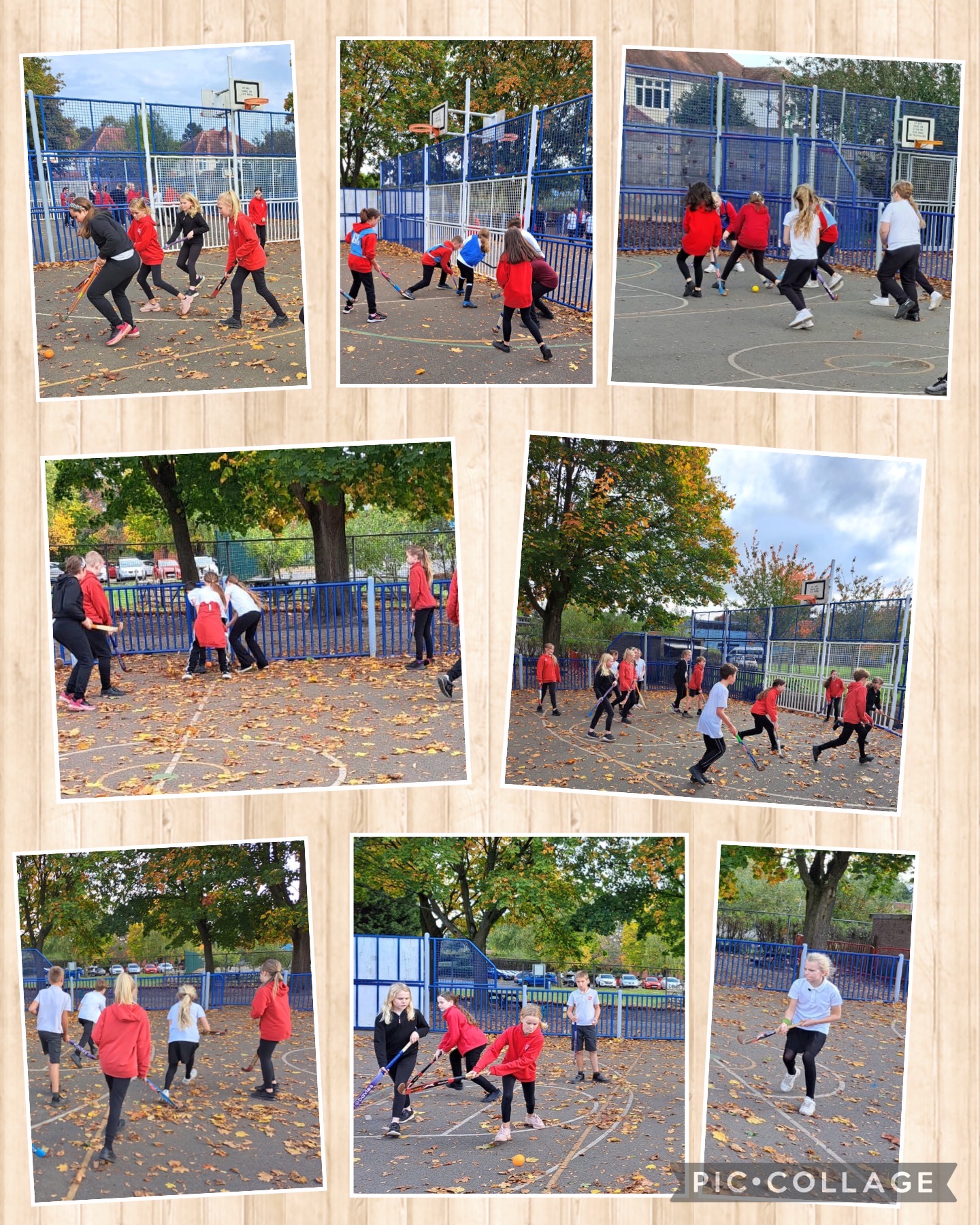 History
Year 6 would like to say a huge thank you to the members of the Bishop family who took the time to visit school and talk to the children. Year Six have been learning all about their ancestor, Jack Bishop, and his adventures during the First World War. The family brought in some of Jack's own possessions for the children to look at as well as some incredible family photos. They then spent time with the pupils looking at their scrapbooks and telling them more about 'Uncle Jack'. It really brought the topic to life and we are so pleased that Jack's story lives on, over 100 years later.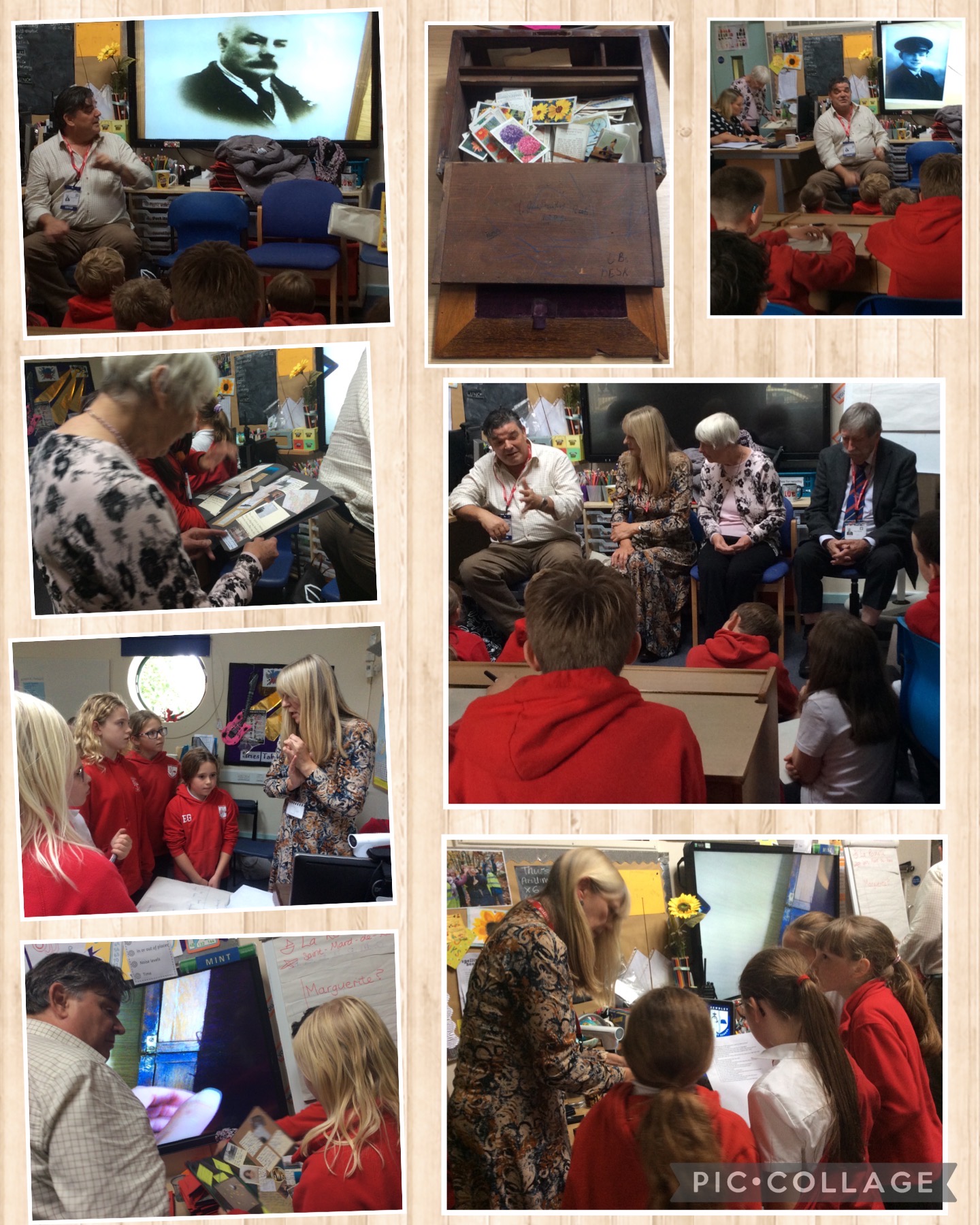 Science
Year 6 have been problem solving in science this week, creating circuits using a range of components. They then chose enquiry questions to discover what happens when the length of the wires are changed, when more batteries are added or when more bulbs or buzzers are connected!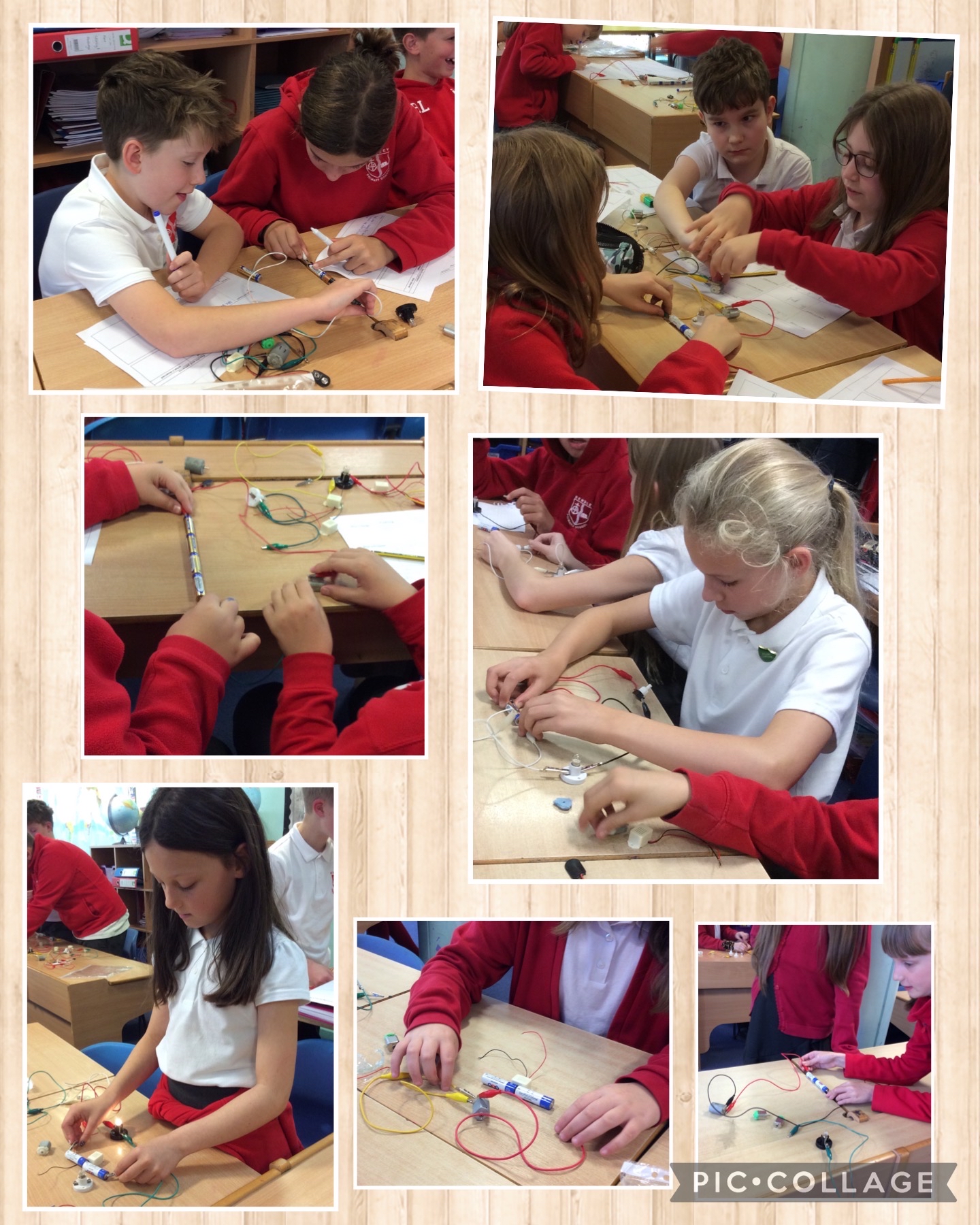 Rugby
Well done to the BPS rugby team who played incredibly well in tricky conditions this morning. They won all four of their matches in the group stages and were well on their way to the final when the tournament was cancelled at midday due to a waterlogged pitch! Throughout the awful weather the children were enthusiastic, positive and worked together as a supportive team.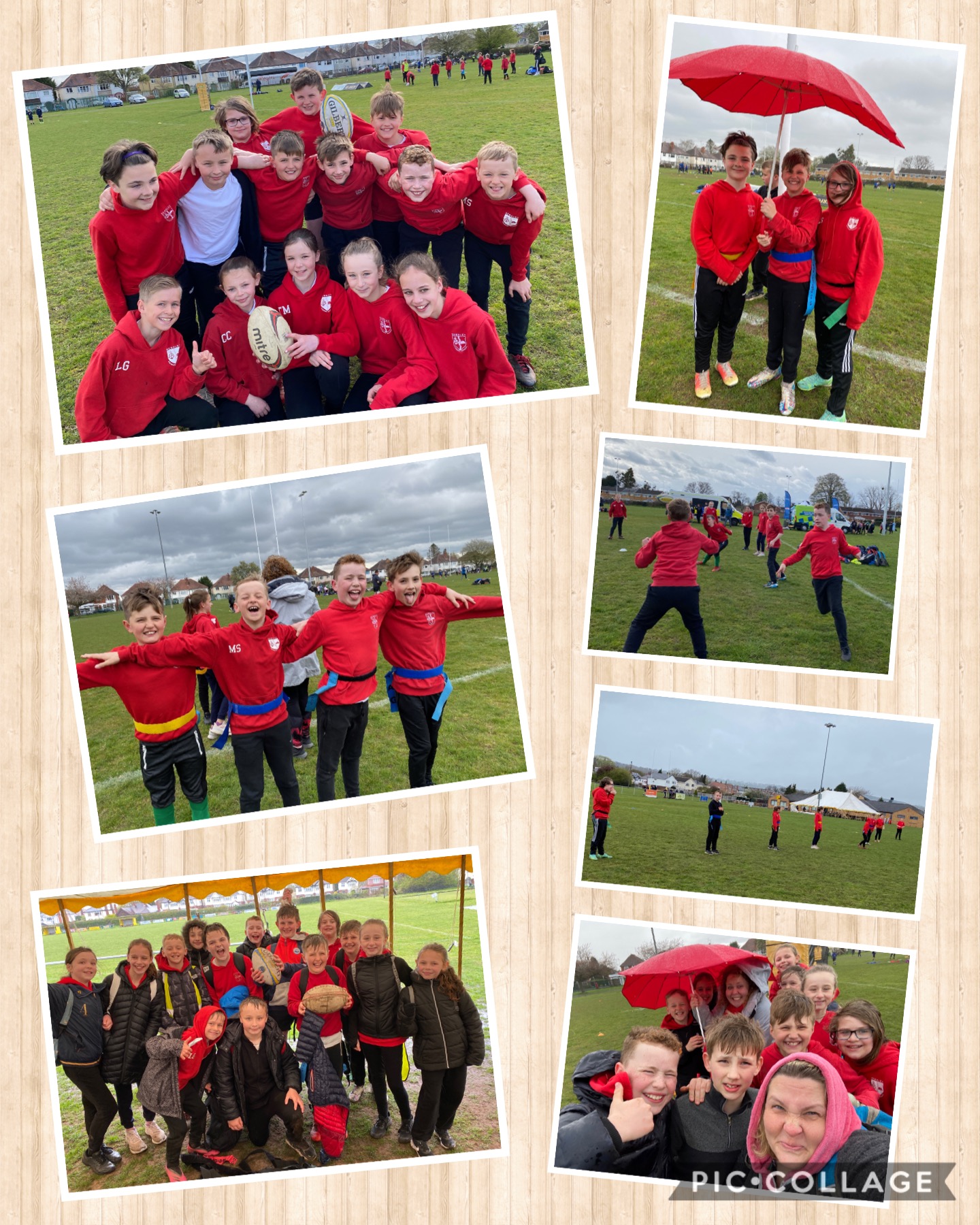 Author Jennifer Killick
Year Six loved their Zoom call with author Jennifer Killick today, who was telling them all about her new book, Dread Wood. Having already read one of her other books, Crater Lake, the children enjoyed hearing more about what inspires her to write and how she became an author. They now can't wait for their signed copies of the new book to arrive so they can find out exactly what happens when detention at Dread Wood High goes wrong!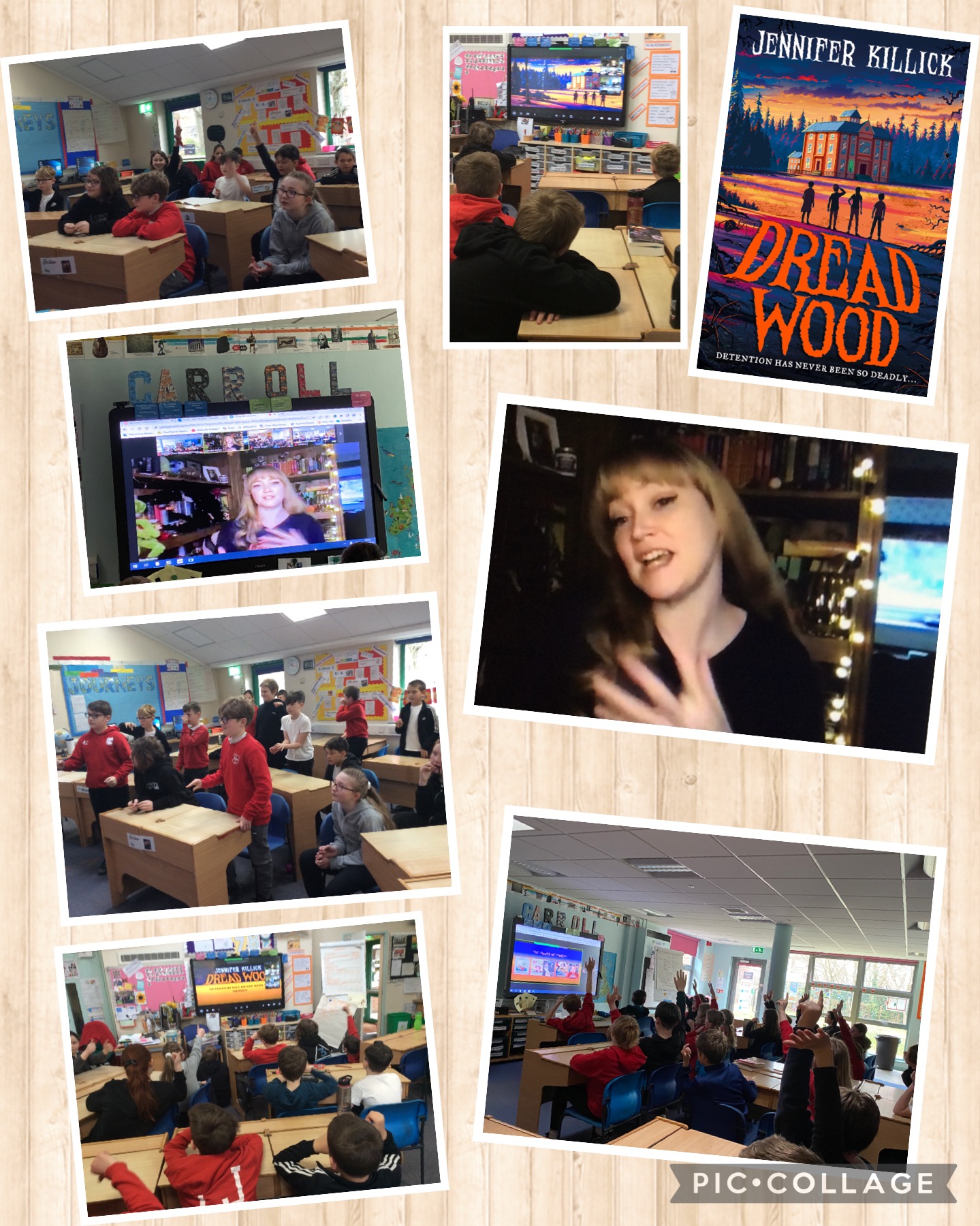 Visit to Birmingham Central Mosque
Year Six thoroughly enjoyed their visit to Birmingham Central Mosque today and were incredibly well-behaved and respectful. The children had a guided tour of the mosque and saw many of the features they'd been learning about in school. Thank you to Nazeen from BCM who made us feel so welcome and answered all of the children's questions about the mosque and the Islamic faith.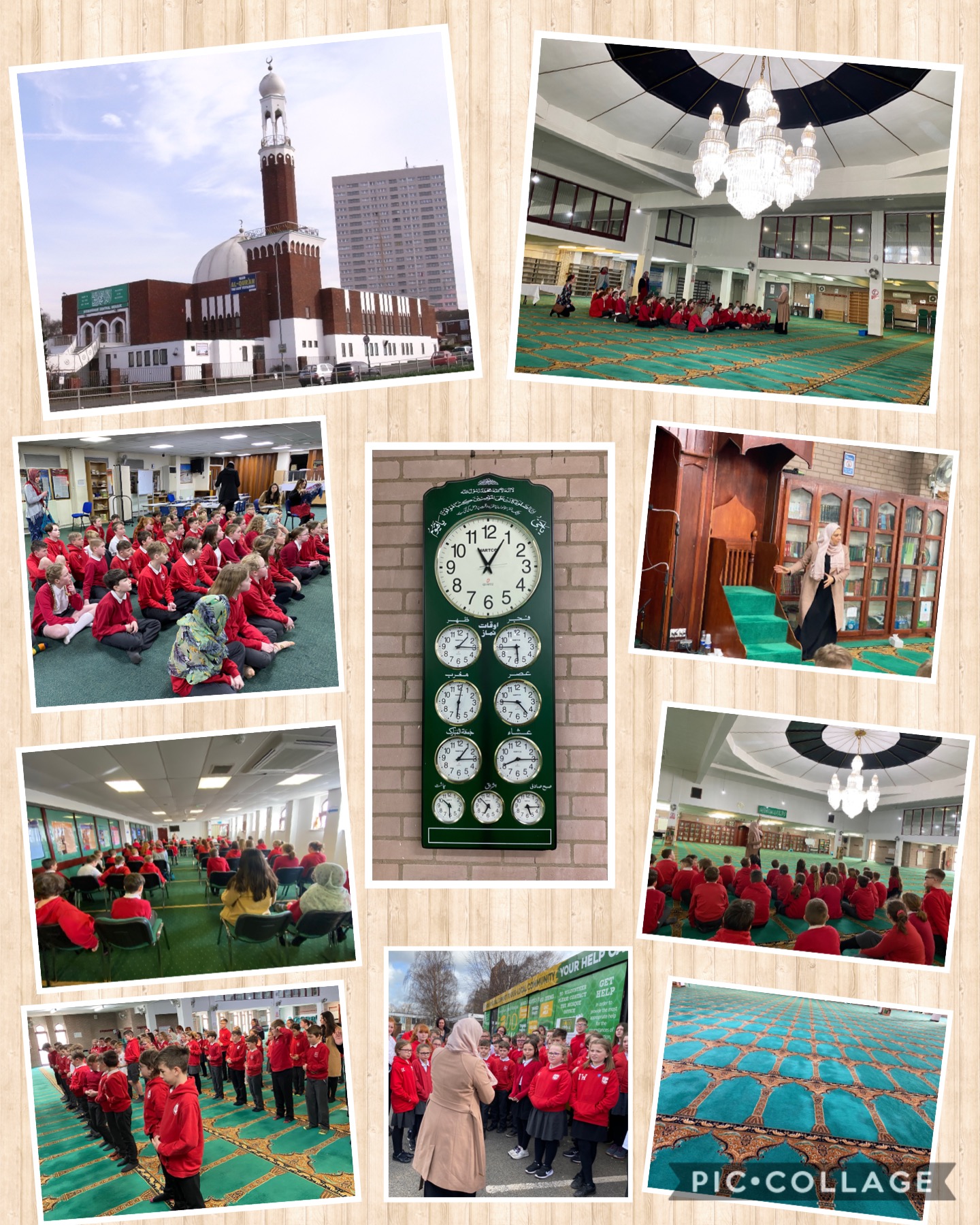 Mummifying Mackerel
Year Six took part in one of their most memorable activities from primary school this week: the infamous mummifying mackerel lesson!
As part of their history work, the children have learned all about the beliefs and rituals of the Ancient Egyptians, including why and how people were mummified.
The children followed instructions to create their own mummified mackerels which are currently resting in their sarcophagus, where they'll remain for the next few months. We can confirm that the smell of fish is no longer lingering in the Year Six classrooms!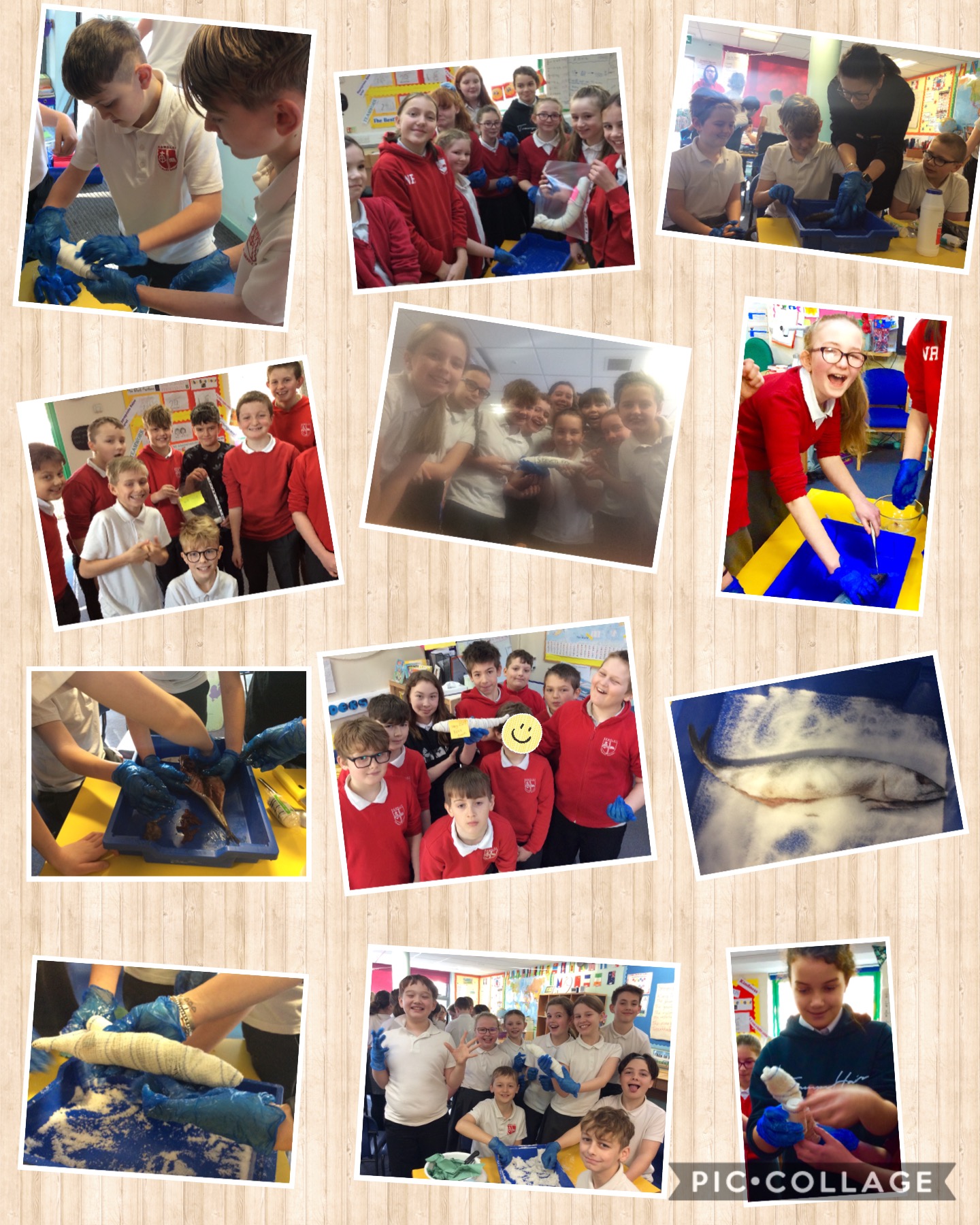 Sports Festival - Year 6 Play Leaders
We were so pleased to be able to hold a mini sports festival last week with children from both Year One and Year Six taking part. Thank you to Mr Lindley from the Wyre Forest Sports Partnership who visited BPS and, with help from our Year Six Play Leaders, led the younger children in a range of multi-skills games and activities.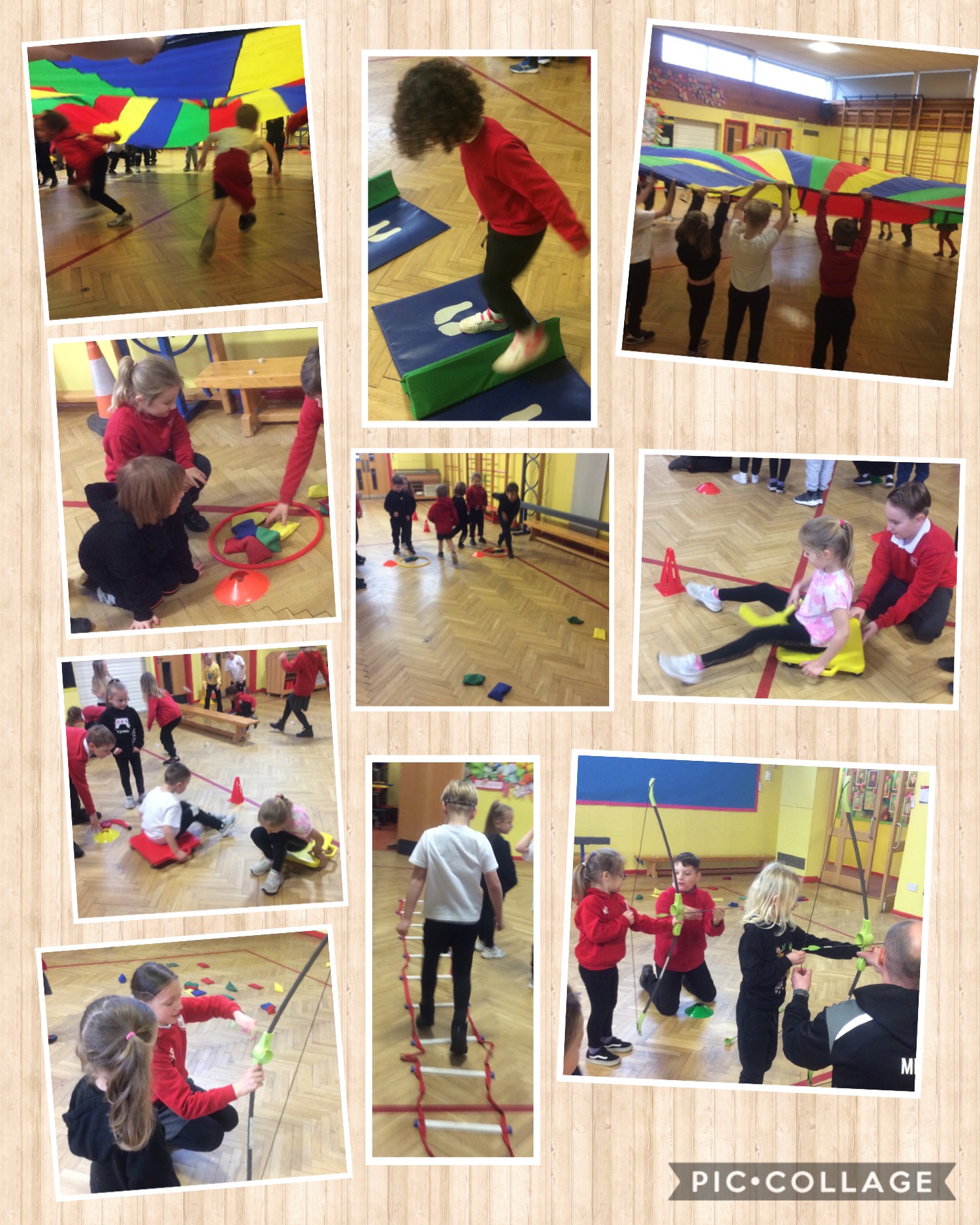 Gymnastics
Year Six have been honing their gymnastics skills this half term, focusing mainly on the vault. They've been working on having a powerful run up, hitting the board to get the best take off and the ideal squat shape on top of the vaulting block!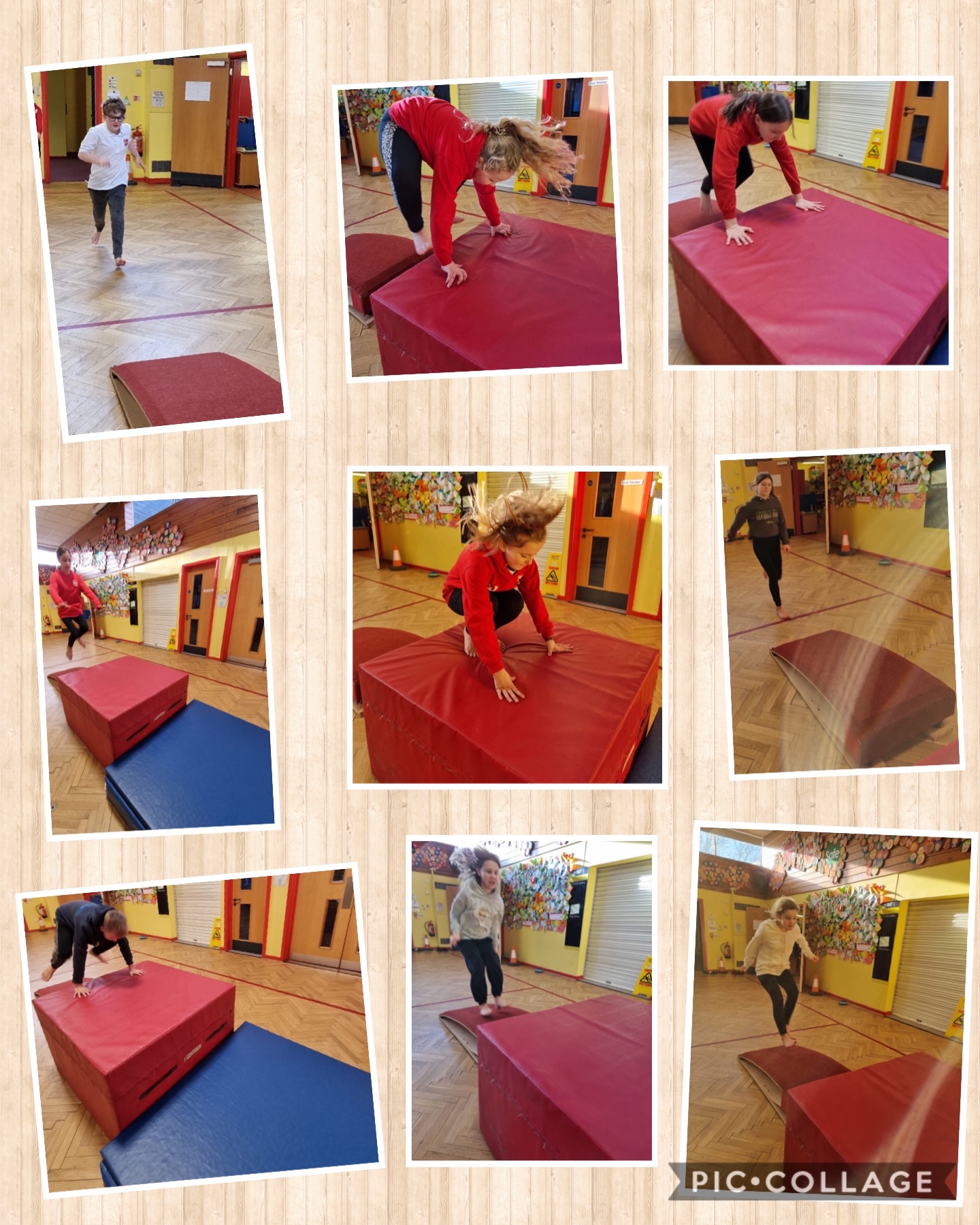 Electricity
Year Six have been enjoying their science lessons this term which have started with learning more about electricity. They've been looking at the different components in a circuit and using symbols to represent the different elements needed. The children enjoyed working scientifically to follow different lines of enquiry linked to making bulbs brighter and buzzers louder and ensuring that they create a fair test.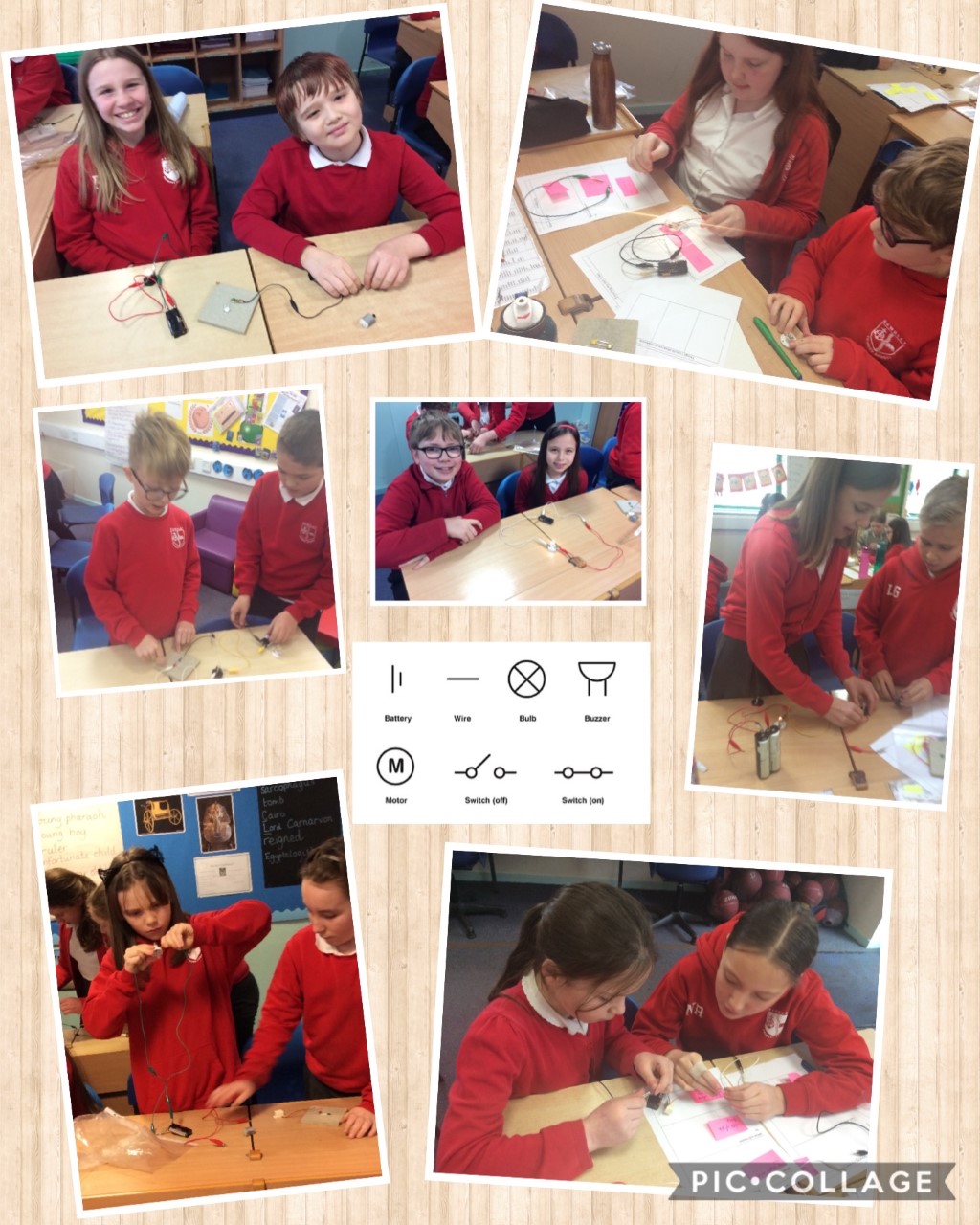 Tutankhamun's Tomb
Despite current travel restrictions, Year 6 travelled back in time this week to early twentieth century Egypt! The children took on the role of archaeologist and Egyptologist Howard Carter as they discovered the treasures that were buried in Tutankhamun's tomb. They worked in teams to gather as much information about the different artefacts to try to discover what they were and what they might have been used for in Ancient Egypt.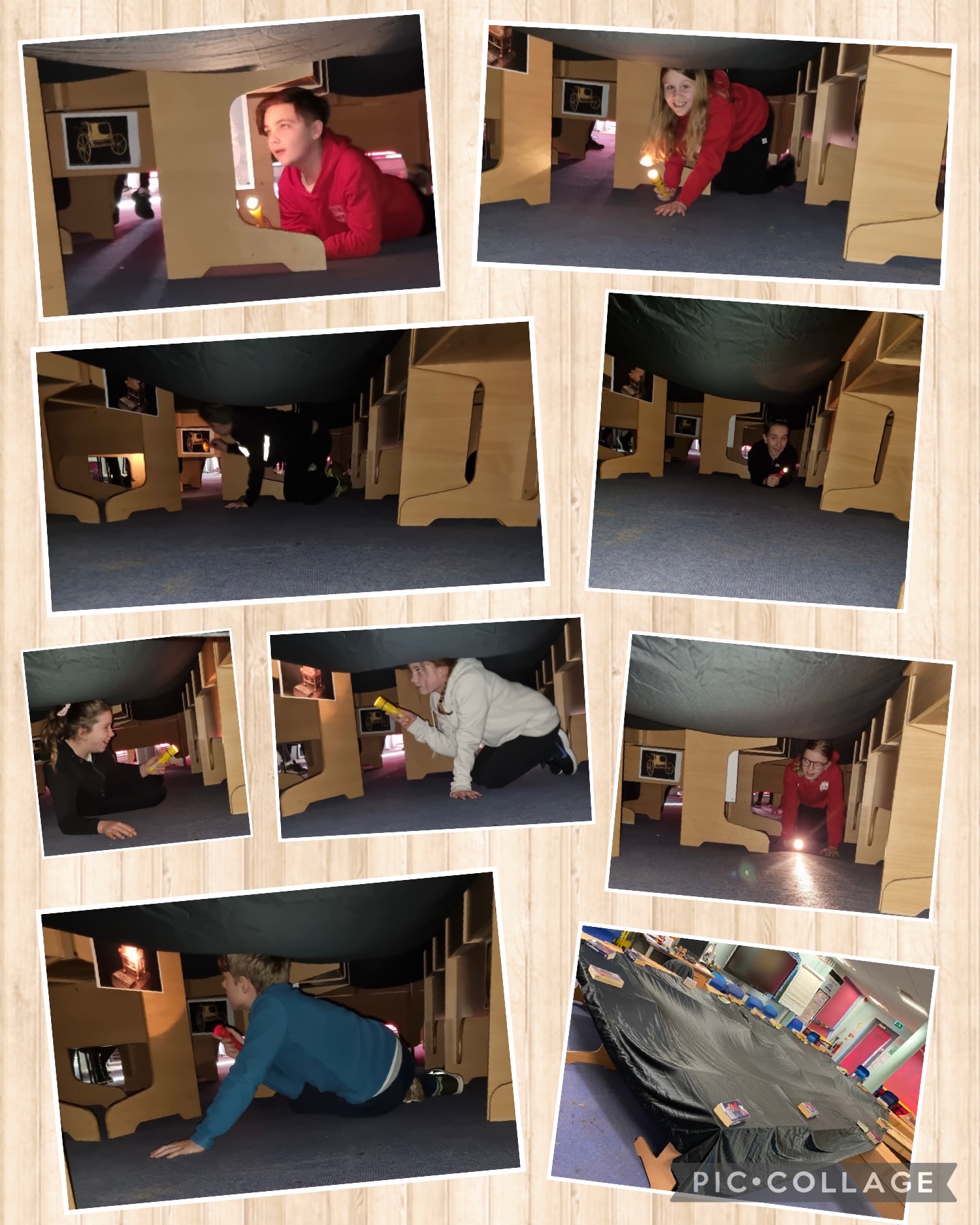 PE
Year Six are fine tuning their tag rugby and rhythmic gymnastic skills this half term as part of their PE curriculum, which has led to a very contrasting afternoon of double PE! In gymnastics today, the children have been incorporating a range of equipment into their routines to produce simple but effective sequences that could be repeated.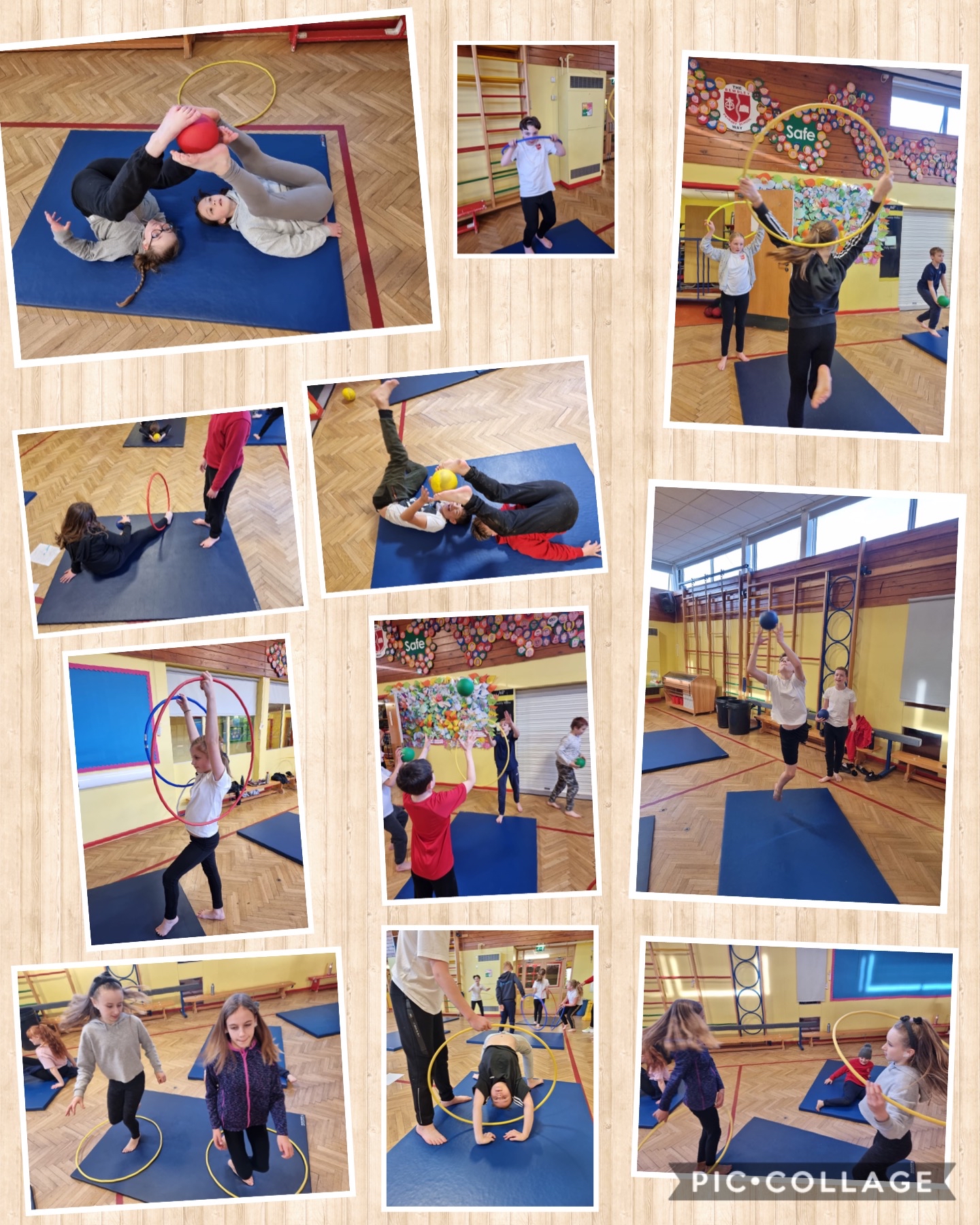 A Keepsake Dictionary
Thank you so much to Bewdley Rotary who have very kindly donated a keepsake dictionary for each of our Year 6 leavers!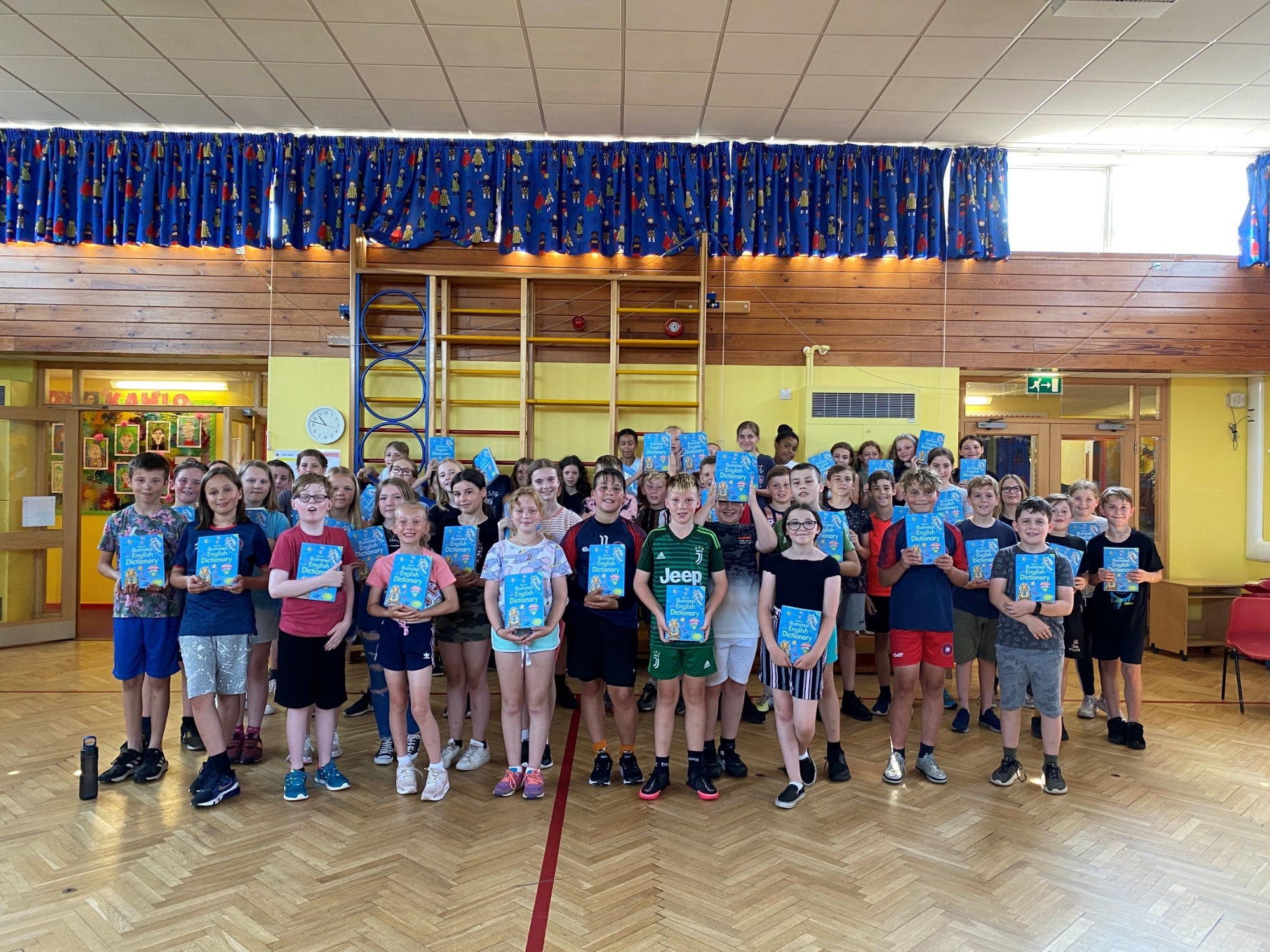 Day 4
The last full day in Devon has once again been action packed, with half of our Year 6's out on the lake, while the others went scrambling and gorge walking!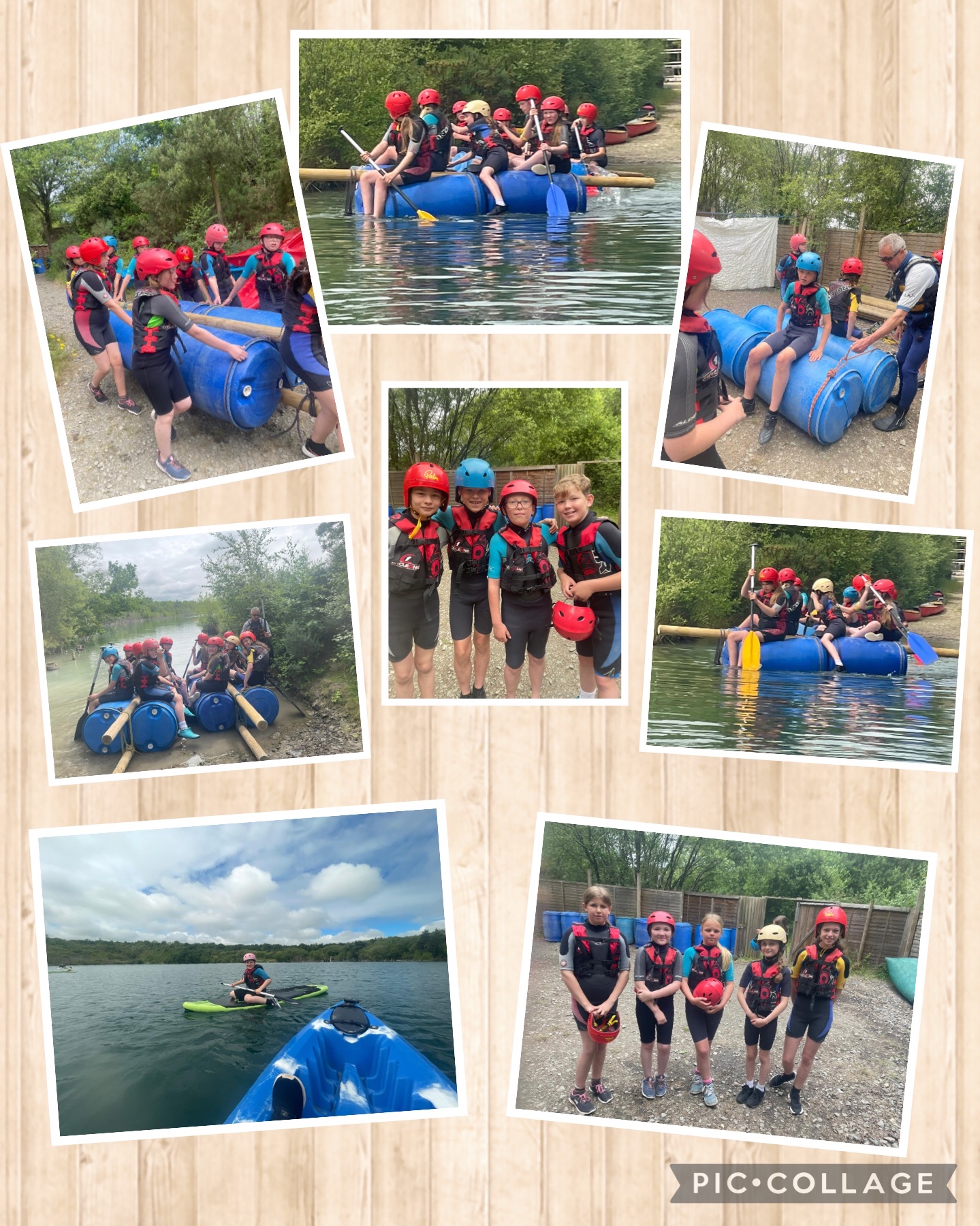 Day 3
Today's adventures in the South West have involved rock scrambling, gorge walking, team building and problem solving! The children have showed amazing resilience and perseverance throughout all of the activities this week and we are so proud of how they're attacking everything that comes their way.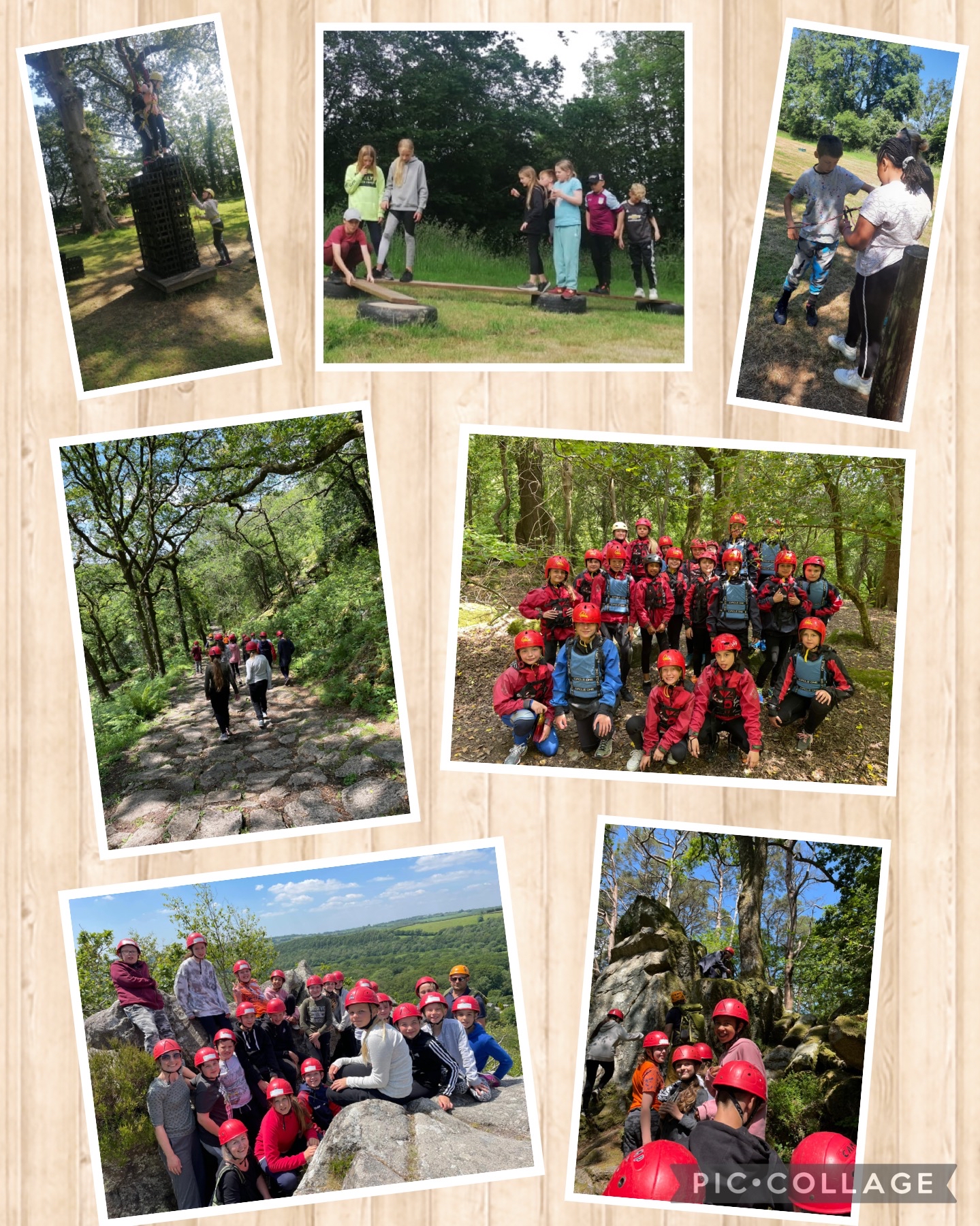 What a fabulous day to be on a Year 6 residential in Devon!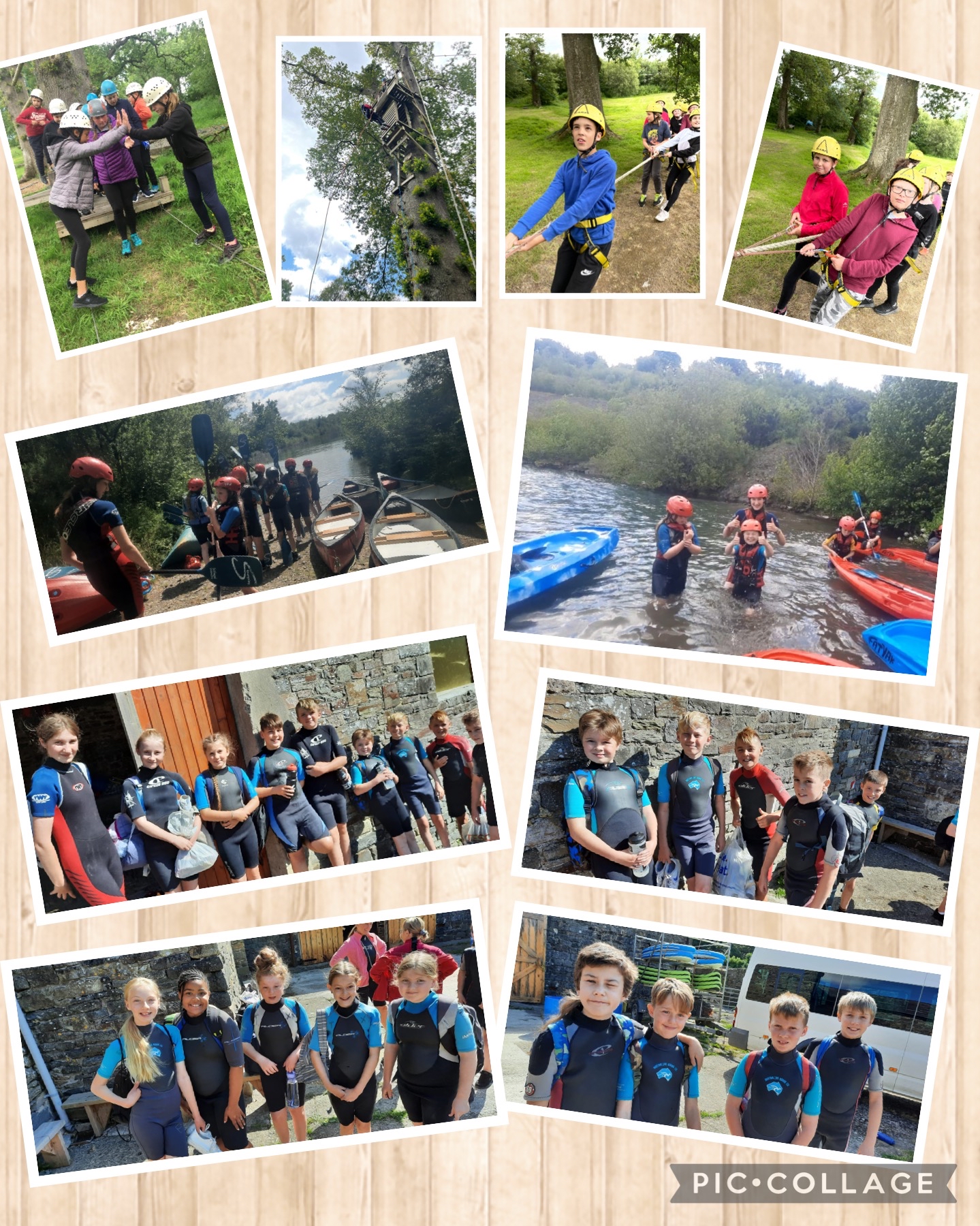 Year 6 Residential
After a long coach journey, a tour of the centre and a hearty evening meal, our Year 6 explorers embarked upon a walk around the local area before heading for bed. It may have been a more leisurely first day, but things are really ramping up today with three of the groups spending the day at the lake whilst the others are abseiling, crate stacking and mastering the low ropes!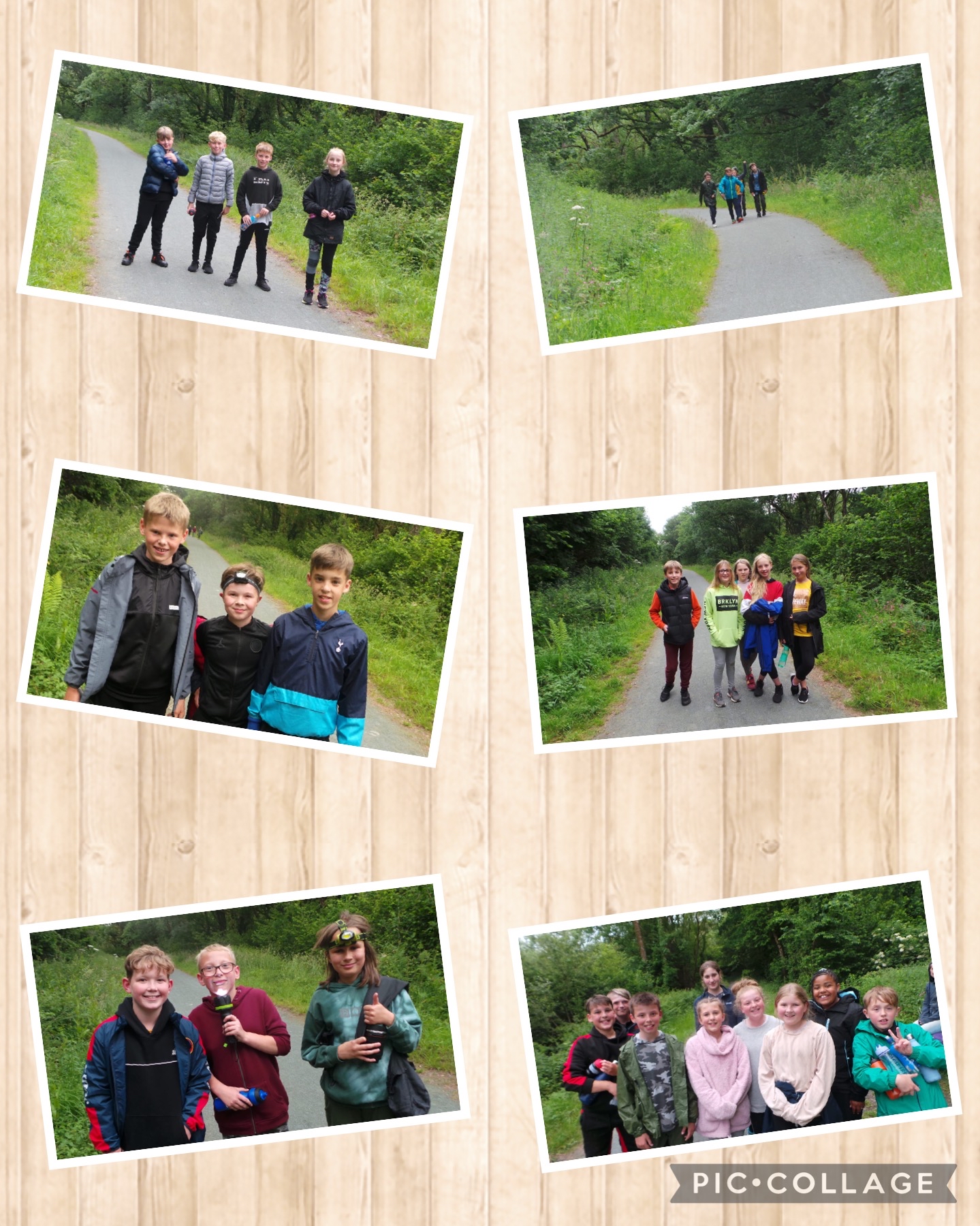 Techtacular Topic
As part of our Techtacular topic, Year Six have been using a wide range of new technology and software. We loved creating our own Stop Motion Animation using iMotion and then editing their movies using iMovie.
If you'd like to see the animations in full, follow the links below which will take you to our YouTube channel! https://youtu.be/TA6JwJwZmSY https://youtu.be/2XzlYTg1PDM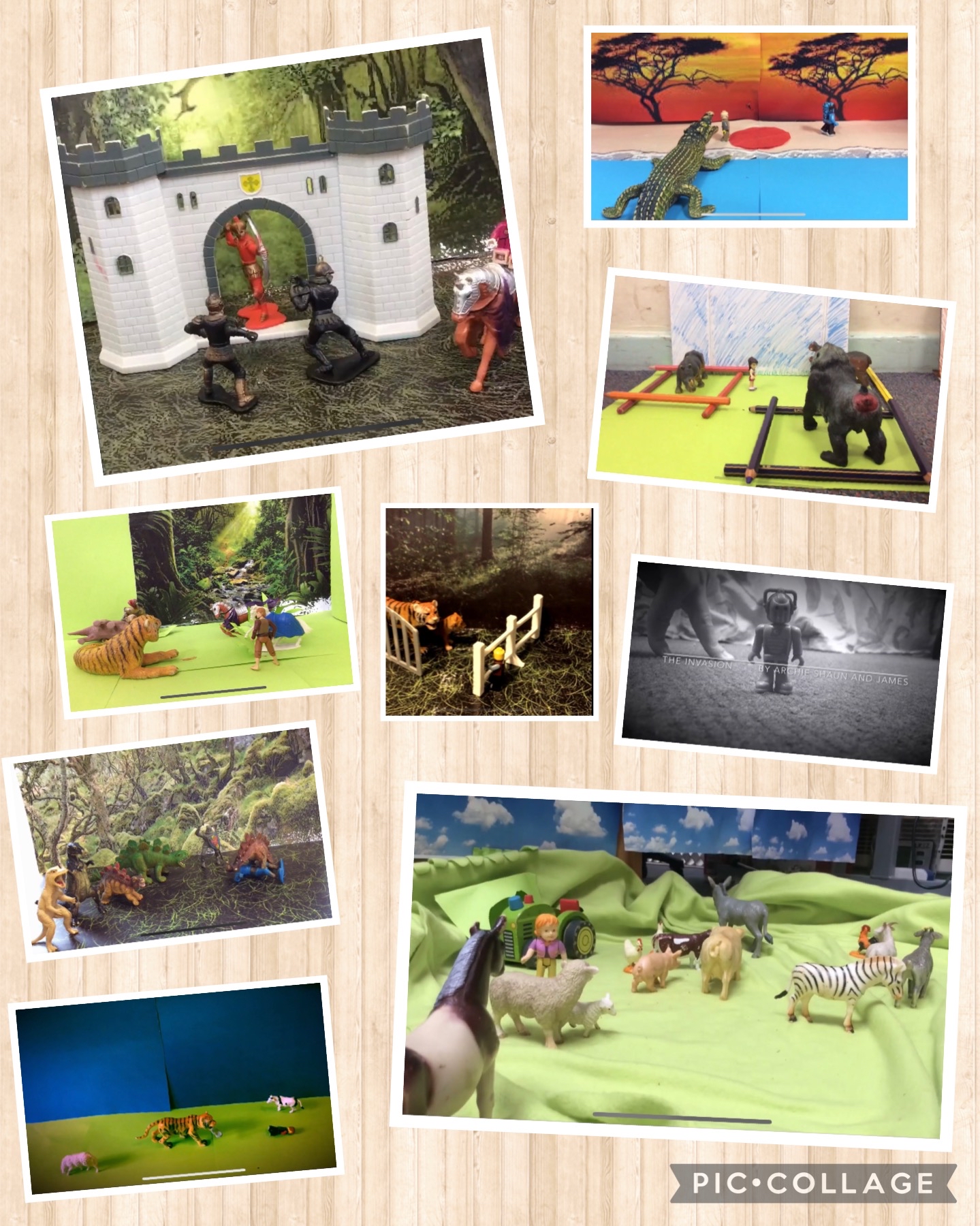 Football Champions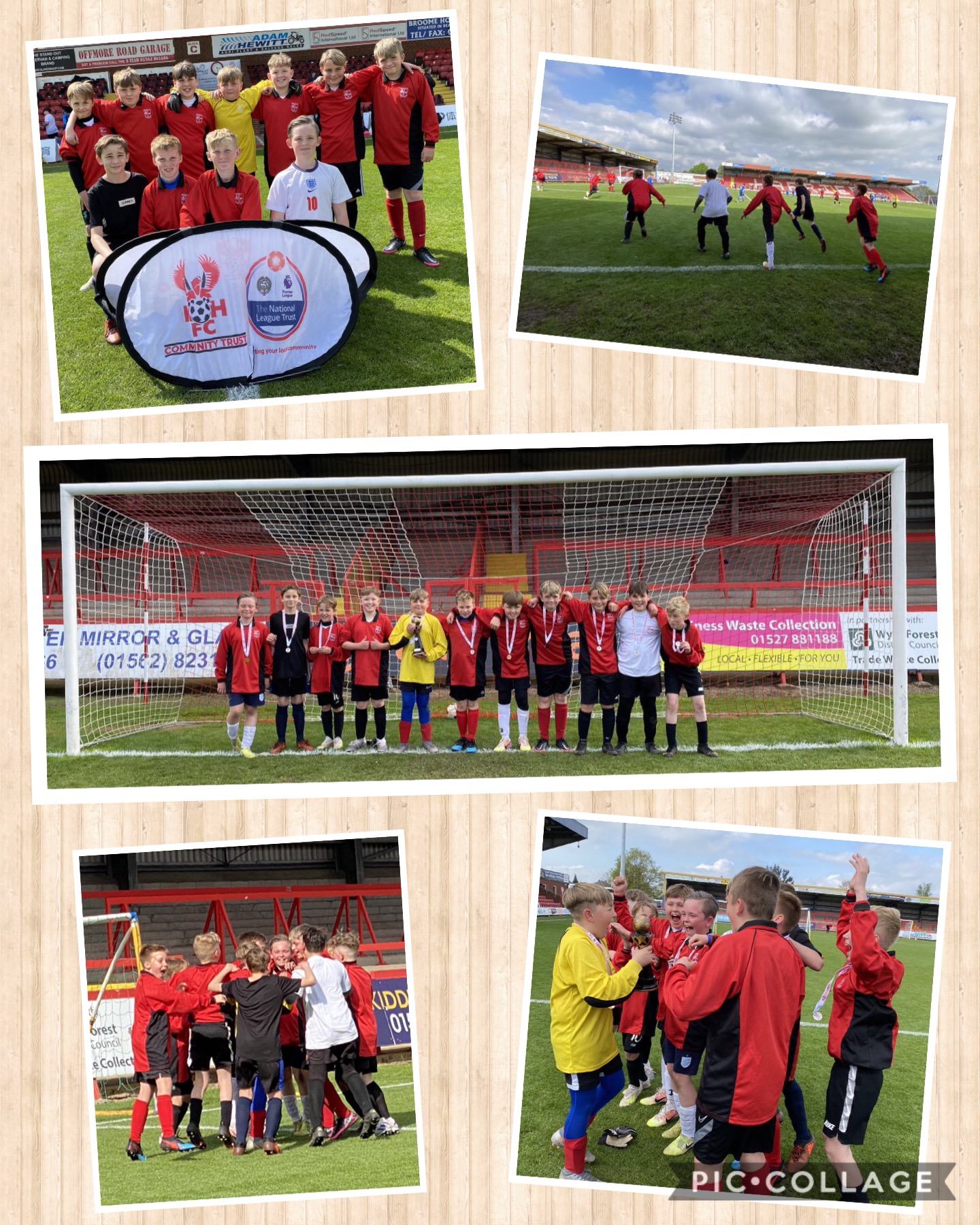 As restrictions begin to ease, we are so pleased to be taking steps back to 'normality' at BPS too! This week, our Year 6 children have taken part in 3 fantastic sports festivals, organised by the Wyre Forest School Sport Partnership and Kidderminster Harriers Football Club.
Congratulations go to our Boys' Football team who played at Aggborough Stadium on Friday and won the Kidderminster Harriers National League Tournament Cup, winning every match they played! Our Girls' Football team also played well, coming in 5th overall. We sent an impressive 7 teams to the Orienteering Festival at Wolverley High, which was won by Grace, Jacob, Eliza and Eden from Blackman! Well done to everyone who took part; the team spirit and enthusiasm of our pupils certainly hasn't dwindled over the last 18 months and all the staff involved agree that the children were a credit to the school.
BREAKING NEWS - JUST IN!
The verdict is finally in on what has proved to be one of the most closely fought court cases of the century!
On the charge of intimidation: Not Guilty.
On the charge of attempted murder: Not Guilty
On the charge of criminal damage: Not Guilty
On the charge of breaking and entering: Guilty (without mitigating circumstances)
The defendant, Mr Jonathan Wolf, who was represented by barristers from Walliams Solicitors, thanked his defence team for their ongoing support and belief in him. However, Mrs S. Woodward, speaking on behalf of the Blackman Prosecution Service declared the whole situation to be an abomination and loudly retorted that there was 'clearly something fishy going on with that jury'. Mr Wolf thanked the members of the jury for their understanding and for allowing common sense to prevail. He will now serve his 12 months community service at the Tale Town Community Centre.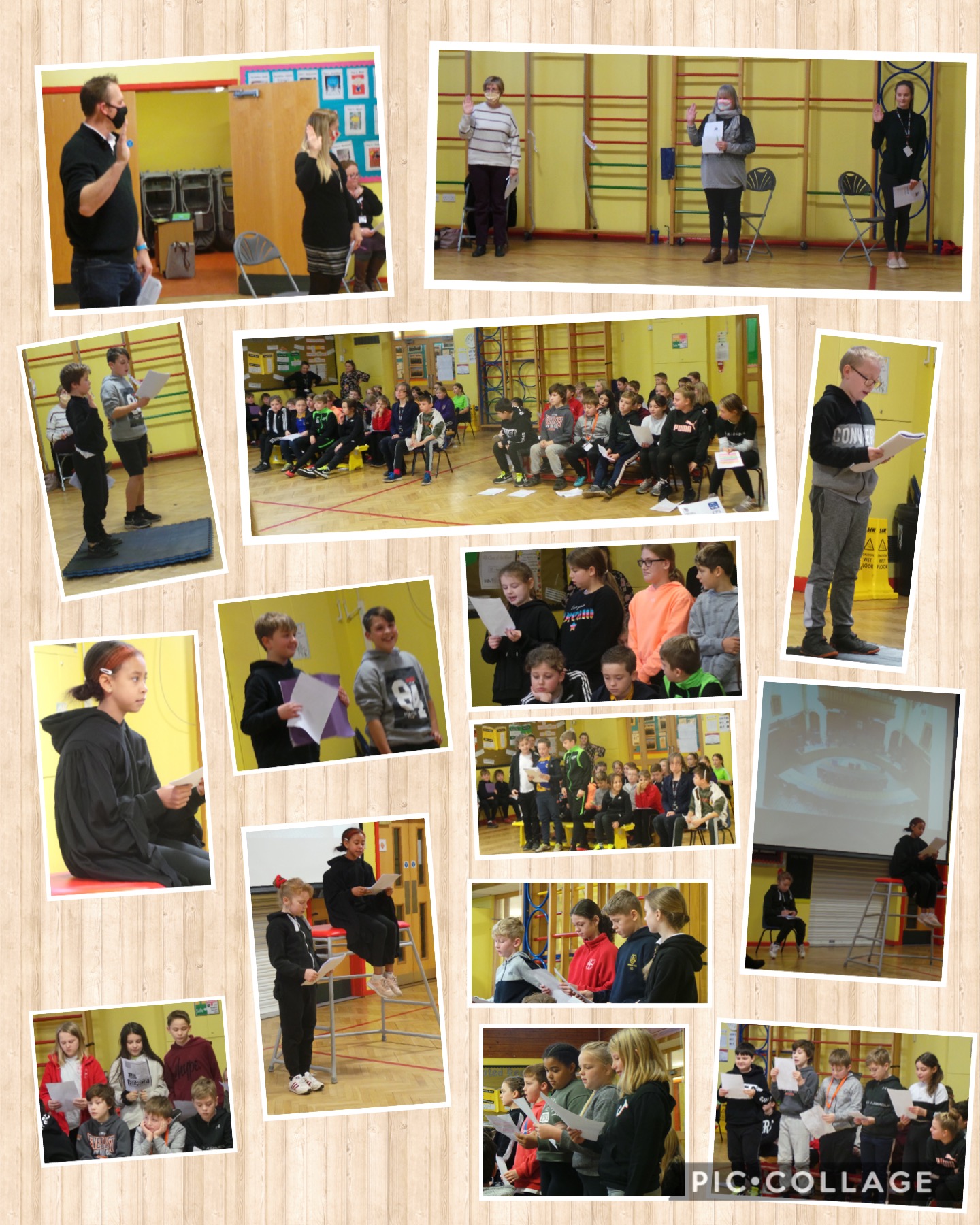 Year Six - Pump it Up!
Year Six have launched their new topic, 'Pump it up!', by making their own 'blood' in class by using a range of everyday items to represent the different components! They then used photographs of magnified blood cells to create their own artistic impressions, focussing on shading and texture and using a range of mediums.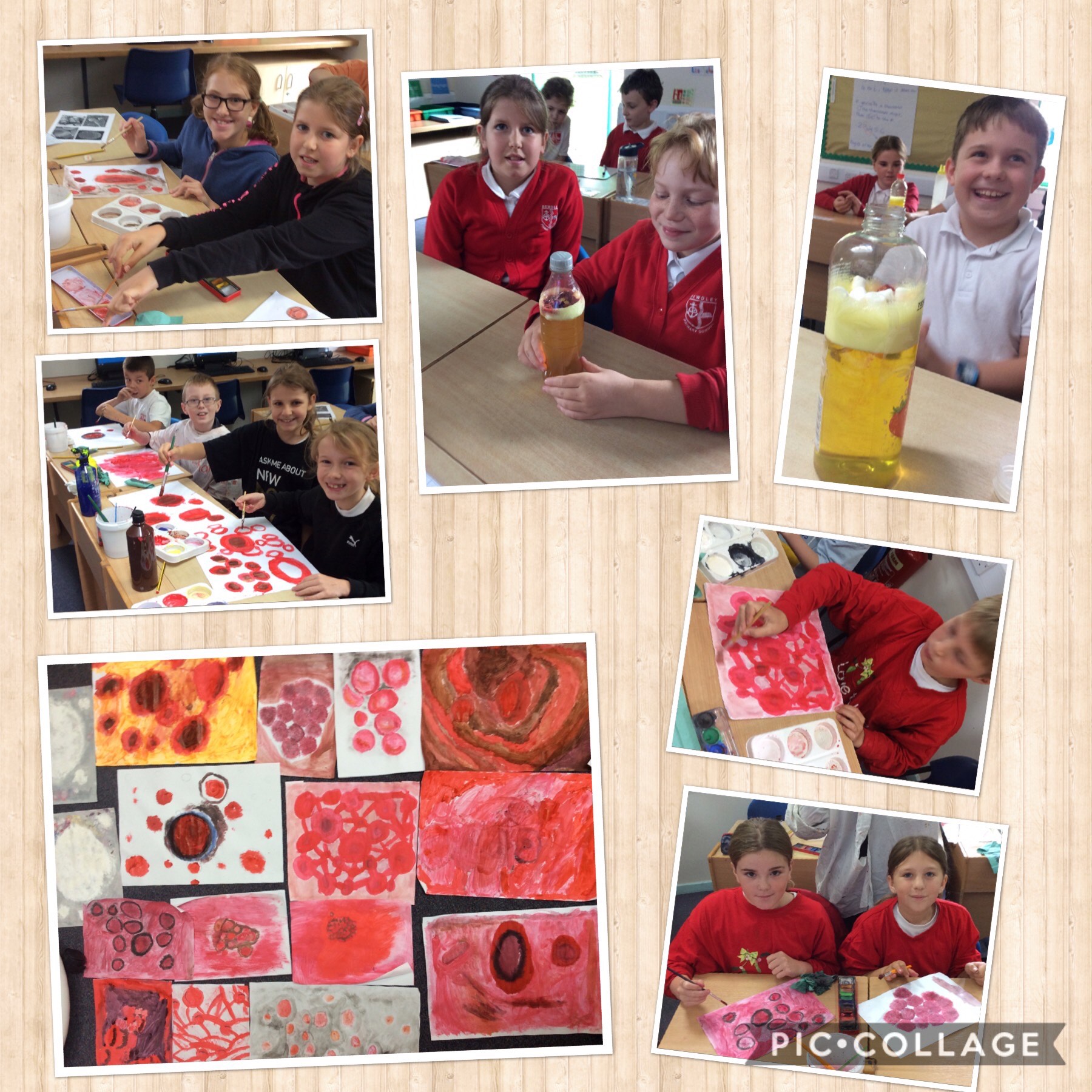 Last Day in School
The children in Year Six had a fantastic (and rather soggy!) last day in school on Friday. As you can see from the photos, the teachers also enjoyed their new roles during their brilliant water-based afternoon!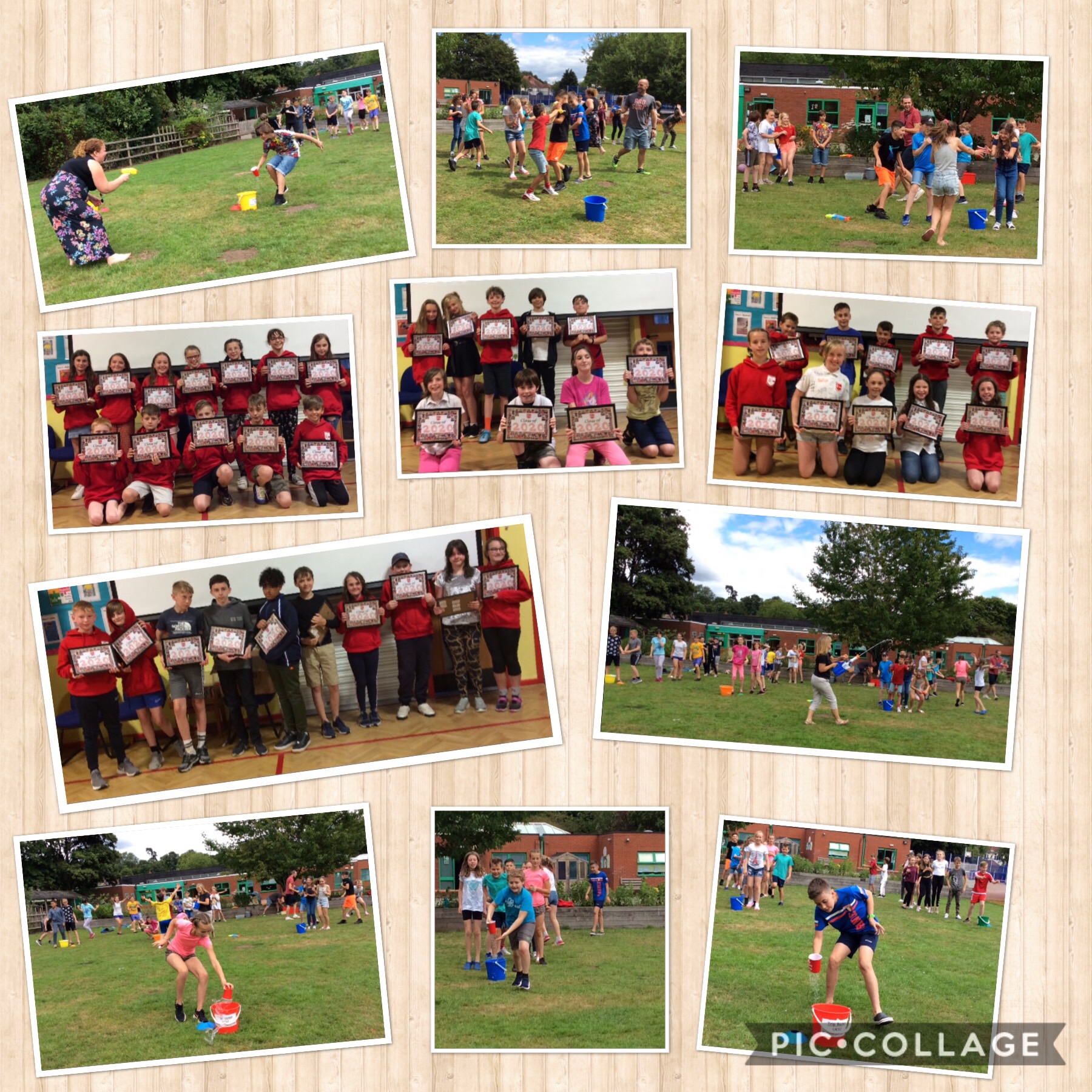 Mary Poppins
It may not have been the production they'd be planning on performing at the end of their time at BPS, but our Year Six children have once again gone above and beyond to produce an incredible production of Mary Poppins - The Bubble Edition. With the children split between four classes in school, as well as those at home, it's been an incredible feat to combine it all together into one memorable video but the Year Six team have done a remarkable job!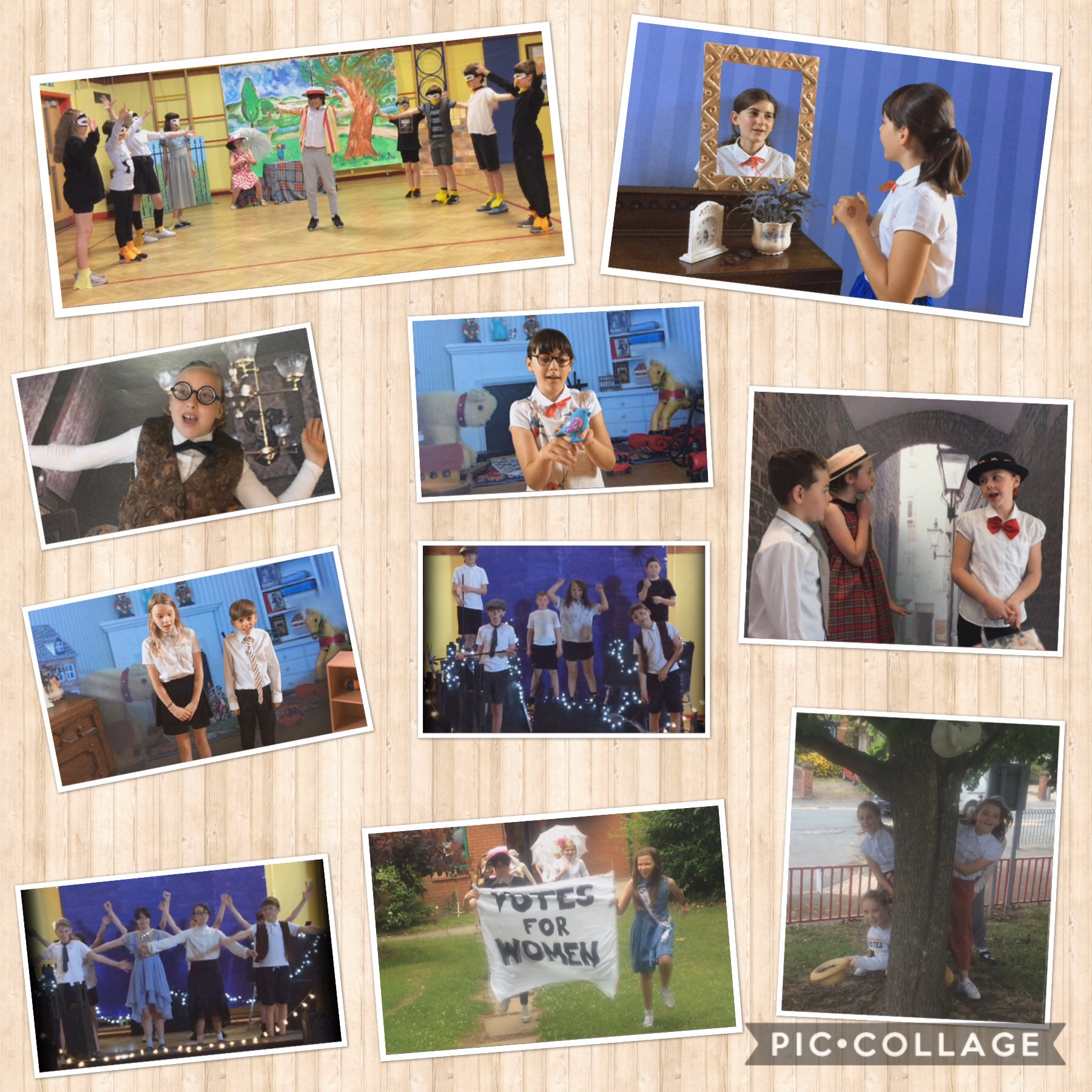 Kensuke's Kingdom Inspired Art
They're a talented bunch in Year Six and this week they've shown this through their artwork. Inspired by this half term's book, 'Kensuke's Kingdom', they created a range of pieces based on the cherry blossom pictures that appear in the story. They also recreated 'The Great Wave off Kanagawa' by Japanese artist Hokusai using a range of different materials and the results are absolutely stunning.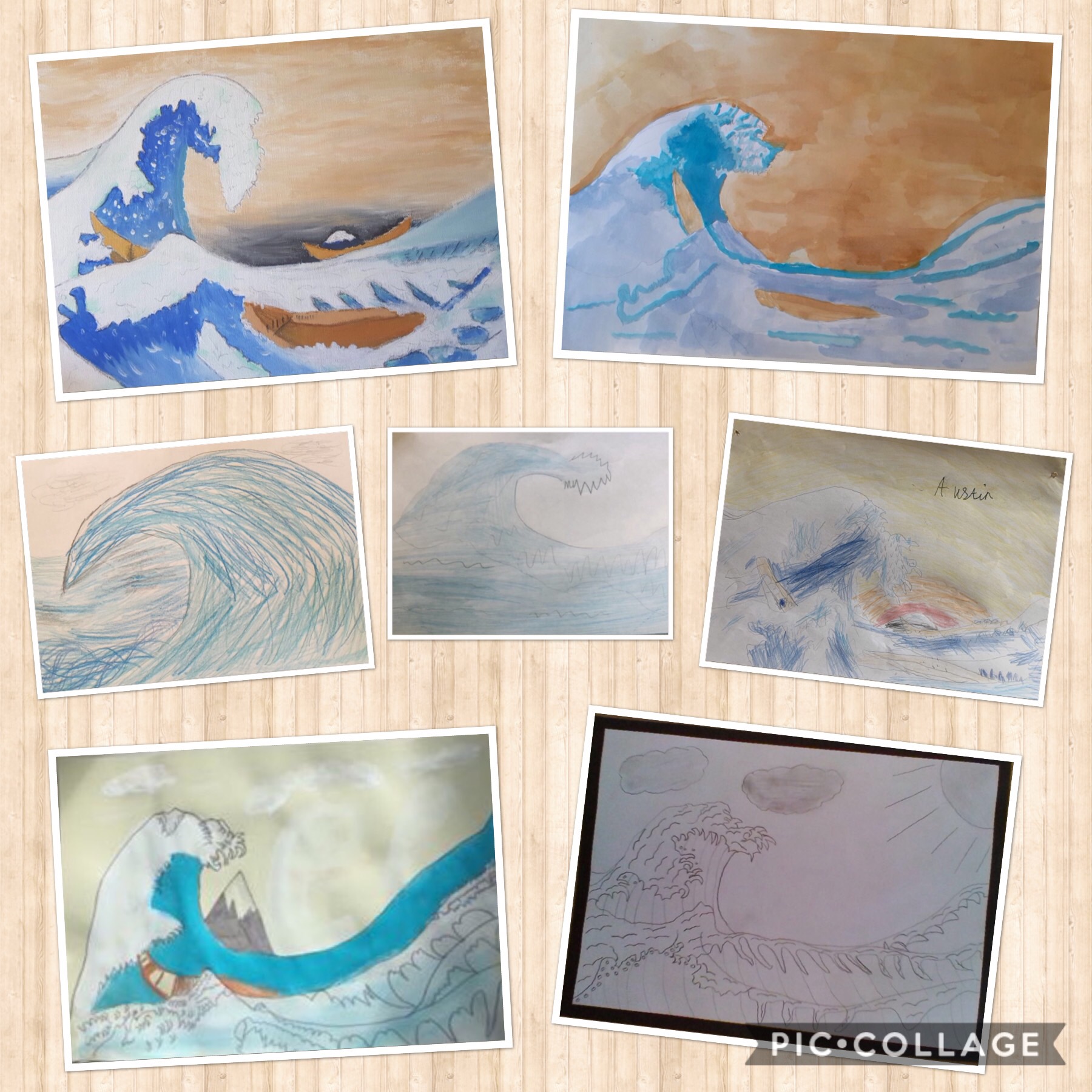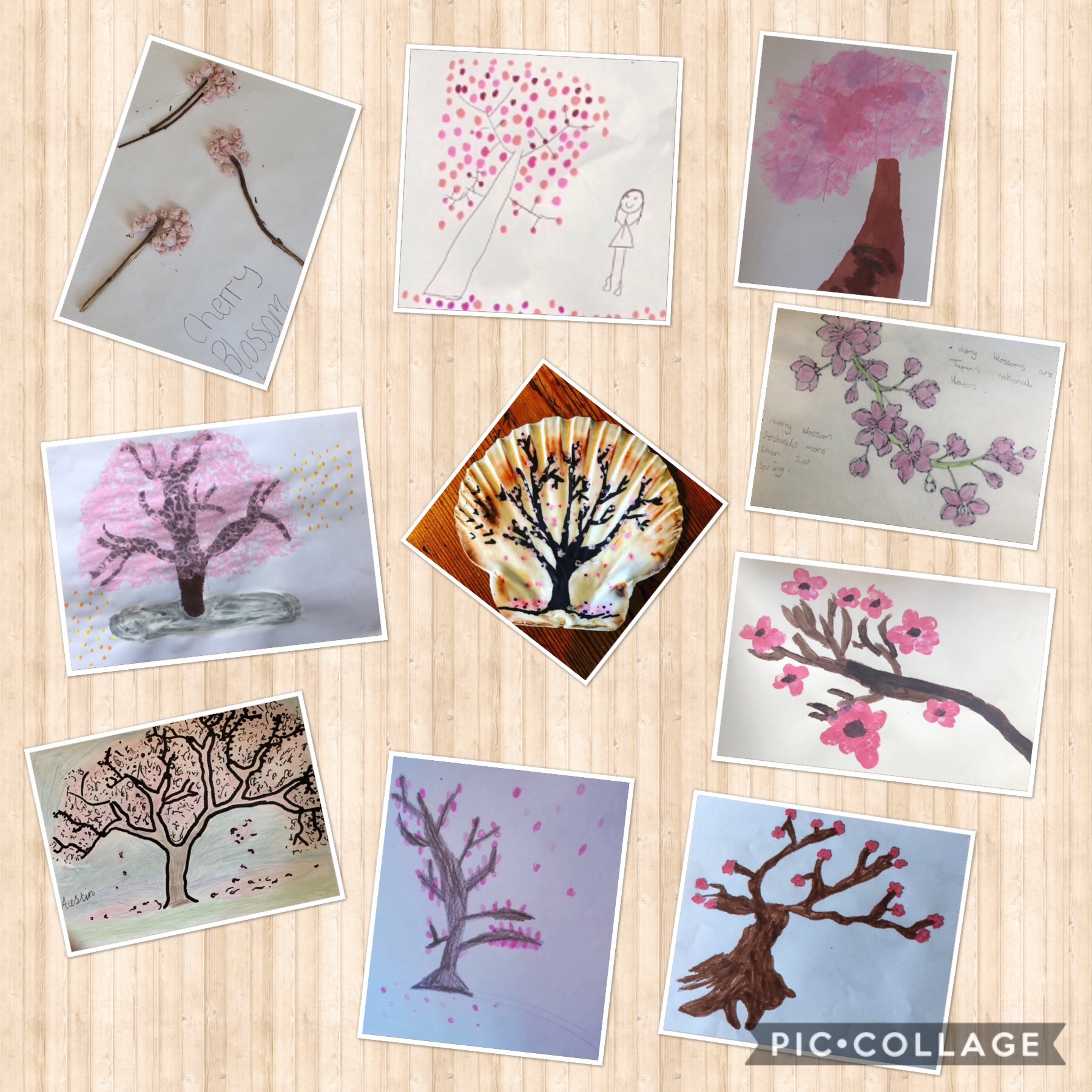 Shelters for Survival!
In case you've been concerned about our Year Six castaways, who have been stranded on a desert island as part of their 'Survivor' topic, you'll be pleased to hear that they've now managed to create their own shelters!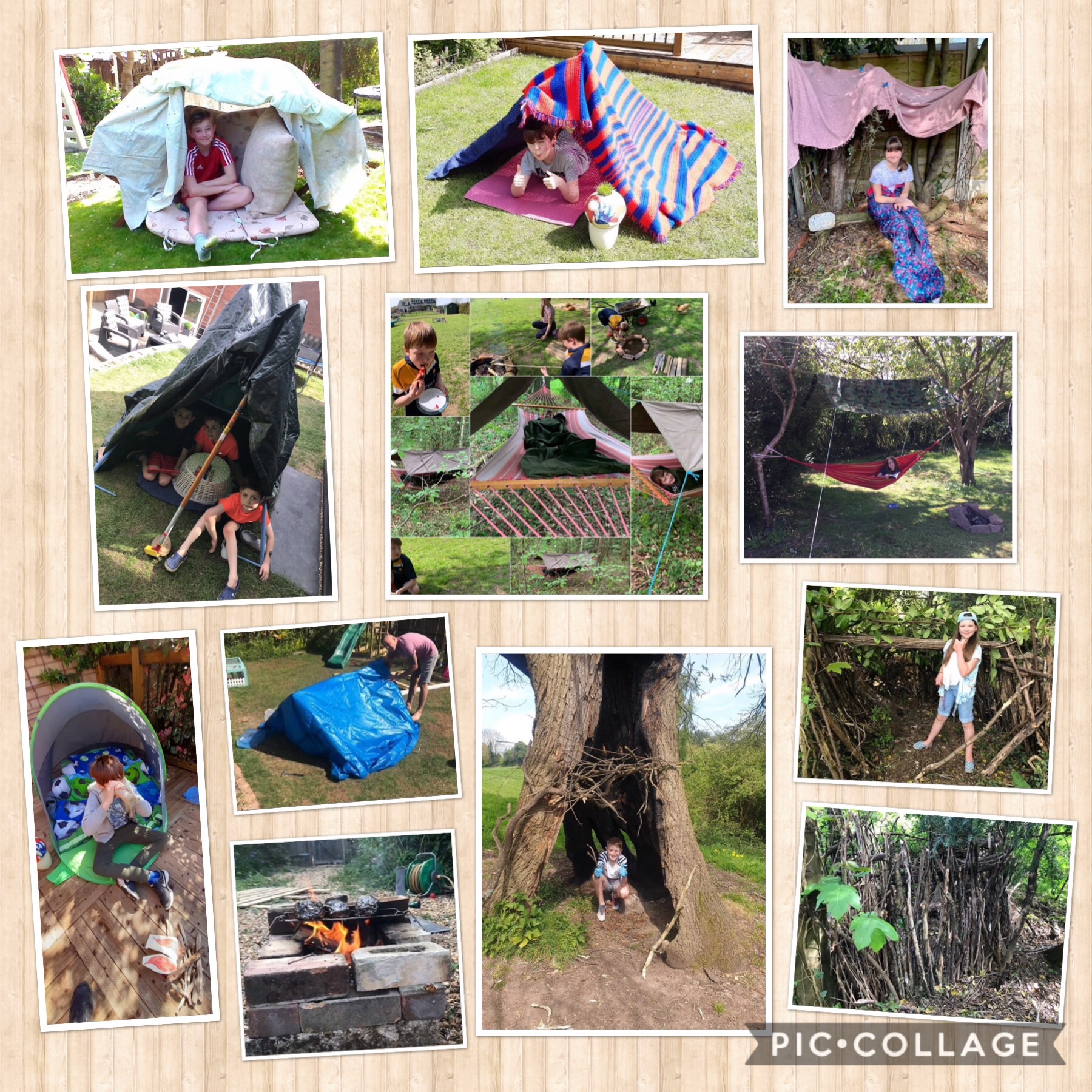 'Survivors' Topic continued - filtering dirty water!
As you may know, our Year Six children have been shipwrecked on a desert island and their latest task was to learn how to filter dirty water in order to survive! They used a variety of different methods, from tights to tea towels, to remove the impurities from the water and some techniques were definitely more successful than others. Some of our castaways were even brave enough to drink the 'clean' water!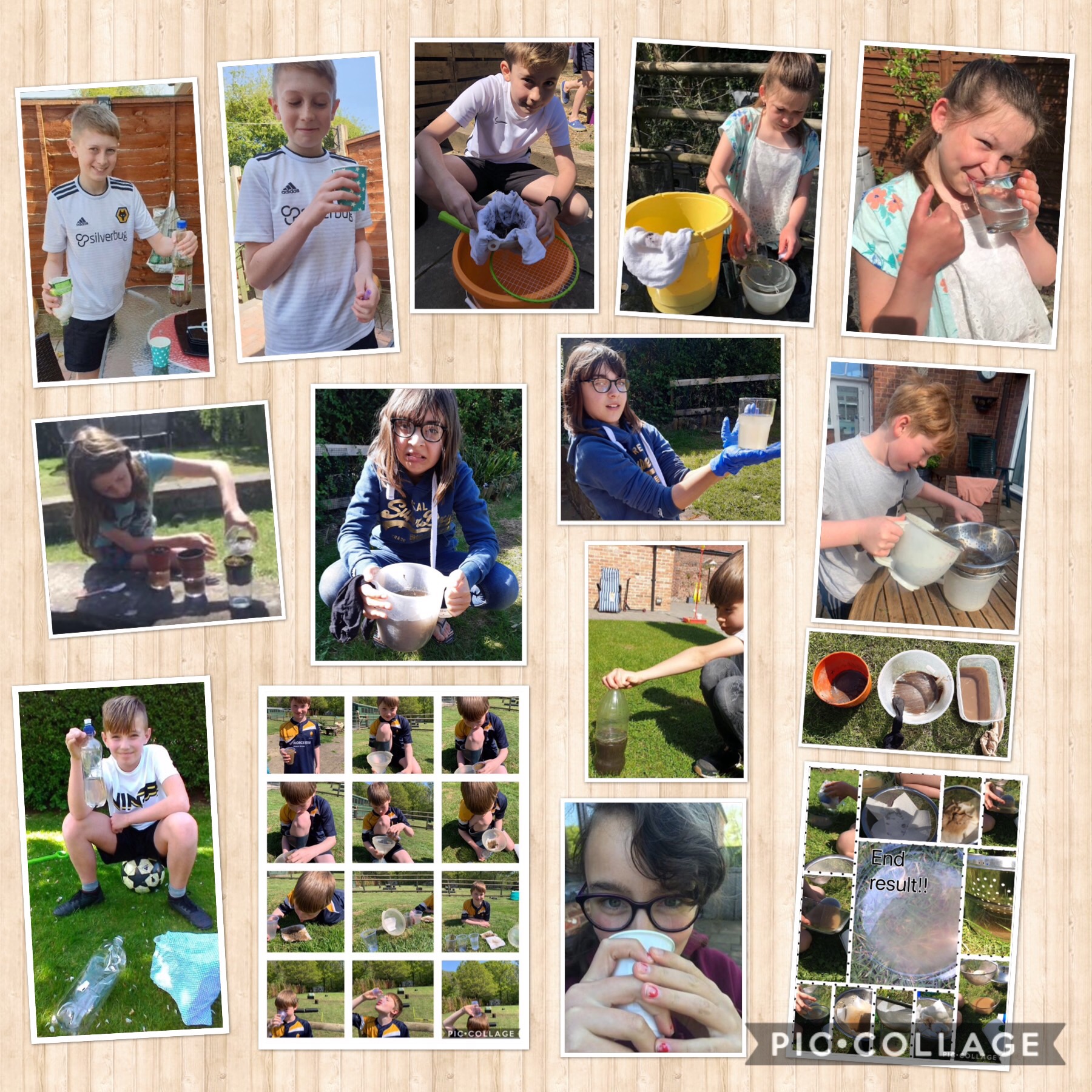 'Survivors' Topic
To start off their 'Survivors' topic, Year Six were asked to design their own island, thinking about where they would set up camp, what natural resources would be on the island and how they would cope with dramatic changes to the weather. They also had to decide which things they would take with them on their island to make things easier. Some of the children were very practical with their lists, whereas others decided they were taking iPAds and Playstations onto their desert island!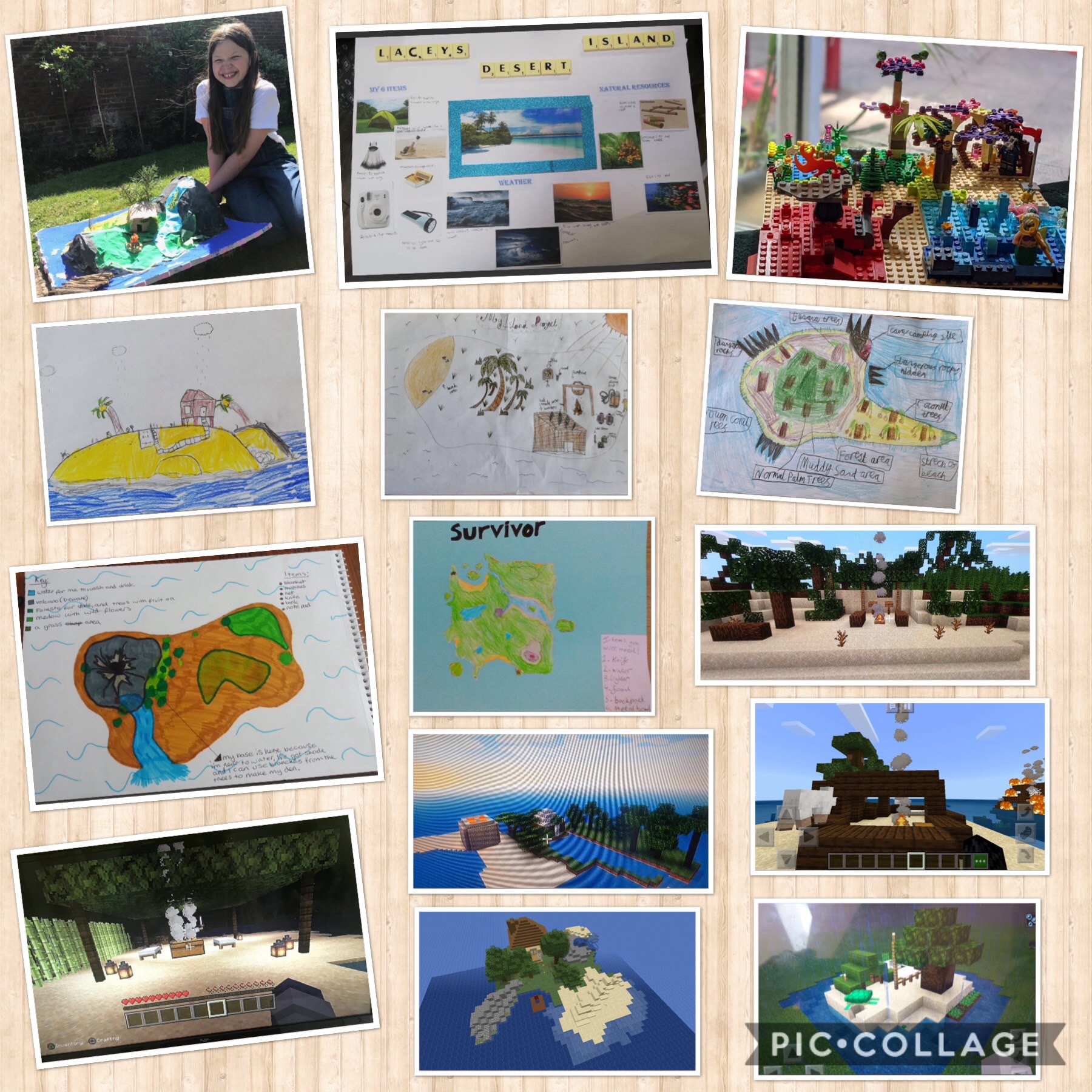 Fantastic Maths Work!
Year Six have absolutely smashed their maths work this week! They've been learning how to calculate volume, using their MNP Workbooks and measuring cubes and cuboids they've found in their own home. They've then extended their learning even further by creating cubes and cuboids of their own which is particularly tricky when resources are limited! We've been so impressed by the enthusiasm surrounding this topic and would like to thank parents for their ongoing support.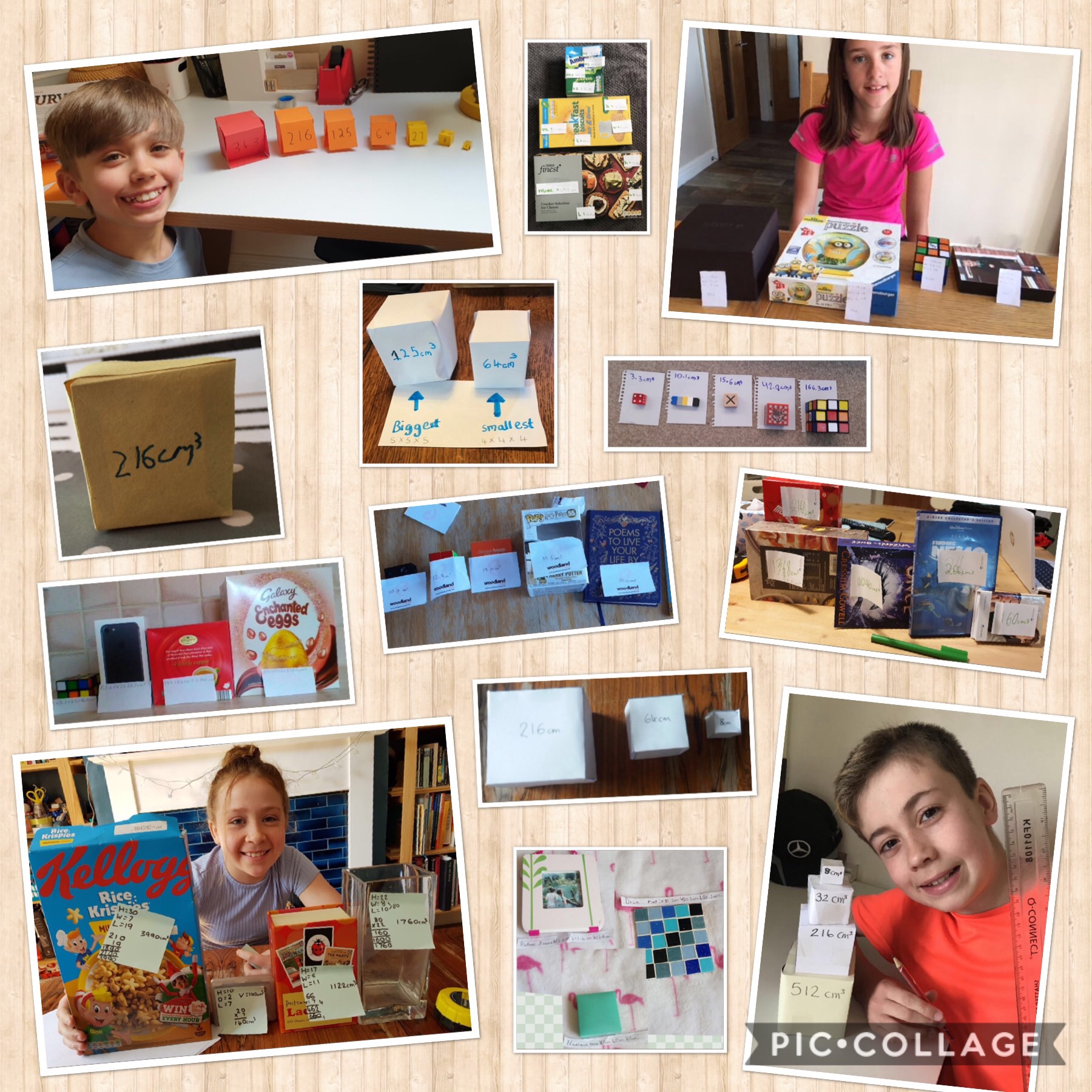 Working From Home
Hands up, if you're missing your daily routine and classroom environment! In Year Six, they've been sharing their new 'classrooms', whilst they've been working from home.
It's great to see so many children making the most of the sunshine and also working together with their siblings.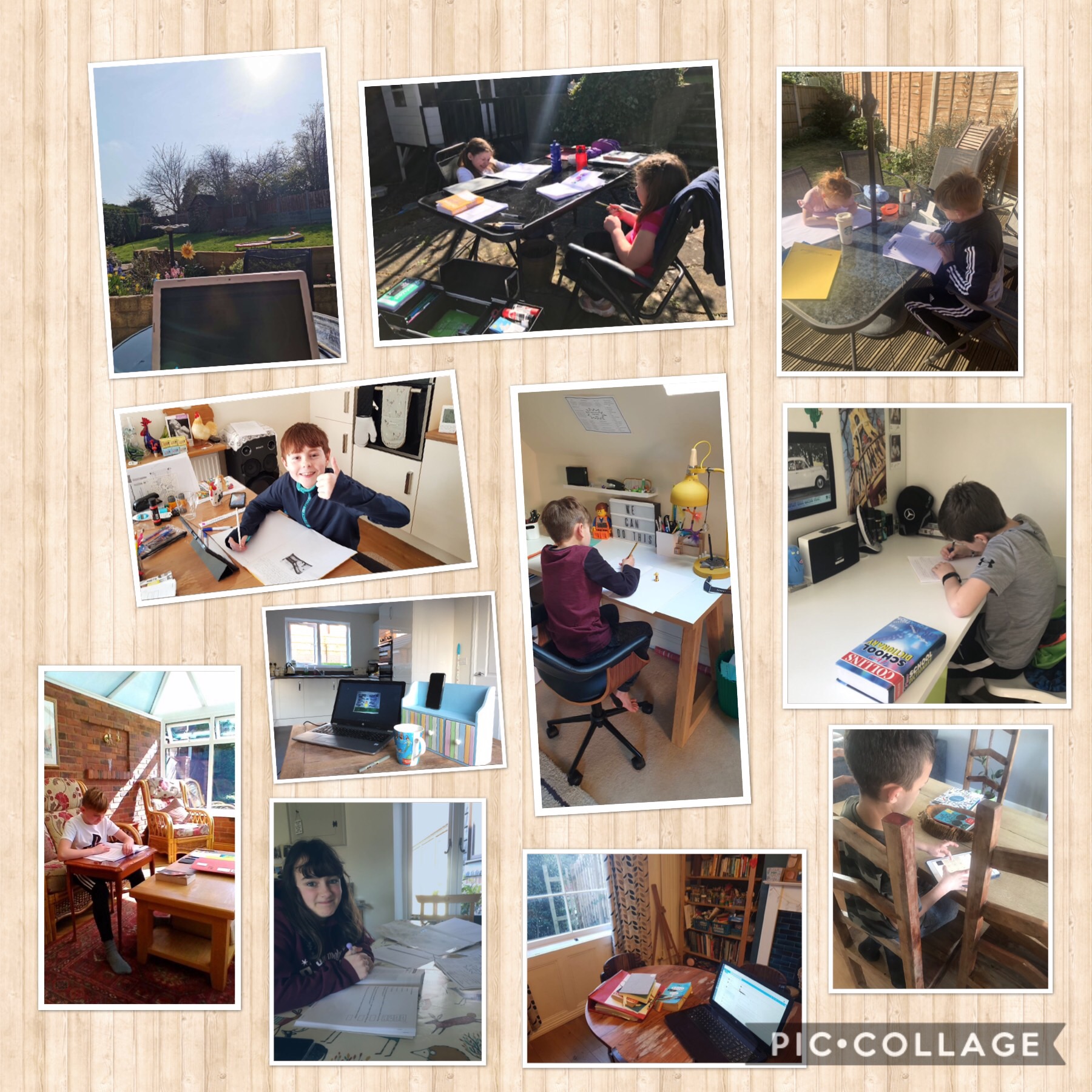 Paintings for Summerdyne Nursing Home
The children in Year Six are embracing their creativity today as they continue with their paintings for the residents of Summerdyne Nursing Home. As well as their artwork, they have also written notes to accompany them which will hopefully bring some joy and cheer to those who may be feeling a little low at the moment!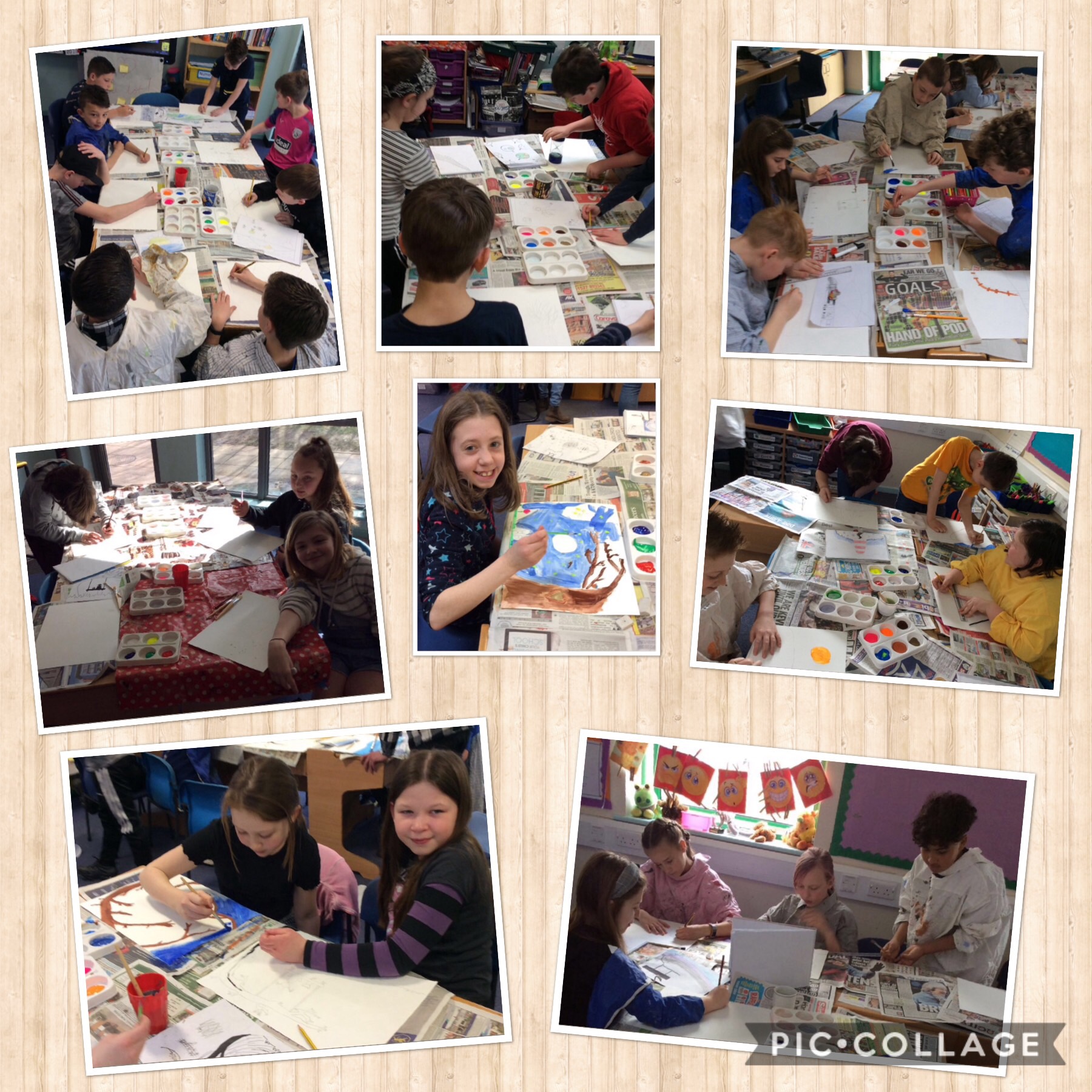 Visit to Birmingham Central Mosque
Year Six had a great morning at Birmingham Central Mosque today which allowed them to learn more about the history and traditions of the Islamic faith as part of their RE curriculum. Their guide, Nazeen, provided a tour of the building, explaining about the different uses of the areas and objects. Nazeen was particularly complimentary about the children's behaviour, their listening skills and how they were so respectful towards the people who had gone to the mosque to pray - well done, Year Six!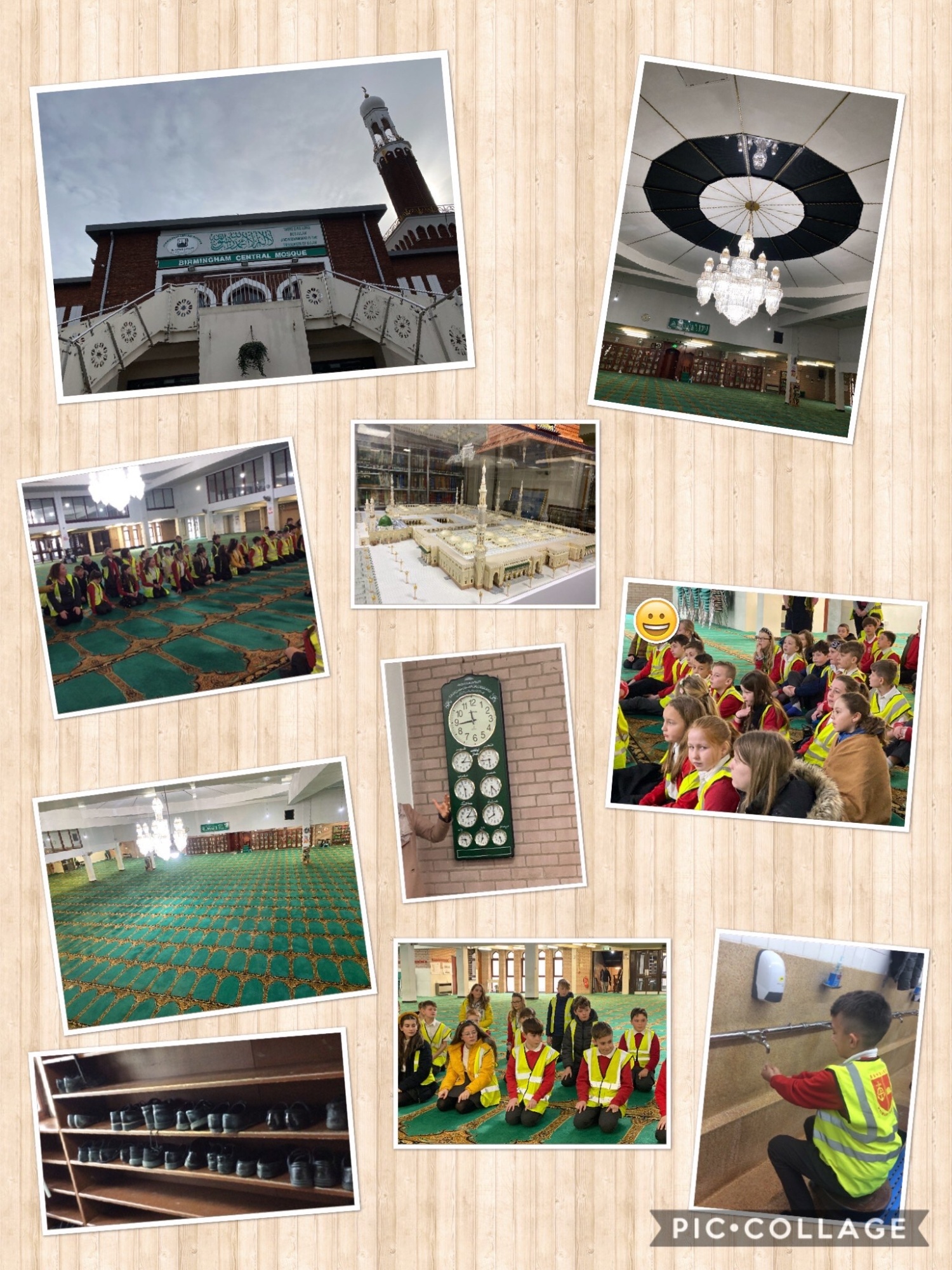 Gymnastics
Year Six have been loving their gymnastics lessons this term, particularly this week's, which involved the larger apparatus. The children have been exploring different shapes and jumps on the floor, including tuck, star, straddle and pike. They then transferred these skills onto the wall bars, ropes, benches and springboard, developing their flexibility, strength and control.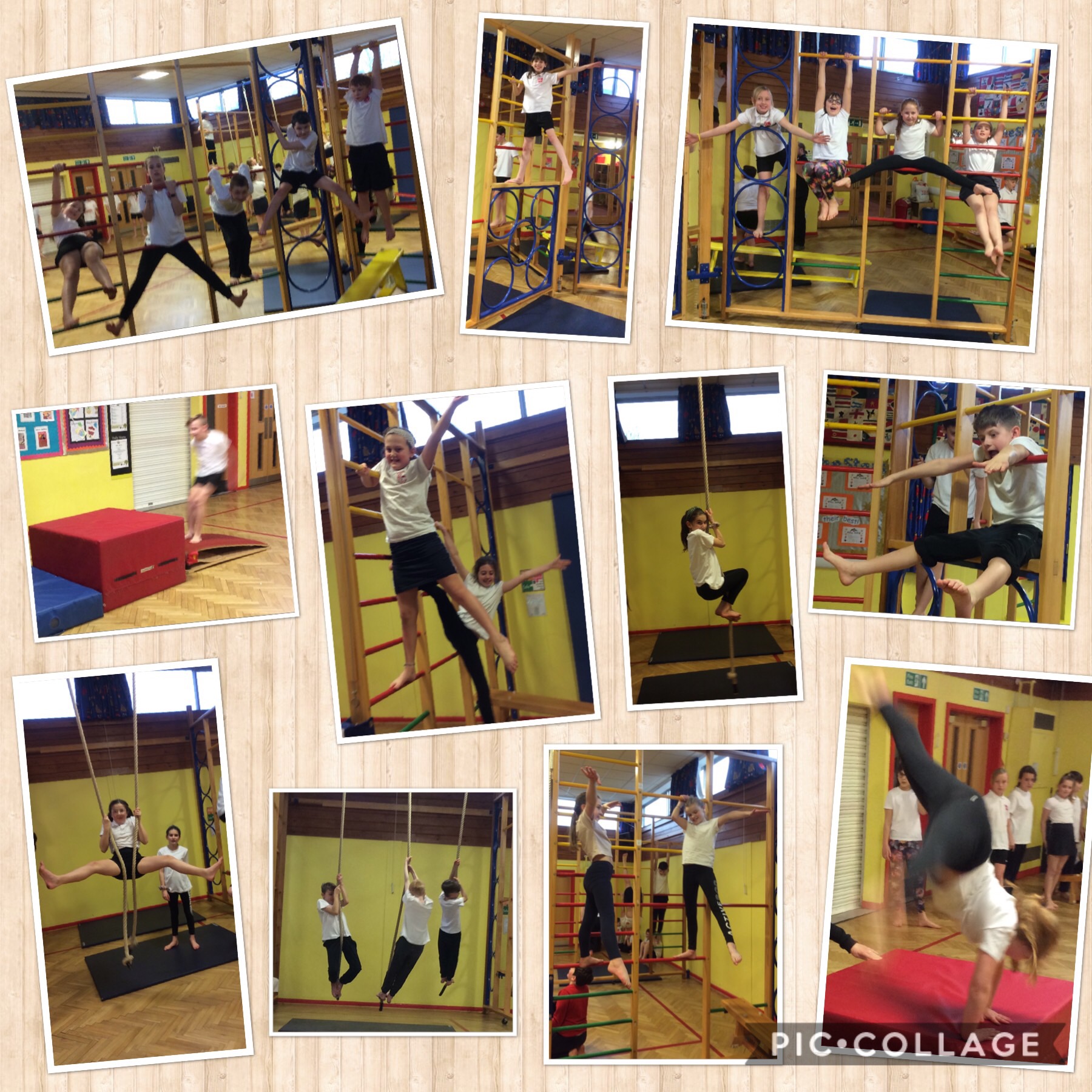 Sports Festival
A group of children from Year 5 and Year 6 were invited to take part in a sports festival at Wyre Forest Leisure Centre this morning. The pupils had great fun taking part in boccia, new age kurling and archery competitions!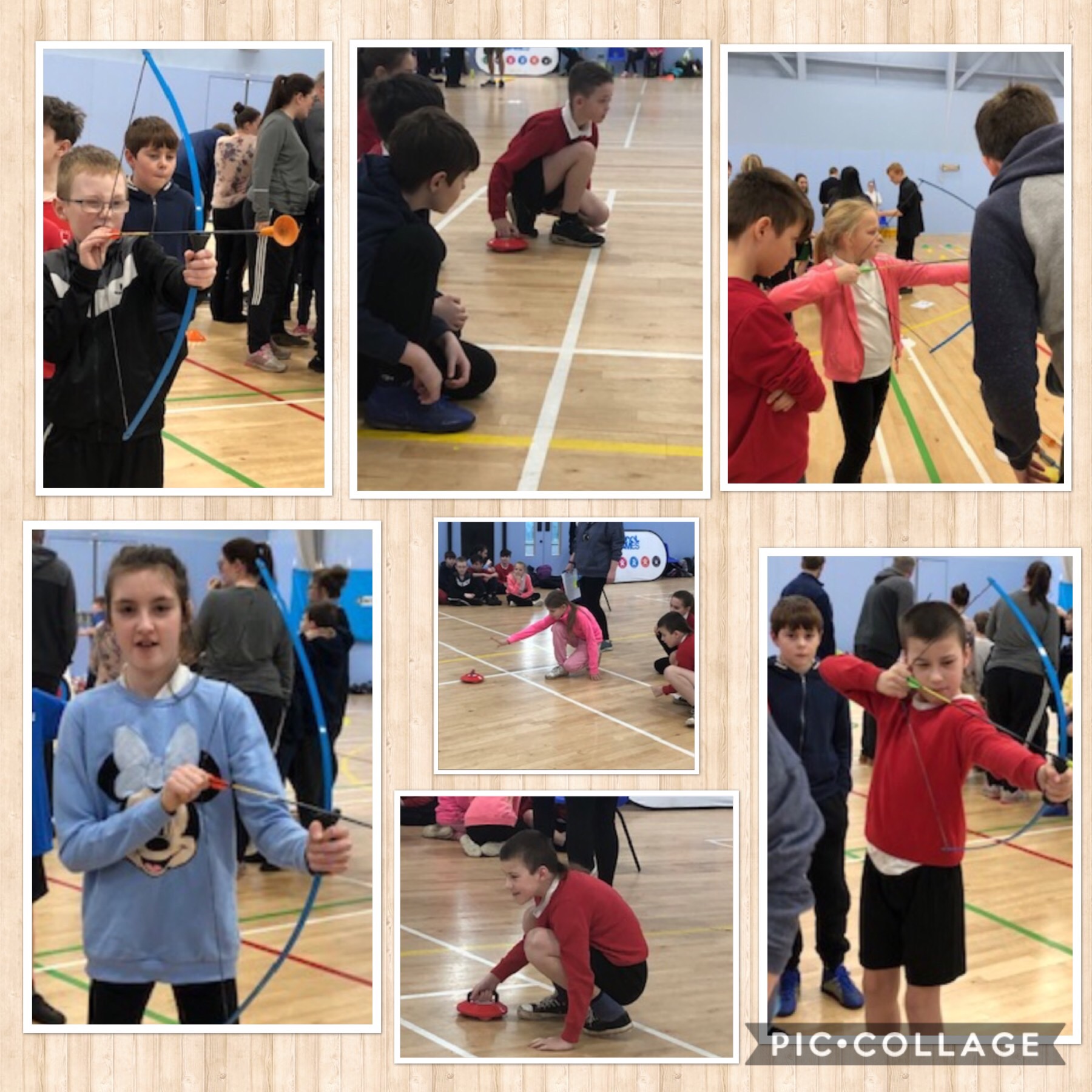 Mummifying Mackerels
As part of their 'Time Traveller' topic, Year 6 have been investigating how the ancient Egyptians believed that it was very important that the human body was preserved after death to allow them to enter the afterlife. After learning about the very complicated process, Year 6 used their knowledge to mummify mackerels, using the same method that the Egyptians would have used! The mackerels are now busy mummifying and will be left to rest until the Summer Term when we will revisit them to investigate whether the fish have been preserved...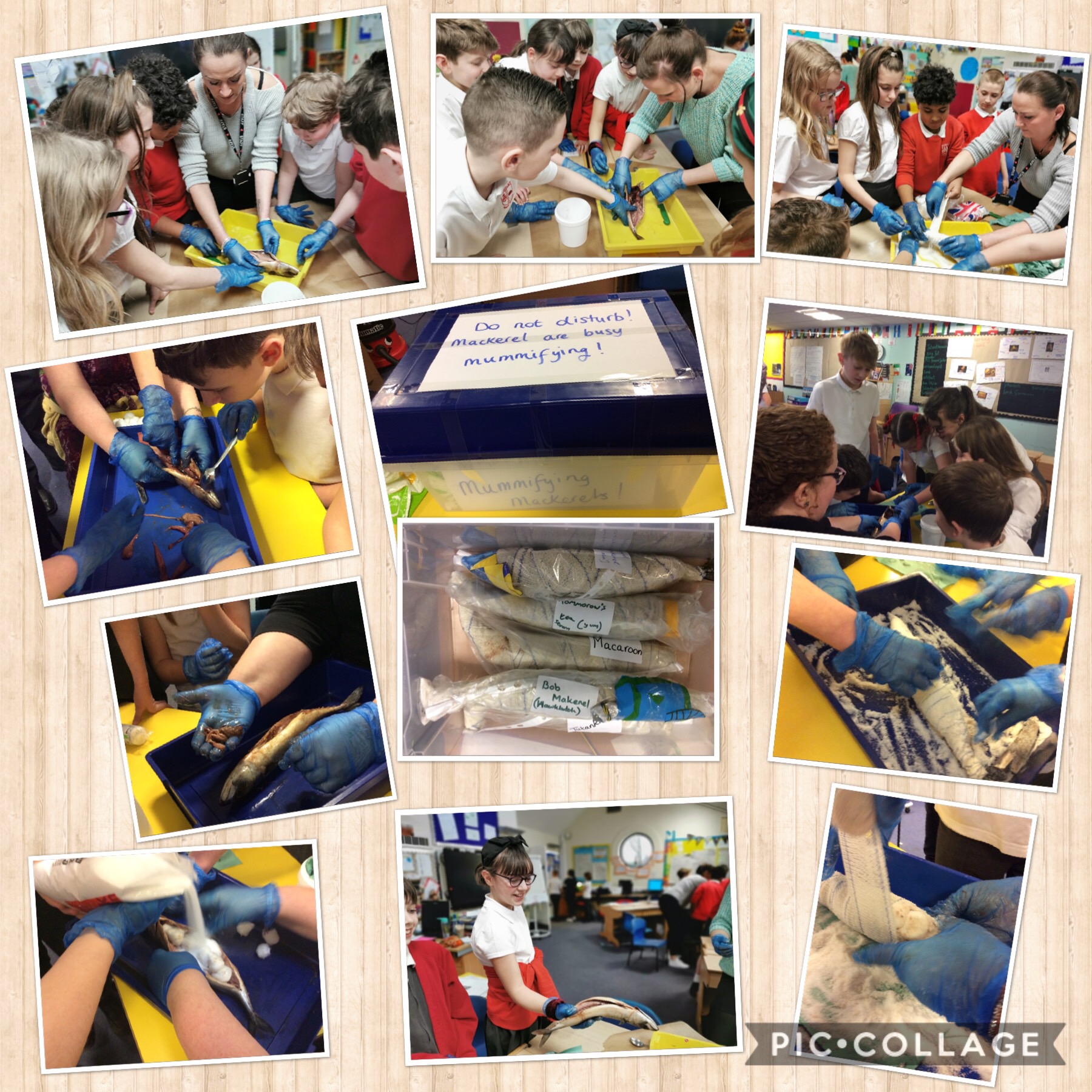 Time Traveller Topic
Year Six had quite the experience with the launch of their 'Time Traveller' topic when they travelled back to 1922 to join archaeologist Howard Carter and his team in Egypt! The children explored the newly discovered tomb of King Tutankhamun to try and uncover the incredible treasures which were buried within it.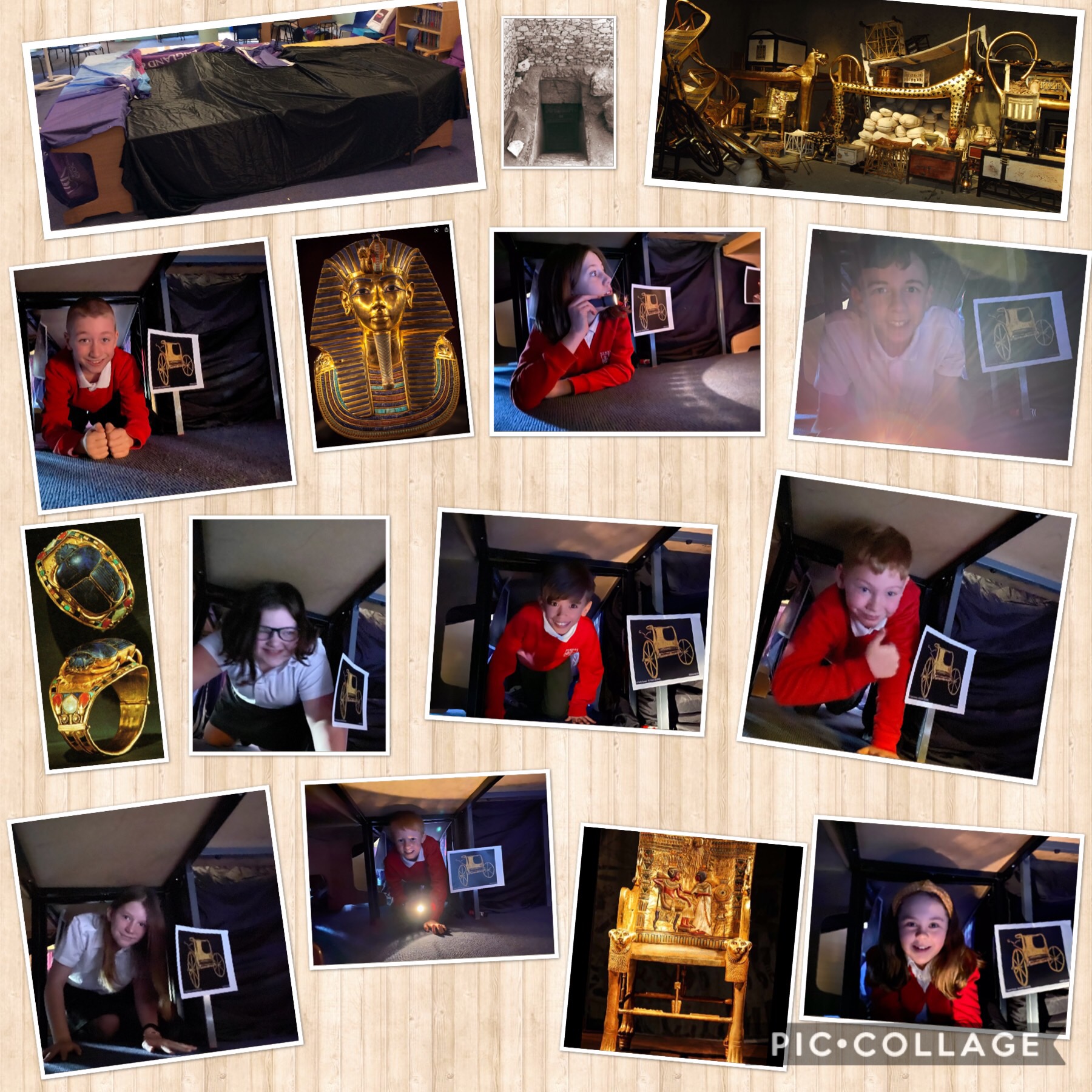 Upper Key Stage 2 Christmas Show - The Magical Christmas Jigsaw
Our school hall has been filled to the brim this Christmas, with 14 fabulous performances being staged over the last couple of weeks. Whether they were watching our 3-year old Nursery's first nativity or Year Six's last, all of our audiences were treated to confident, energetic and heartwarming performances.
Thank you for not posting your own pictures of the productions on social media. We are able to do so on our own website and Facebook page as we only share images of children whose parents/carers have given permission to do so.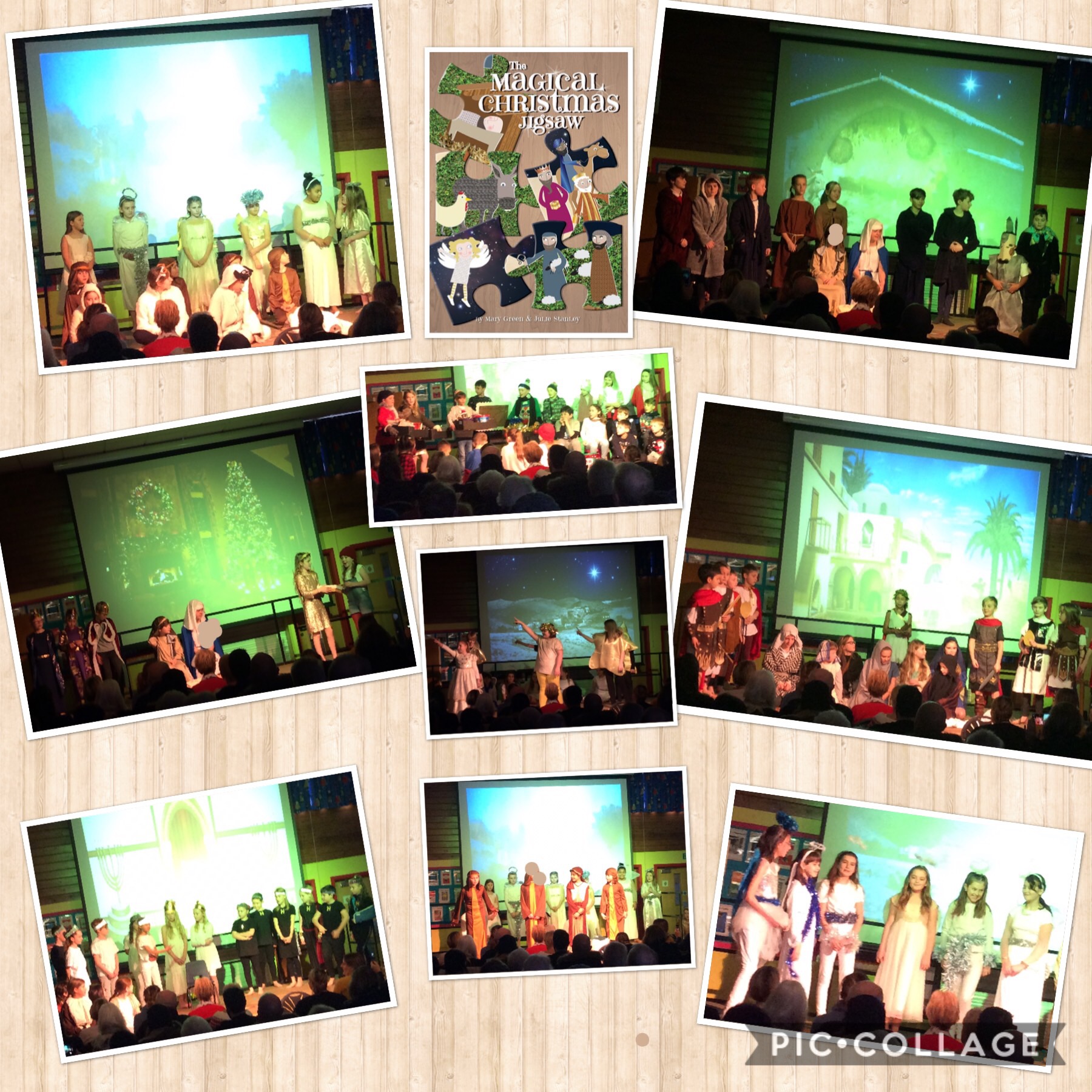 The Trial
BREAKING NEWS! Jonathon Wolf has been sentenced to 12 months community service following his trial in BPS Crown Court. Both the prosecution and the defence teams put forward strong cases, with exceptional witnesses, in their attempts to influence the voting.
Well done to all of the children in Year Six who have worked exceptionally hard throughout their 'Into The Woods' topic in order to be able to present such a fabulous grand finale. Thank you to all of the parents and carers who joined in with the fun this afternoon and became our jury!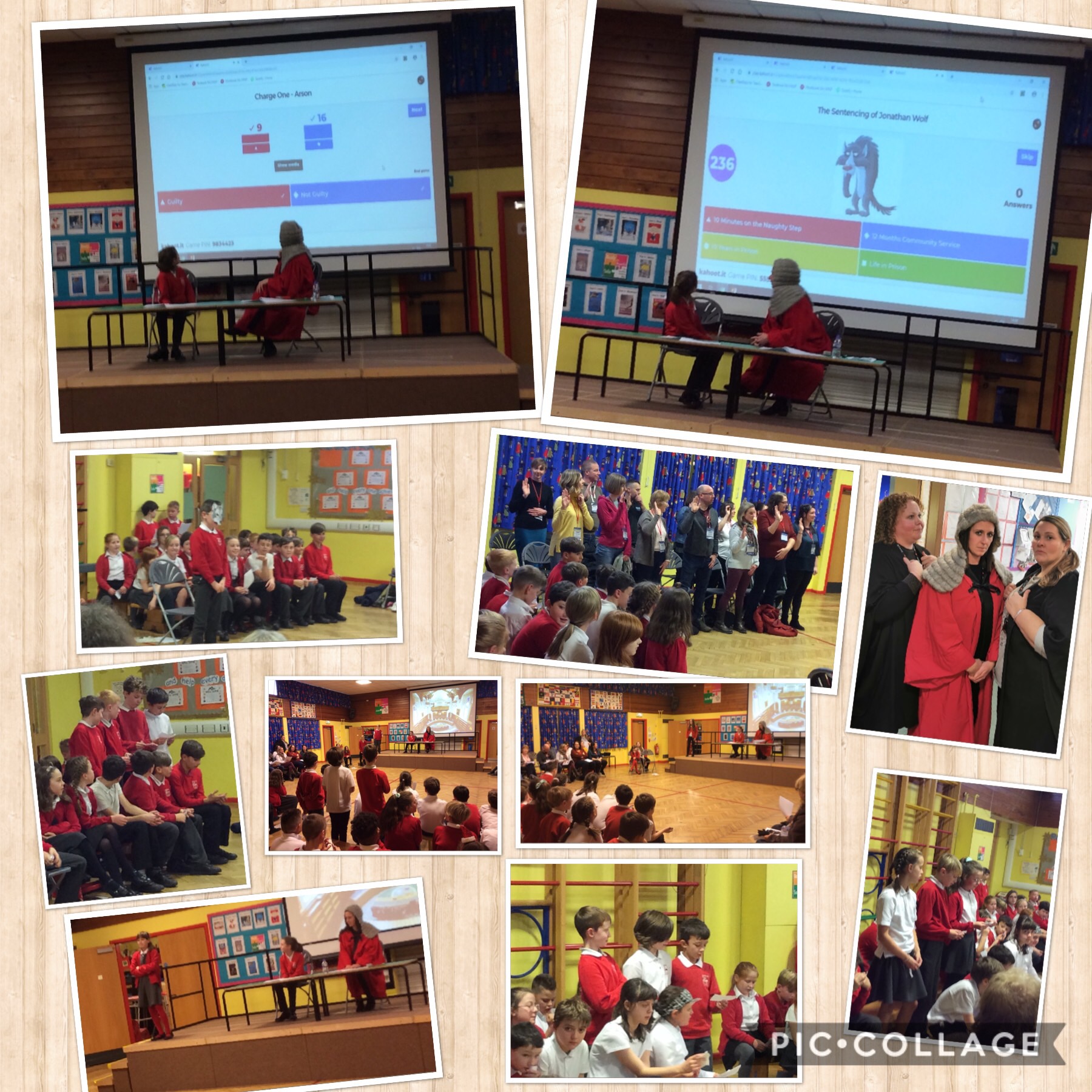 Trial of Jonathon Wolf
Thank you to local magistrate, Mrs. Booth, who visited Year Six today as part of the trial of Jonathon Wolf, also known as The Big Bad Wolf, as part of their 'Into The Woods' topic! Following today's discussions with Mrs. Booth, Mr Wolf has been released on bail ahead of next week's trial at Crown Court. (Year Six parents will be receiving their invitation today to join us for Jury Service!)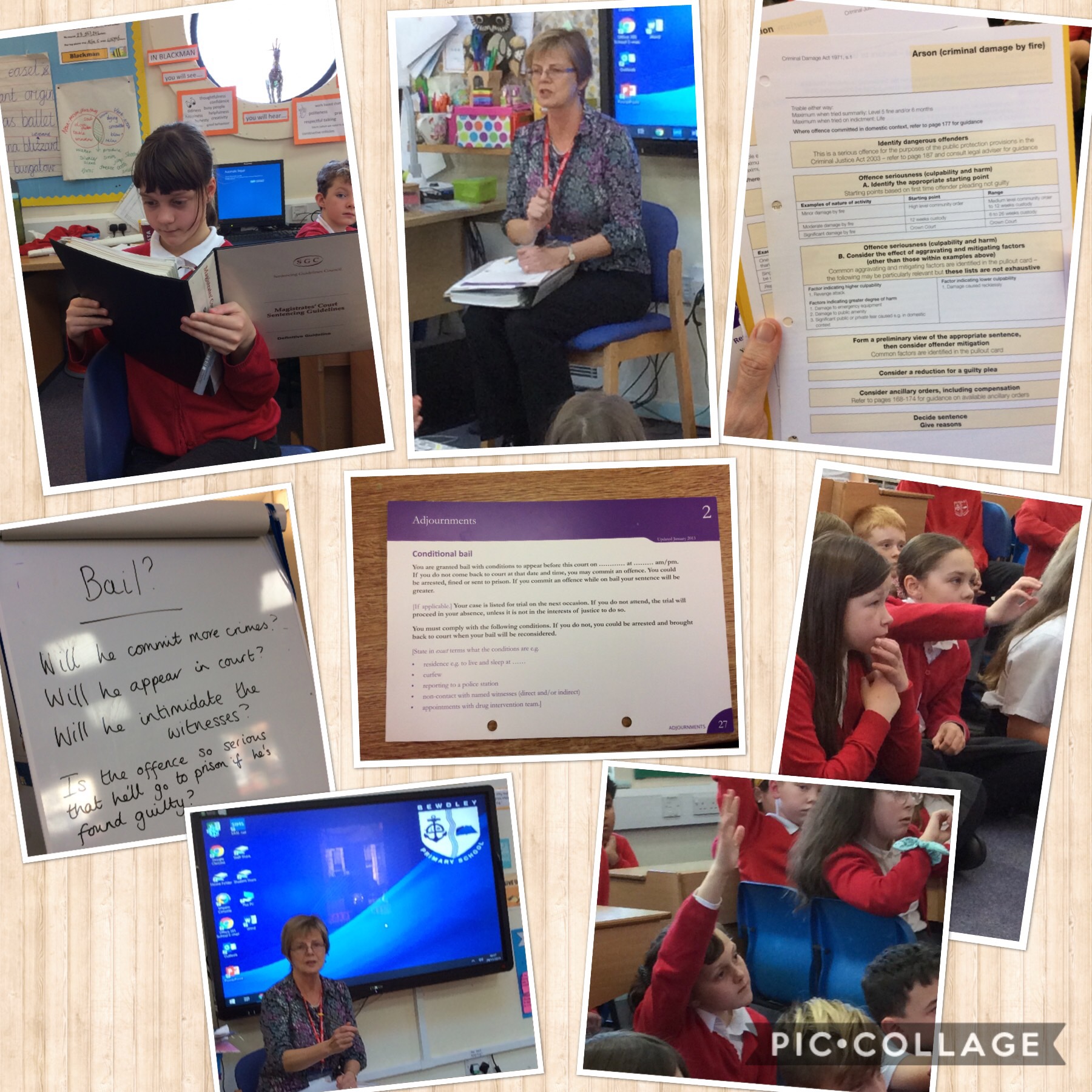 Geocaching
As part of their 'Into The Woods' topic, Year Six have spent the day Geocaching at Burlish Top Nature Reserve. The children were positive and enthusiastic throughout the day, despite it being a bit nippy at times and covering over 7 miles on foot! We also crowned this week's Class Times Table Champions whilst in the woods. It was a very closely fought battle but well done to Leo R and Leo S who will compete tomorrow to try to earn their place on Winners Row!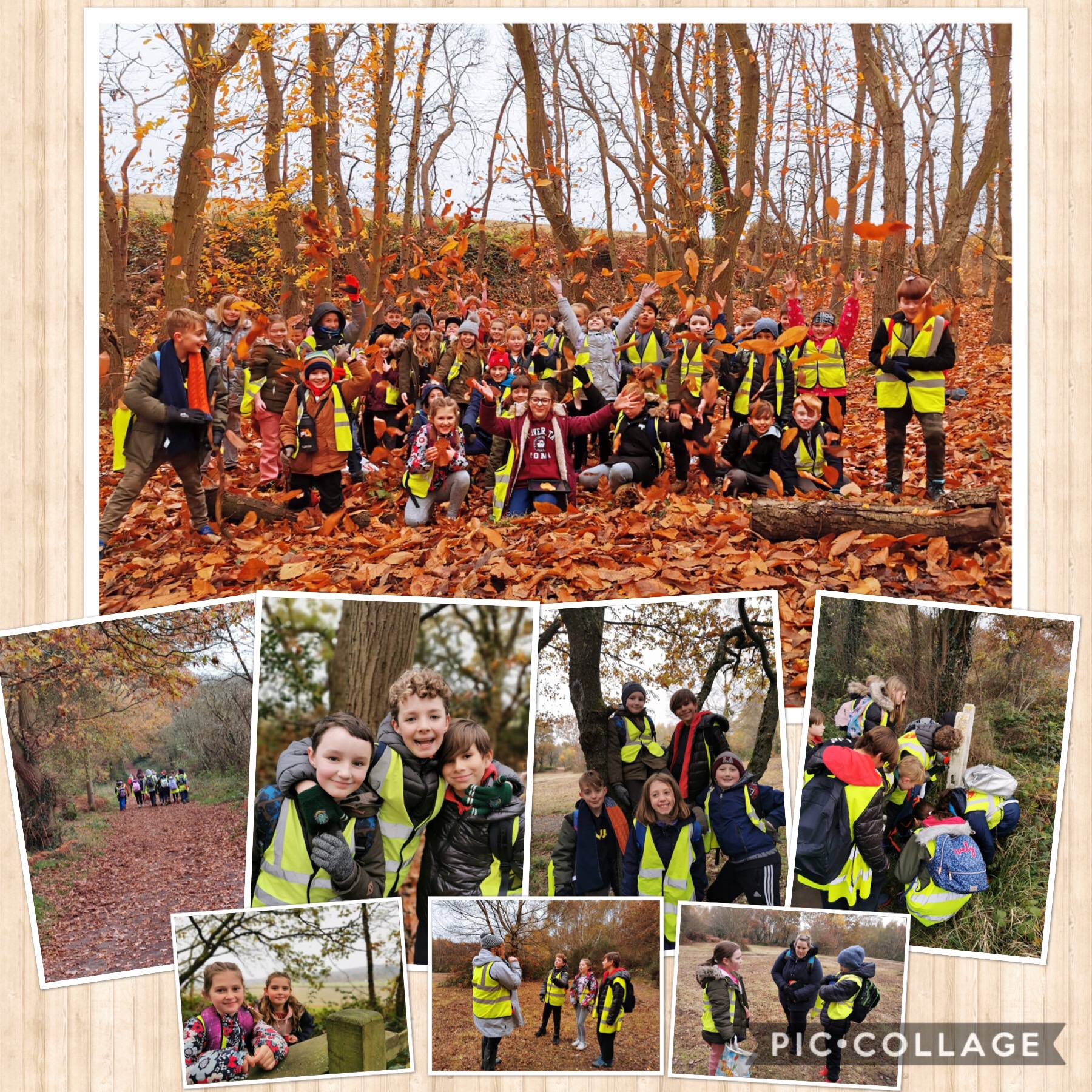 Cross Country
Congratulations to our Year 5/6 Cross Country squad who took on a very soggy and testing course at Burlish at the Wyre Forest School Sports Partnership Cross Country event. We are currently waiting to hear if any of our runners have reached the county finals but all of the children did incredibly well in tough conditions.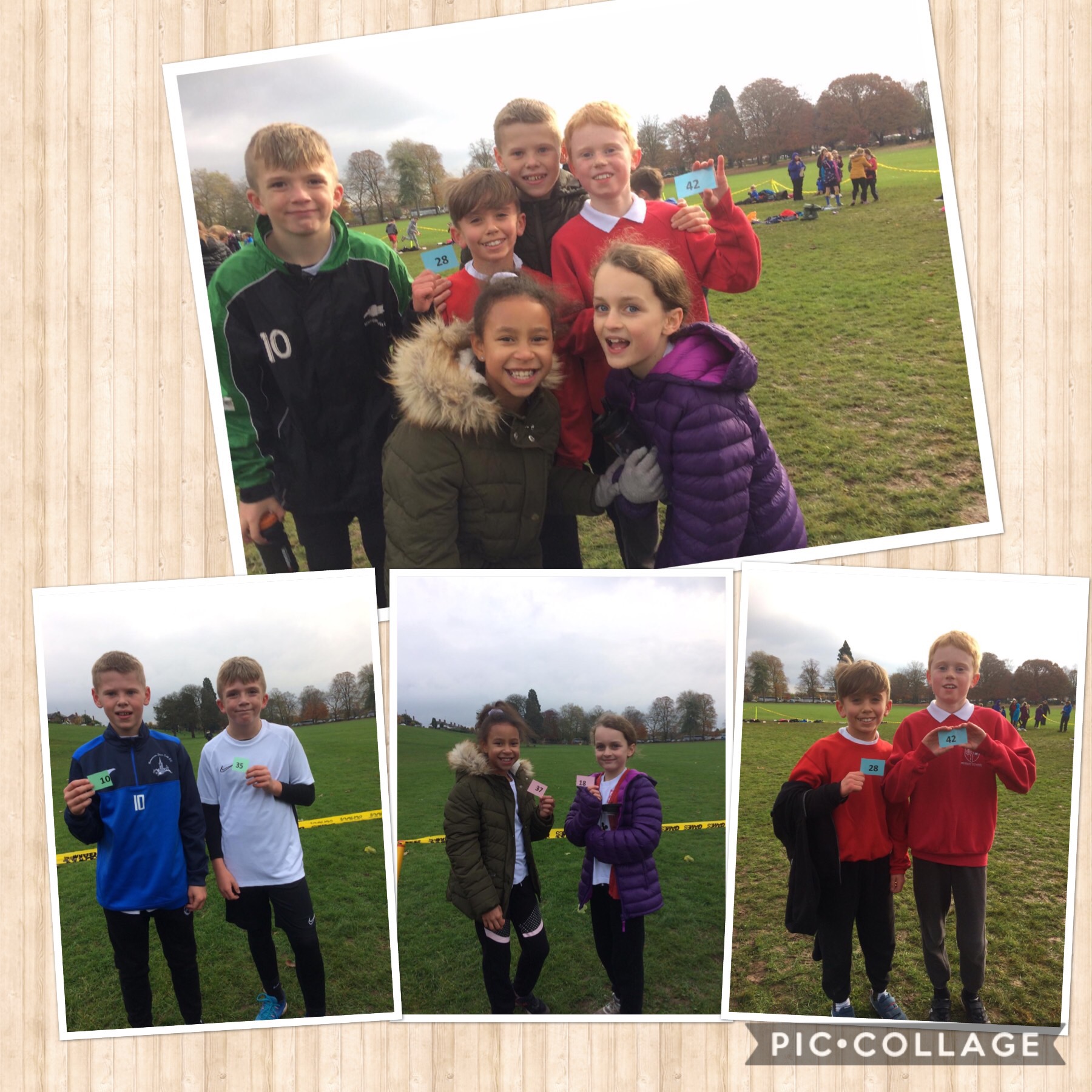 Into The Woods Topic
As part of their 'Into The Woods' topic, Year Six visited the children in Year One today to tell them some well known traditional tales. In groups, the children used their storytelling skills to share the stories which contain the ultimate villain - The Big Bad Wolf!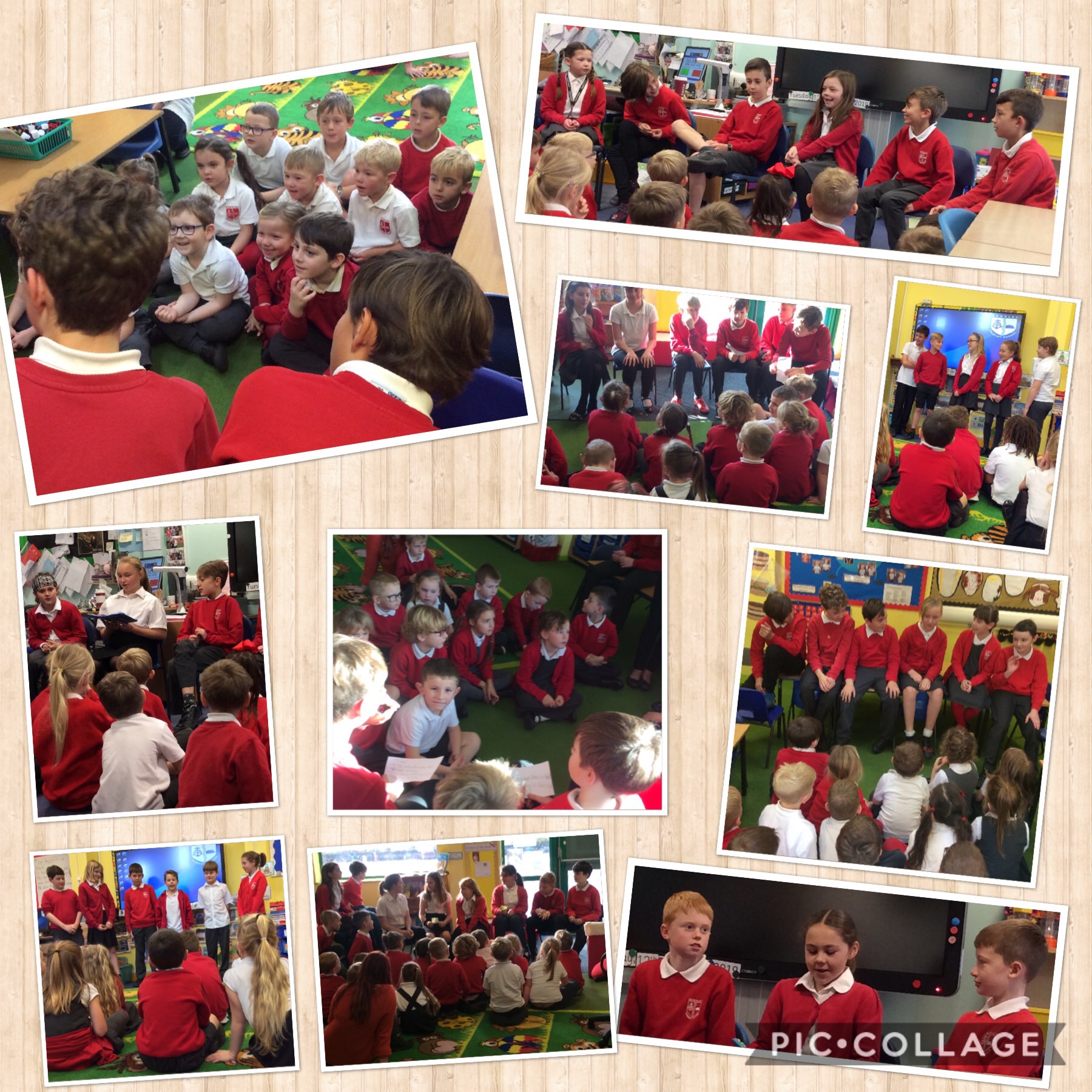 'When I Grow Up...Week'
Thank you to the staff from West Midlands Safari Park who popped in this week to talk to the children about the different jobs and opportunities that are available in so many different areas of the park. They spoke about the conservation and education programmes that they proudly support and gave the children some behind the scenes information about the animals and their routines.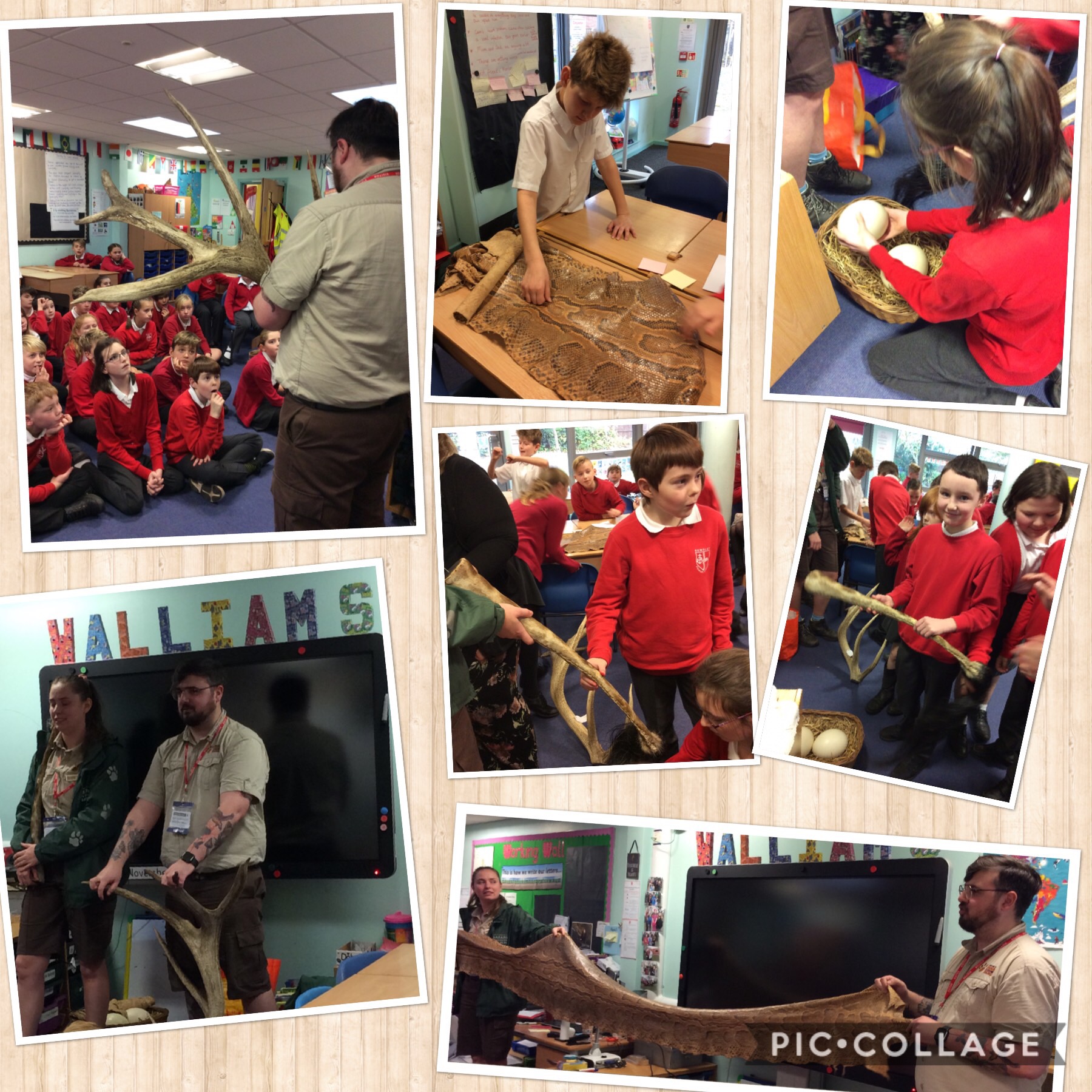 When Year 6 met Year 13!
Year 13 students from The Bewdley School and Sixth Form Centre met with our Year 6 students today, to discuss life after primary school! The older students shared their future aspirations with the children and answered questions about what they might like to study at GCSE and A Levels. They then worked together to consider all of the schools that will be needed to be successful in the future, whether in education or the workplace.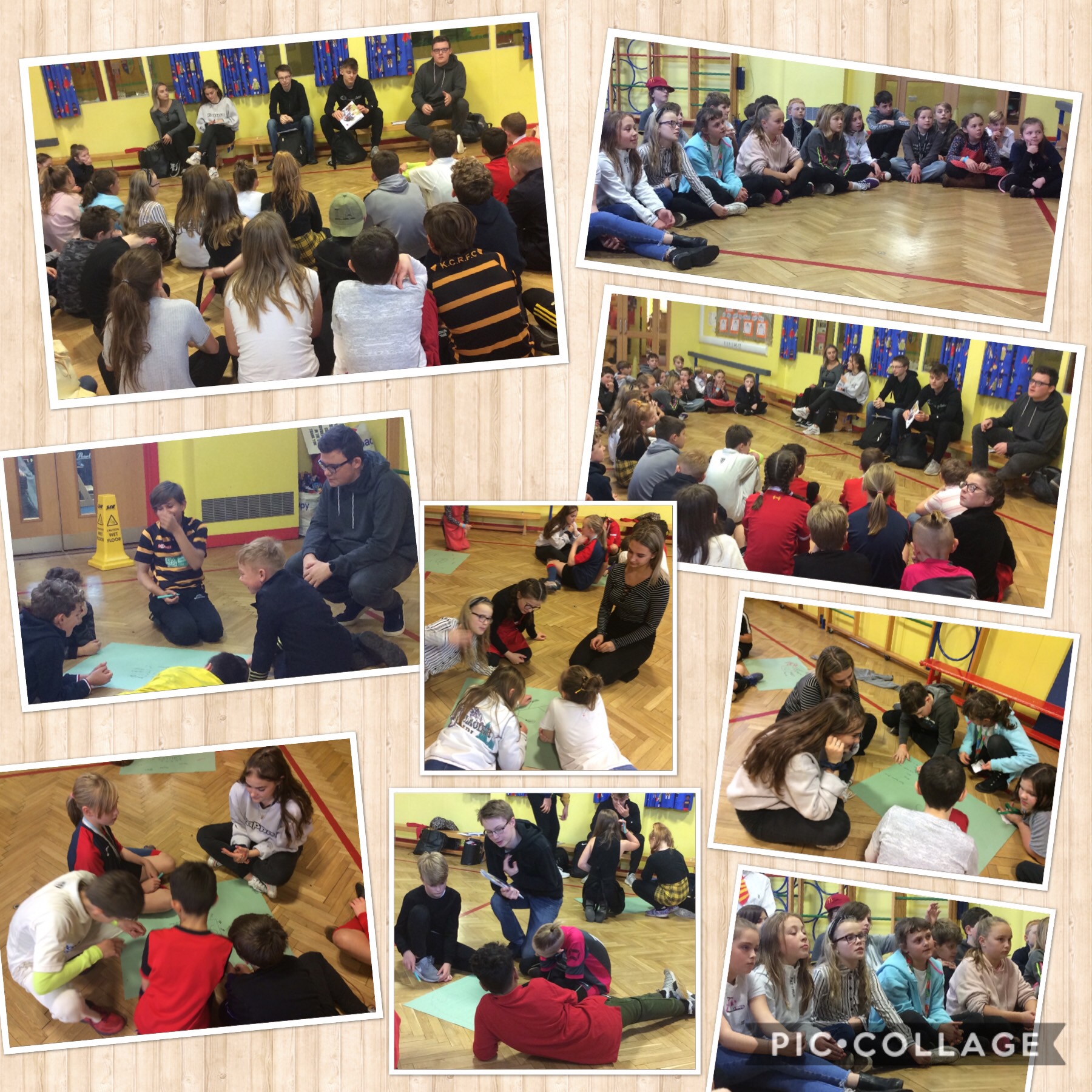 Visit to the Bewdley School Science Labs
As part of their 'Pump it up!' topic, Year Six visited The Bewdley School today and spent time in their new science labs. They watched the dissection of a lamb's heart and identified the similarities with human hearts. The children were then able to get a closer look at the heart and investigate it further, if they chose to! Thank you very much to Mrs Leach for having us and for answering the children's many questions.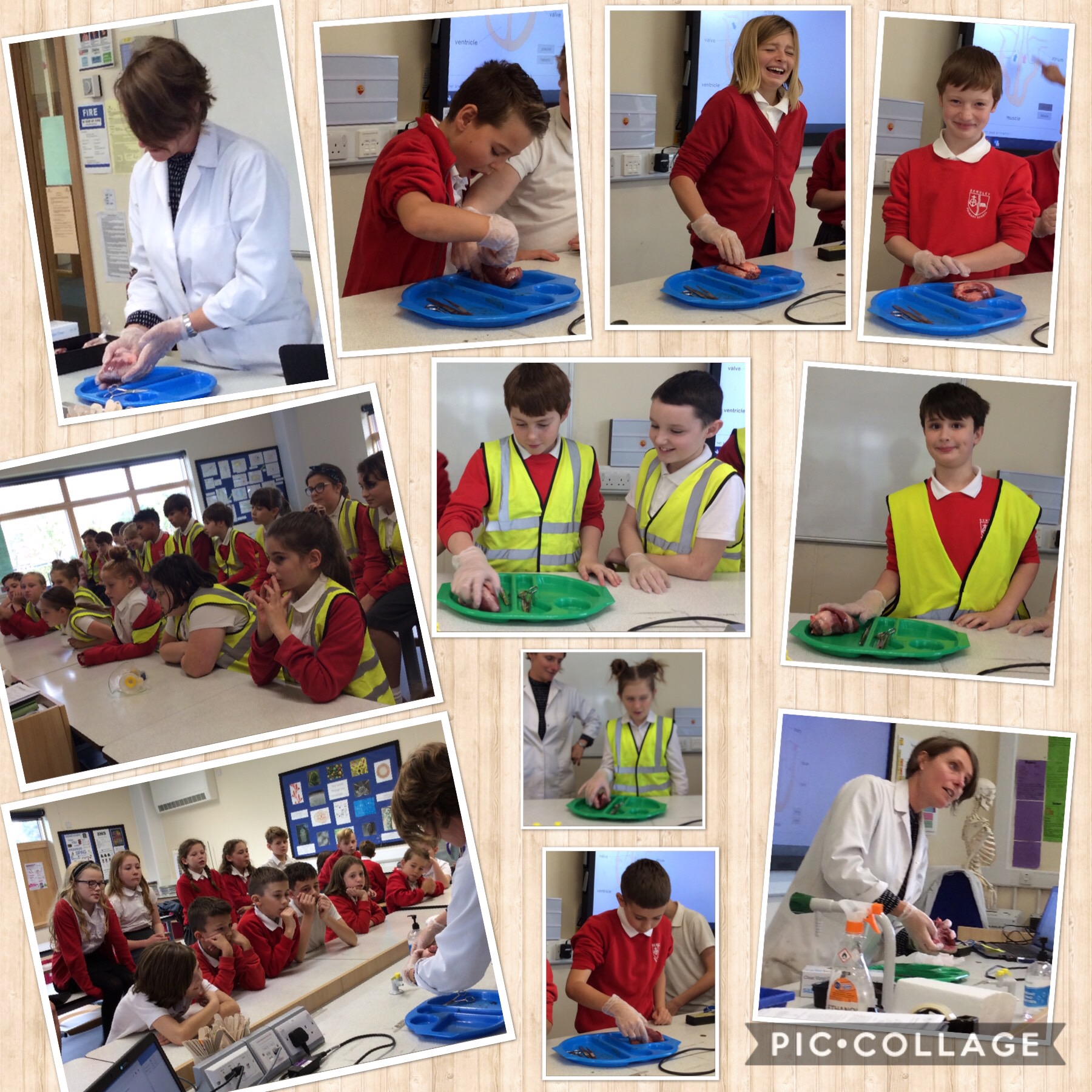 Pump it Up
As part of their 'Pump It Up!' Topic, Year Six investigated the effects of exercise on the pulse. They recorded their resting pulse before a minute of star jumps and then at regular intervals to see how long it took for their pulse to regulate again. After creating line graphs to show their findings, the children were able to compare their findings with others within the class. Some of the results suggest that we may have some medical marvels in Year Six.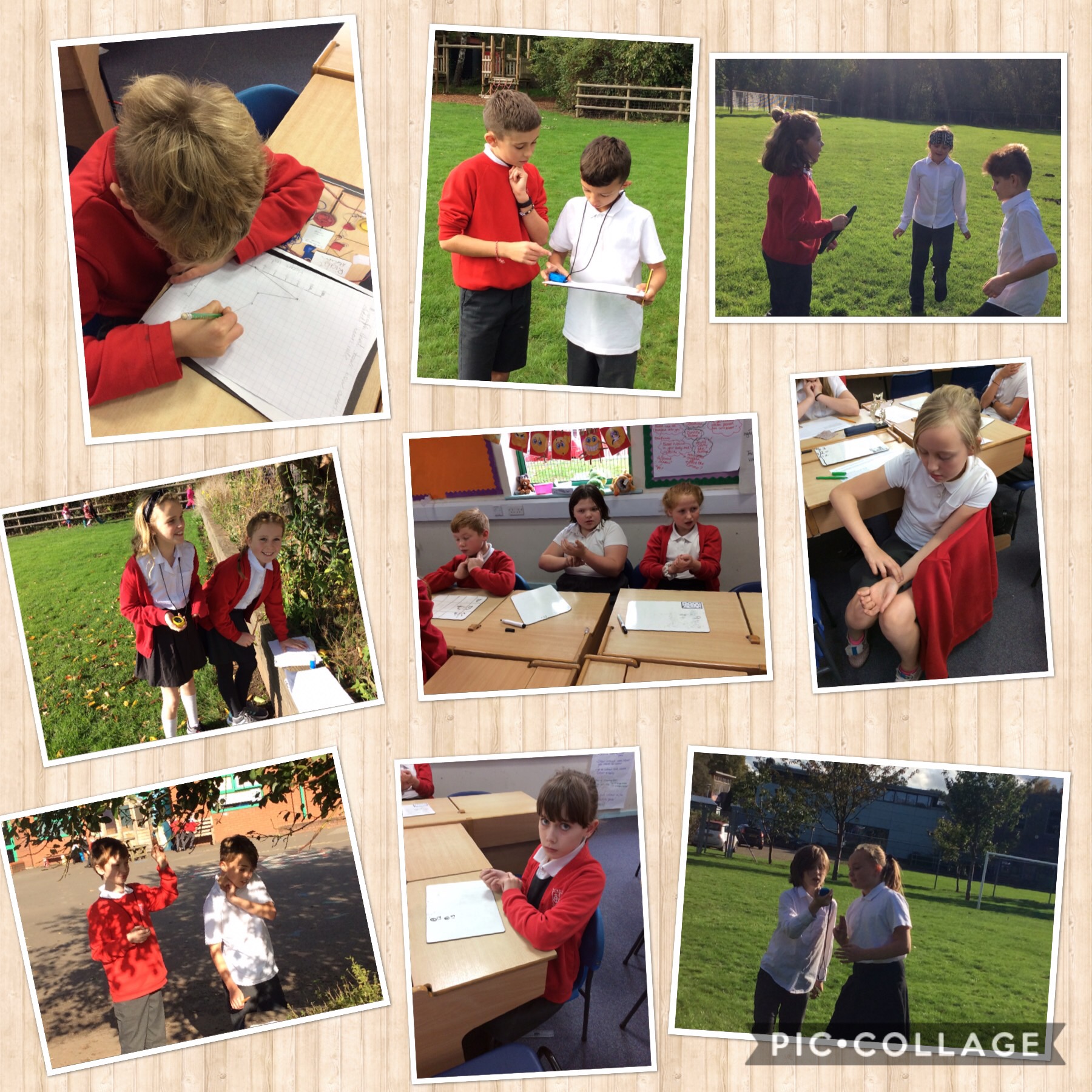 Girls' Football Festival
Ten Year Six girls braved the weather to take part in a Girls' Football Festival at the Kidderminster Harriers Centre of Sporting Excellence. They had a great time improving their skills and techniques and finished the session by playing a series of games with the other schools.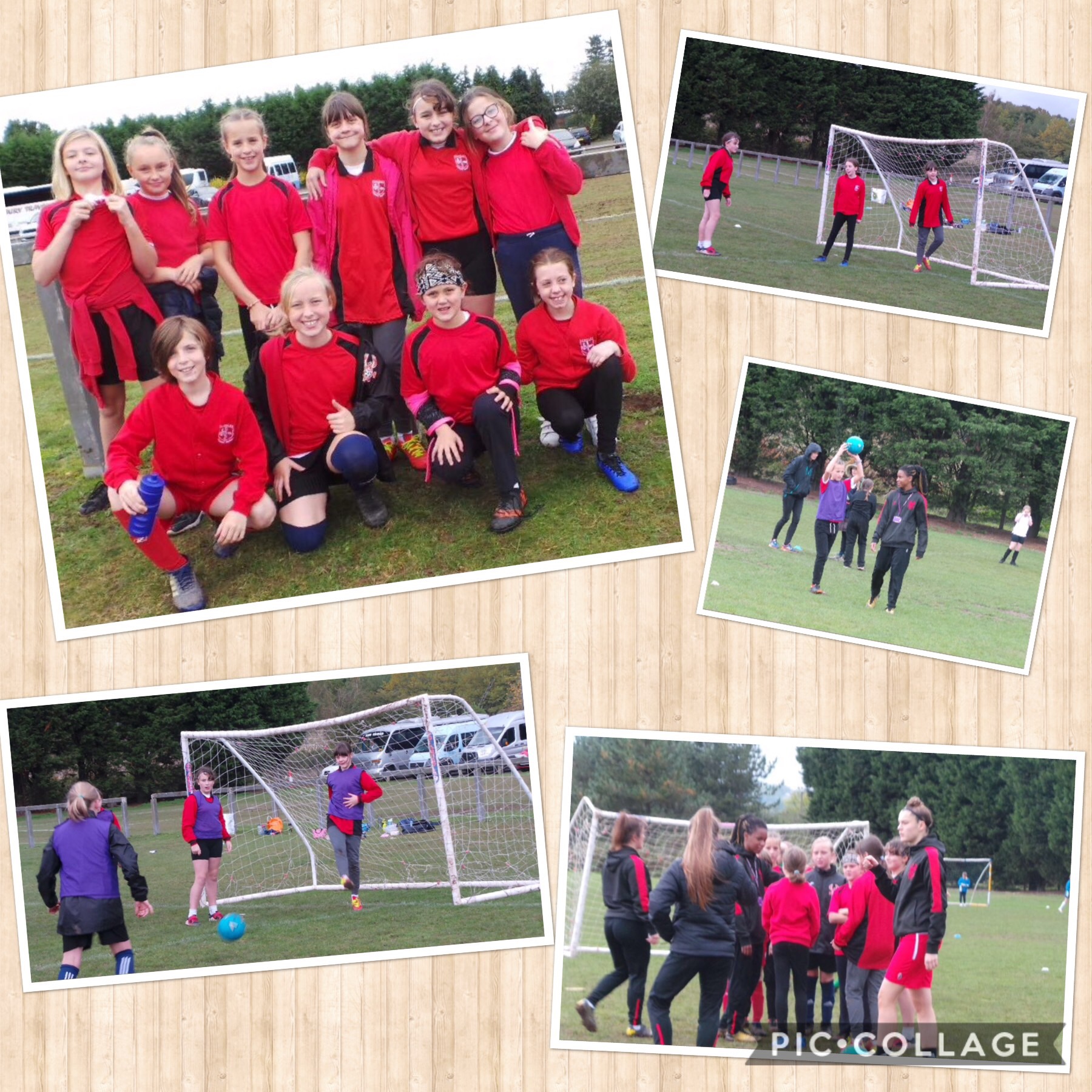 'Dancing in the Street'
The children have had a great time this week preparing for their time in the recording studio, as part of Bewdley Festival's 'American Epic' weekend. In partnership with Bewdley Youth Festival, they have helped us to record seven tracks which will be available for parents to buy later this month. To see the music video of Year Six's rendition of 'Dancing in the Street', click on the link below
Science
Year Six used their scientific knowledge (and imagination!) to recreate the human heart using just PE equipment! Although the creations may look a little confusing to the untrained eye, the children were able to demonstrate the journey of the blood, the different parts of the heart and how they all work together to pump blood around the body.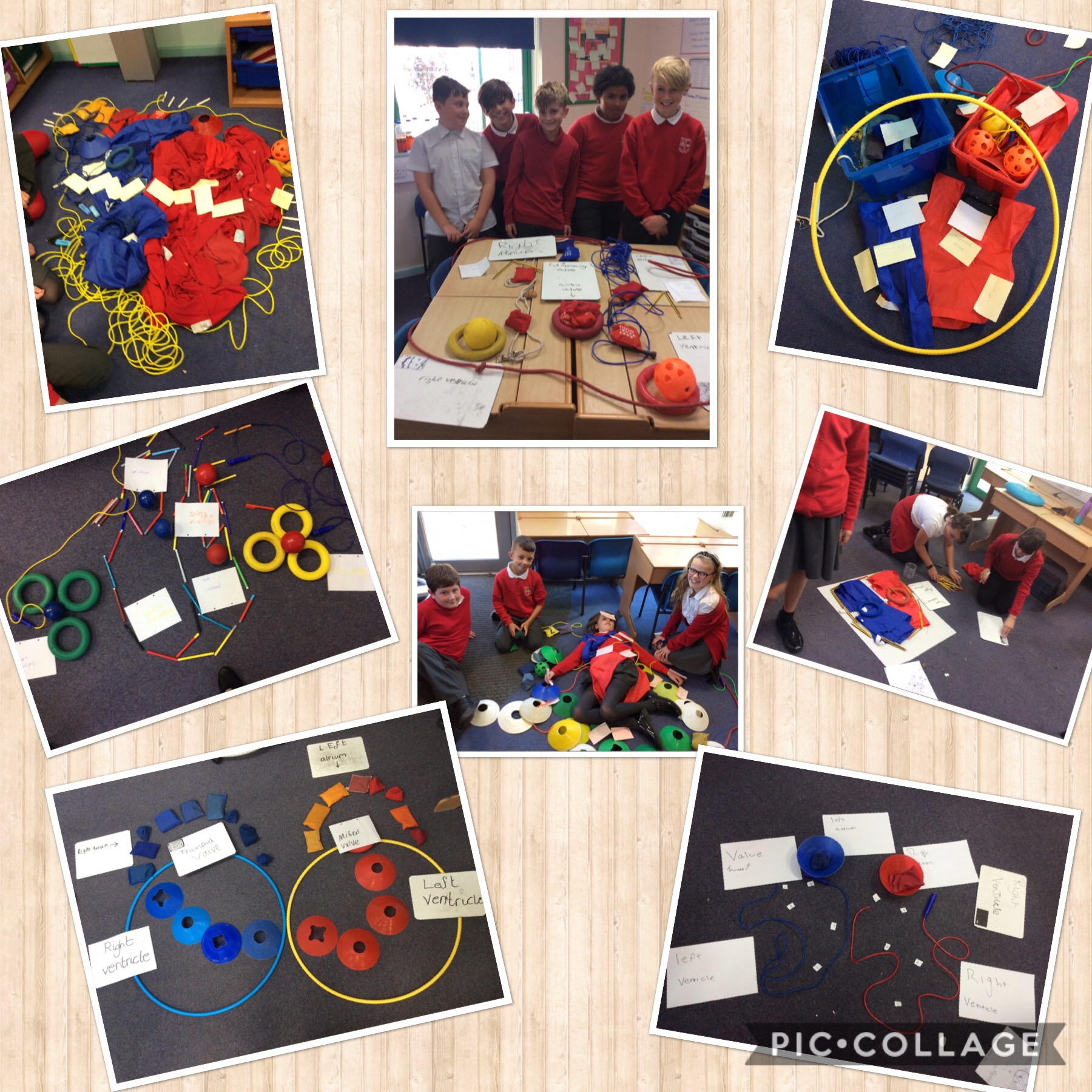 Longtown - Final Day
After an incredible week away, our intrepid explorers have all returned safely. It has been a fabulous week for all of the staff and children who were lucky enough to go.
(We've taken hundreds of photos of all of the children throughout the week and we'll let parents know when they're available for you to keep!)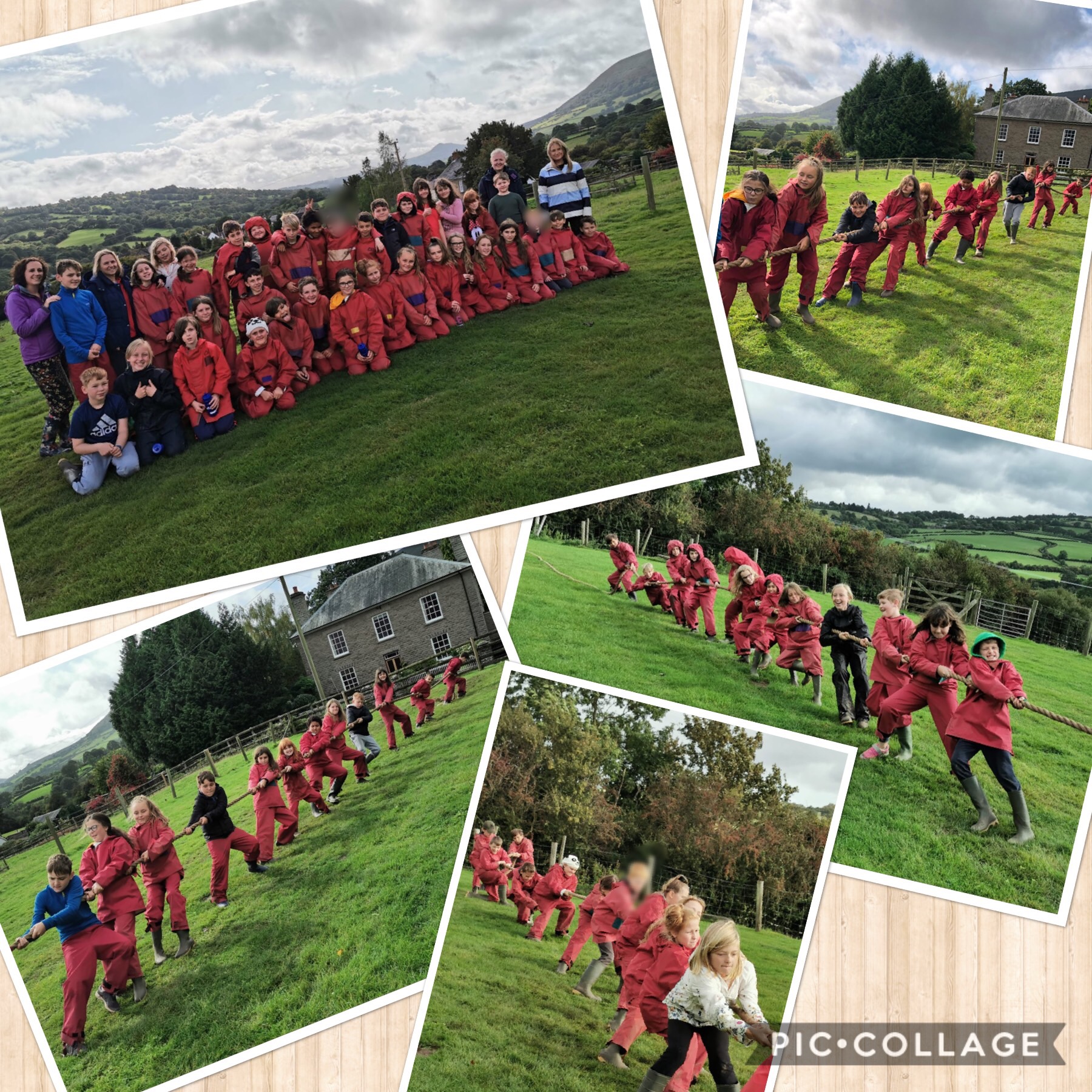 Longtown Day Four
Year Six enjoyed good weather again at Longtown today. Well done to eco warriors Gio and Manny who combined their canoeing with a spot of litter picking!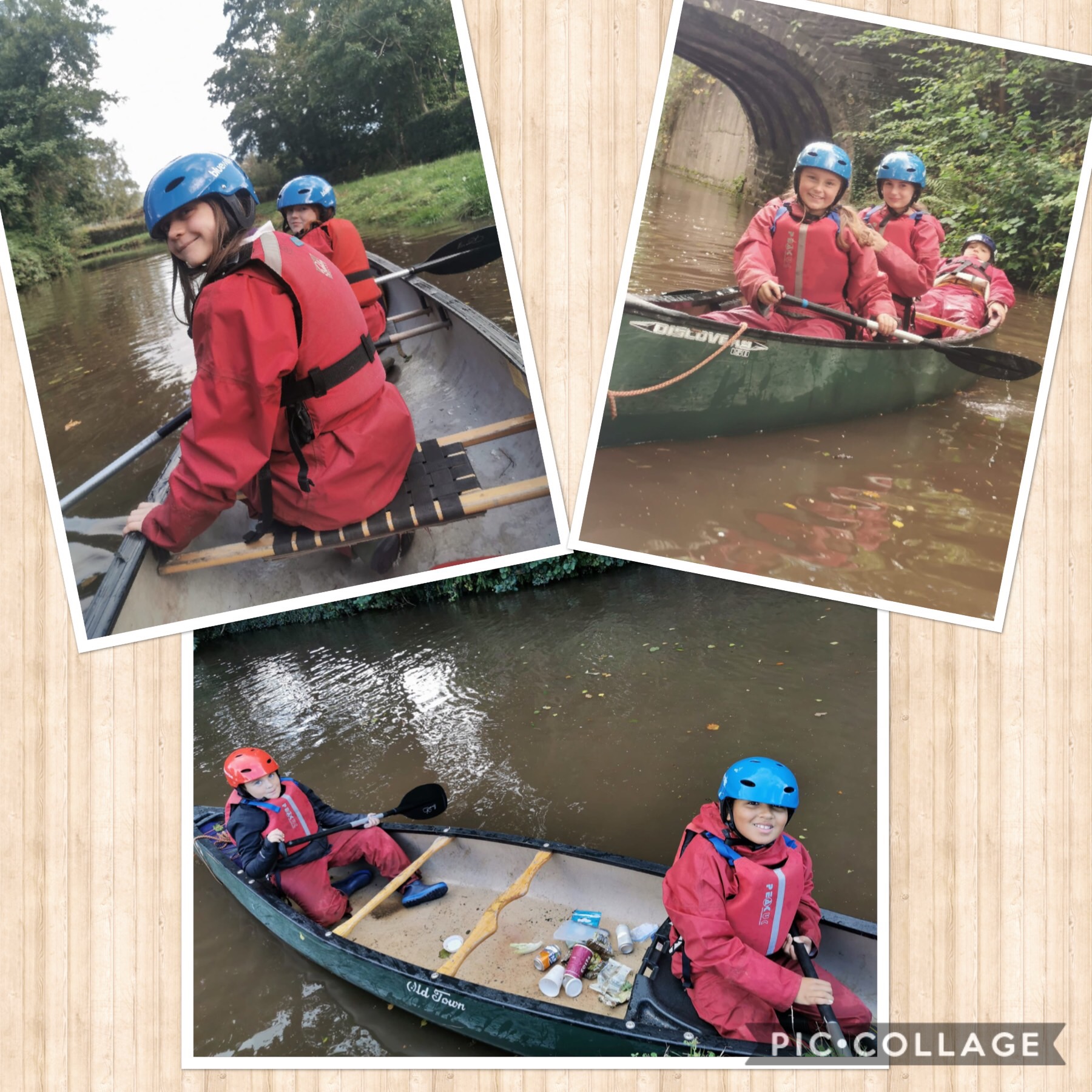 Year Six spent their last night at Longtown around the campfire, reflecting on all that they've achieved this week.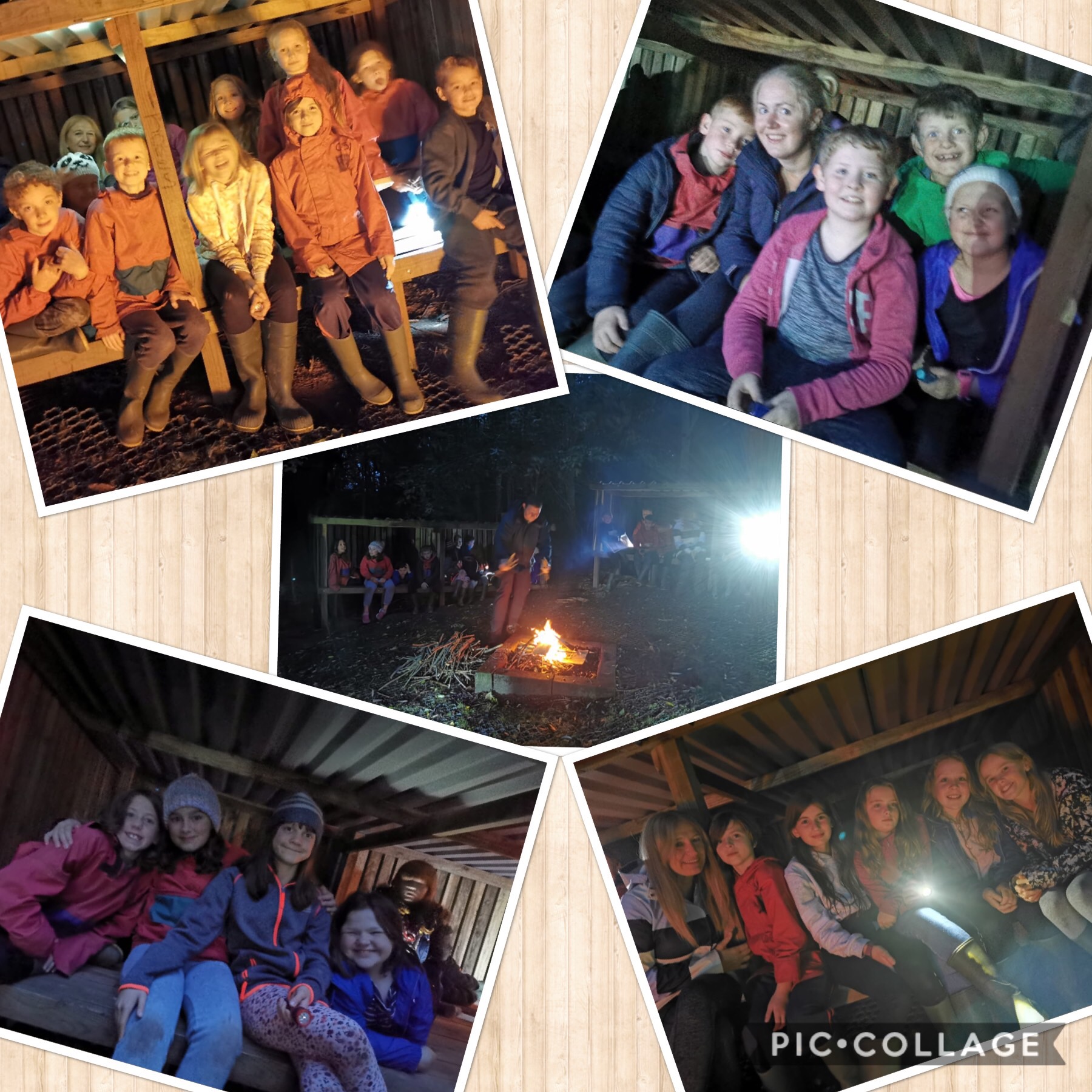 Longtown Day Three
Day three at Longtown remained rain-free but that doesn't mean the children stayed dry! High ropes, paddle boarding, canoeing and gorging were all on the agenda for today!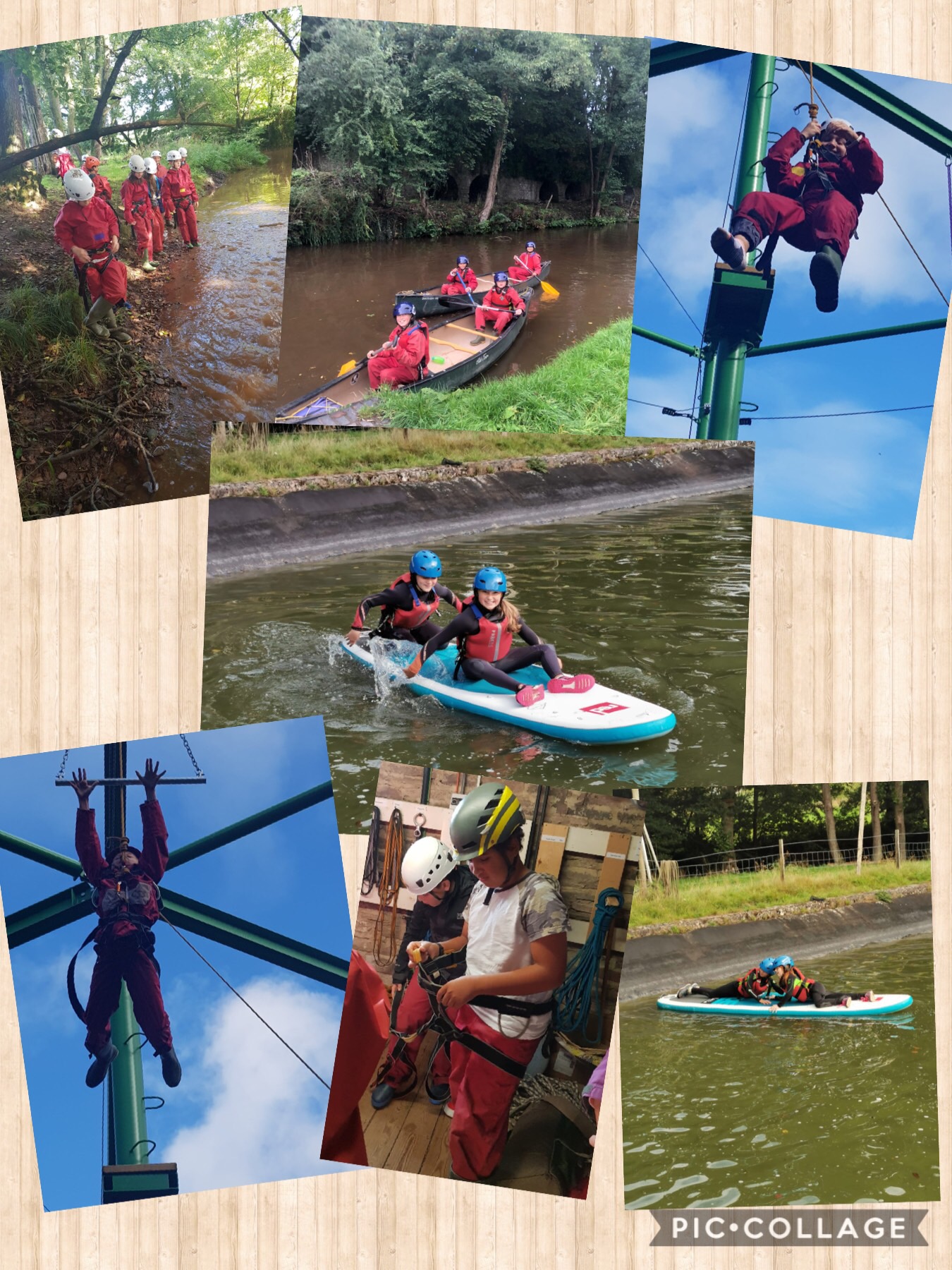 Evening three at Longtown involved a fact-finding visit to Longtown Castle!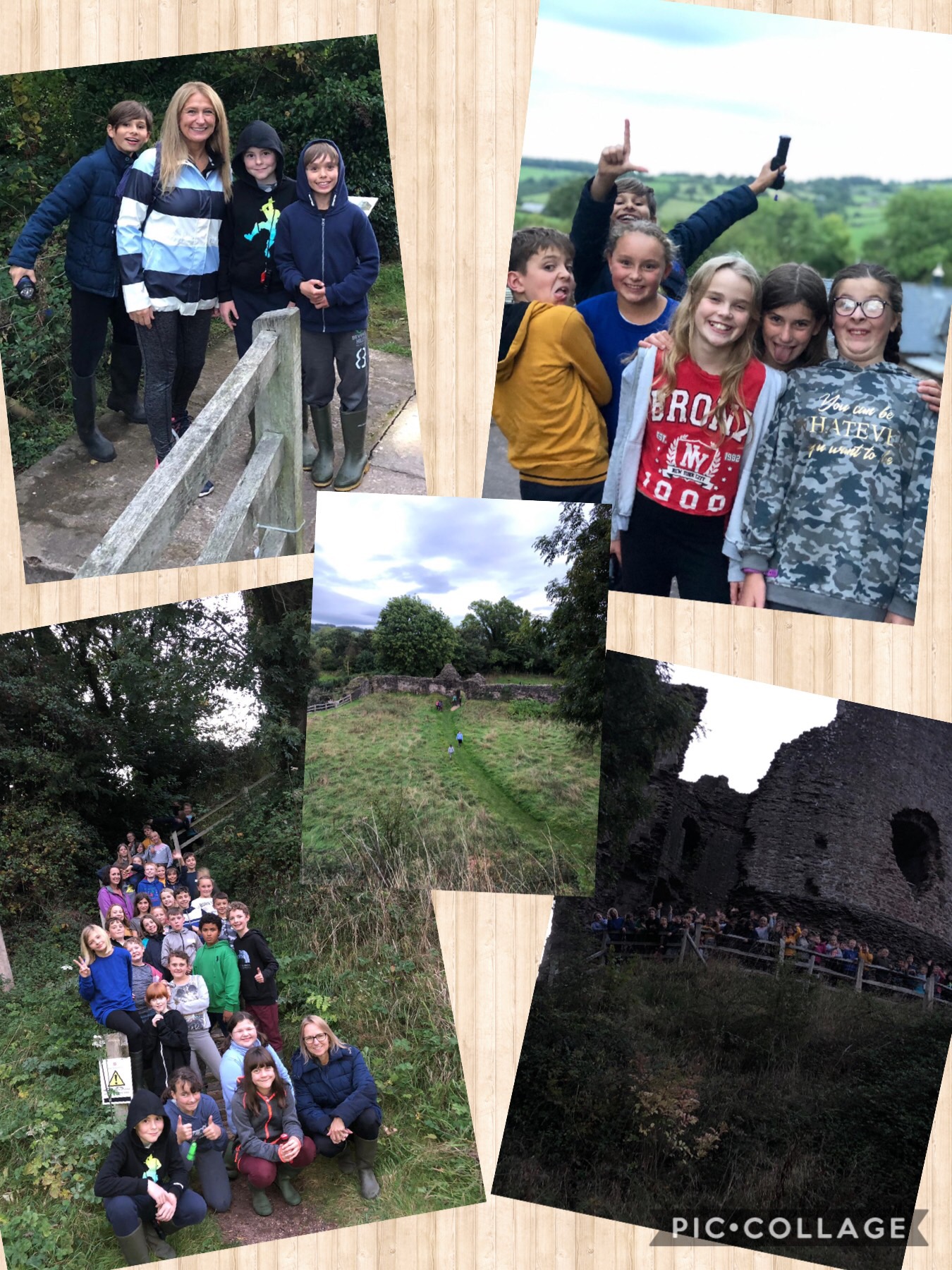 Longtown Day Two
On their second day at Longtown, the children have been braving the weather again! They've had a fabulous time canoeing, gorge walking, orienteering and on the high ropes.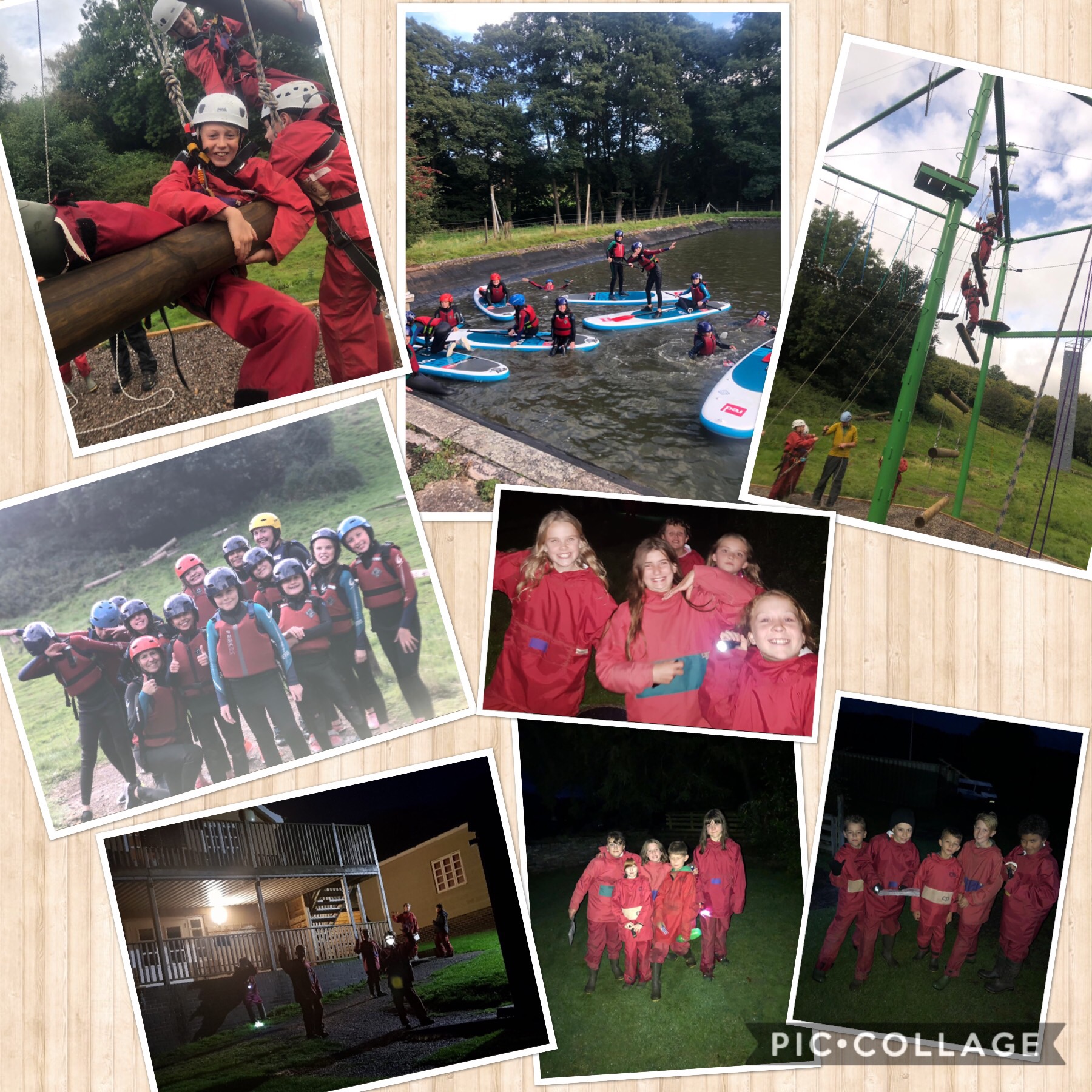 Longtown Day One
Our Year Six adventurers arrived at Longtown and after just 30 minutes of duvet-cover manoeuvring, set off for lunch before their mountain walk. They all survived the wind and the rain on their trek and, after drying off, they've settled in for an evening of team building games.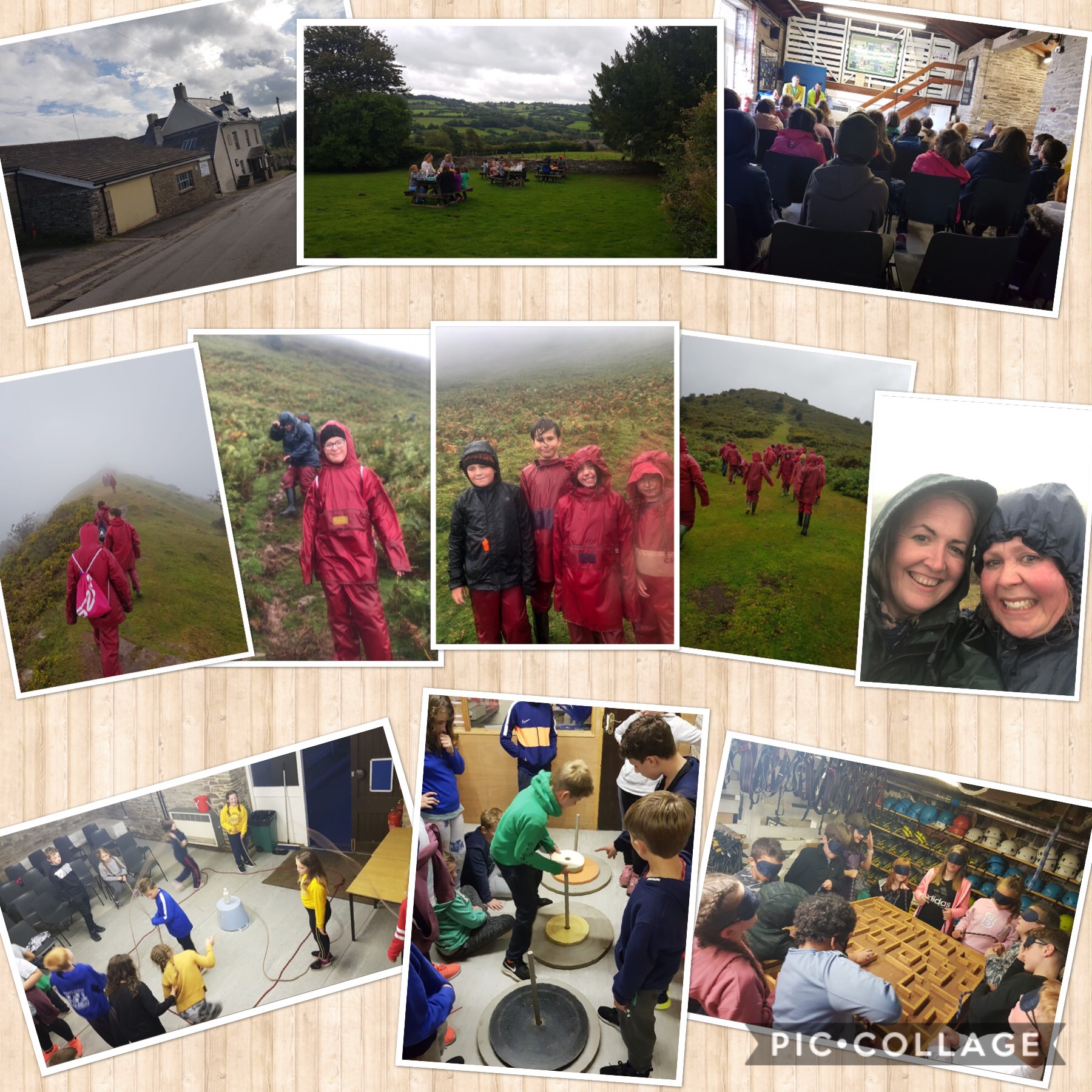 Preparations for our Macmillan Coffee Mornings
Our school-based Year Six children spent today preparing for the Macmillan Coffee Morning tomorrow. They had great fun baking and decorating vanilla and chocolate cupcakes and obviously had to have a little pre-sale taste test. As did Mr P, it would appear!
Years 5 & 6 have their coffee morning tomorrow, straight after drop-off. Years 3 & 4 are on Wednesday, Nursery & Reception are on Thursday and Years 1 & 2 are on Friday!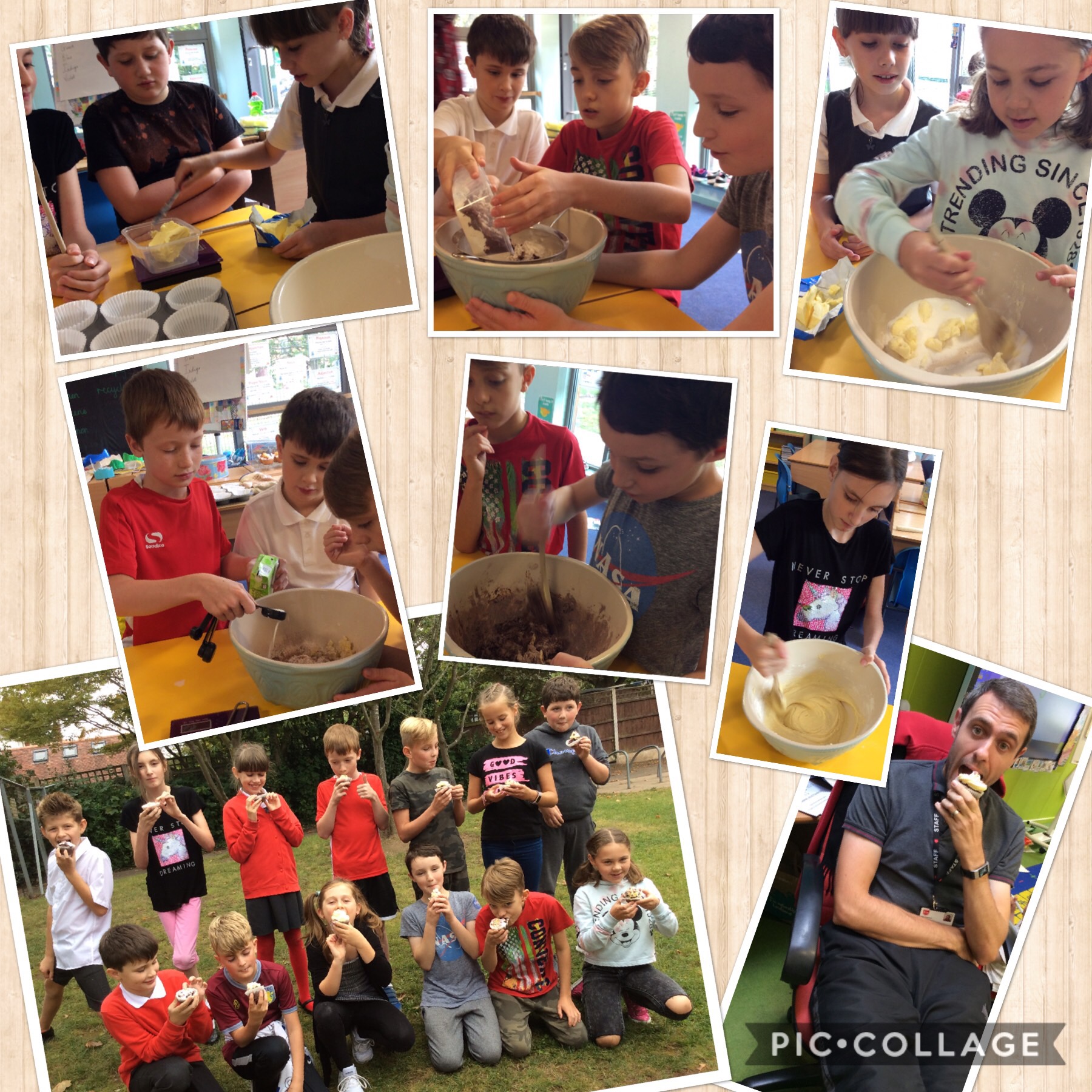 Vlogging
After a busy start to the school year, Year Six have been having a go at Vlogging! The children chose hobbies or areas of interest for their videos which gave viewers the chance to learn how to create french plaits, bake an apple crumble, do keepie uppies, make the perfect cup of tea and many other skills. After filming, they then edited their videos using the iMovie app.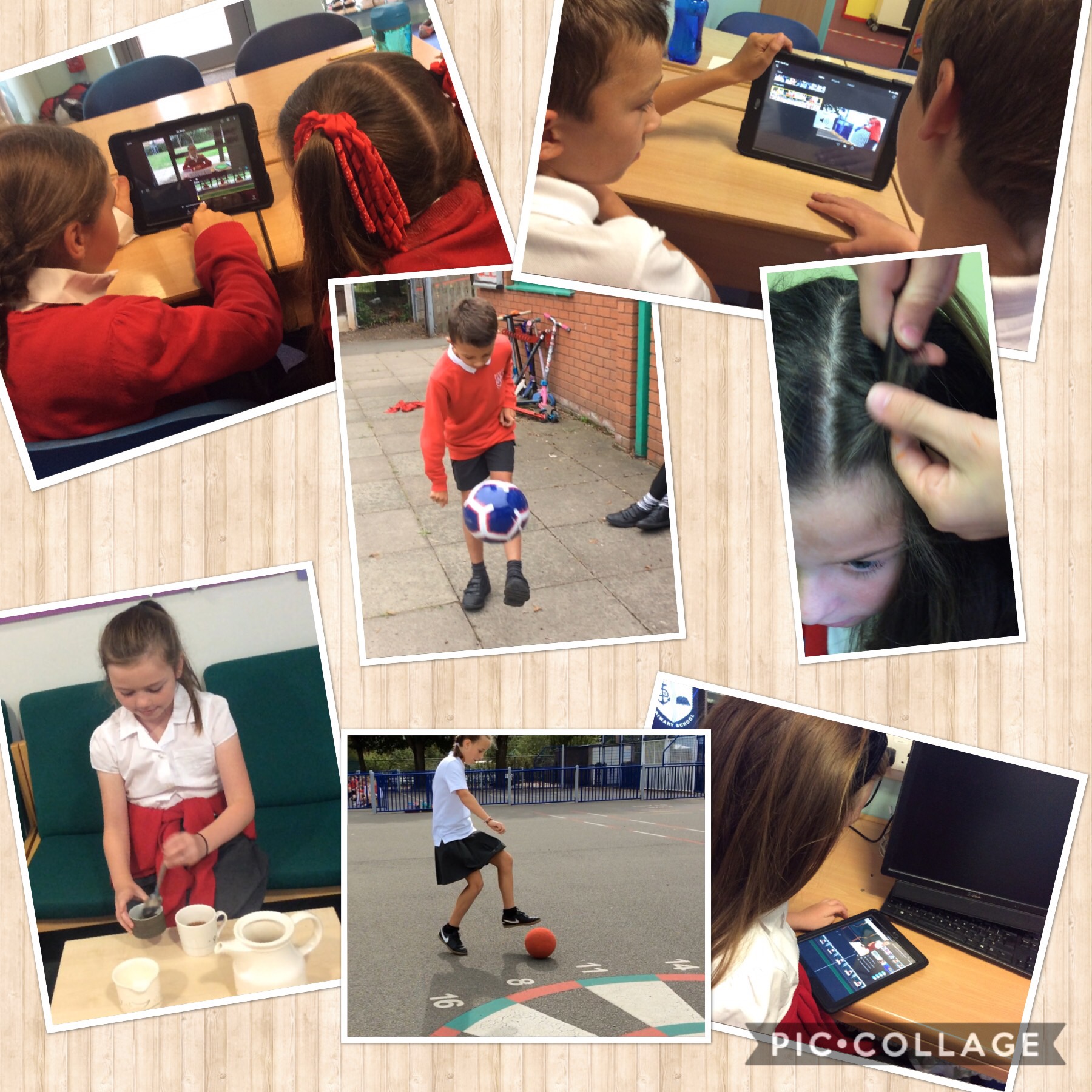 Keepsake Dictionaries from Bewdley Rotary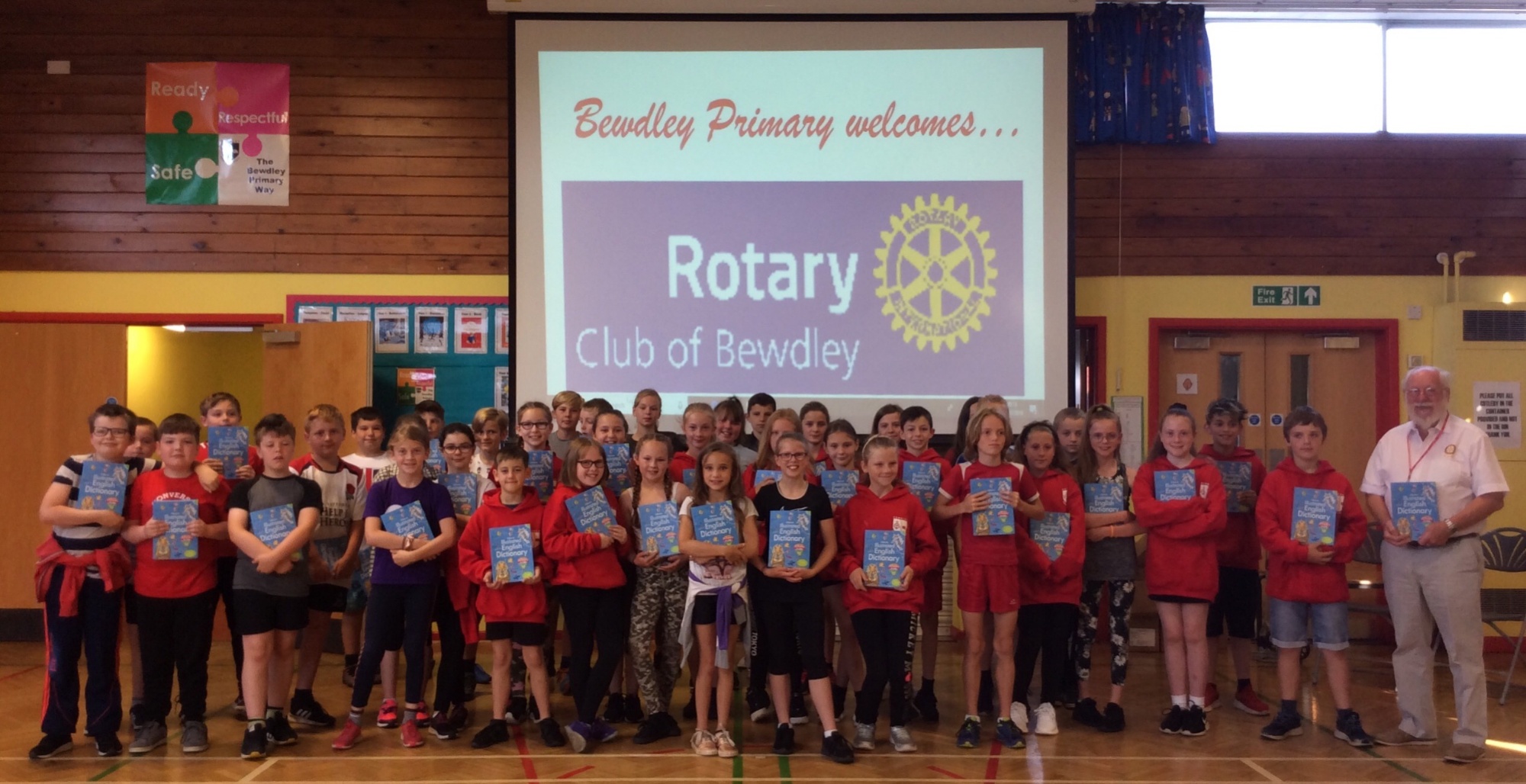 Thank you to Bob and Neil from Bewdley Rotary who came in to assembly to present Year Six with beautiful keepsake dictionaries.
2020 Mars Rover Mission
In preparation for the 2020 Mars Rover Mission, Year Six have been investigating how NASA can ensure that their equipment touches down safely. The children had some incredible, innovative ideas to ensure their egg astronauts survived the landings, but we're sad to report that not all of the eggsplorers returned home safely.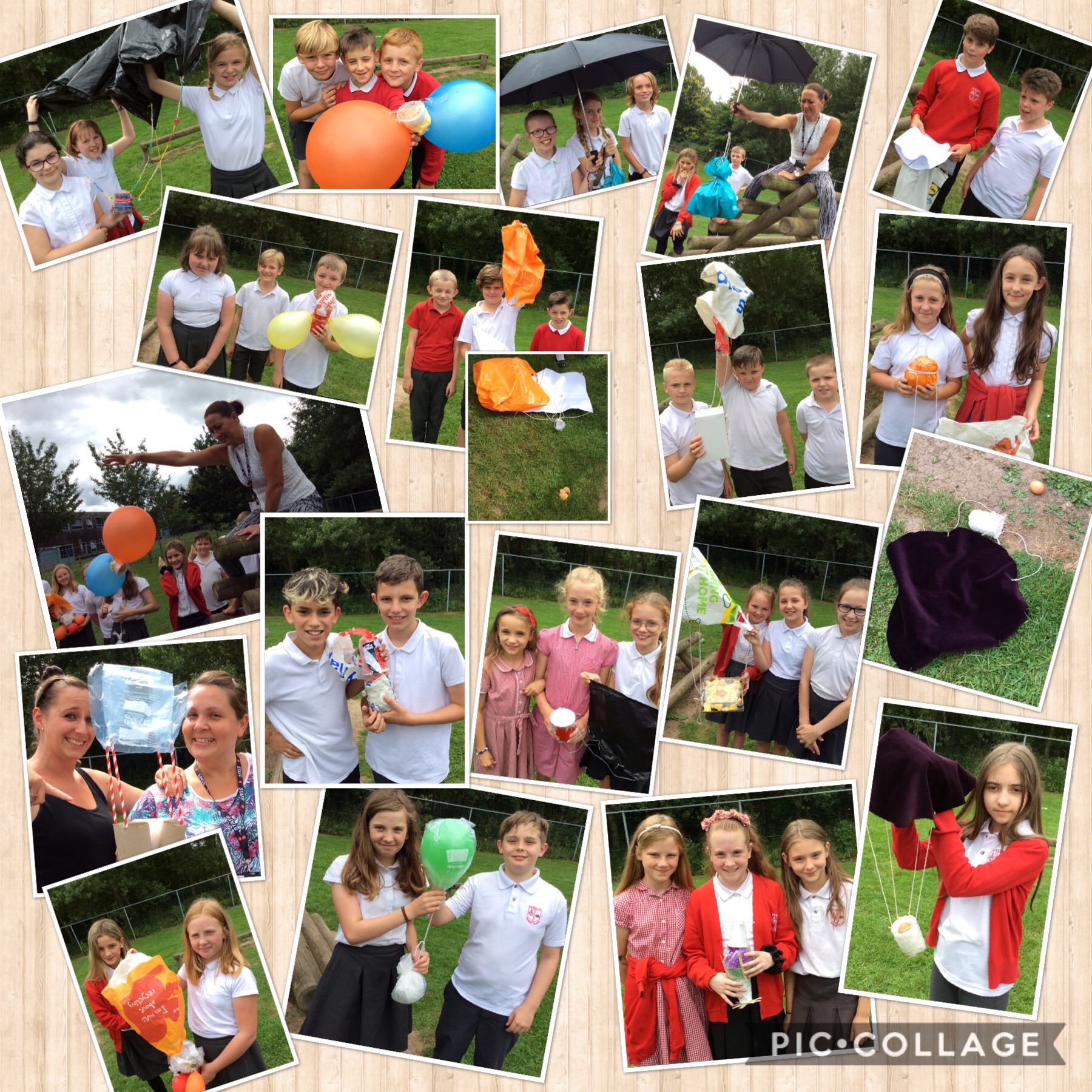 Wizard of Oz
This wonderful group of children received a standing ovation for their incredible performance of the Wizard of Oz at the Rose Theatre. Their talent, enthusiasm, and camaraderie shone through as it has done all year. Well done Year 6, for all that you have achieved this year - we could not be prouder!
Mummified Mackerels 7 months later!
Back in December, Year Six mummified mackerels as part of their Egyptian topic! The fish have spent the last 7 months mummifying in the PE shed and today their bandages were removed and they were finally unveiled. It was incredible to see how well they'd been preserved - although there was a definite fishy whiff in the air!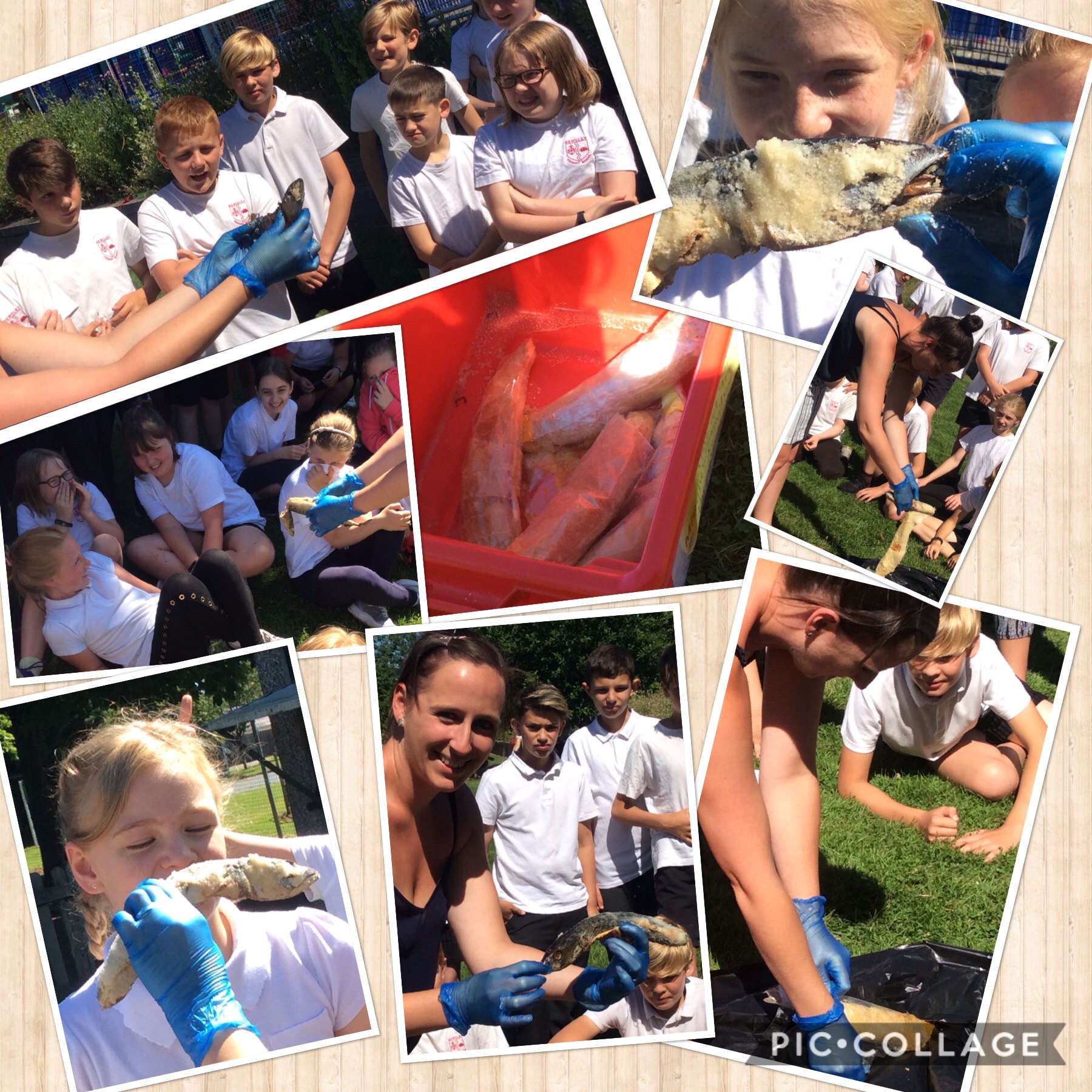 KS2 Athletics Competition
Well done to all of the Year Six athletes who took part in the WFSSP KS2 athletics competition. The children enjoyed a great morning of track and field events and came 5th overall.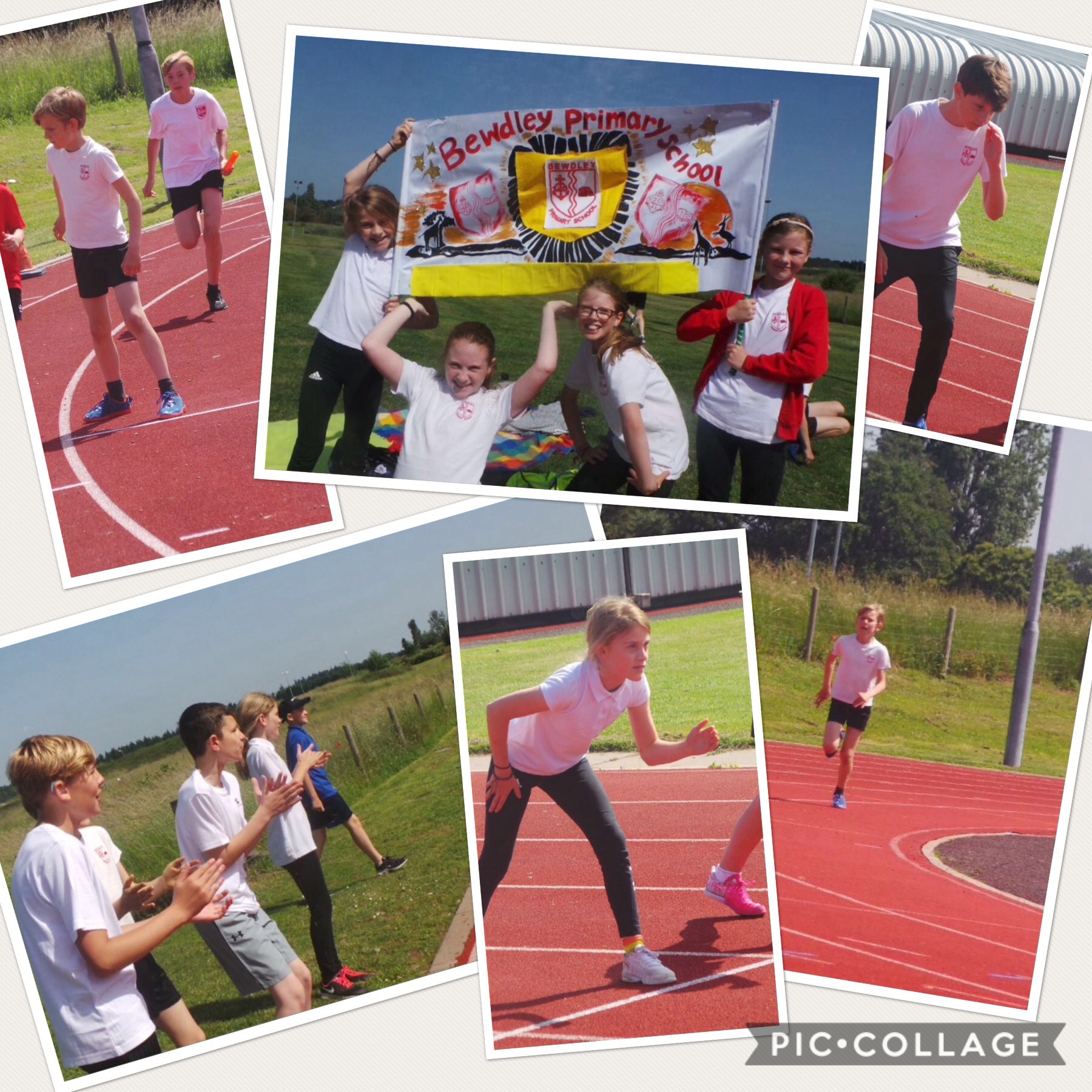 Wizard of Oz rehearsals
The rehearsals for our Year Six production, The Wizard of Oz, are going well and we're now making sure that we have all our props and costumes ready. We can't wait to perform at The Rose Theatre in Kidderminster on 8th July!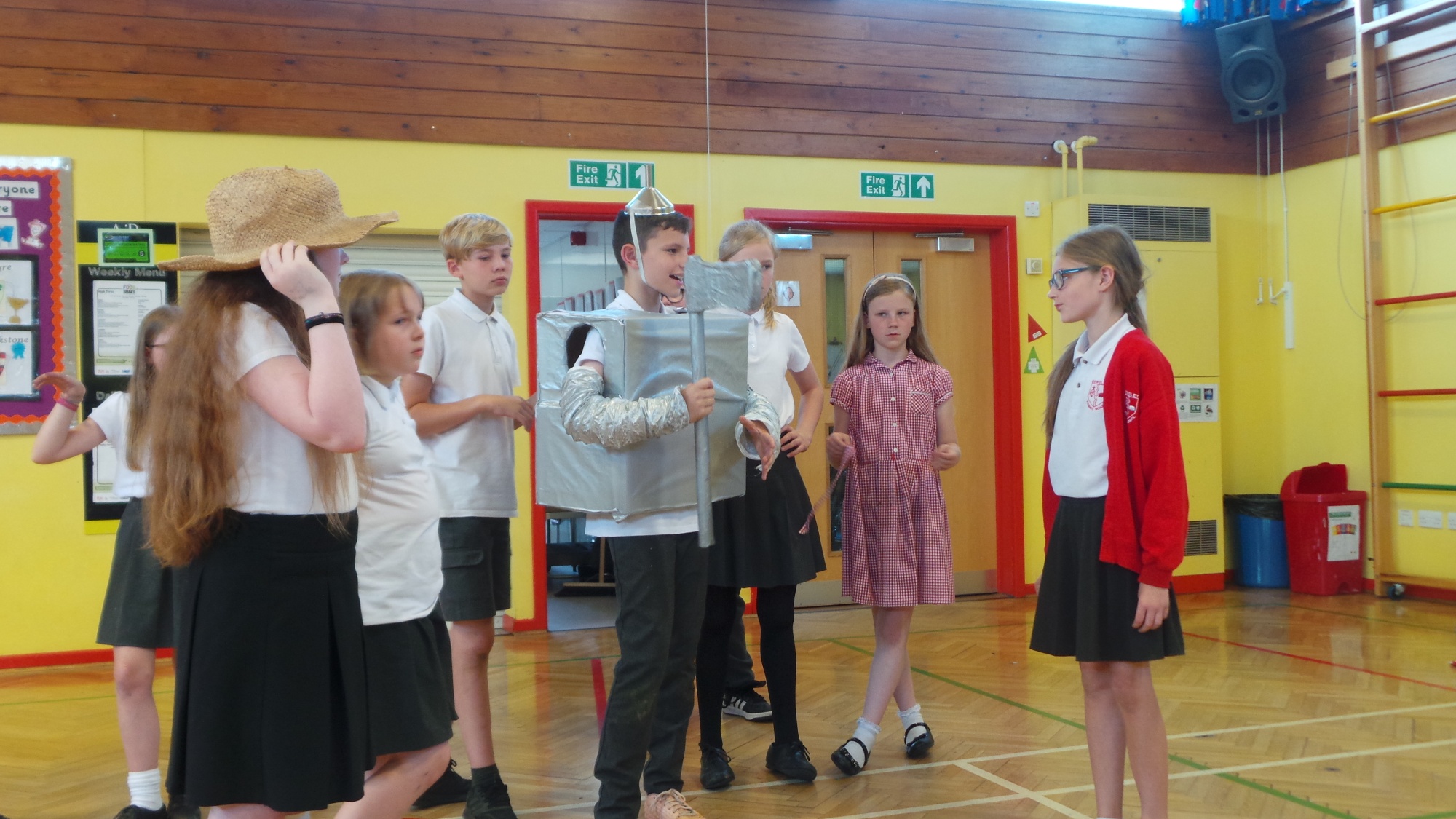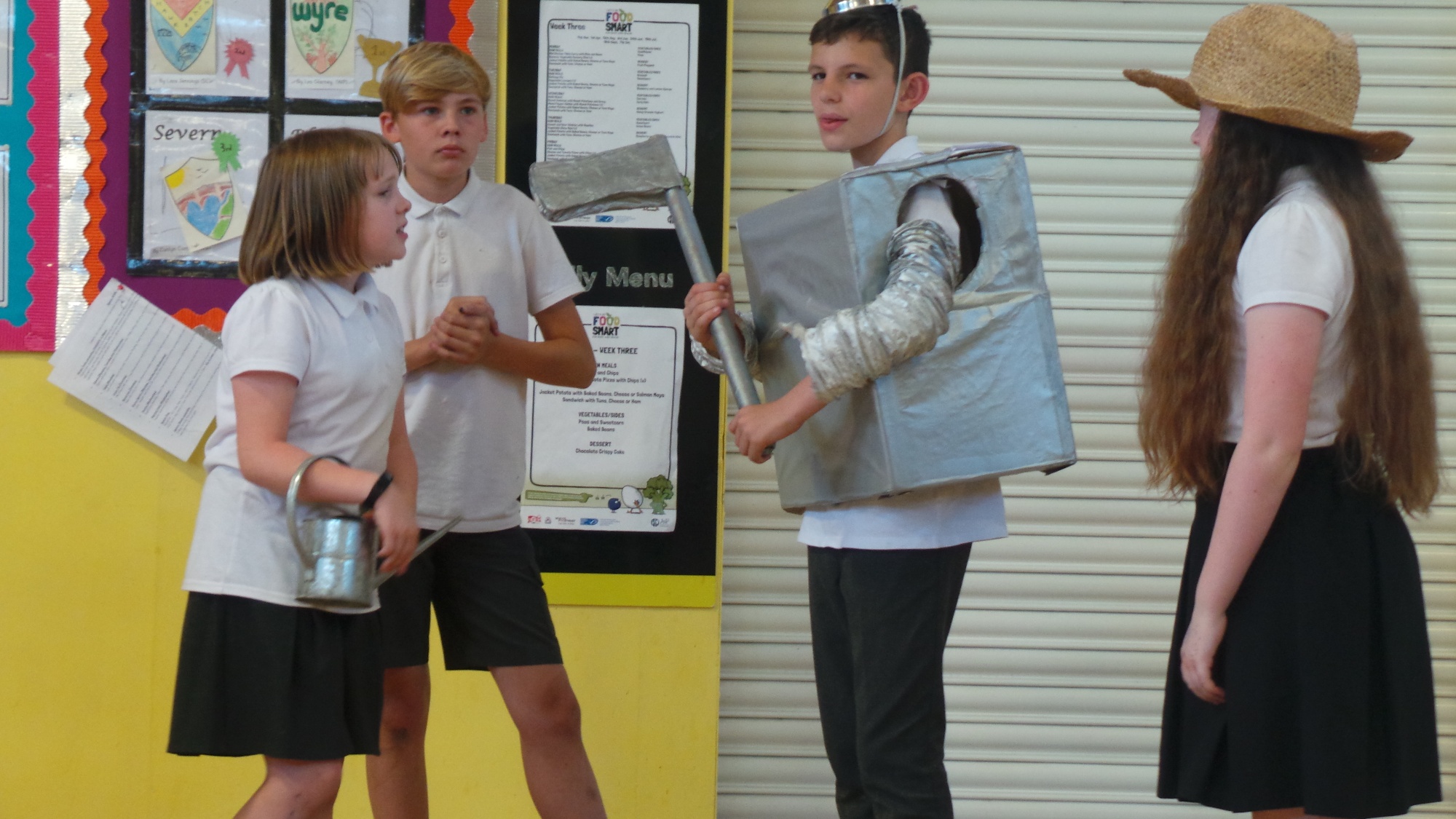 Year 6 trip to Warner Bros Studios
'Year Six enjoyed a fabulous day at Warner Bros. Studios, learning all about how special effects can be used to enhance cinematic experience in preparation for their performance of The Wizard Of Oz. It was a long but incredible day and the children were great representatives of Bewdley Primary School.'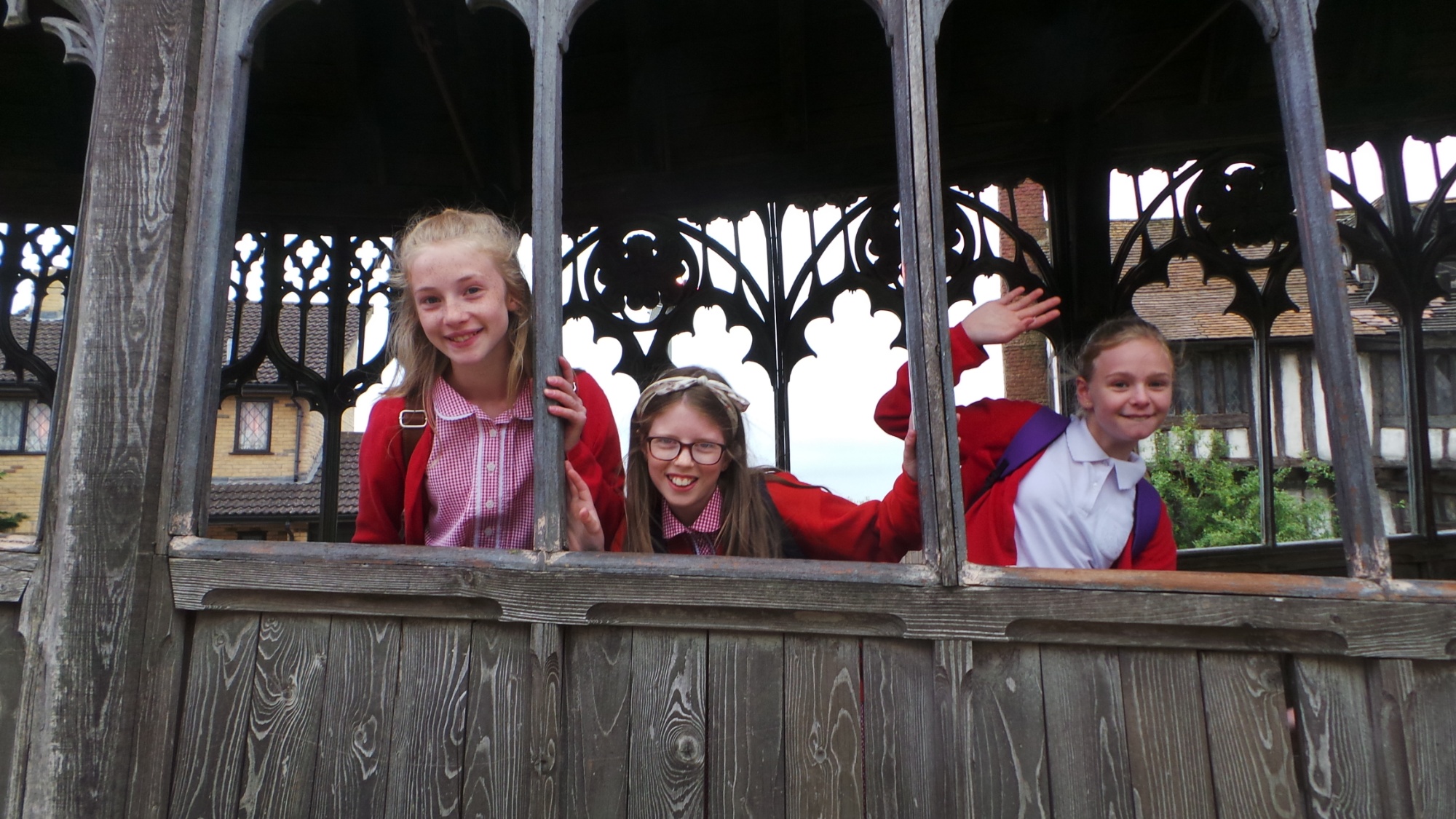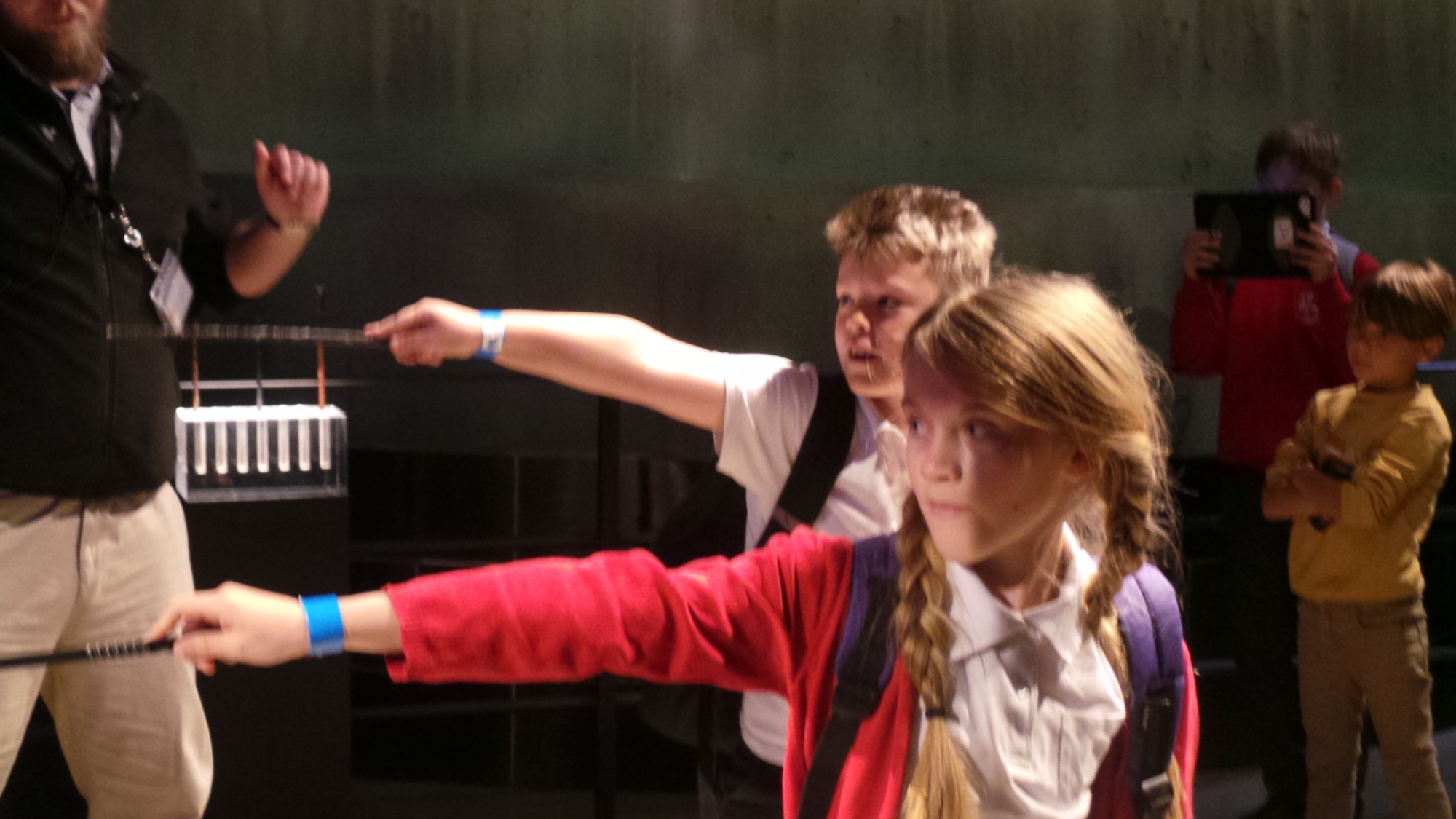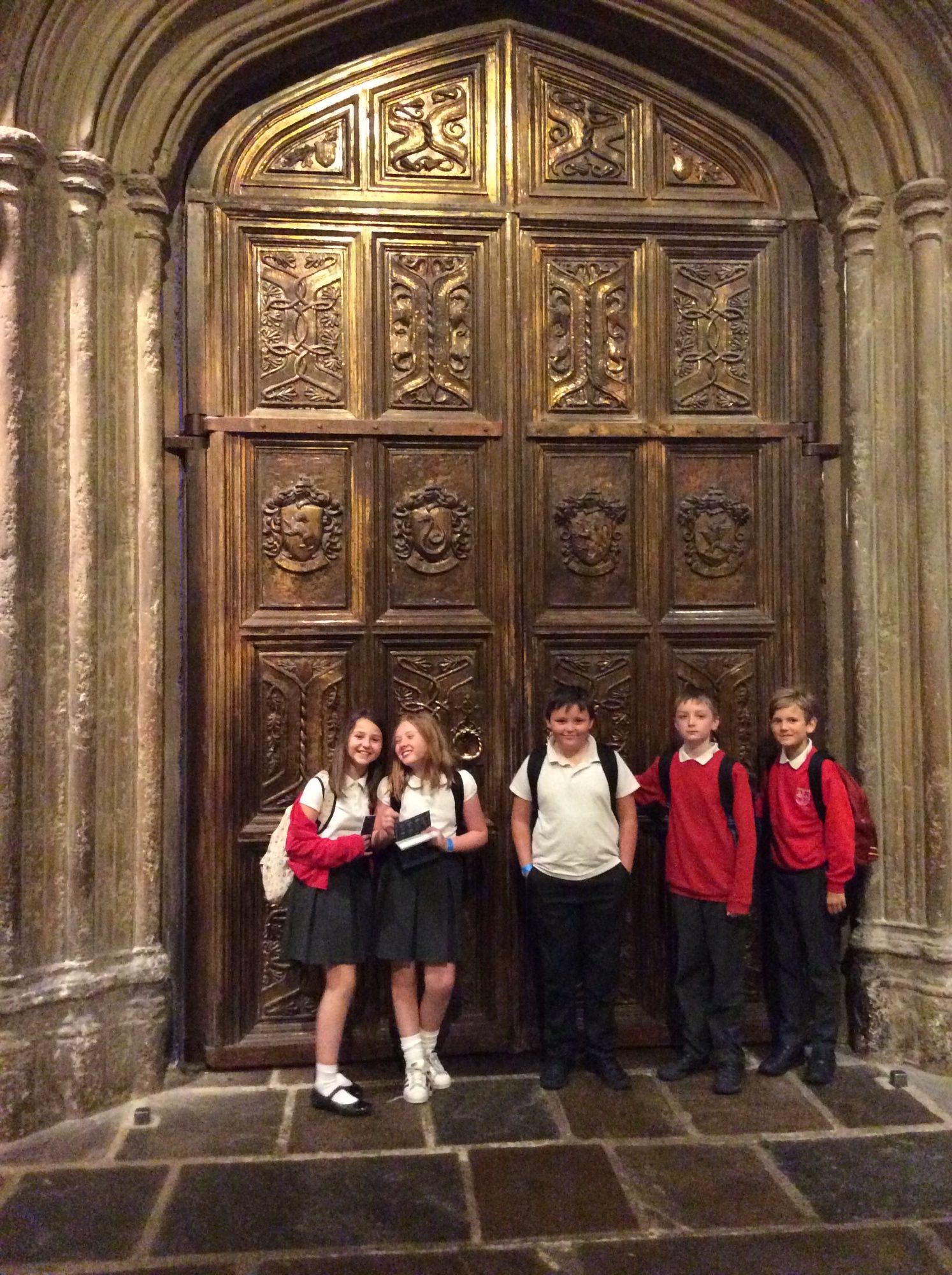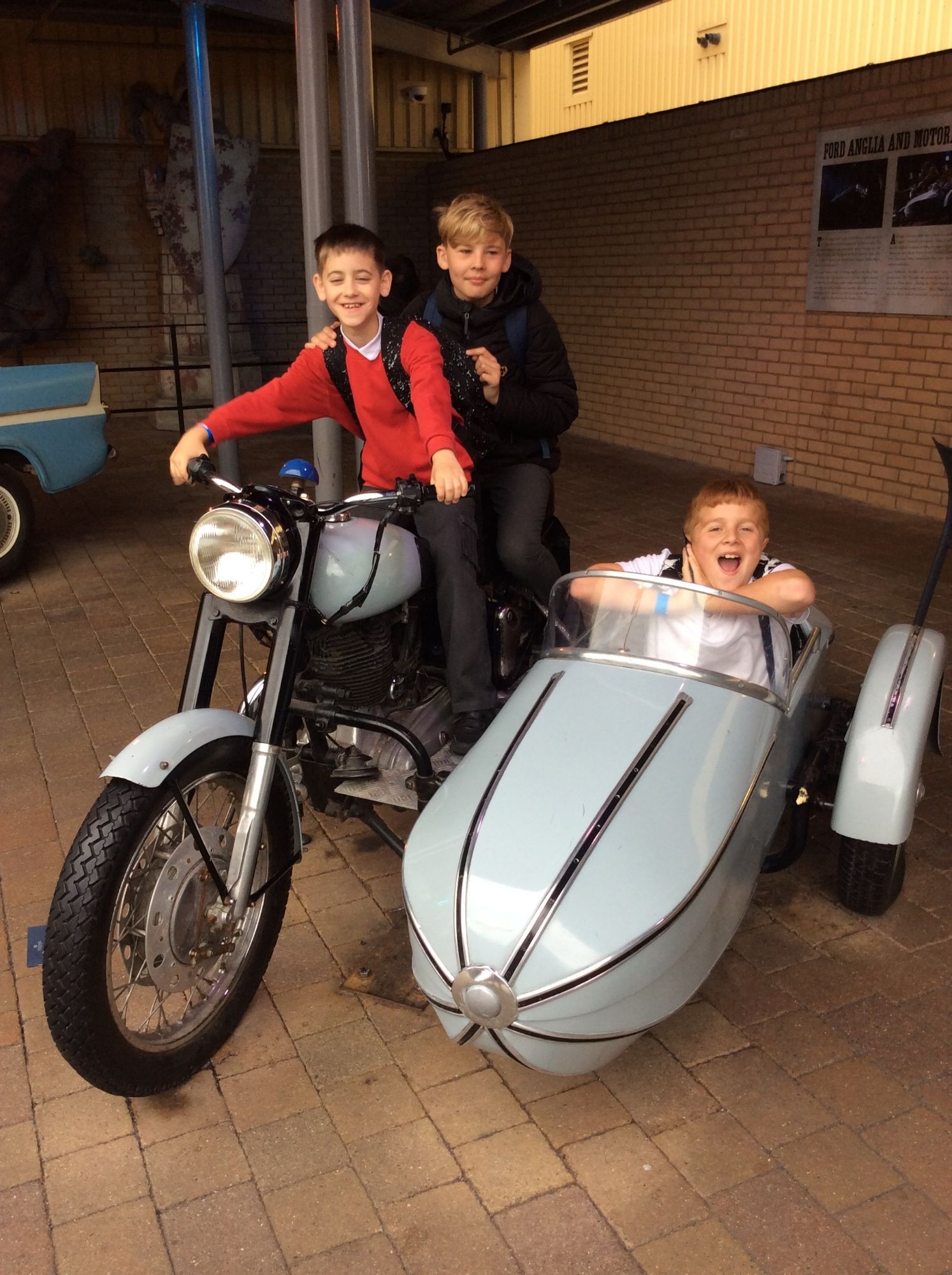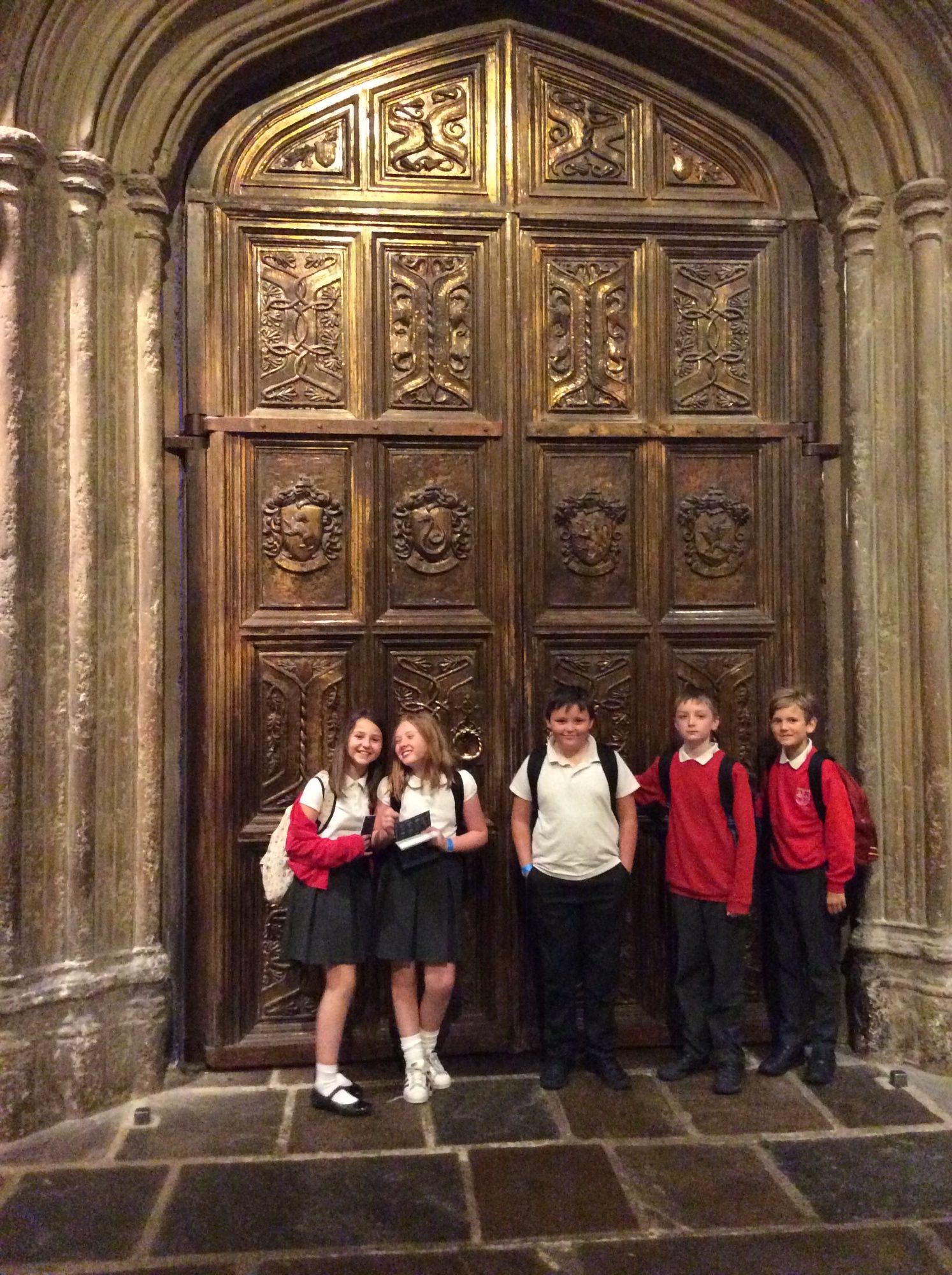 Born Survivor Topic
As part of our Born Survivor topic, Year 6 had the challenge of pitching tents on a survival morning. The second challenge was to experiment with different methods of filtration to get a bottle of dirty, muddy water as clean as possible. It was a close competition but the winners were Harry, Phe and James!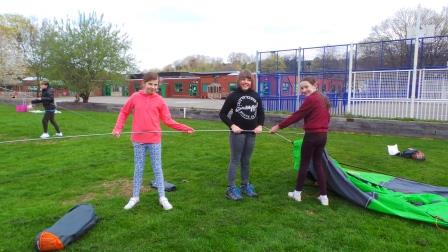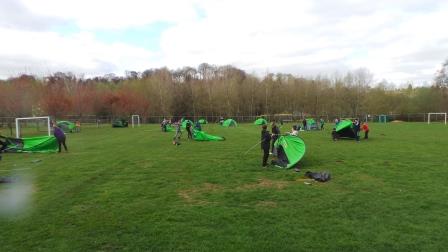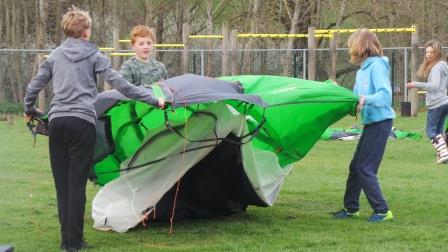 Photos from our survival morning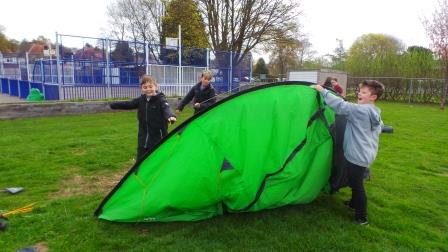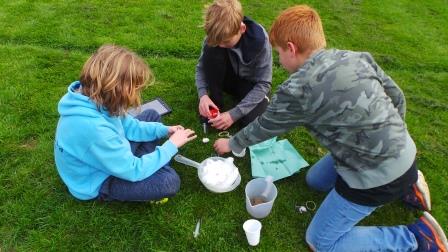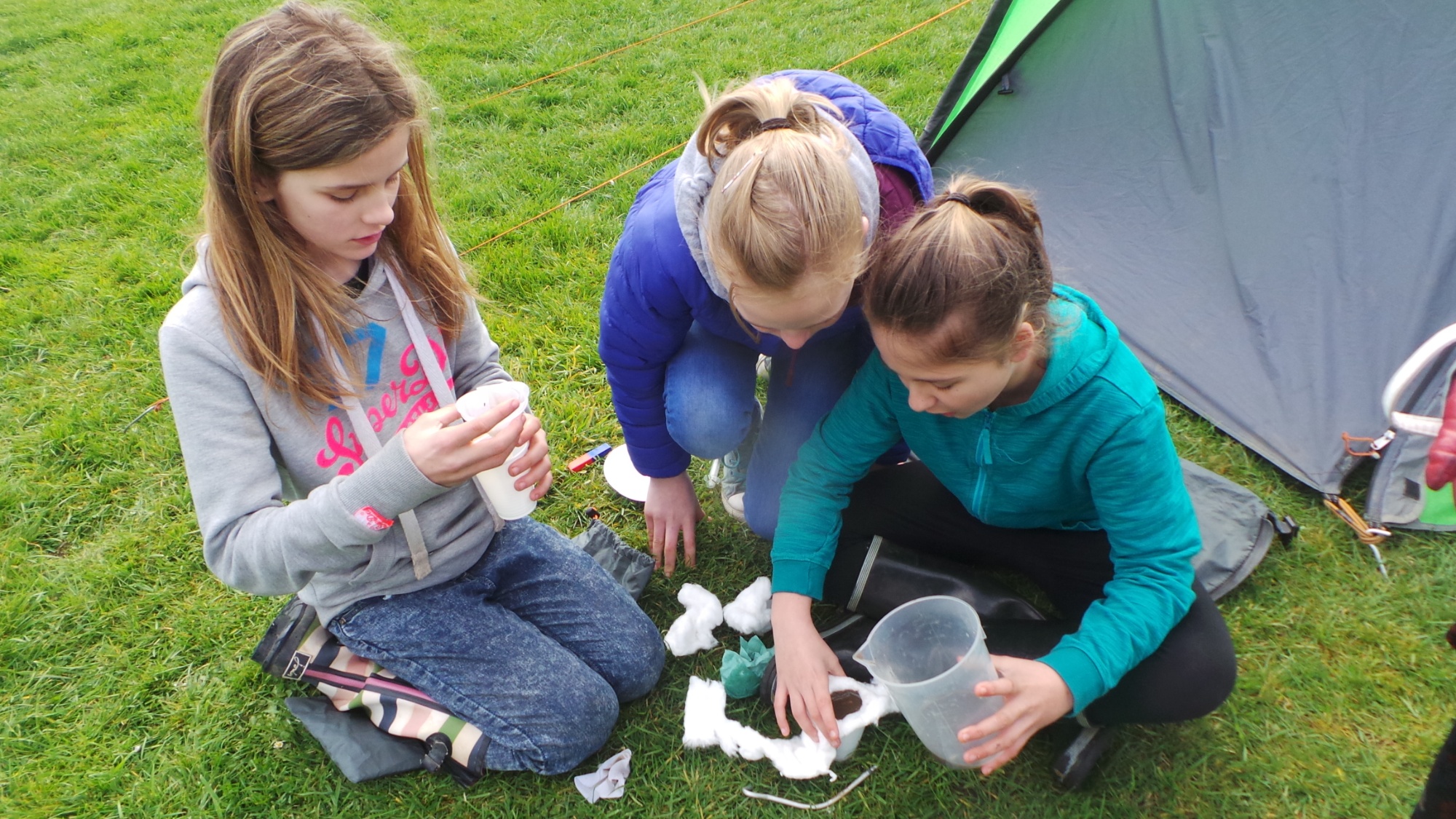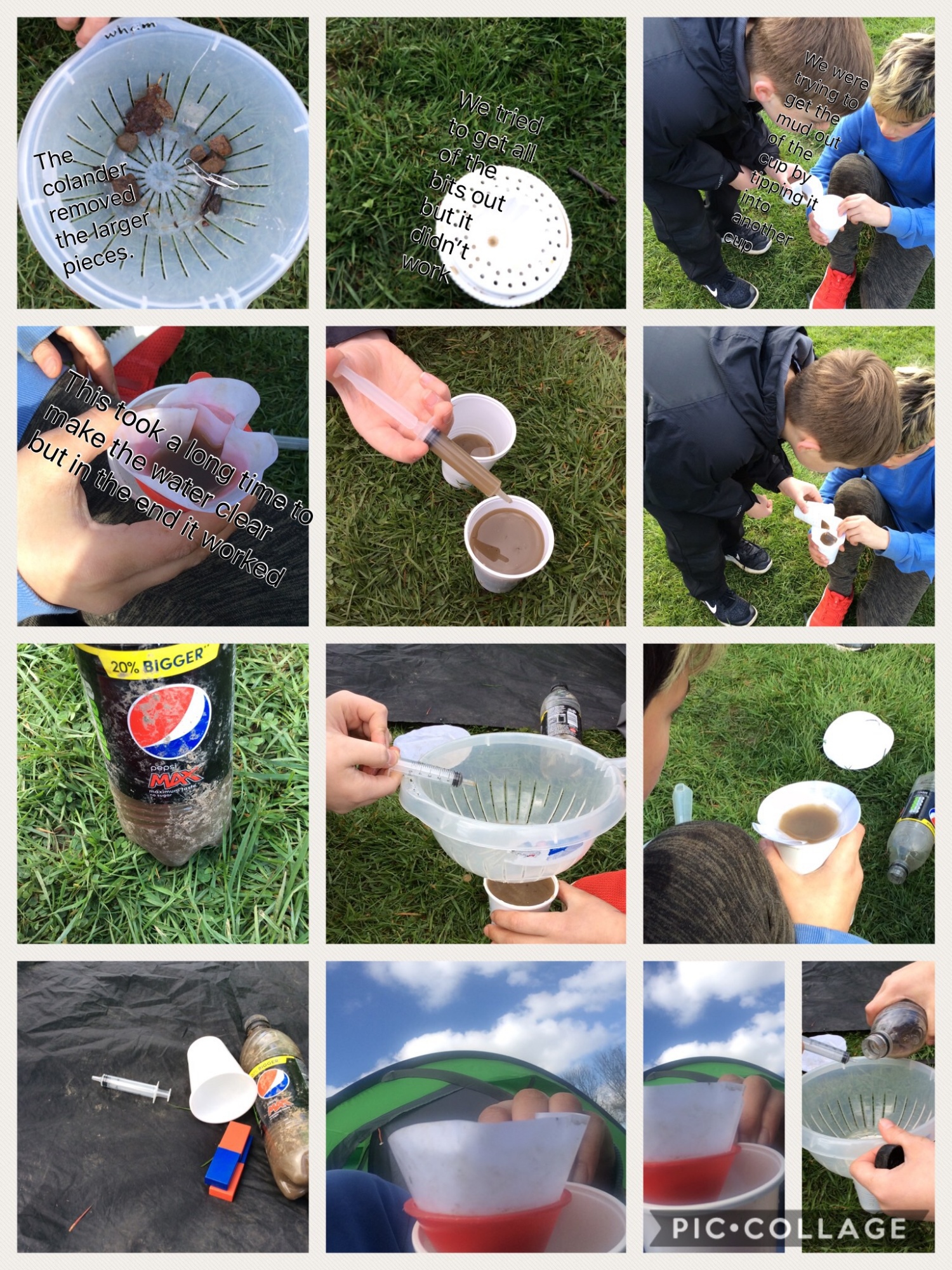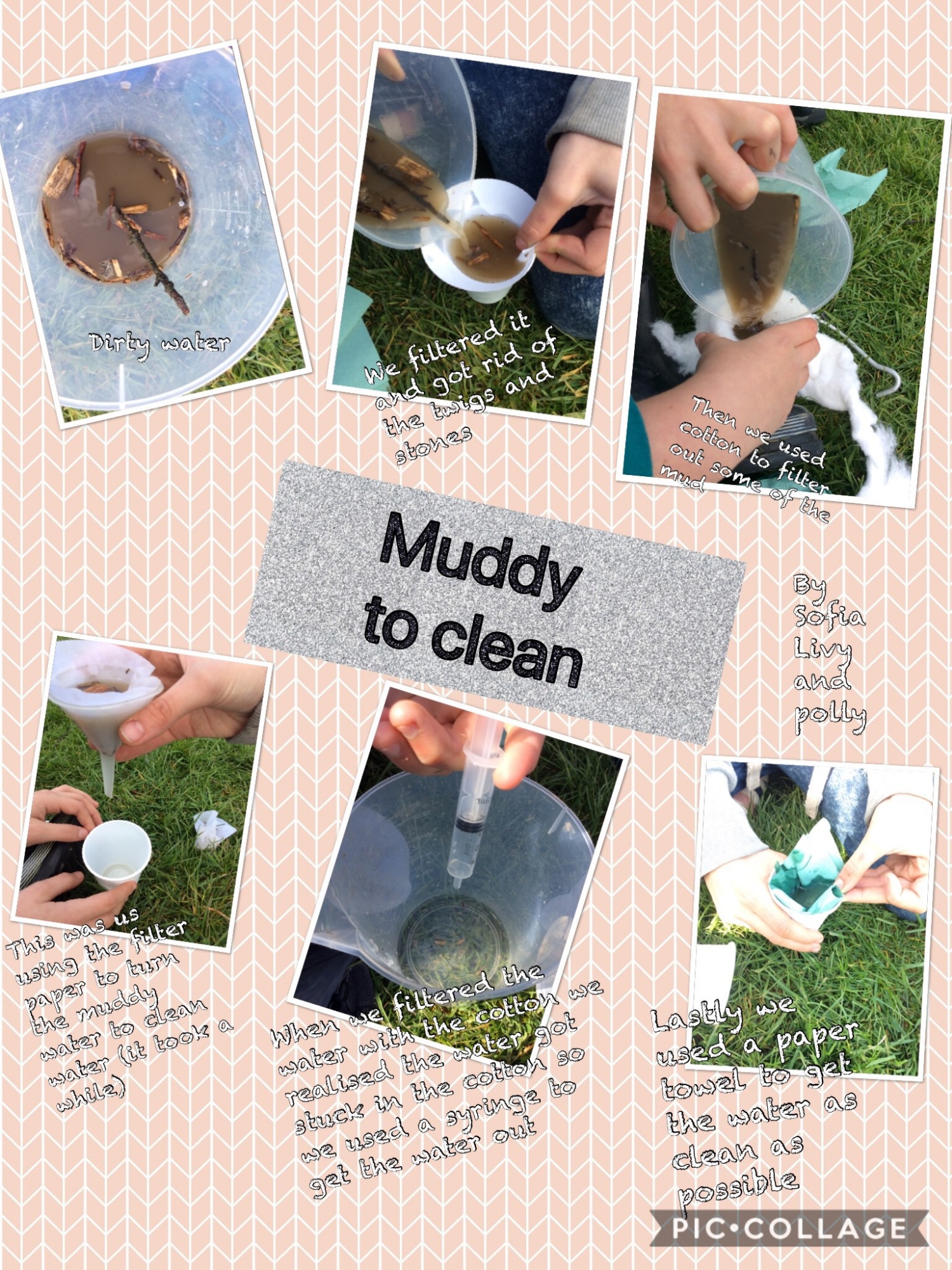 Dancefest and School Games Dance Festival
The children in Year 6 were lucky enough to be invited to the 'DanceFest and School Games Dance Festival', which was held at Baxter college.
As part of their 'Who do you think you are?' topic, the children have been studying dances from other cultures and identifying different features. They then used these movements to choreograph their own pieces before joining them together to create the finished piece. The children were outstanding ambassadors at the festival and thoroughly enjoyed performing in front of the other schools.
Time Traveller!
Year Six have been transported back to the times of Tutankhamun during this half term. Through a variety of activities, we have followed in Howard Carter's footsteps to discover more about the Ancient Egyptians, their customs and their legacies. To learn more about the discovery, we kicked off our topic by recreating Tutankhamun's tomb. We then became Howard Carter as we used torches to explore the tunnels and find the treasures hidden within!
Mummified Mackerel…?!
Through our history lessons and through our class book, 'Secrets of a Sun King', we learnt all about Egyptian burials and the traditions that had to be upheld, particularly when a pharaoh, like King Tut, died. One of the highlights of the topic was when we decided to test out the instructions for mummifying – on fresh mackerel! It was certainly not for the feint-hearted as we gutted the fish, removed its organs and packed it with salt before wrapping it in bandages. Just like the Egyptians would've done, we left the heart inside the fish as the Egyptians believed that this was the centre of intelligence and emotion, which would be needed in the afterlife. Our mackerels are currently busy mummifying in a very special area of the school and we'll keep checking on them for the next few months. Click on Year 6 photos to see more mackerel photos!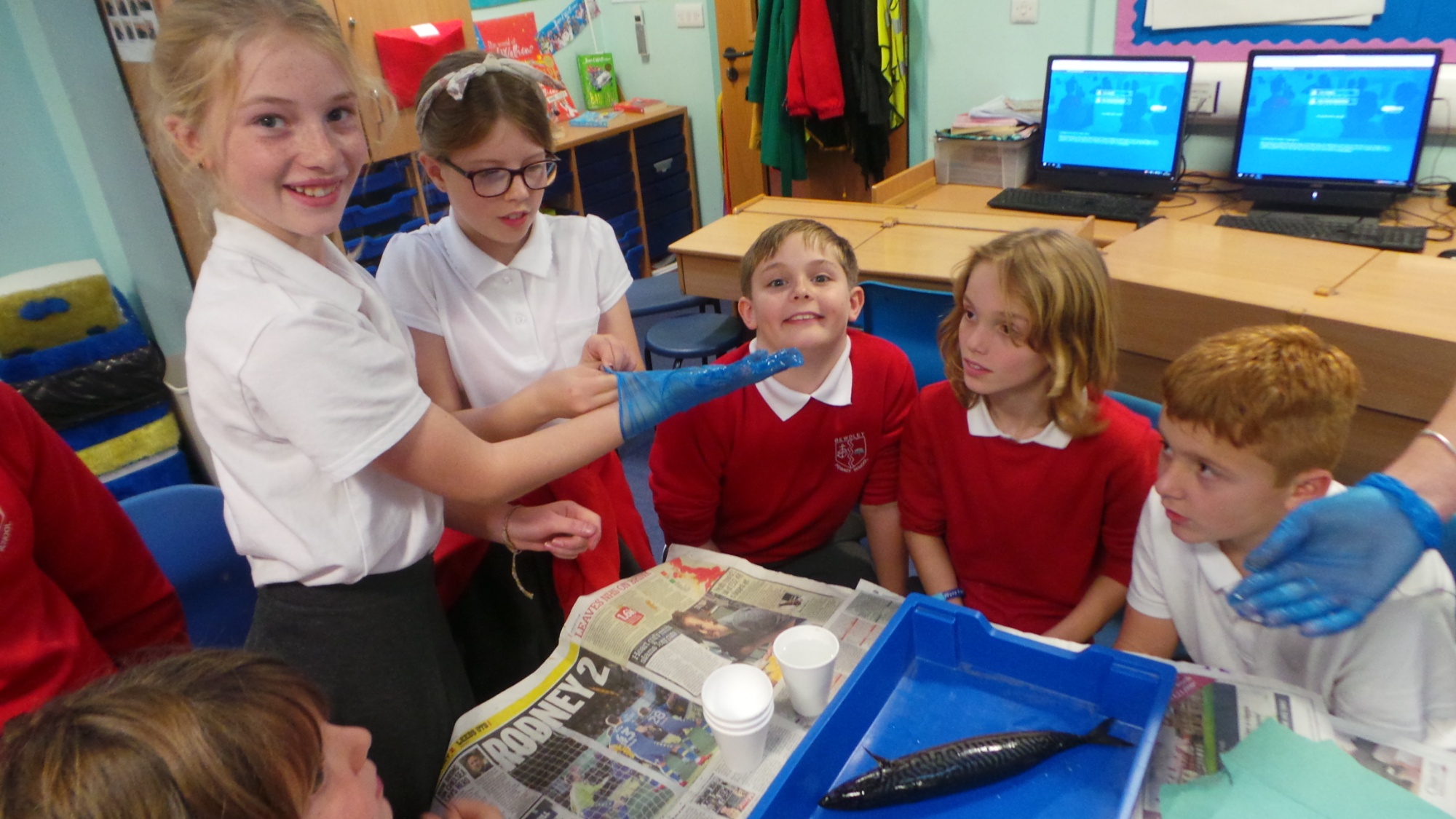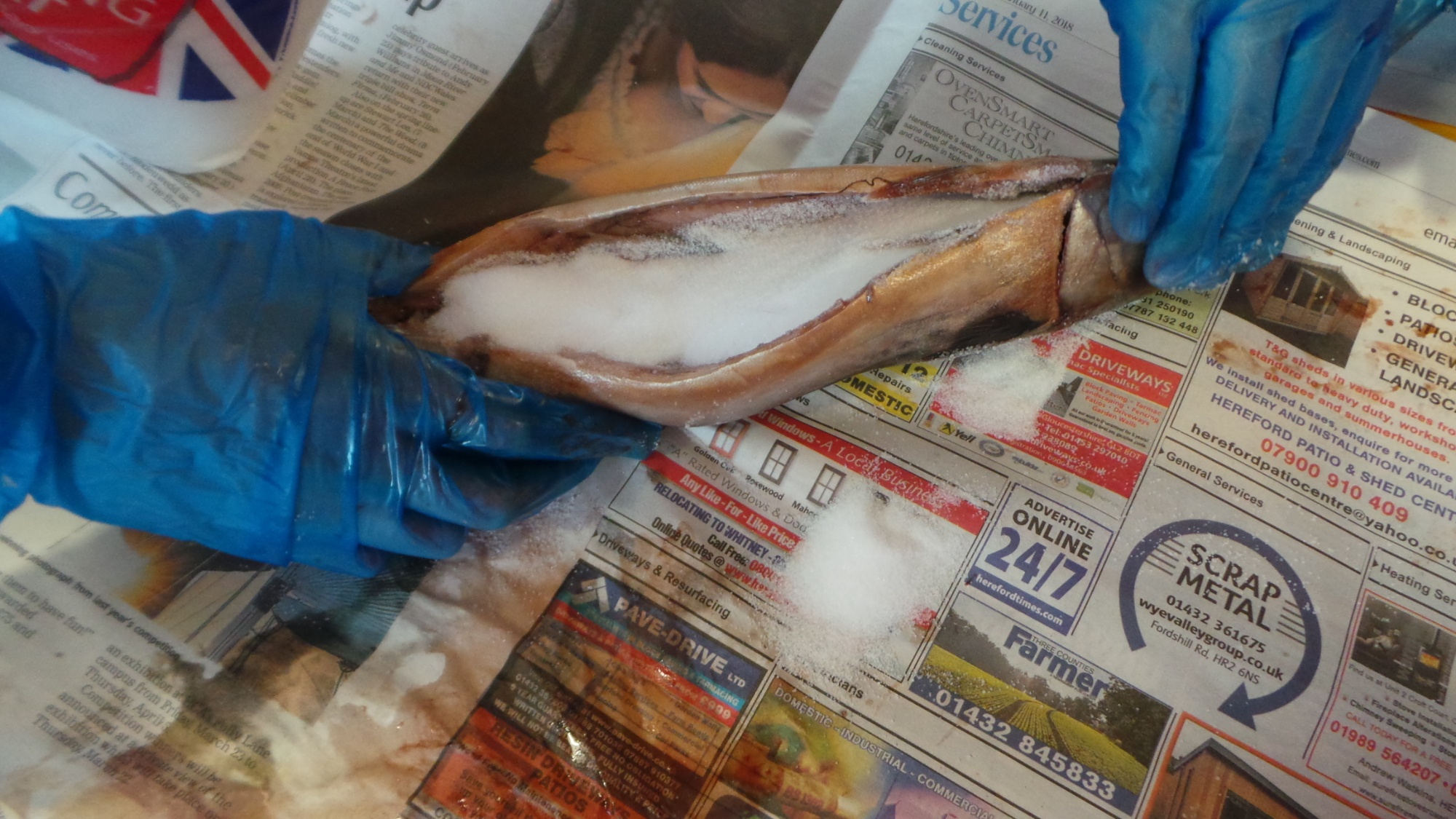 Who was Tutankhamun?
Our aim for the topic was for each of the children to create an explanation text and a history documentary which demonstrated all of the knowledge they'd acquired through the topic. We could not believe how unique and individual the different pieces of work were, particularly with the documentaries. We enjoyed news reports, re-enactments, formal documentaries, Lego recreations and a whole host of other formats. The children also used a variety of computing and technology skills to achieve their final products. A selection of the films are available for you to see here.
Healthier Diet = Healthier Heart
As part of our research into healthy diets, we investigated healthy snacks. After sampling sausage rolls, cheese and onion rolls, falafel, spring rolls and scotch eggs, we studied the food packaging and were shocked to find out how high the fat content was in many of them. We created our own version of the spring rolls which were not only healthy and full of vegetables but delicious too!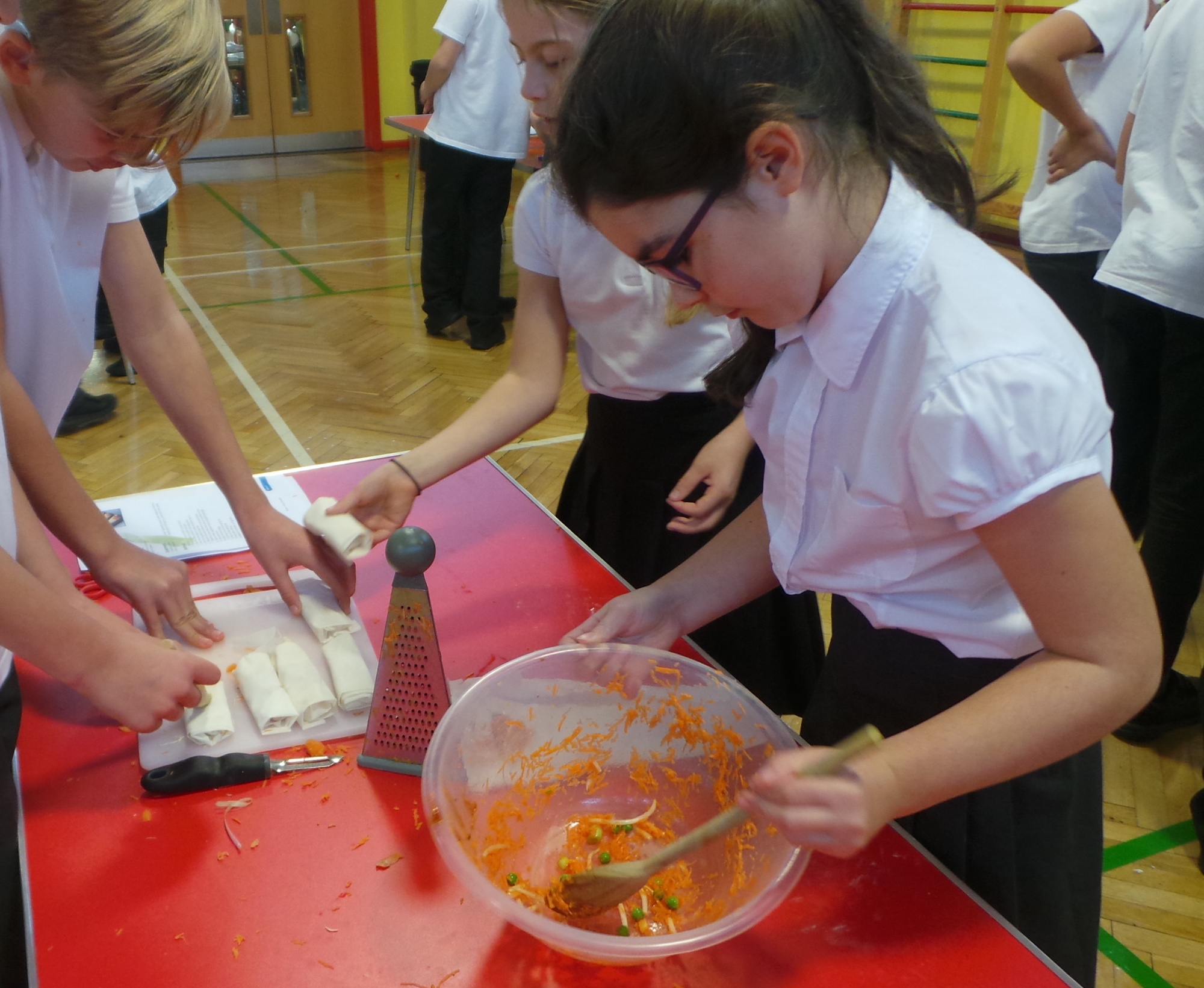 What does your heart look like?
Under the guidance of Mrs Leach, Year 6 were lucky enough to be part of a heart dissection at The Bewdley School. The heart that we dissected was actually a pig's heart, like the one used in the book, 'Pig Heart Boy'. A pig and a human heart have lots of similarities. For example, they're approximately the same size, they both have four chambers and the blood flows in the same way.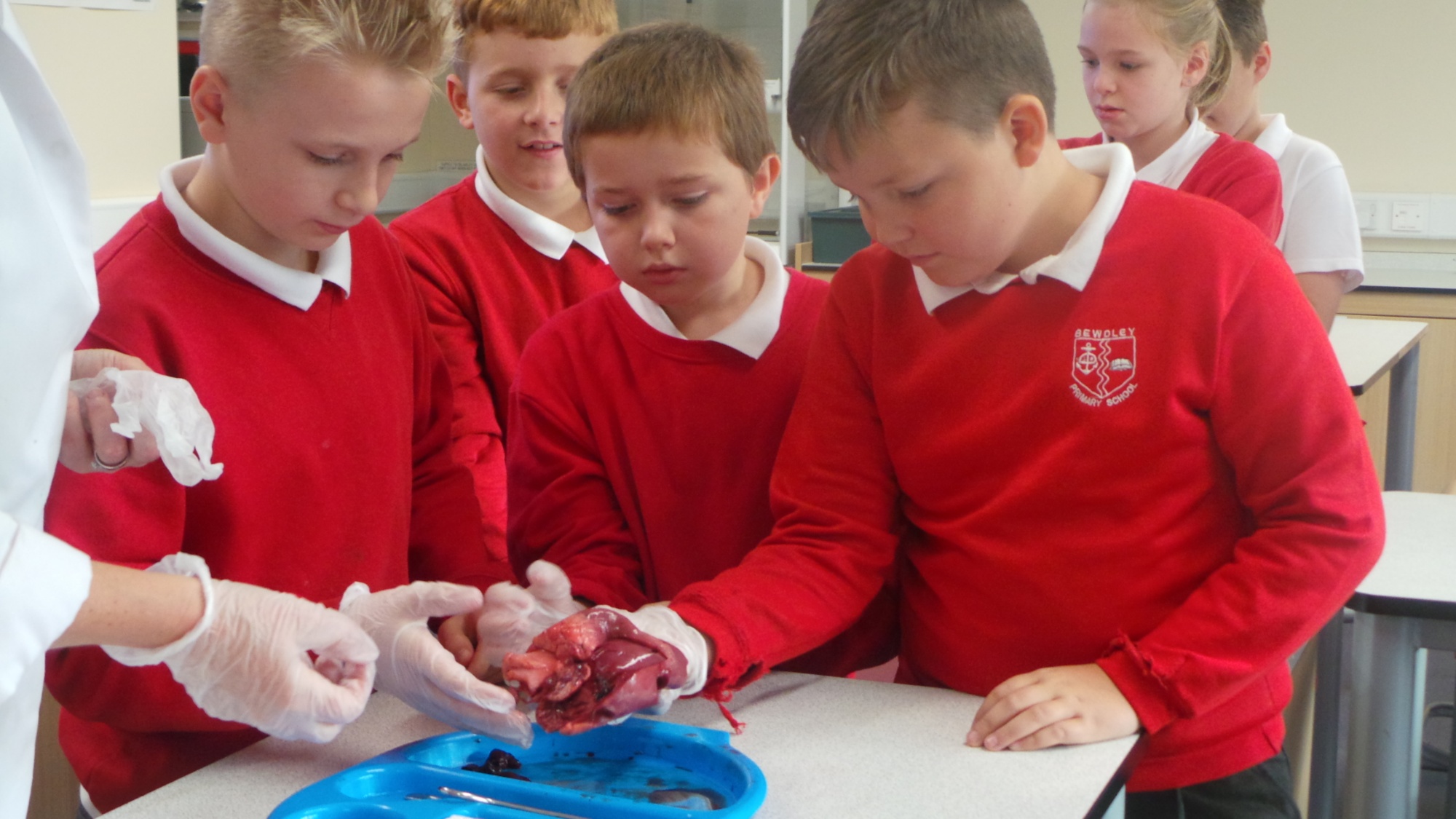 What is blood made of?
There are four main components of human blood: plasma, red blood cells, white blood cells and platelets. To show how these ingredients come together to make blood, we used water and yellow food colouring to represent plasma. We used hooped cereal and red food colouring as red blood cells. You might be able to spot the white marshmallows that represent white blood cells, along with the mini pompoms which were used as platelets. This lesson really helped us to visualise and remember the different components.
How does blood travel around the body?
For this particular lesson, the children worked together in teams to draw large diagrams of the human circulatory system and then re-enacted how blood travels by becoming blood themselves! They had to make sure that they were travelling in the right direction and making all the right stops in the correct order.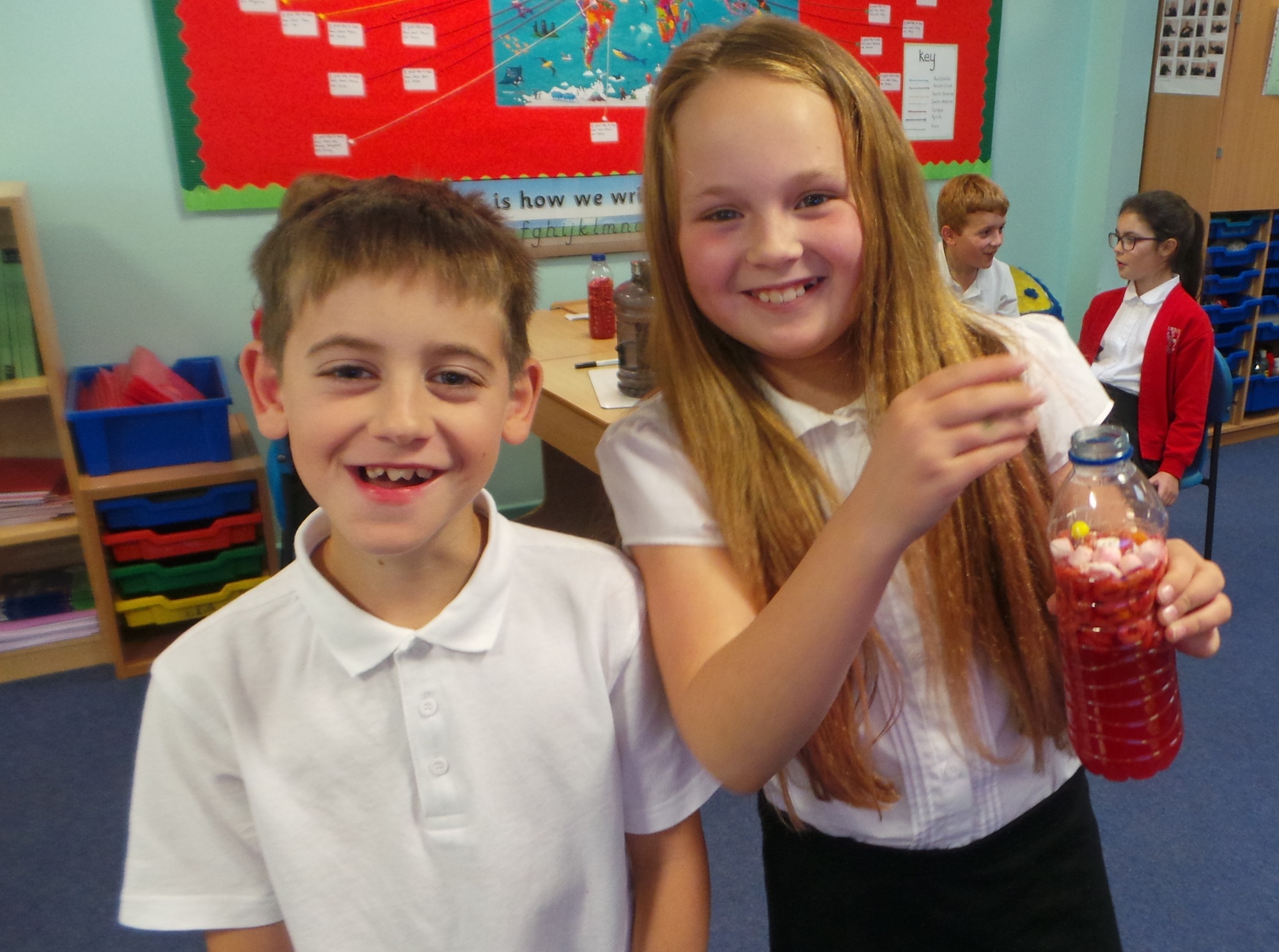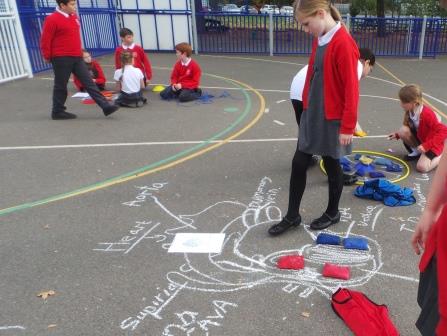 Mayan Mystery
Year 6 have been refining their research skills to become an expert in their chosen field. As 'experts', they have been designing and carrying out a lesson to teach their classmates about an aspect of the Mayans. So far we have had some amazing lessons! We have constructed Mayan pyramids and learned about why they were built, watched drama on Mayan sacrifice and played a board game to test our new knowledge and learned all about Mayan weapons and how they were used!
Masks made by the children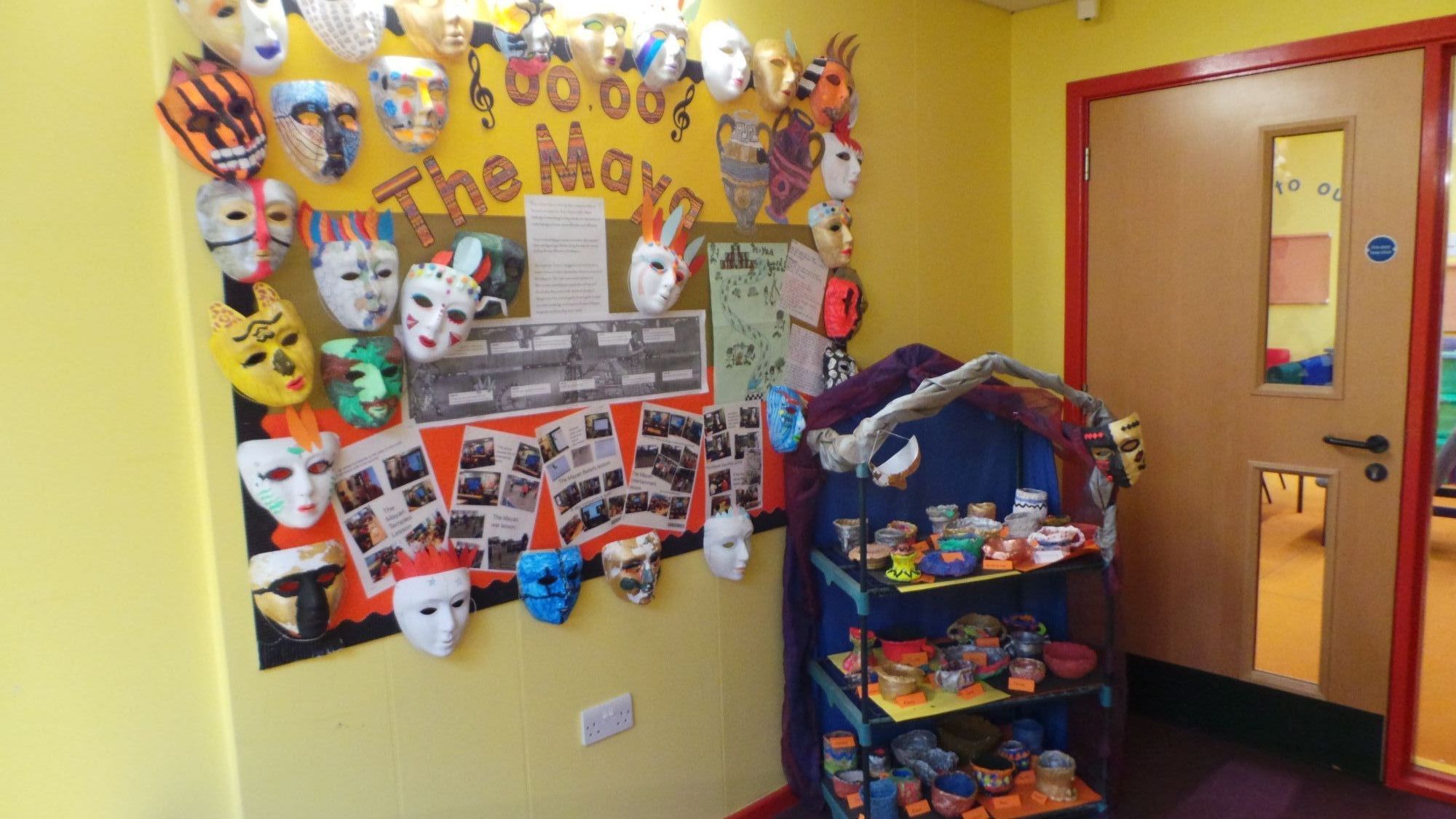 Year 6 have had a busy and fun start to the school year.We explored environment art in Forest School, inspired by the work of Richard Shilling and Andy Goldsworthy.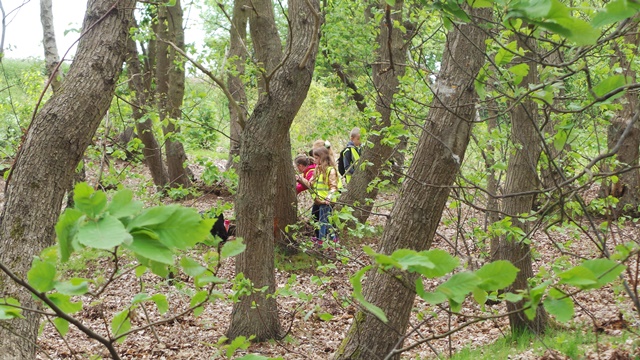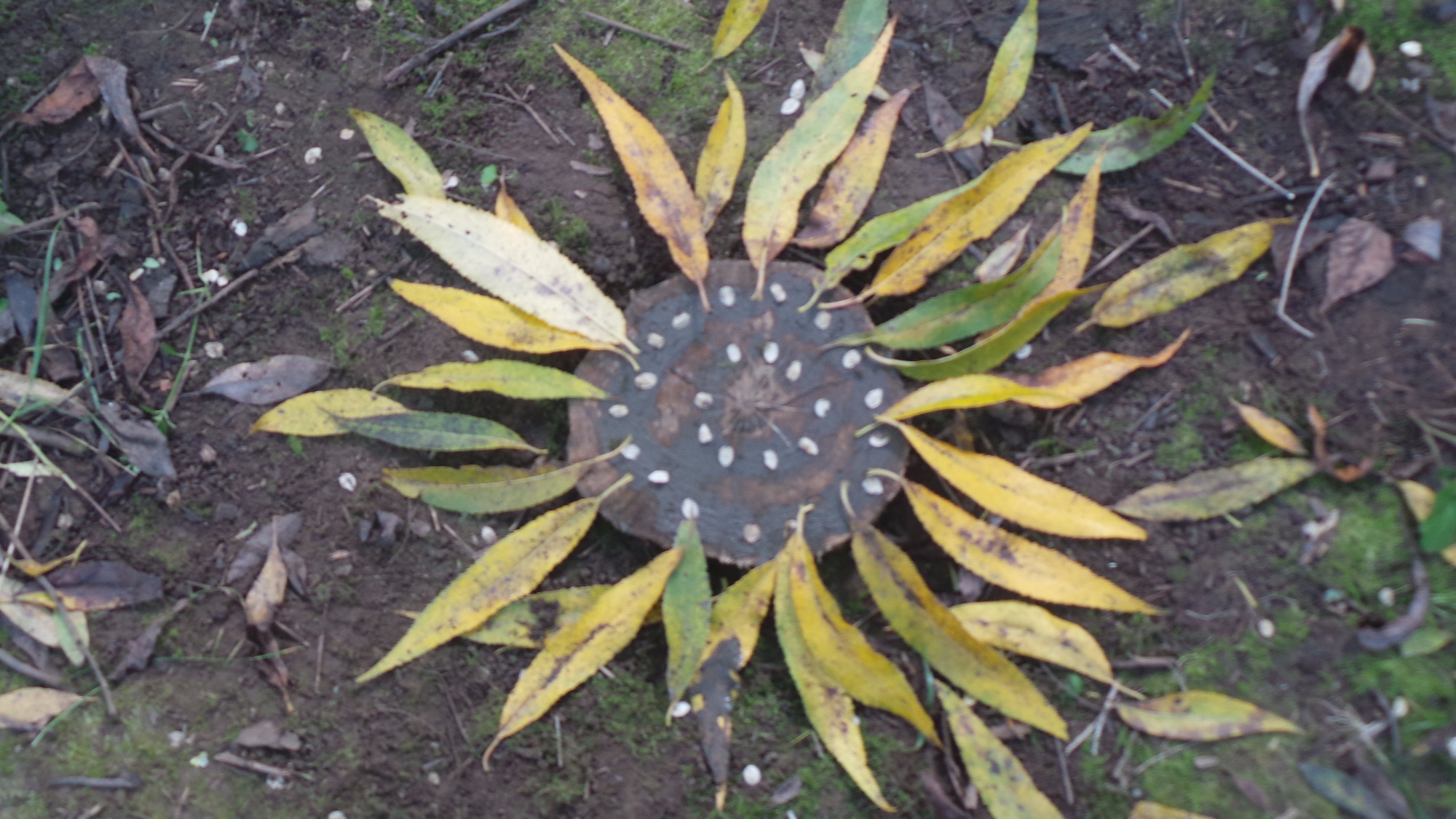 Year 6 also 'survived' a trip to the forest and the 5 mile walk back to school! We made shelters, explored art and SOS messages and attempted to make rafts that floated. Lots of fun and mud!