Year 4
Year 4 Activities
Below is a snapshot of what Year 4 have being doing in school. Click on Year 4 photos to see more photos and details.
Geography - Rainforests
Year Four have been extremely busy during their topic about 'Rainforests'. They have been designing blueprints and making prototypes of rainforest houses using a range of joins. Their houses have been made in all shapes and sizes that all include important features needed for life in the rainforest!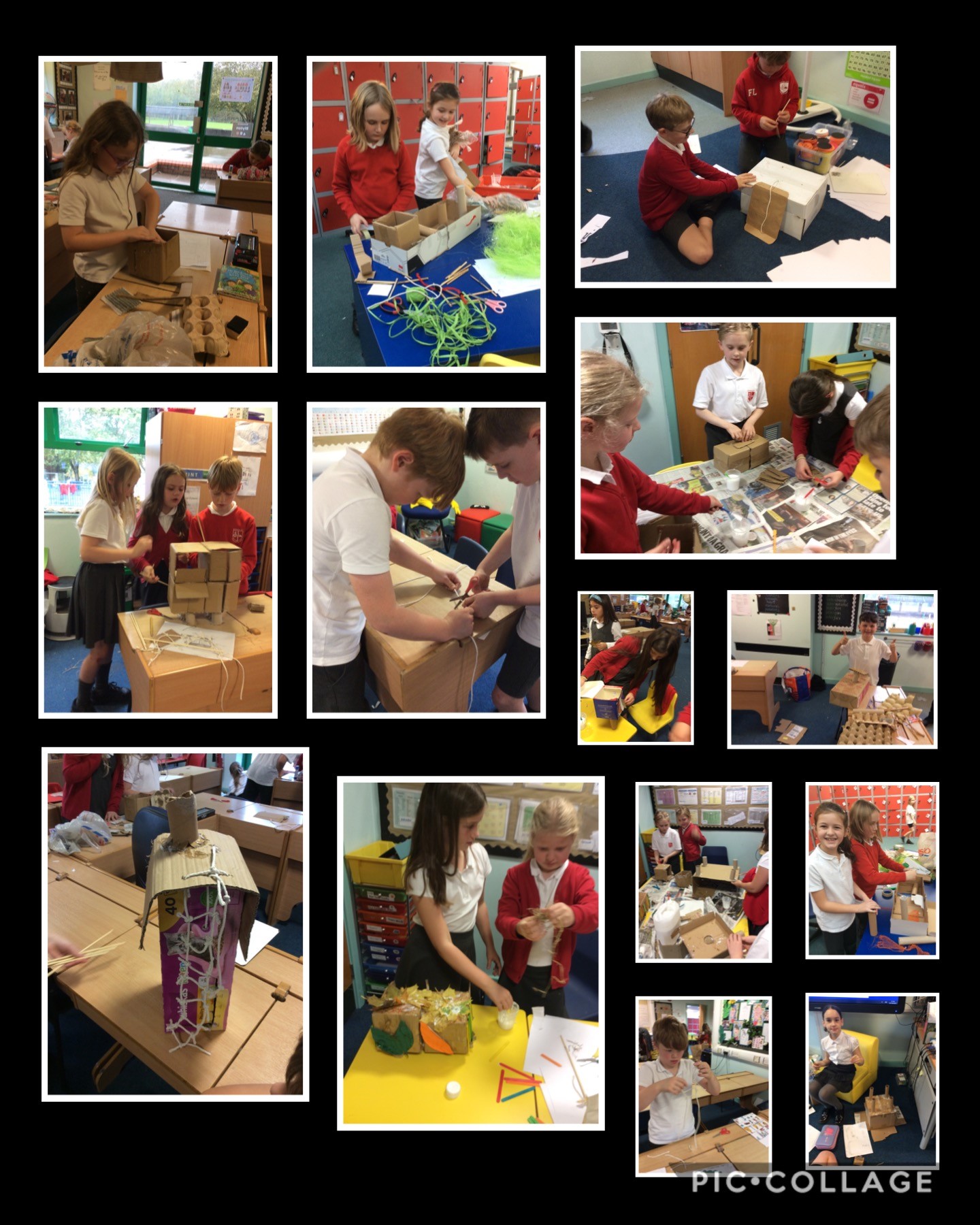 History
As the finale to their topic based on history through fashion, Year Four put together a fashion show for a captive audience of adults and children from around the school, demonstrating all of the knowledge that they have acquired about how fashion has changed through different periods of history. The children showed great oracy skills, explaining key influences of fashion within different eras such as the corsets and puffed shoulders of the Tudor period and the much more subdued look of the Puritans.
Computing
As an introduction to their new computing topic, Year Four investigated the meaning of programming and algorithms. They gave each other clear and simple instructions for how to move around a grid. They did a great job with both their instructions and their team work!
Science
Linked to their science work based around living things, Year Four became Critter Detectives as part of their investigations! They headed out, around the school grounds, to see what they could find, using pooters to allow them to study their findings. The children were so curious about the minibeasts they were able to get a close-up view of, whilst still being respectful to them and their habitats.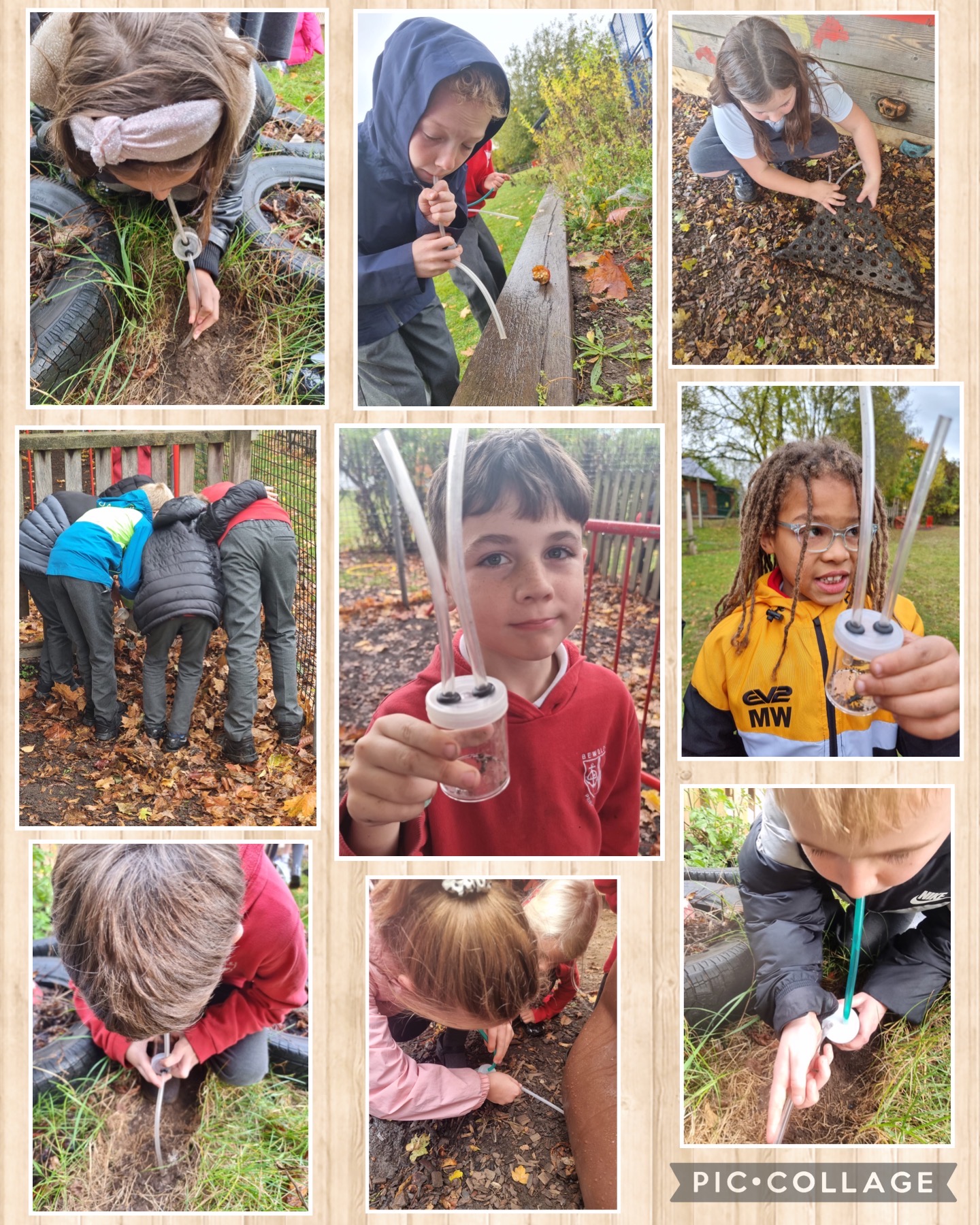 Tag Rugby Festival
Children from Years 3 and 4 had a great morning at Kidderminster Carolians Rugby Club, when they took part in a rugby festival with many other local schools. Although many from the team were new to the sport, they played with great enthusiasm and team spirit and were fantastic representatives for the school.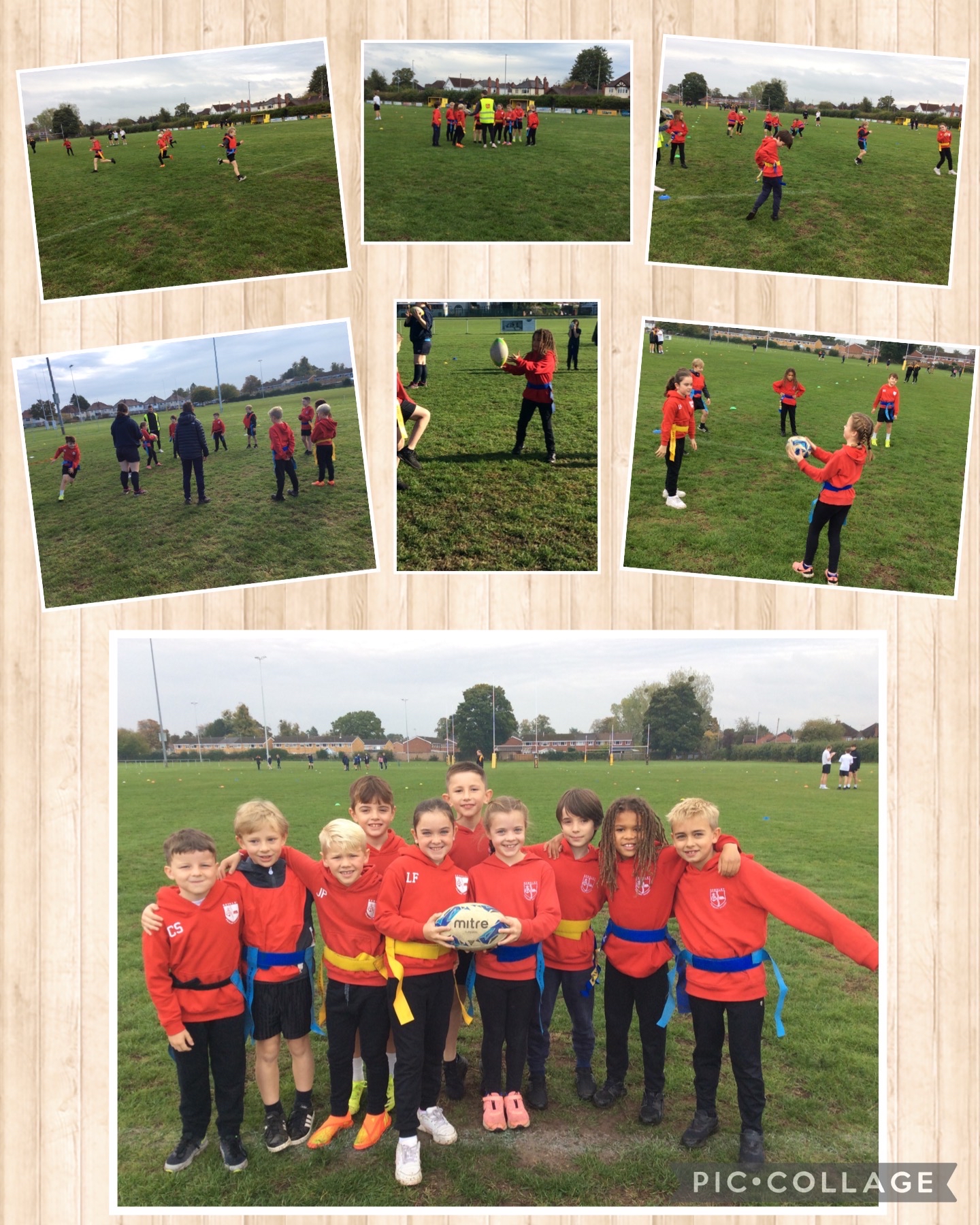 Geography
As part of their Rainforest topic, the children in Year 4 researched rainforest houses and the resources used to build them. They then designed and built their own rainforest houses, replicating the natural materials that are used during the building process. You'll be able to spot how the children tried to make the models as realistic as possible by raising them above ground, included an onsite well and added a ladder or bridge to access the house!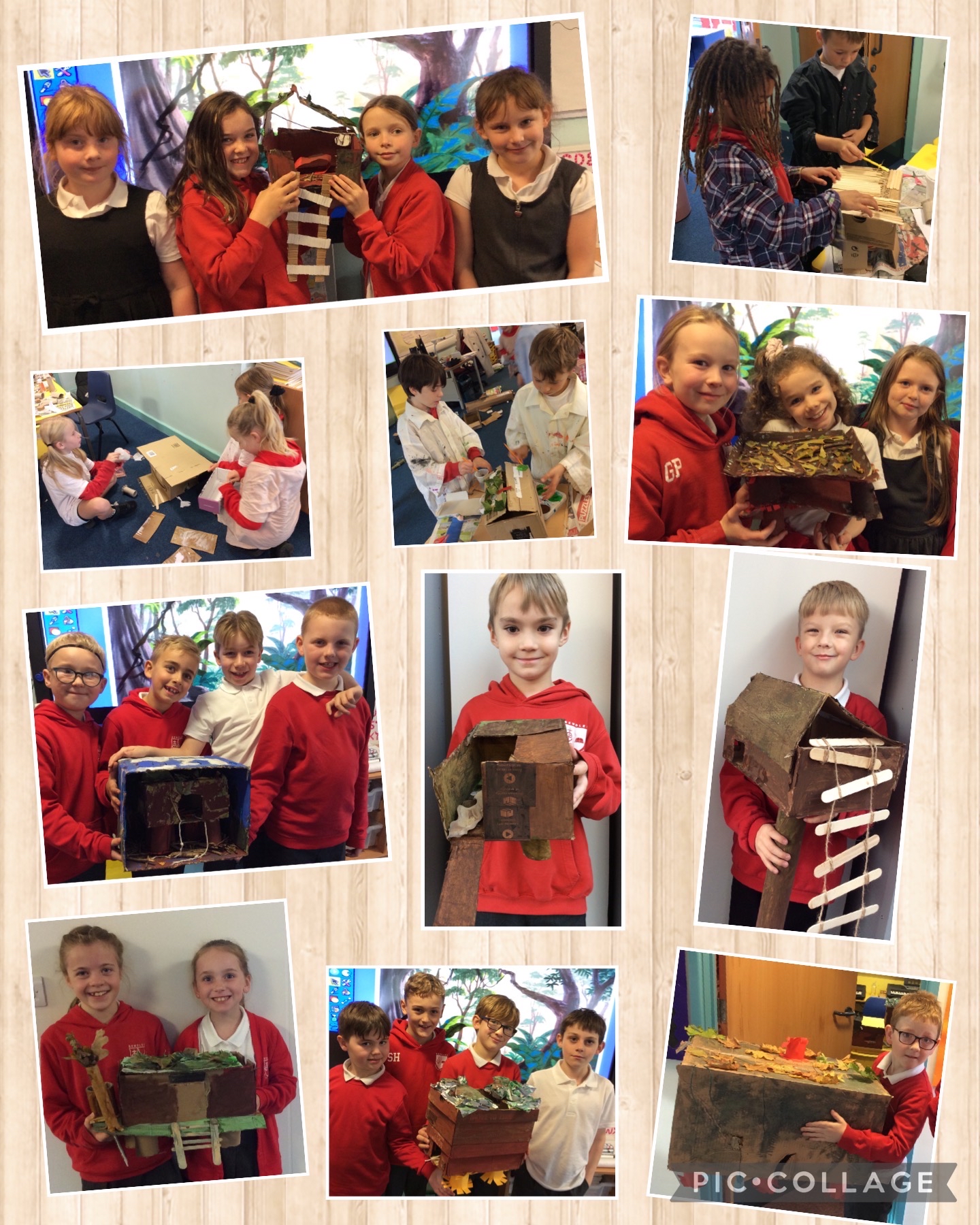 Friendship Bracelets
Well done to Evie, Isla, Macy and Bella from Blyton class who decided to raise money for charity by making friendship bracelets and selling them after school today.
The Bracelet Shop completely sold out and they raised an incredible £95 for UNICEF! Well done, girls. What fantastic role models you are!
Science
Year Four have loved their science lessons recently, with fieldwork being their focus. They went on a Living Things Hunt around school and used pooters to safely collect insects to study. They then used magnifying glasses to have a closer look before carefully releasing them back where they were found. Following on from their hunt, they sorted and classified the leaves, flowers and insects that they'd found.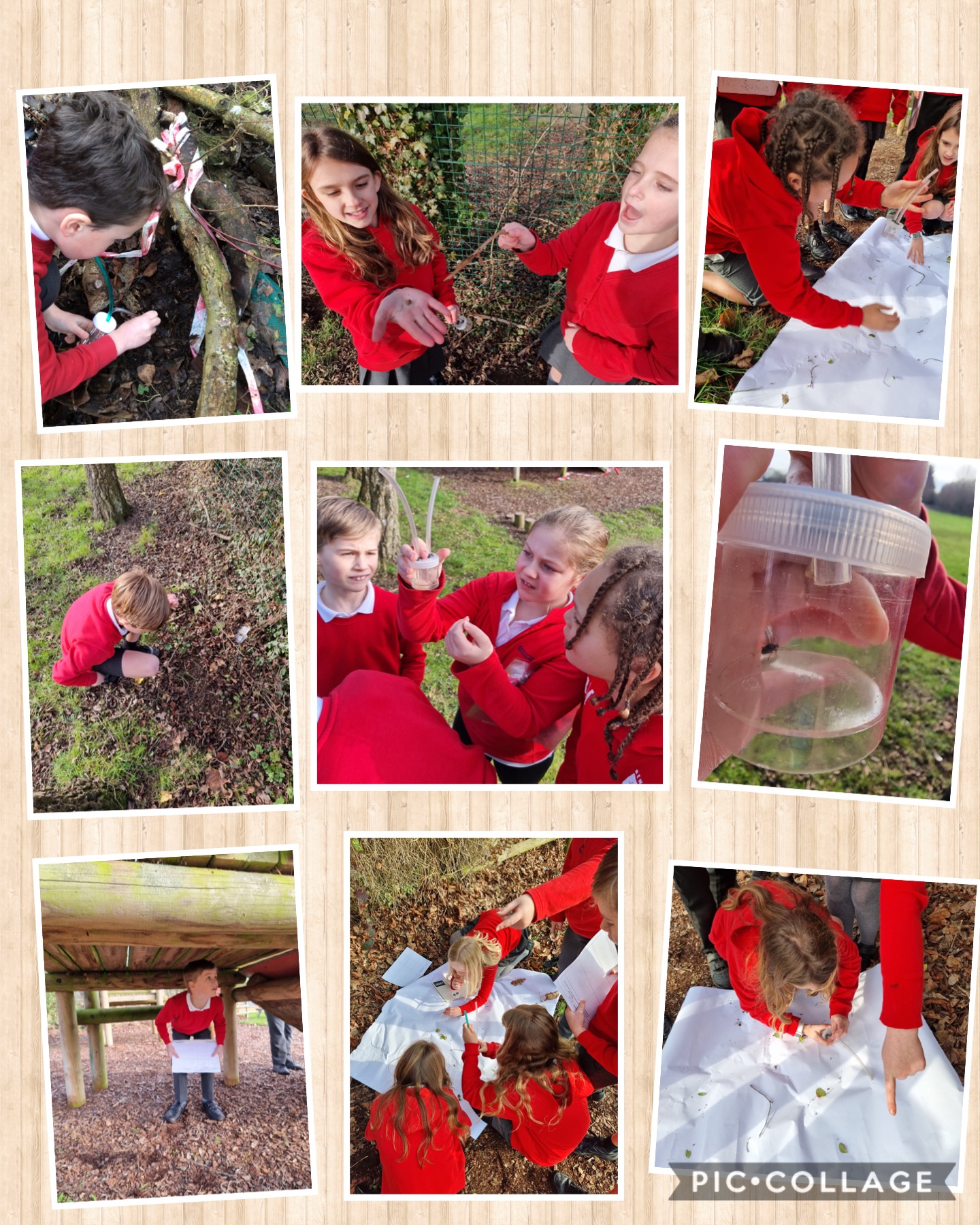 Summer Term
Click on Year 4 photos to see the latest photos from our visit to Bewdley Museum, Forest School and Sports day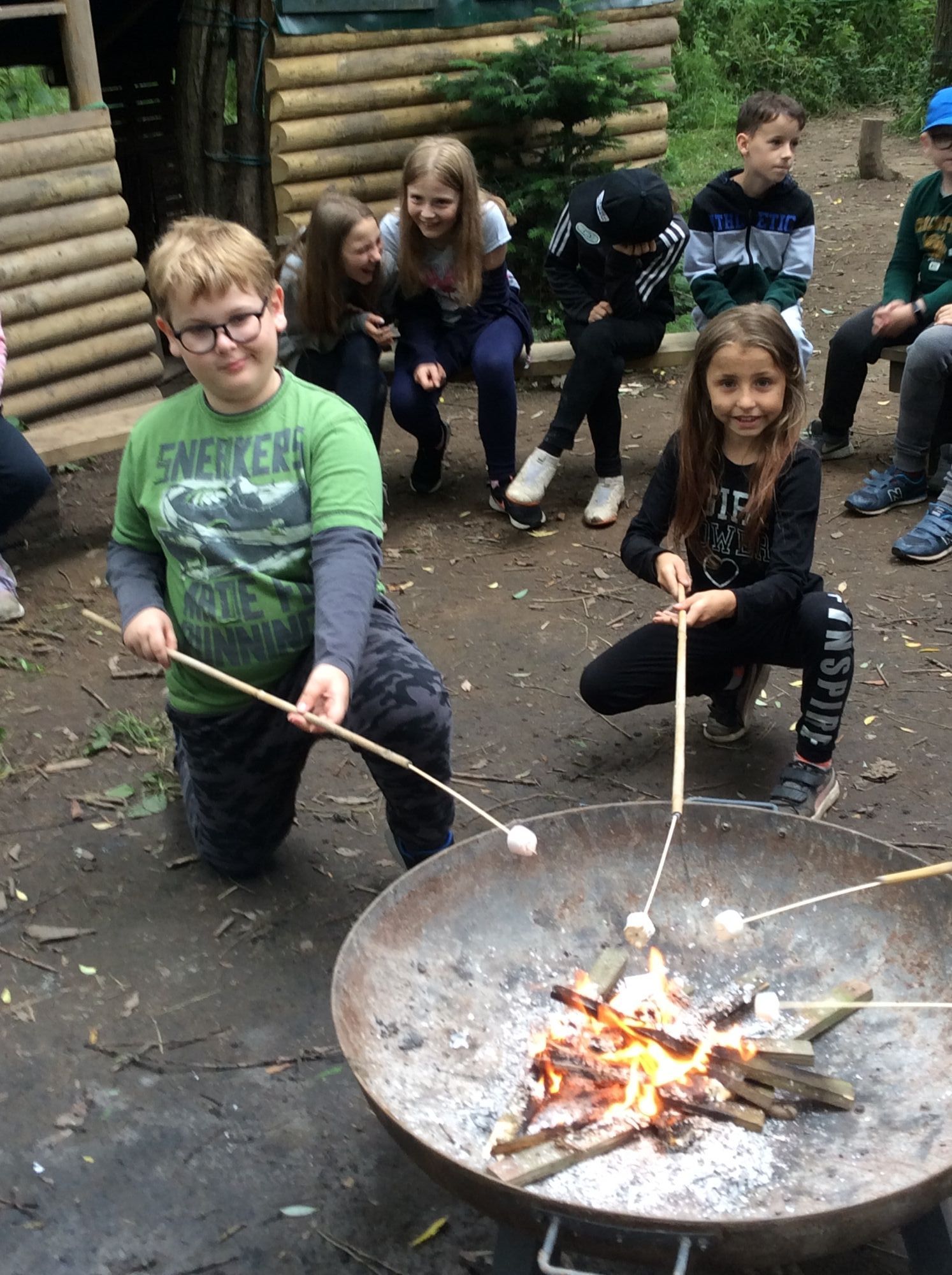 Forest School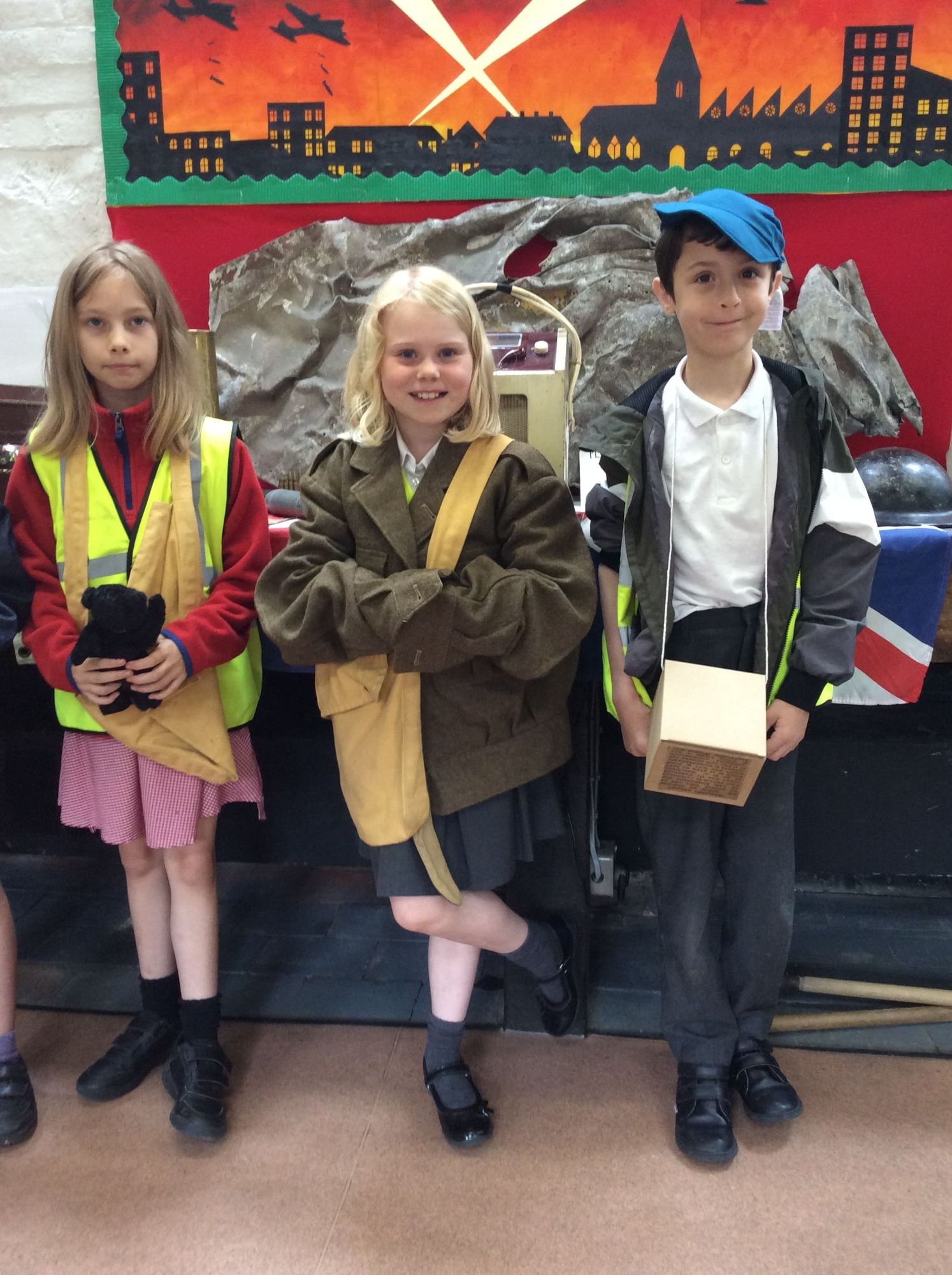 Bewdley Museum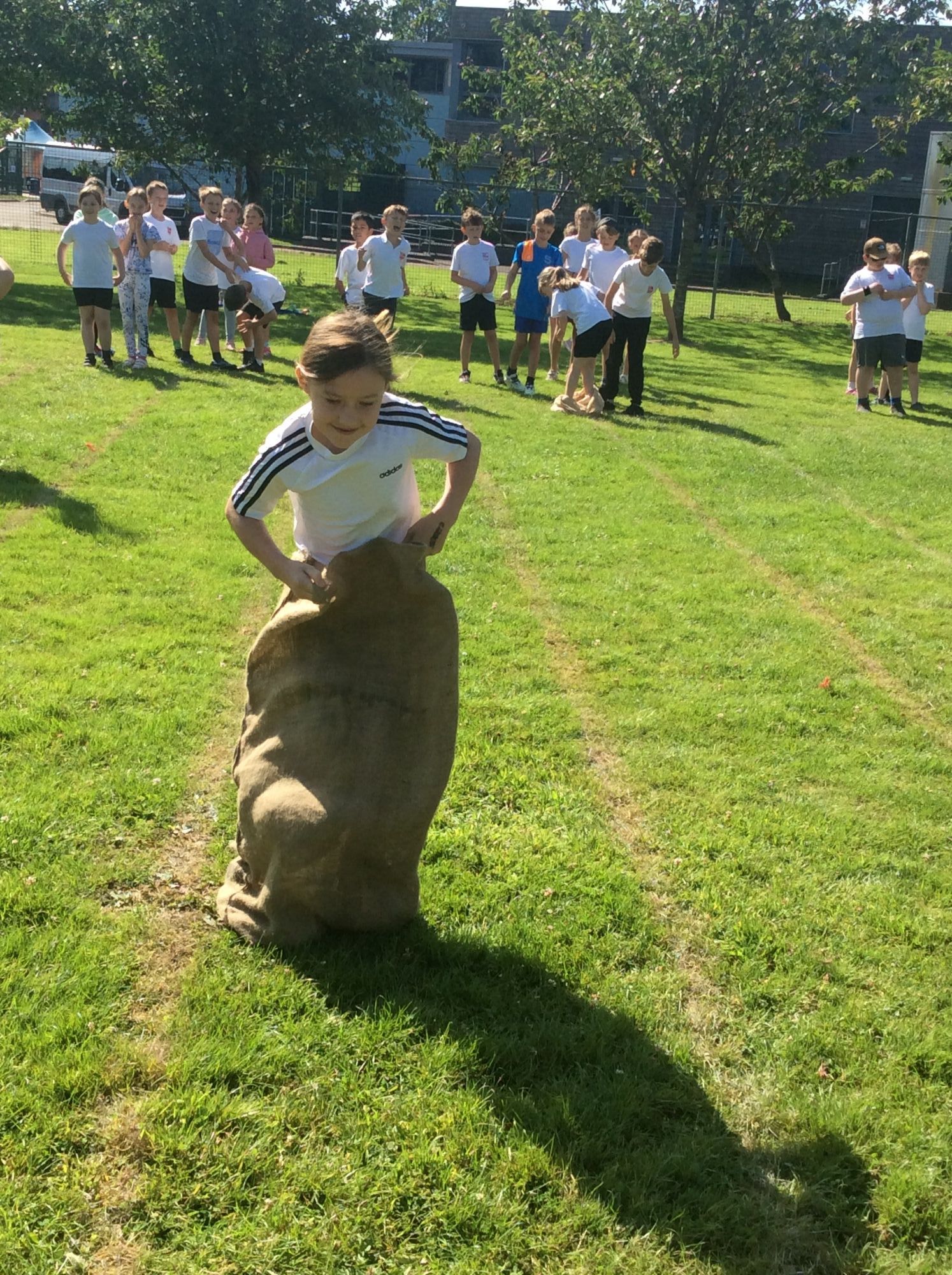 Sports Day
Manor Adventure
What a fantastic weekend. Click on Year 4 photos for 4 fabulous photo albums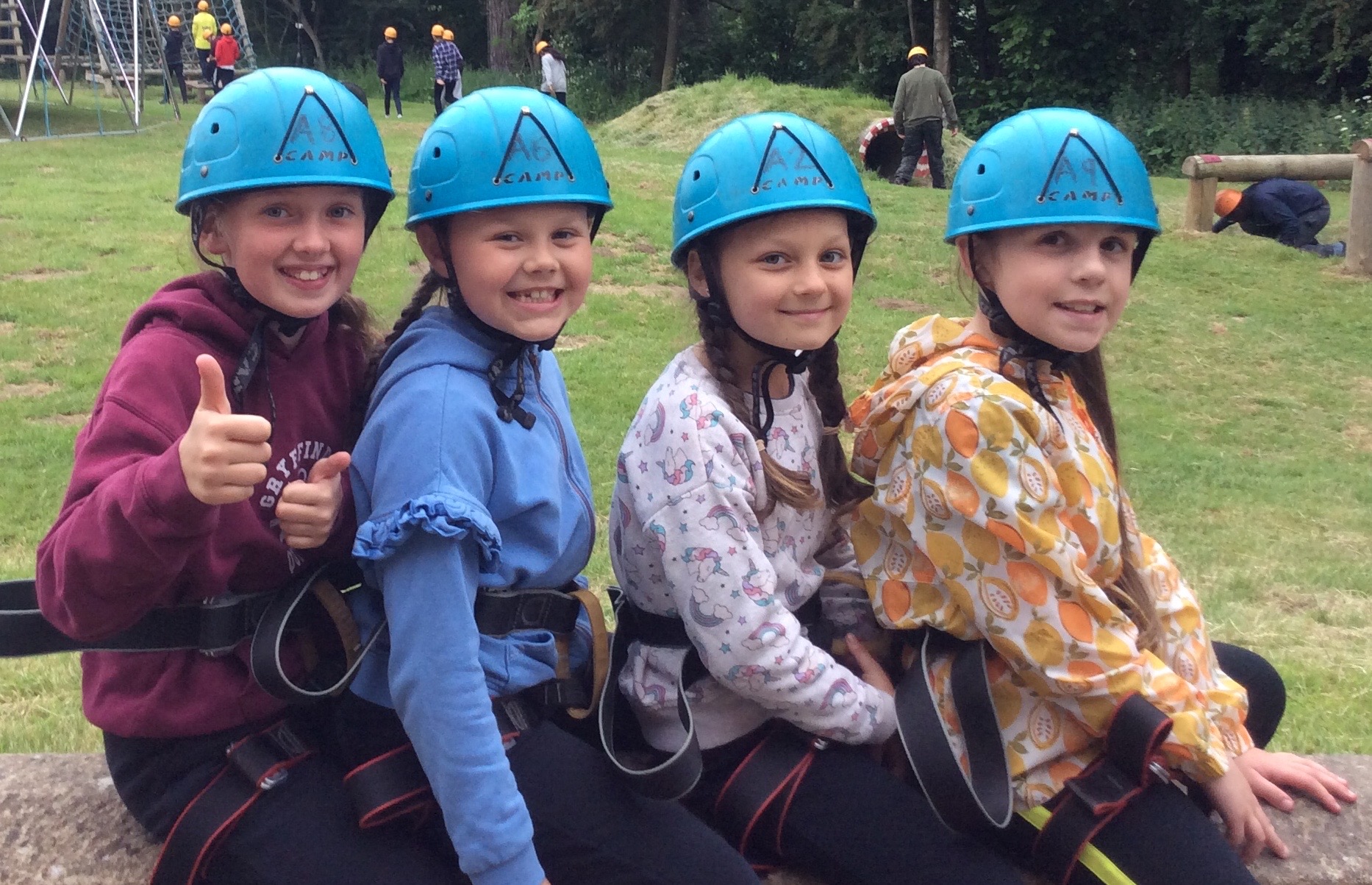 Science
The children in our Year 3&4 Key-Worker Bubble have been carrying out a whole range of science inquiries including: how we use our muscles to jump; how far sound can travel; which materials are best to slow down a toy car with friction; and how air resistance and flight are linked. The group created their own investigations using resources they found around the classroom and focused on ensuring that all of the experiments were performed fairly.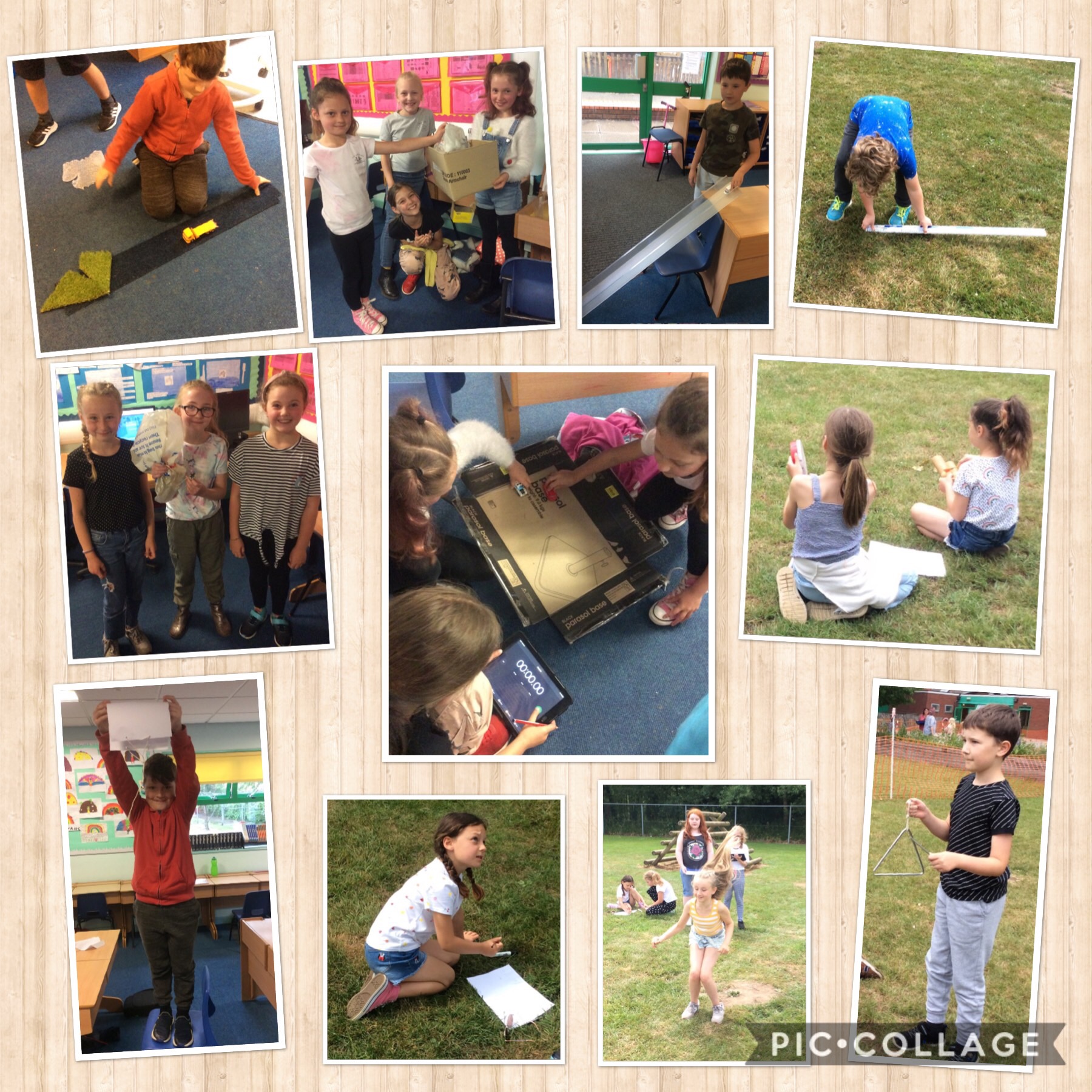 Travelling Around The World
Year Four have had a fabulous week travelling around the world - the perfect antidote to lockdown - as they've been researching a different country every day! One of their challenges was to represent the Spanish flag using a range of materials and, whilst they were learning more about Japan, they created their own cherry blossom trees!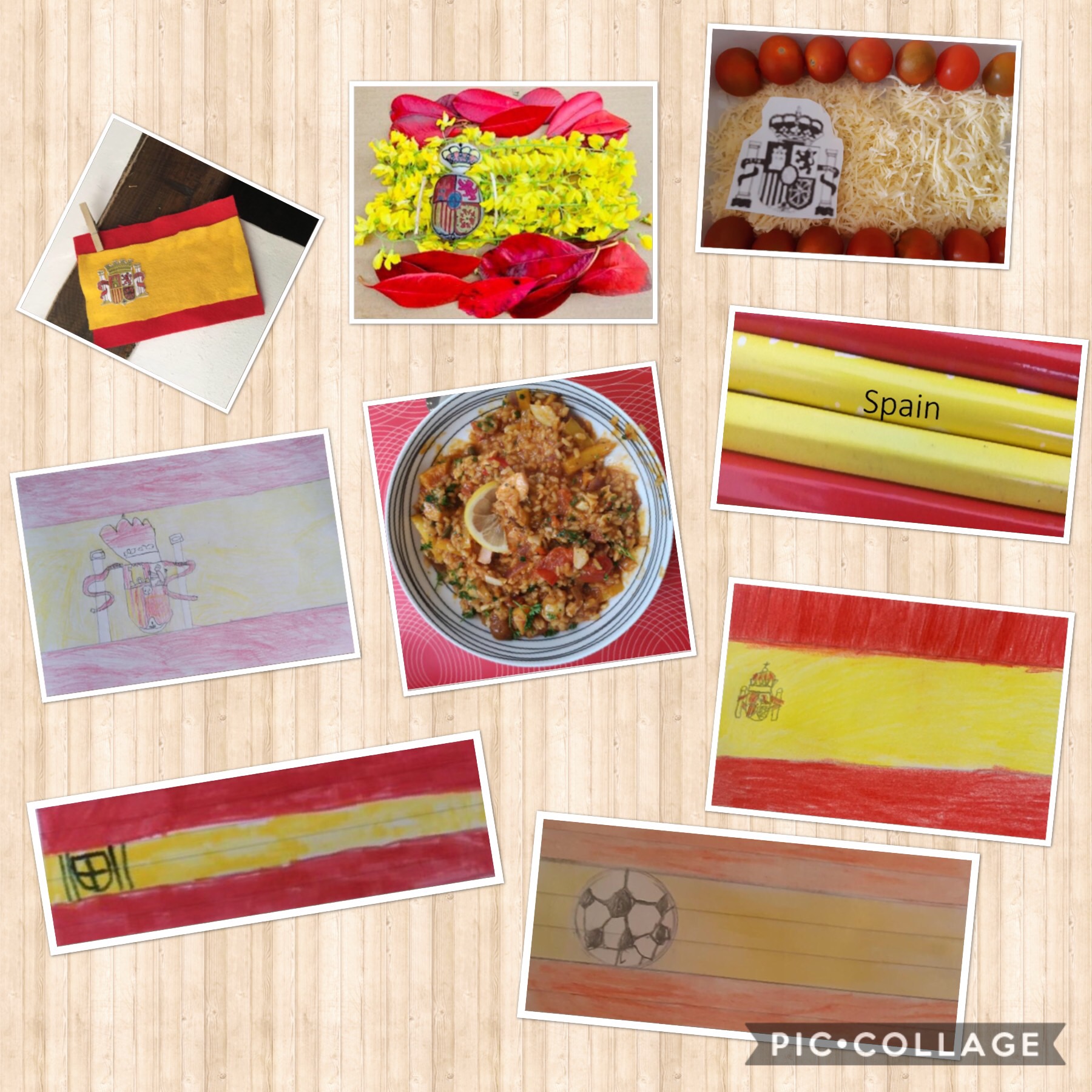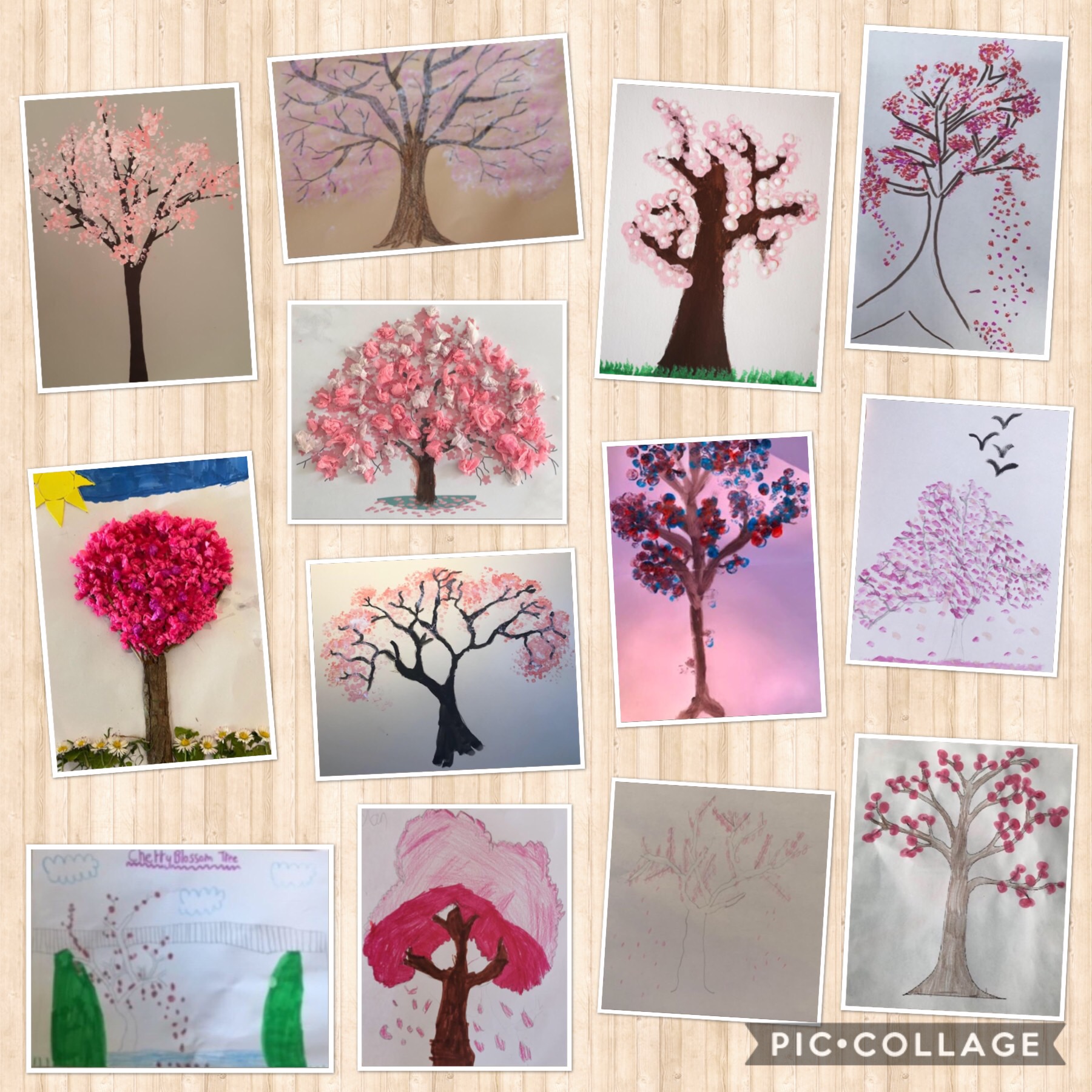 Second World War Project
Year Four have been back in the kitchen but this week's it's been cooking with a difference, thanks to their Second World War topic. The children have been researching the impact of rationing and how this changed wartime recipes and menus. Here's a selection of some of the incredible things they've made, including Eggless Sponge Cake, Woolton Pie and a fully family review of Potato Piglets!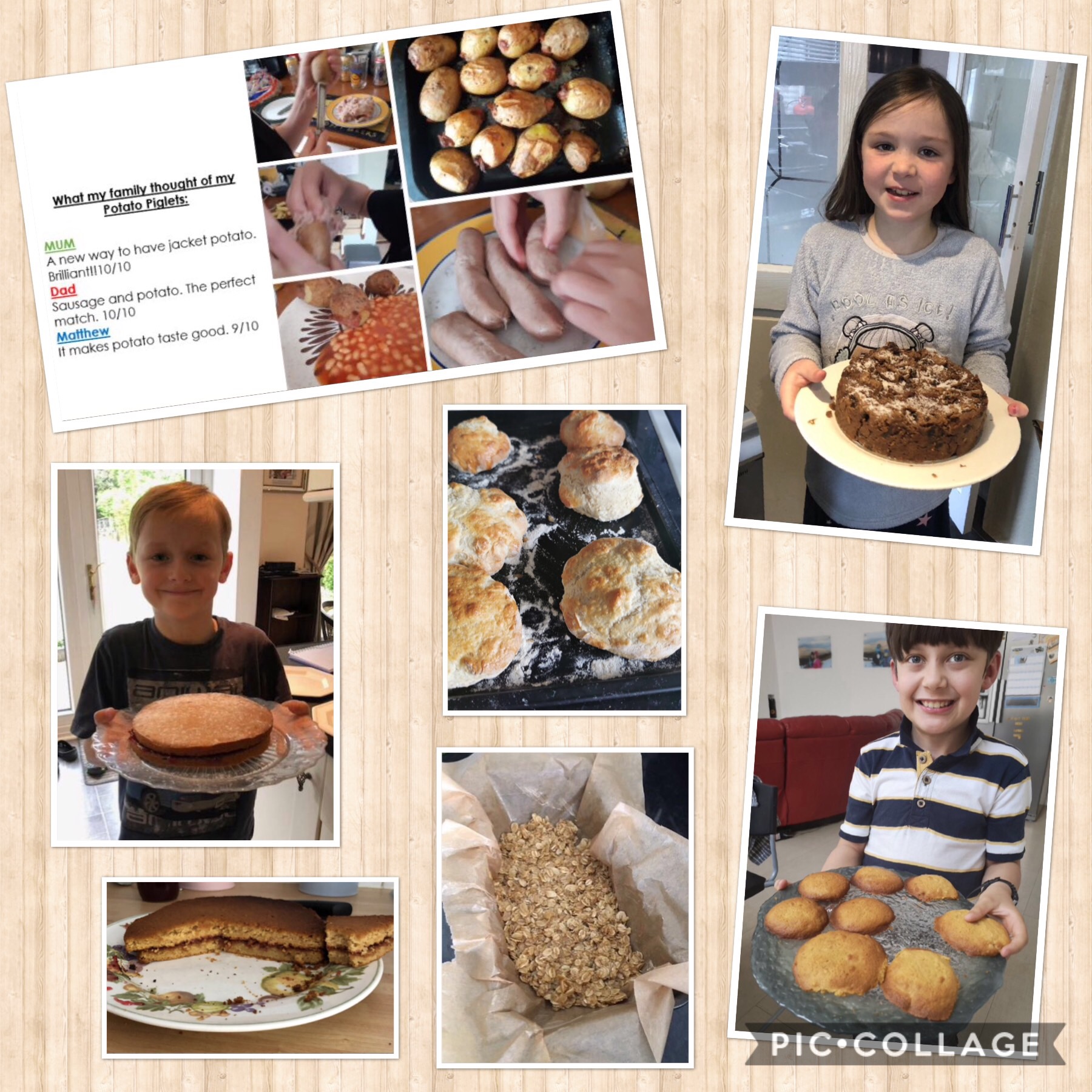 Art
Years Three and Four have thoroughly enjoyed learning about parallel and perpendicular lines, thanks to the artist Piet Mondrian! Using Mondrian's artwork as their inspiration, the children created their own geometric art using using a range of mediums.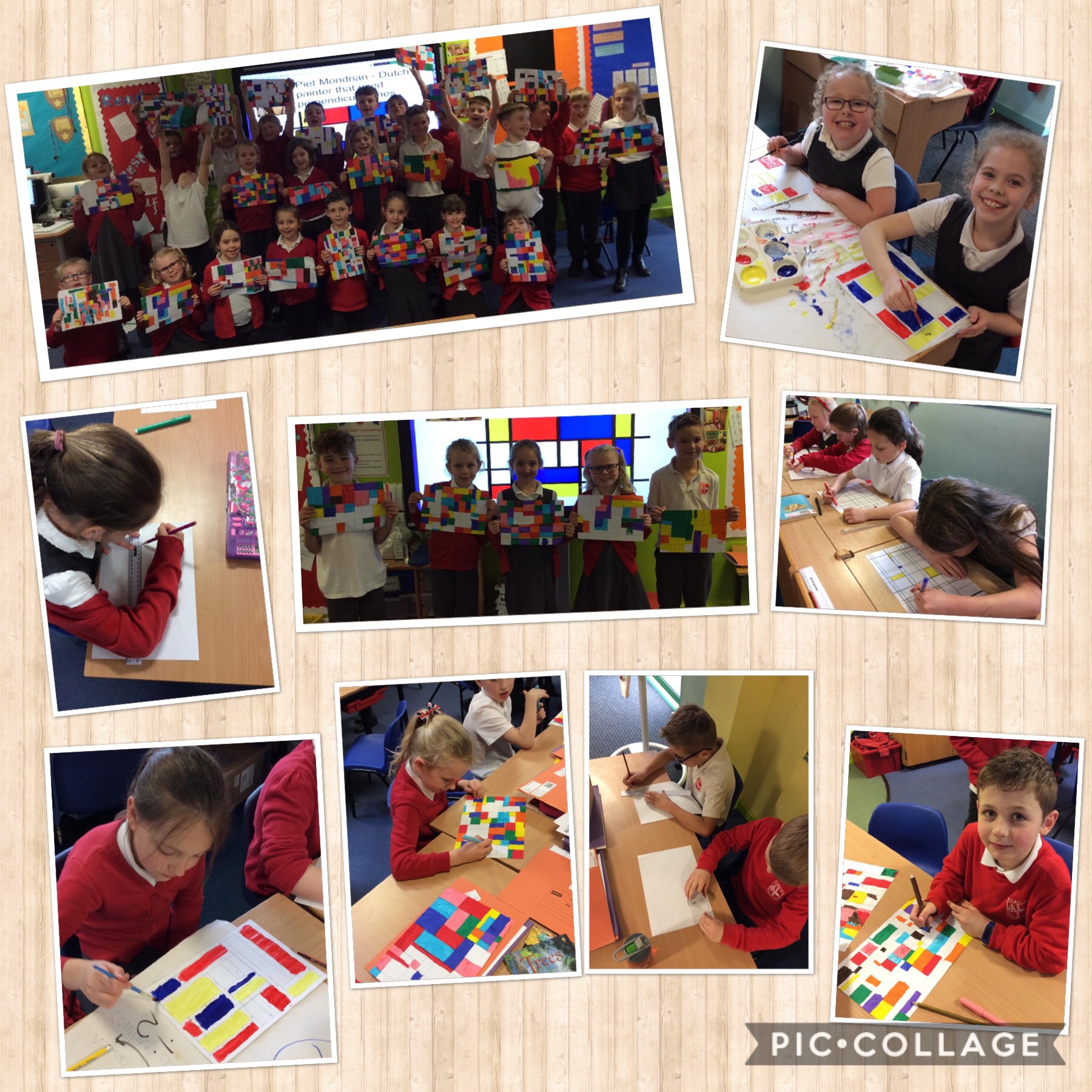 Orienteering
A team of children from Years Three and Four had a great time orienteering at Stourport Dome this week. Although it wasn't a competitive event, they worked brilliantly together and worked hard with children from other schools to make the most of the festival. Most importantly, the organisers of the event were keen to share that the children from BPS were exceptionally well mannered and enthusiastic.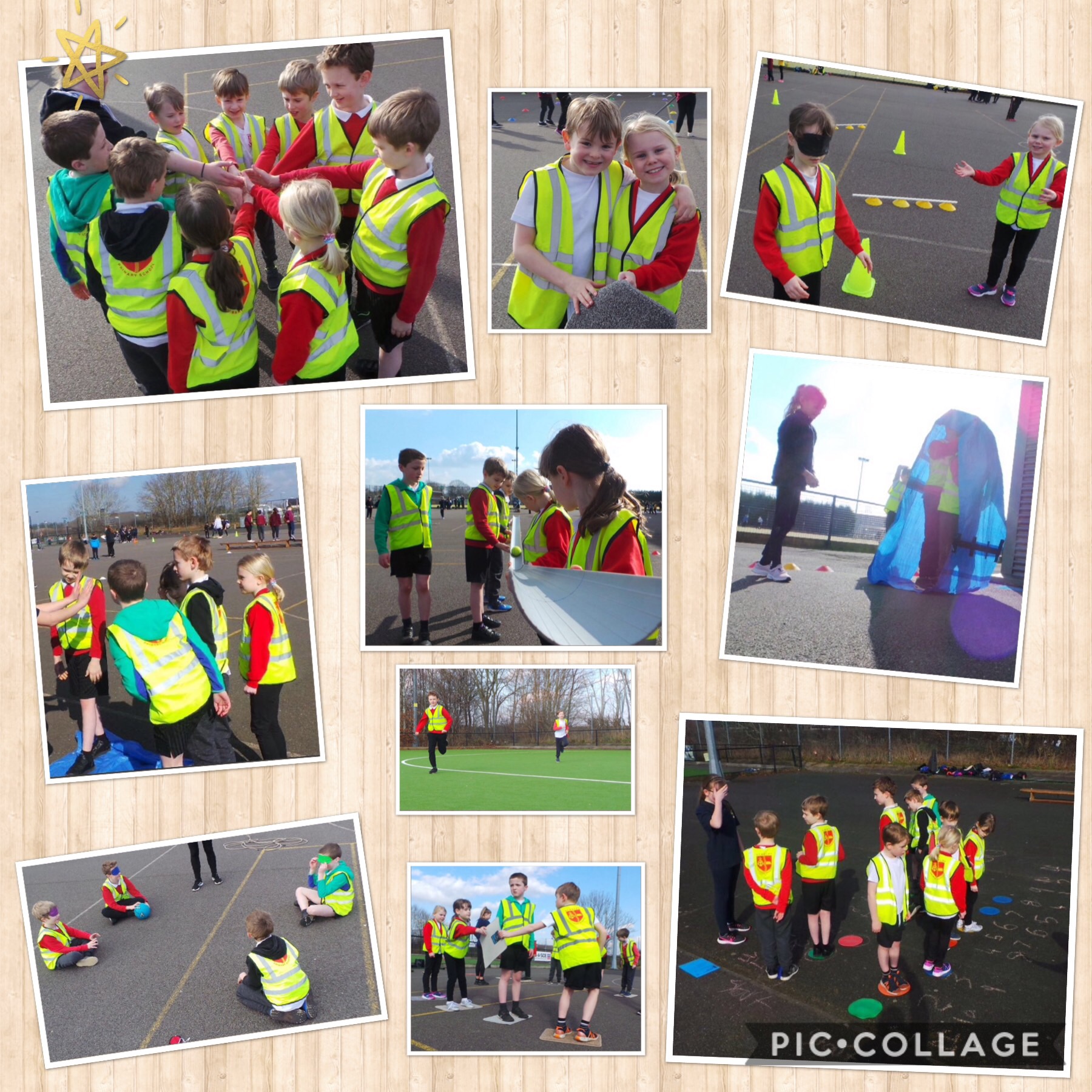 Road Safety Training
Throughout January, the children in Year Two and Year Four have been taking part in road safety training from Worcestershire County Council. Year Two's 'Step Outside Pedestrian Training' programme gives children practical training in how to walk and cross roads with adults. Meanwhile, the Year Four 'Stepping Out' programme is designed to help children to develop their own basic pedestrian skills as they become more independent.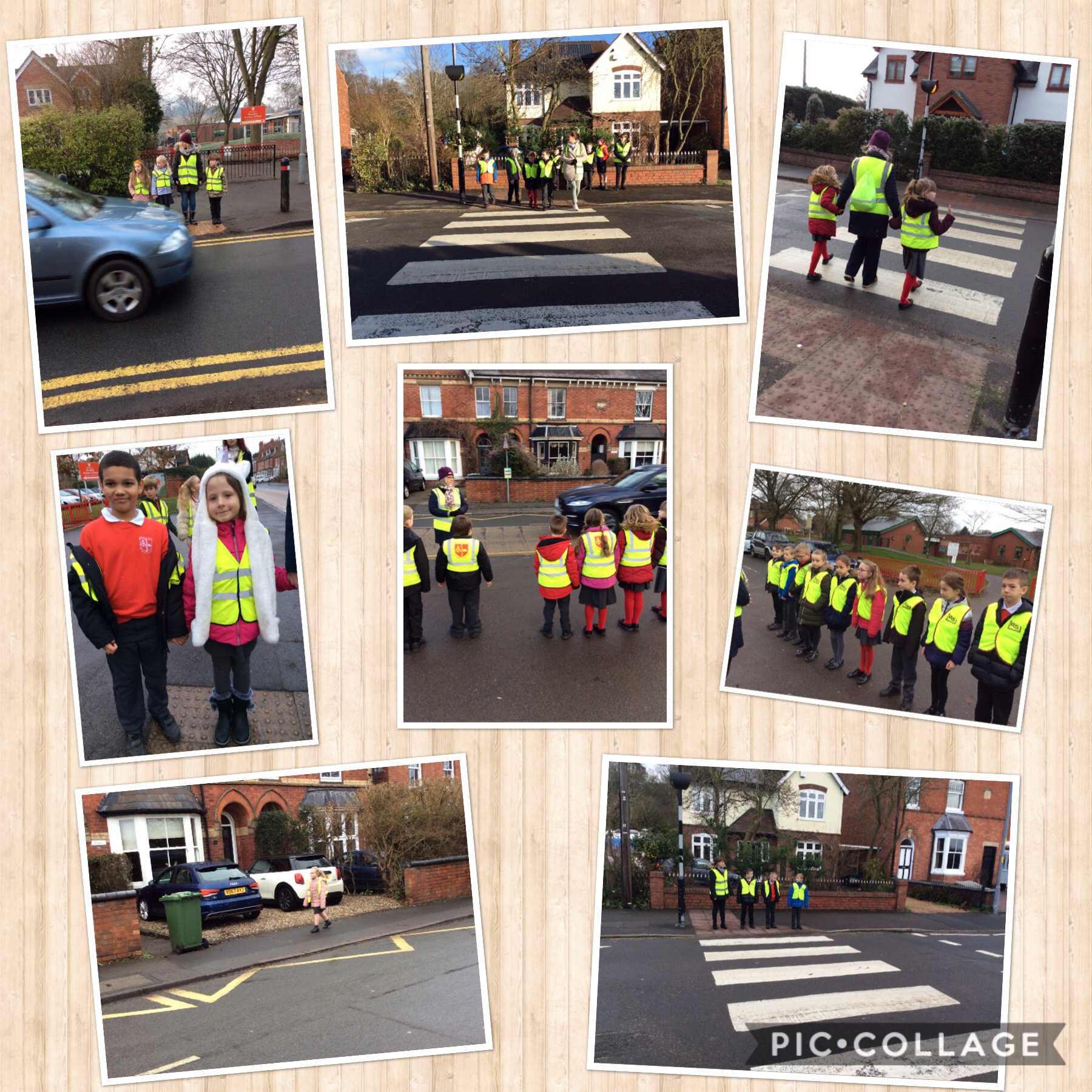 Building a tower out of ice
As part of their 'Water!' Topic, Year Four's science experiment matched the weather this week as they discovered the highs and lows of building a tower out of ice! The children were learning more about states of matter and how they change - specifically the difficulties surrounding freezing and melting! Not that they're competitive (!) but the highest Morpurgo ice tower stood at 11cms whilst the highest Blyton tower reached an impressive 14cms! They're now moving on to learn about the changing states involved in the water cycle.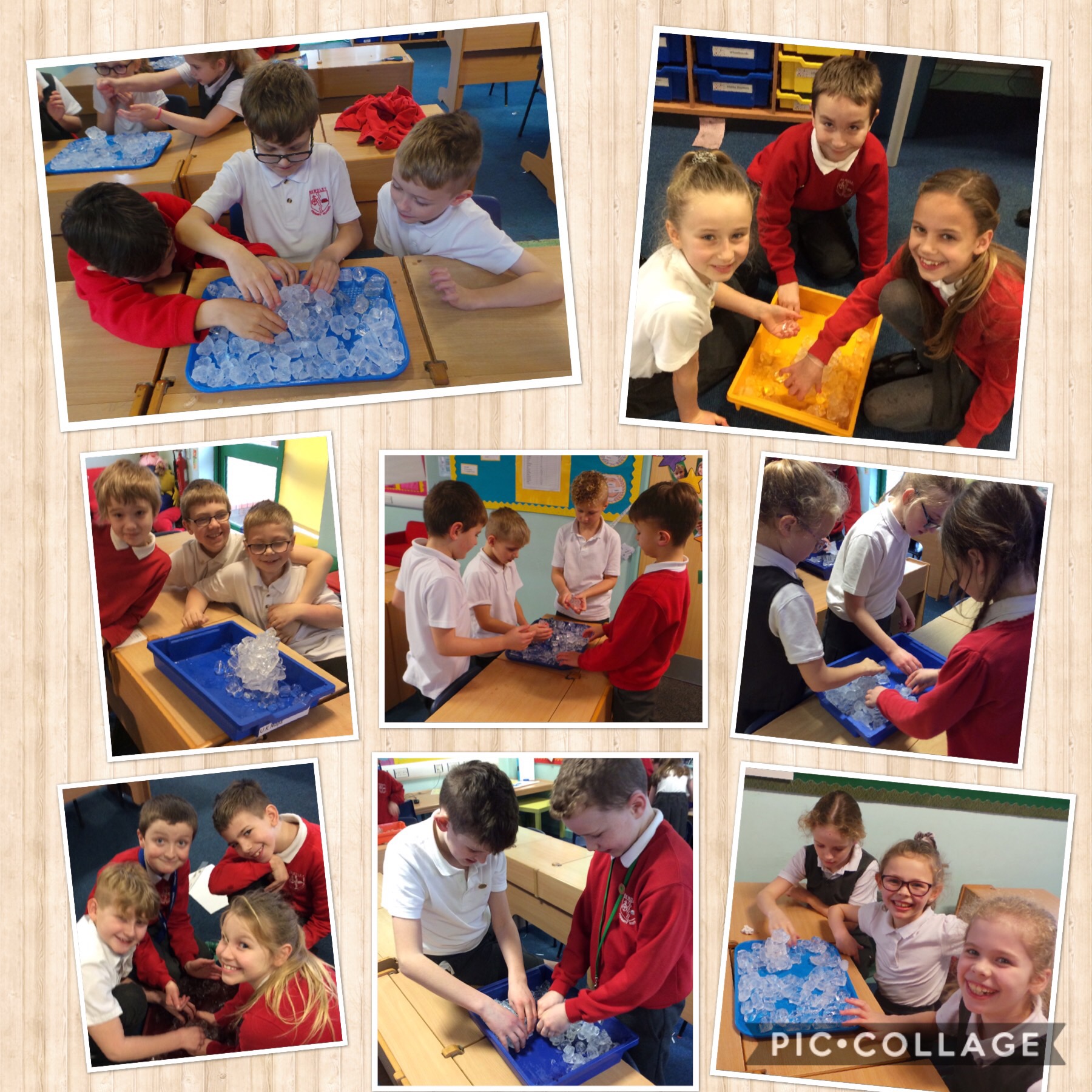 Water Topic
As part of the Year 4 topic, 'Water!', Morpurgo class investigated the effect of water on different materials. They were instructed to build shelters, using materials of their choice, to find out which ones ensured the structures (and the children inside them!) were waterproof. As you can see from the photographs, the children used a range of different techniques - some of which were more successful than others!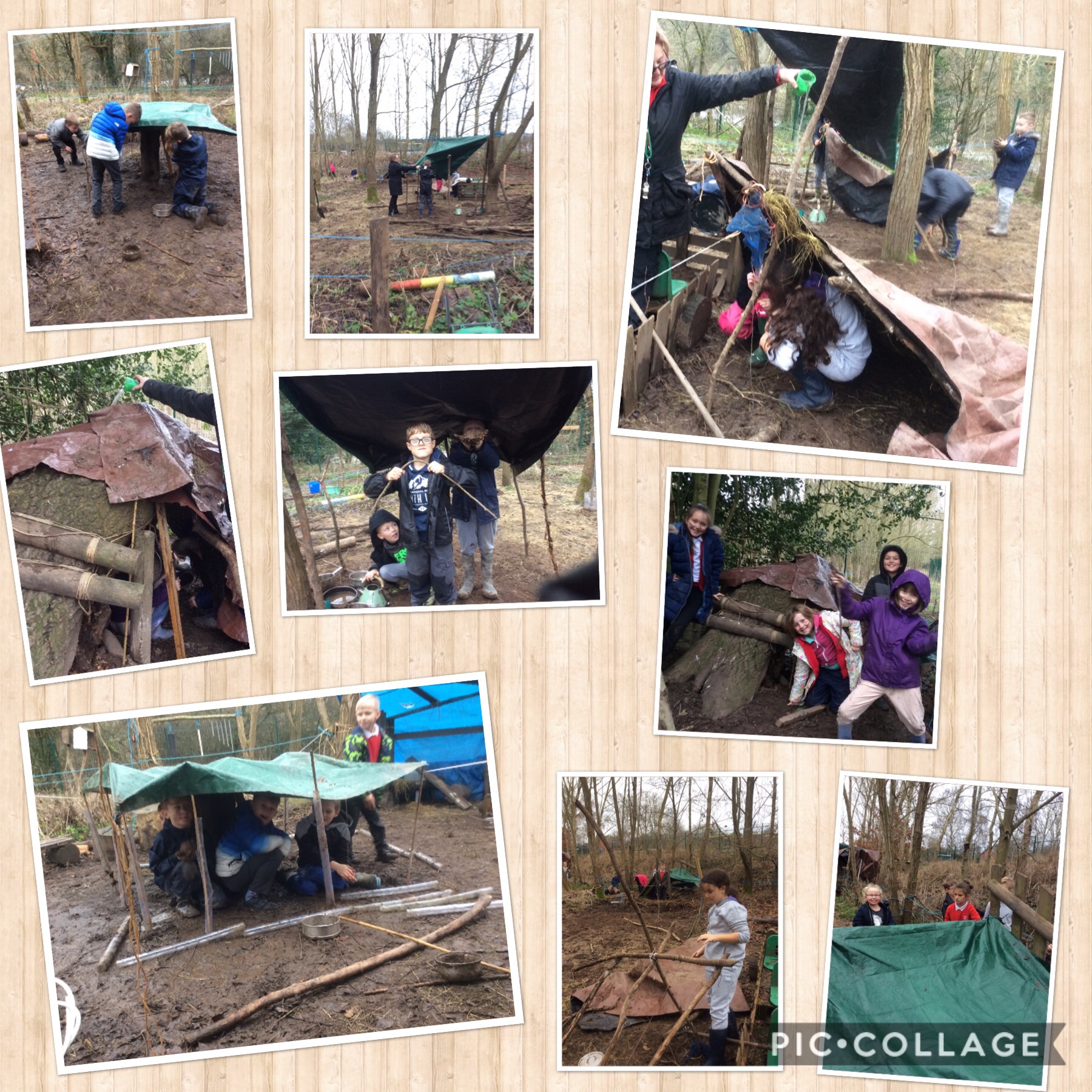 Lower Key Stage 2 Christmas Show - Lights Camel Action 2!
Our school hall has been filled to the brim this Christmas, with 14 fabulous performances being staged over the last couple of weeks. Whether they were watching our 3-year old Nursery's first nativity or Year Six's last, all of our audiences were treated to confident, energetic and heartwarming performances.
Thank you for not posting your own pictures of the productions on social media. We are able to do so on our own website and Facebook page as we only share images of children whose parents/carers have given permission to do so.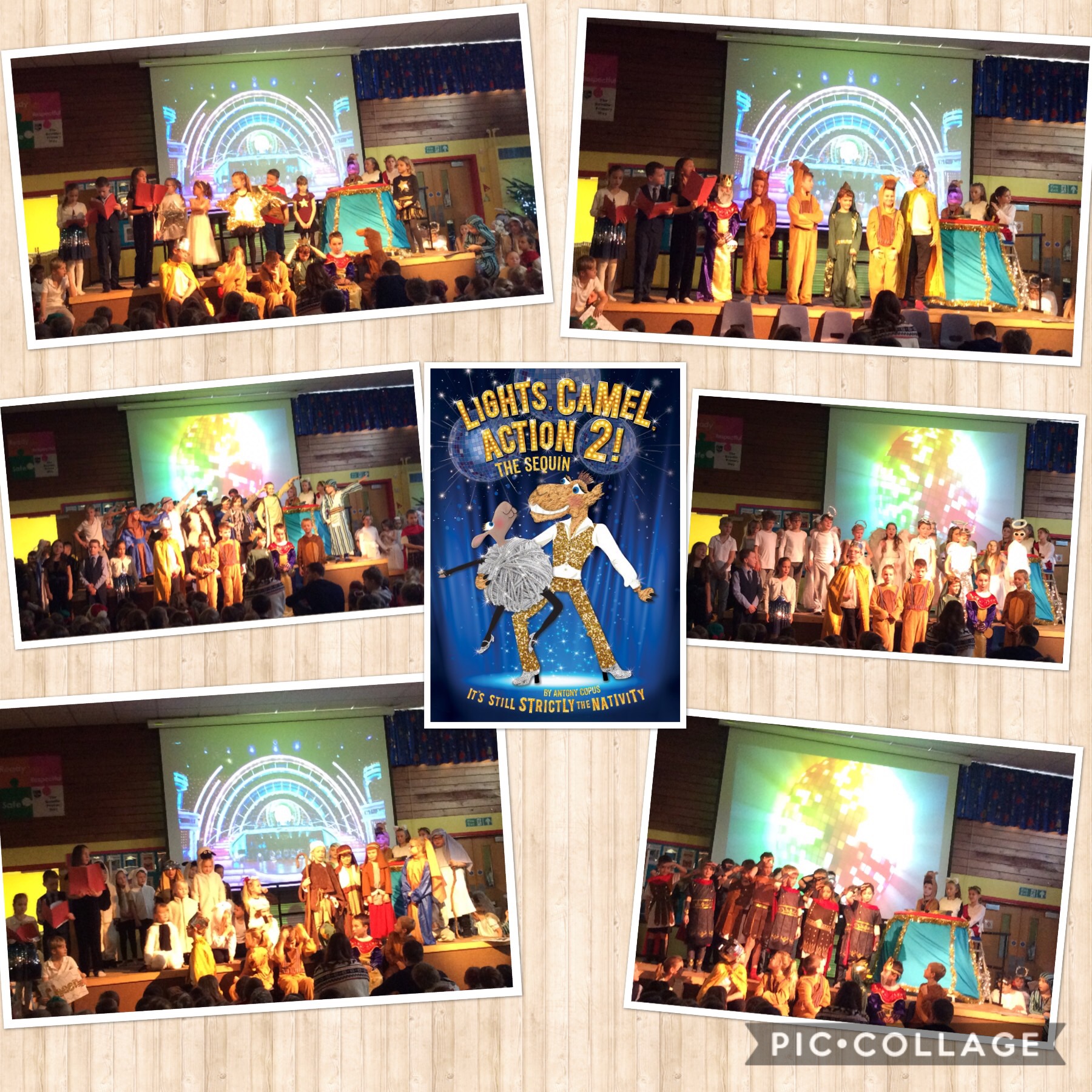 Visit to Shropshire Hills Discovery Centre
Year Four had a marvellous time at the Shropshire Hills Discovery Centre where they stepped back in time to experience life during the Stone Age to Iron Age period. They enjoyed a range of great activities including making wattle and daub structures, grinding wheat and cave painting. They also encountered a life size replica of a mammoth!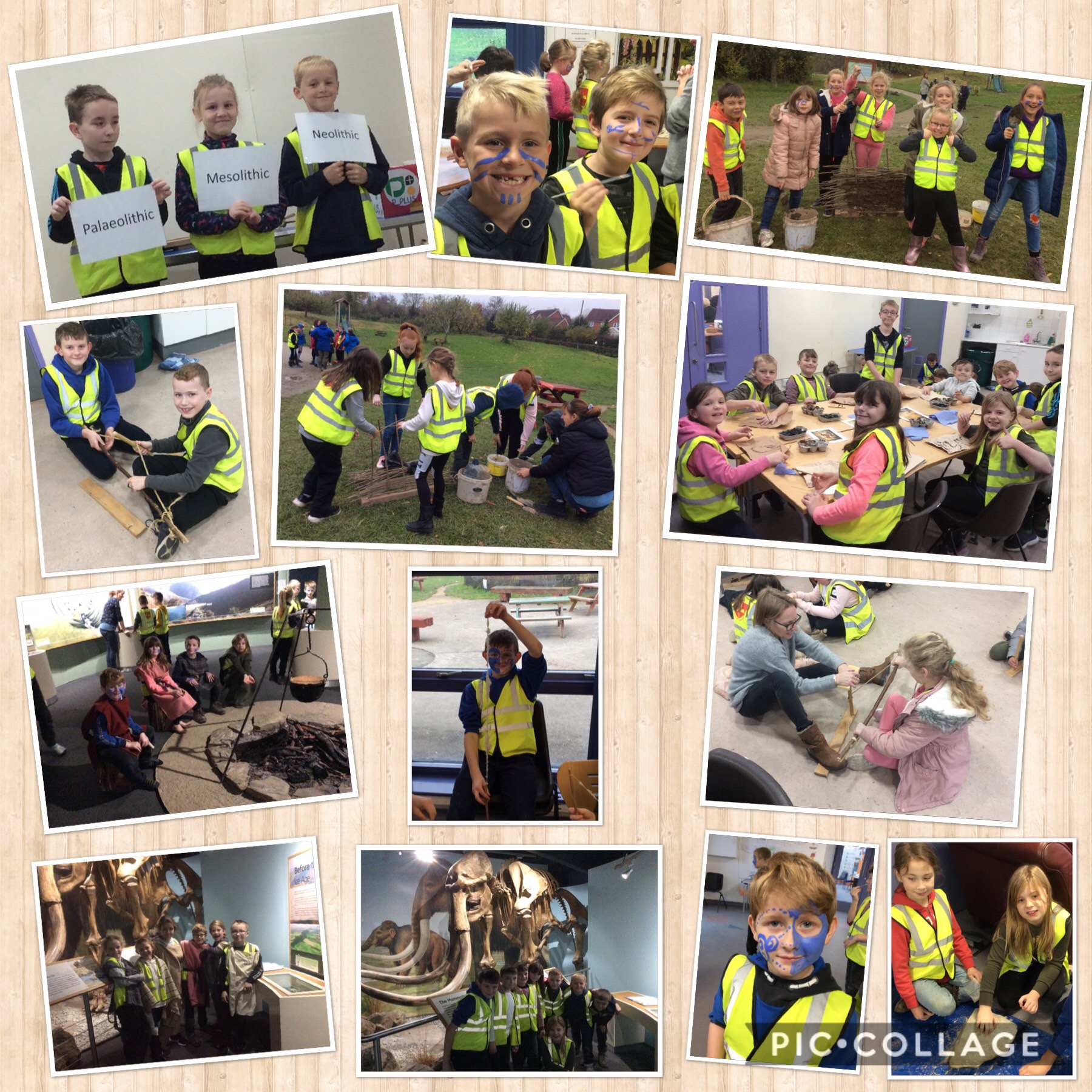 When I Grow Up... Week'
Years 3 and 4 enjoyed a chance of pace when they welcomed Emma Caddick from Santosha Yoga and Wellbeing Worcestershire into school. In a week which focused on aspirations and plans for the future, it was important to remind the children about the importance of wellbeing and taking time to reflect and relax.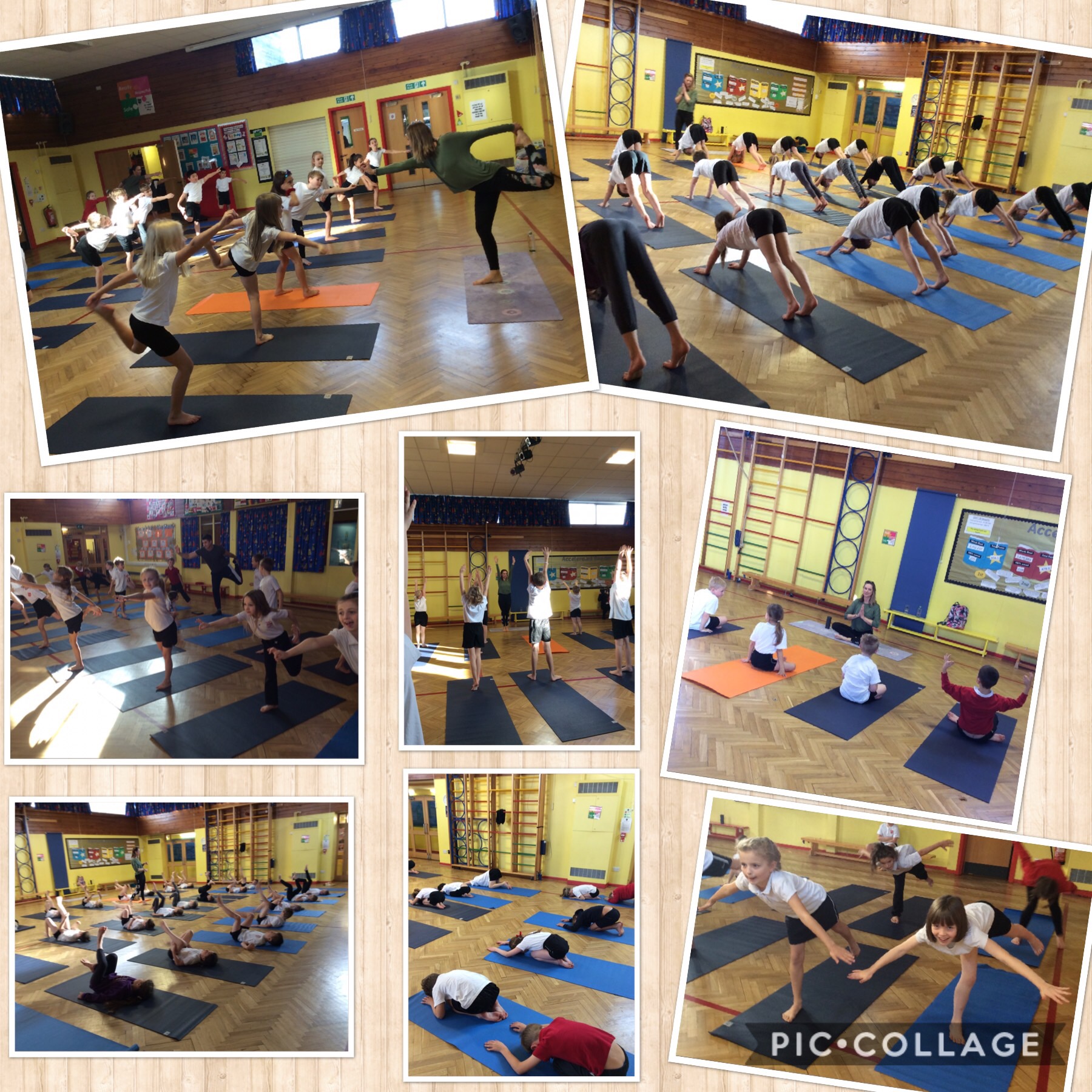 Diwali
Year Four have been learning more about the Diwali festival and how, amongst other things, it is a celebration of belonging to the Hindu faith. The children began preparing for their own Diwali celebration by creating Rangoli patterns with rice and paint before making and sharing delicious Mango Lassi, chapatis and coconut barfi.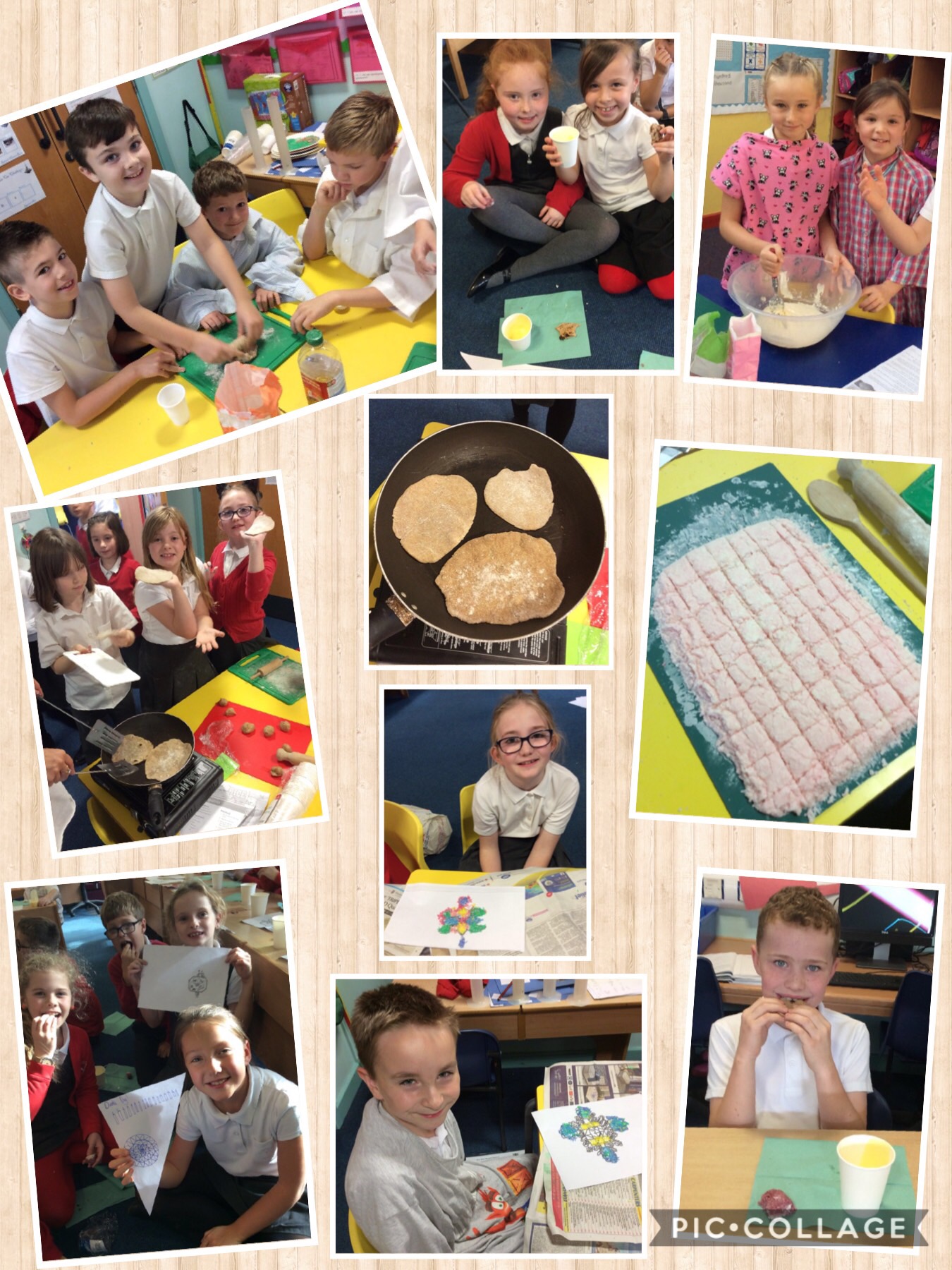 Bewdley Festival Service
Children from Years Three and Four were honoured to take part in today's Bewdley Festival Service at St. Anne's Church, which marks the end of this year's Bewdley Festival. The children have been rehearsing for the last few weeks with local composer Jim Ineson, following their invitation to sing with the fantastic Bewdley Festival Voices during the service. Well done to everyone who took part - the singing from the combined choirs was absolutely incredible. What a great opportunity for our pupils!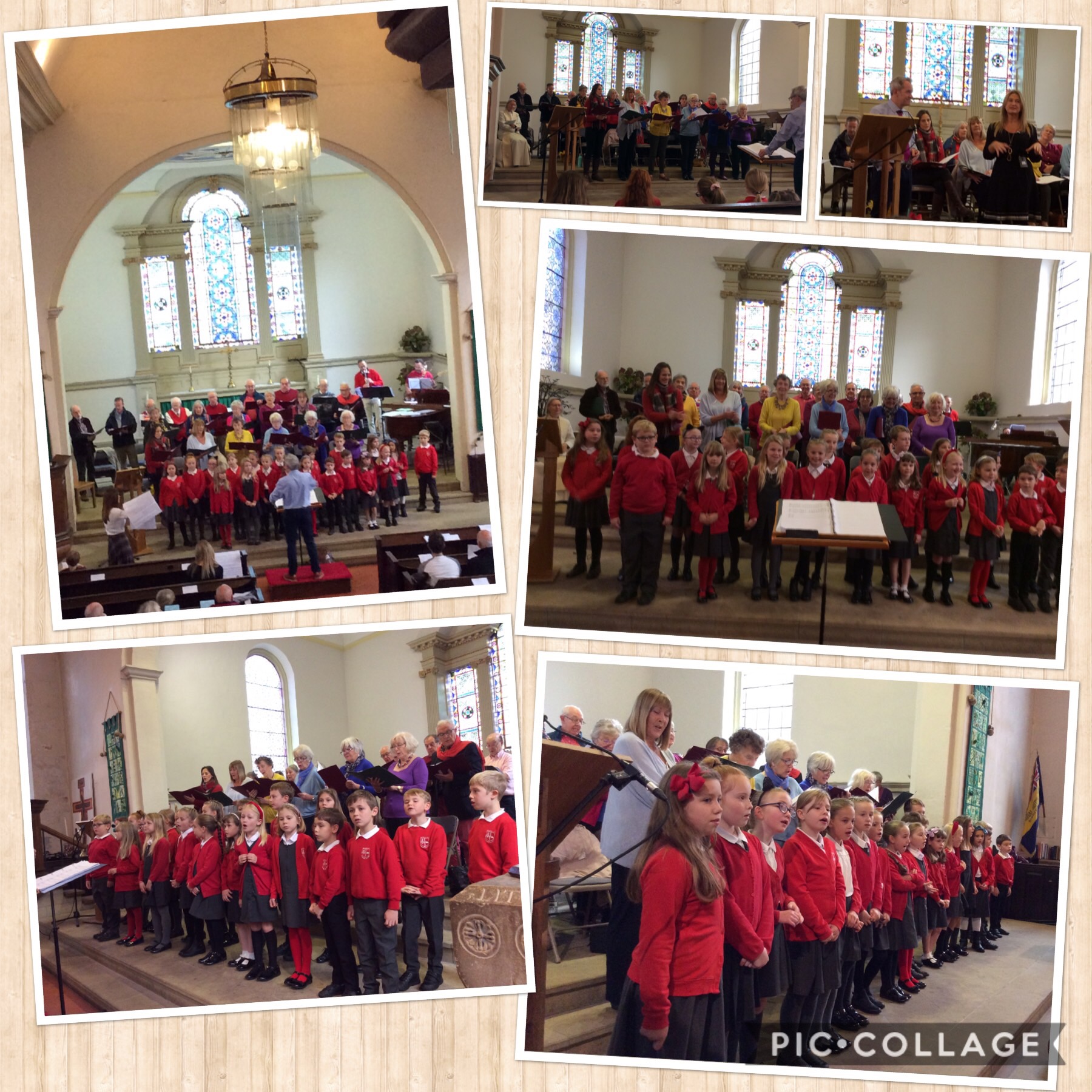 Plight of the Orangutans
As part of their Rainforest topic, Year Four have been investigating the impact of unsustainable palm oil production on the rainforest habitats in Indonesia. They have worked together to create their own campaigns to highlight the plight of the orangutans by creating posters, slogans and badges. In this clip you'll hear the Greenpeace poem 'There's a Rang-tan in my bedroom' which they will also be performing in assembly next week to raise awareness of the problem.
Life Cycle of Plants
Year Four have been continuing their Rainforest topic by investigating the life cycle of plants. They're currently experimenting with growing tomato plants, having planted seeds, whole tomatoes and half tomatoes. They've investigated controlled variables and designed their own observation tables. We'll let you know the results as they come in!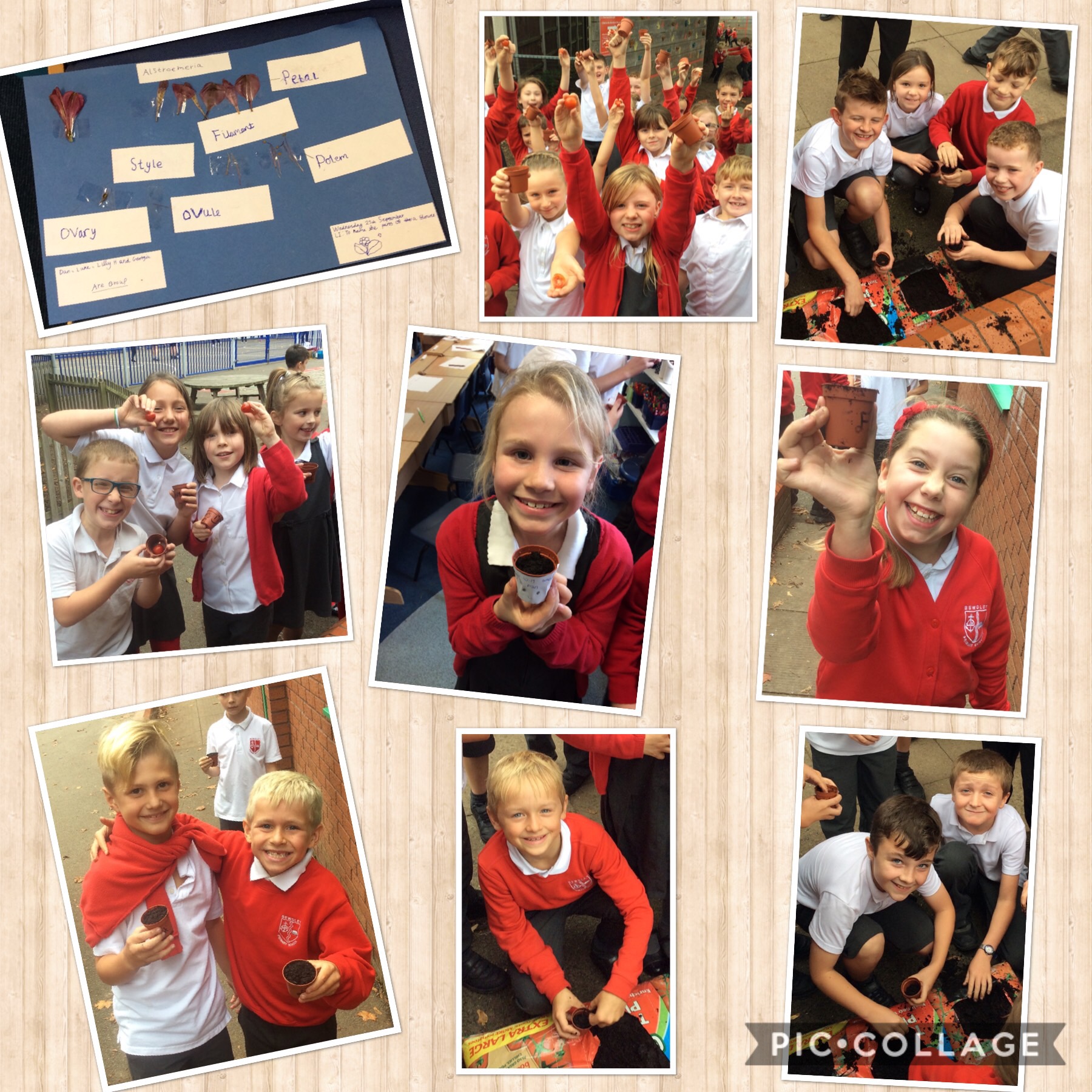 Birmingham Botanical Gardens
Year Four had a great day out at Birmingham Botanical Gardens today as part of their Rainforest topic. After two interesting, engaging and hands-on workshops about the various animals and plants which are native to the Amazon rainforest, the children took part in a Rainforest Treasure Hunt Challenge.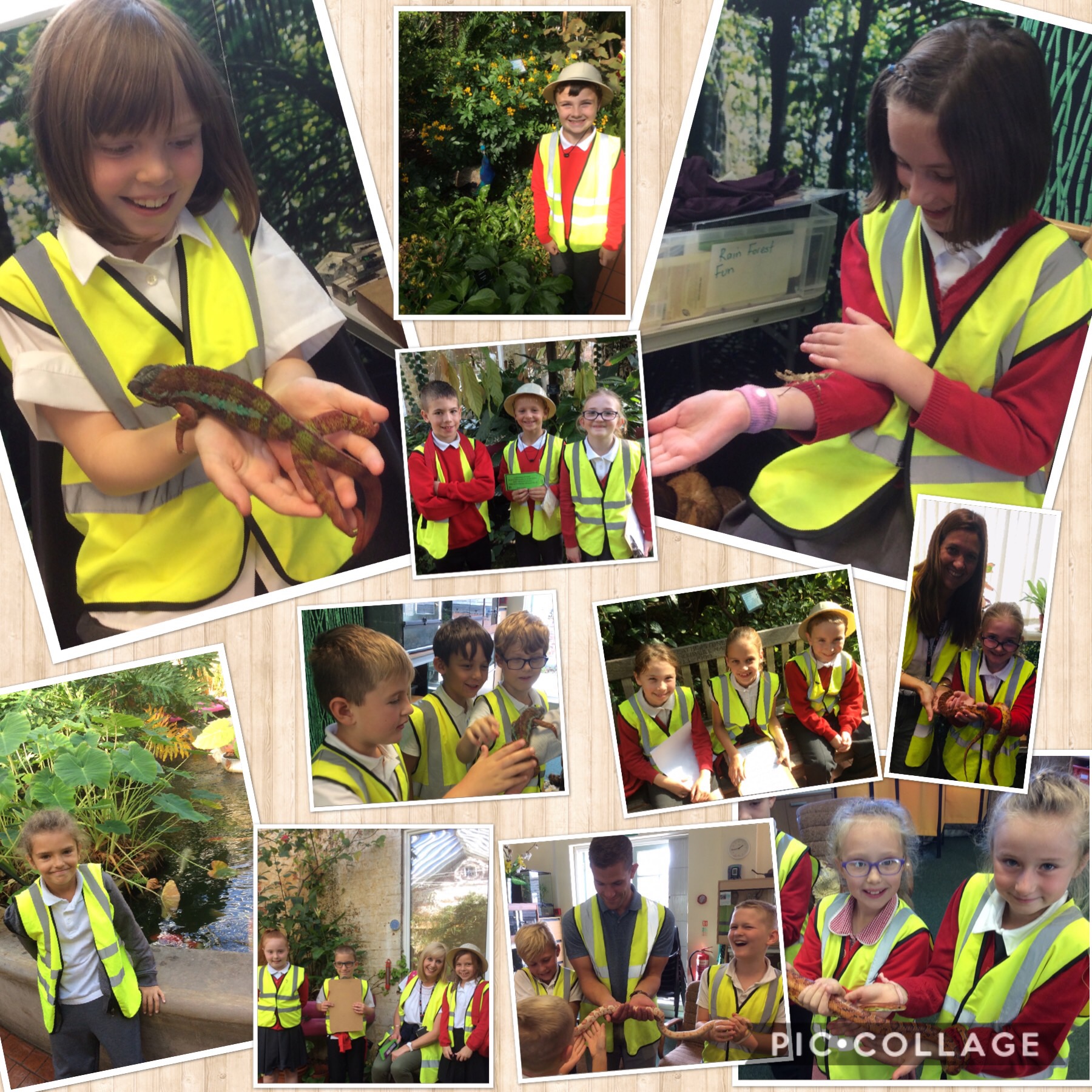 Creating Images of the Rainforest
Year Four have loved their art lessons this week as they've been creating images of the rainforest, using just the soundtrack of the forest as their inspiration. They practised a variety of brushstrokes and colour mixing techniques before creating their final paintings.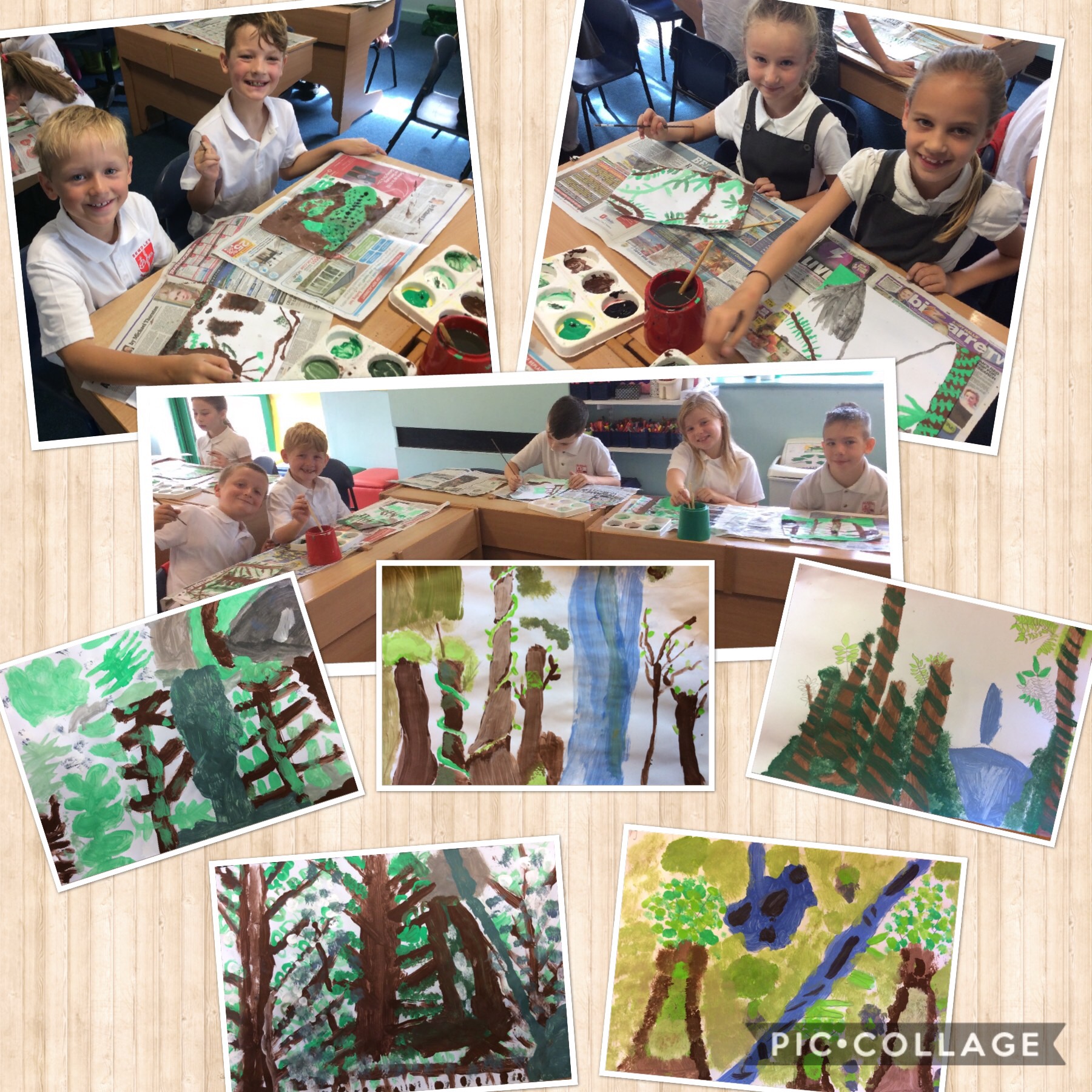 Tri-Golf Festival
Ten LKS2 pupils represented BPS at a Tri-Golf Festival on Friday at Bewdley Leisure Centre on Friday. With the help of Sports Leaders from The Bewdley School, the children took part in a variety of fun, energetic golf games and worked really well together as a team.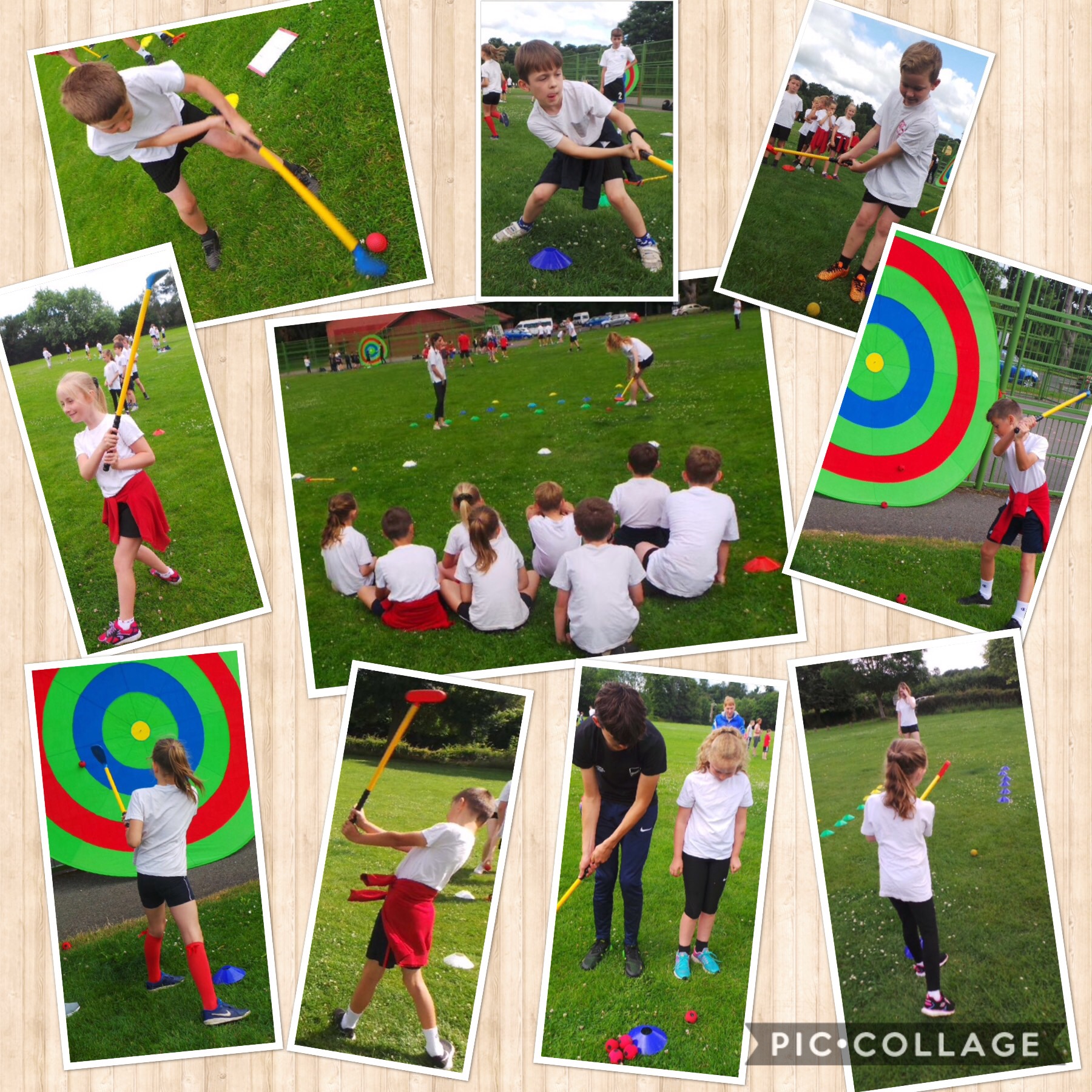 Blist Hill Victorian Museum
LKS2 visited Blist Hill Victorian town to experience what life would have been like in Victorian times. The children and staff enjoyed going back in time to see what poor and wealthy homes were like, experience a lesson in a Victorian school and complete a candle dipping activity. The children visited the bank to exchange their £3 spending money for old Victorian pennies and farthings. It was really fun browsing the wide range of shops and seeing what their money would buy - although most money was spent in the sweet shop and bakery! Everyone looked fabulous in their Victorian costumes and it was a pleasure to receive lots of positive comments from the museum staff about the children's enthusiasm and behaviour. Once again, a credit to BPS!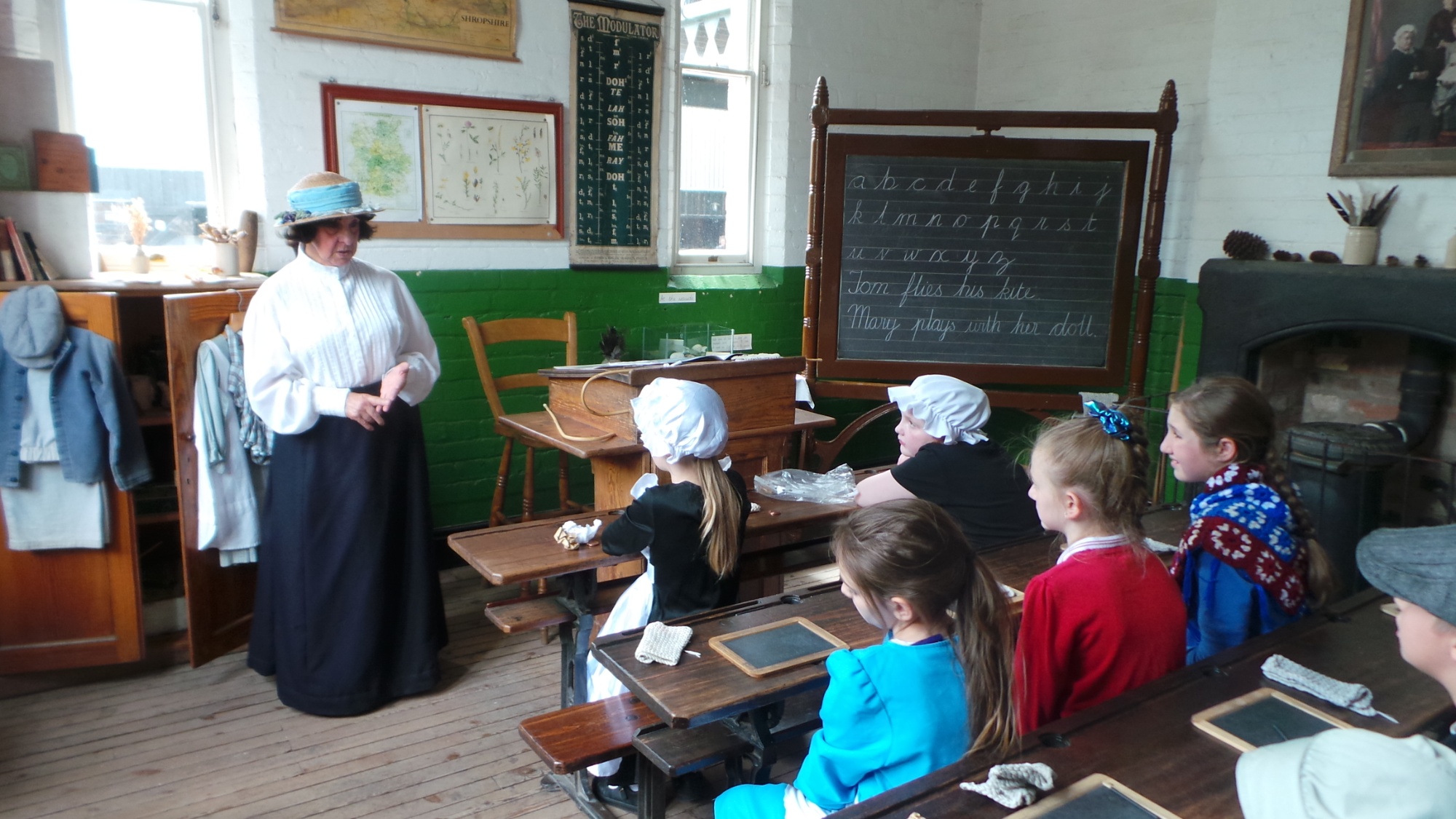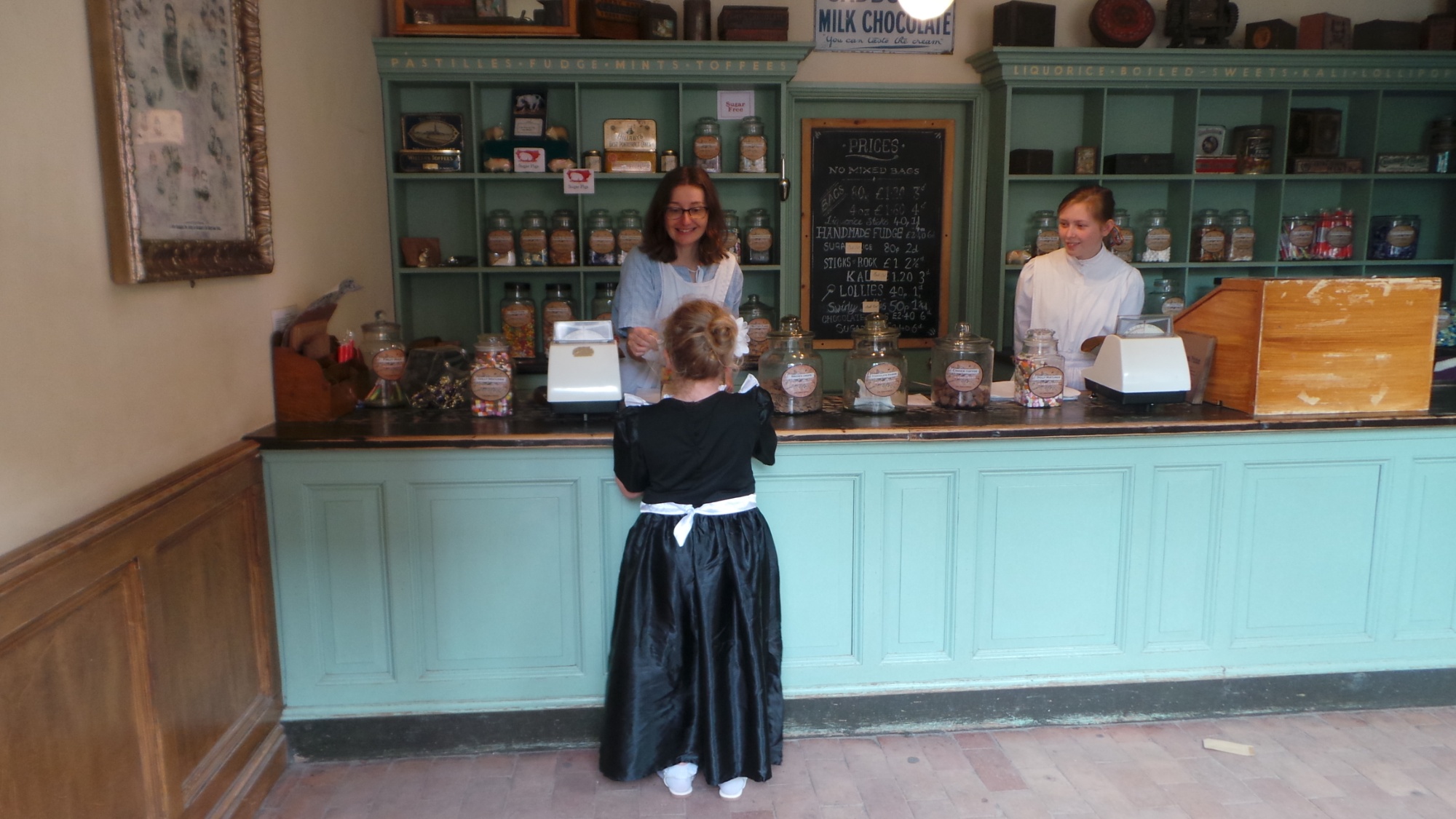 Blyton had a great afternoon using the parachute for their PE lesson. The best part was creating a mushroom. Great team building skills.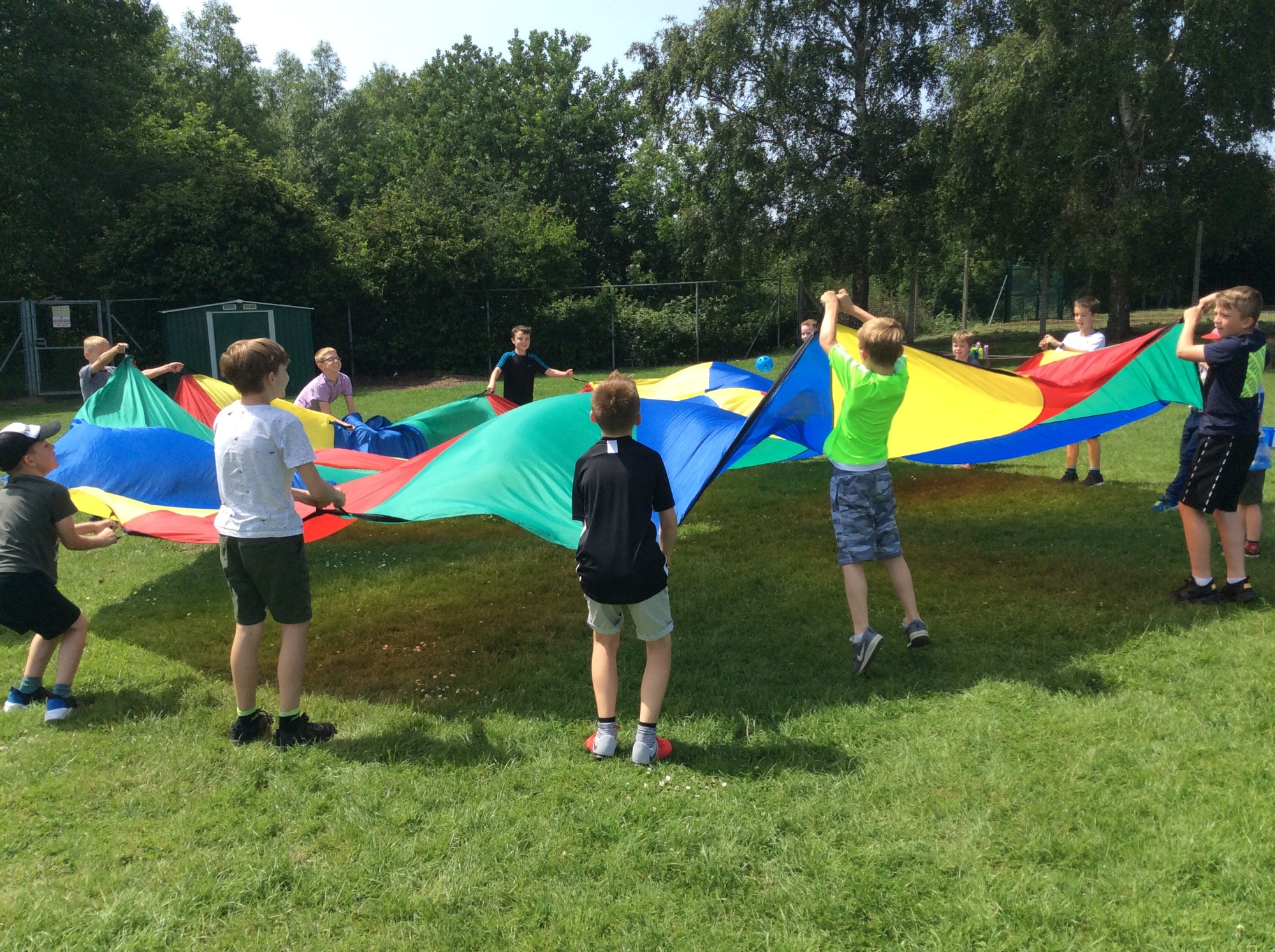 Morpurgo class reading end of the day story in the sun.
Manor Adventure
This year was another epic trip to Culmington Manor! The Year 4 children and staff spent a glorious weekend in the sunshine taking part in a range of activities from Archery to Abseiling. It was wonderful to see the children bravely stepping out of their comfort zones and challenge themselves to succeed at a variety of new physical challenges. There was food galore whether it be as part of the regular plentiful meal times or our midnight feasts. We had a marvellous time and are already looking forward to next year!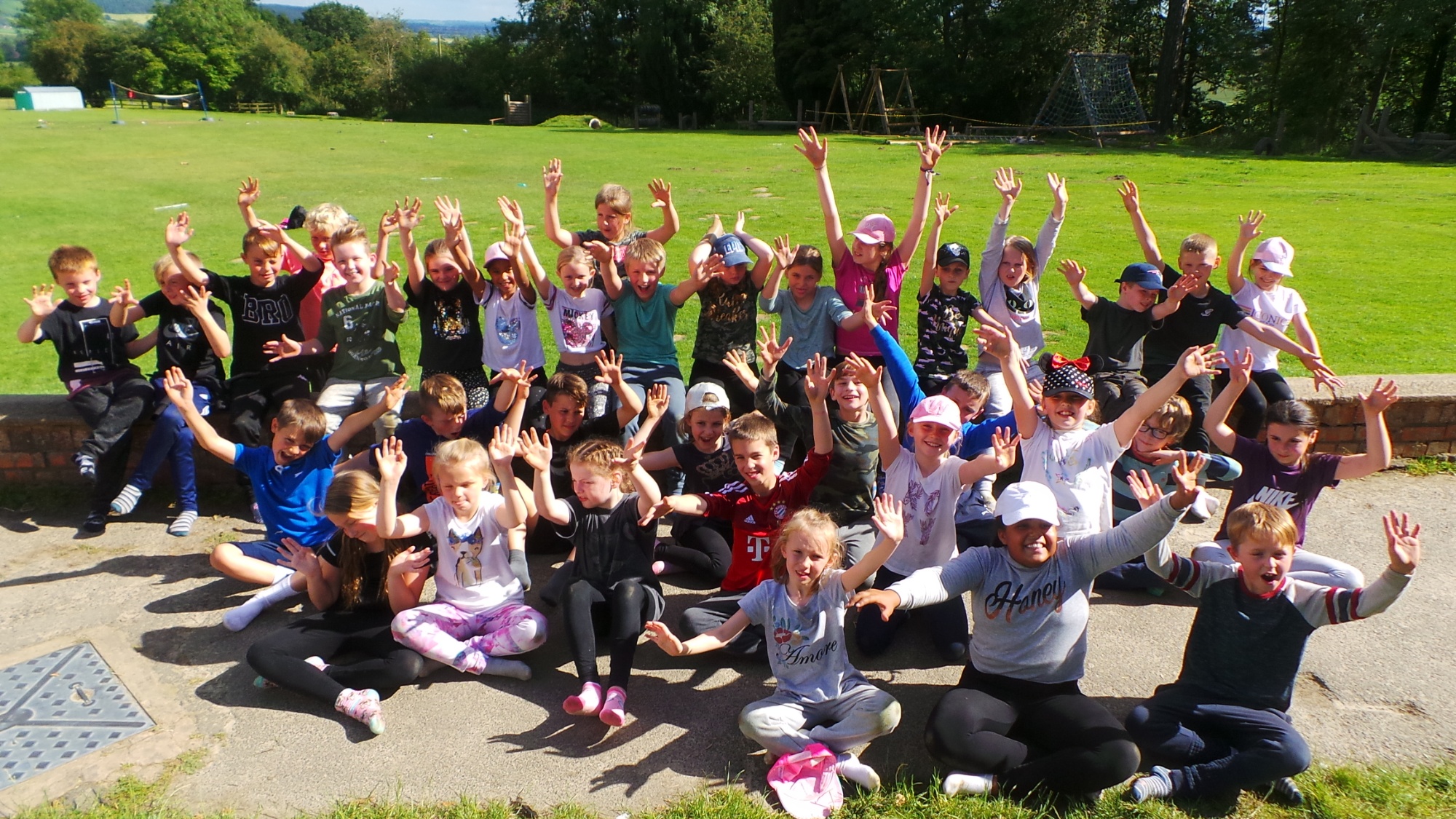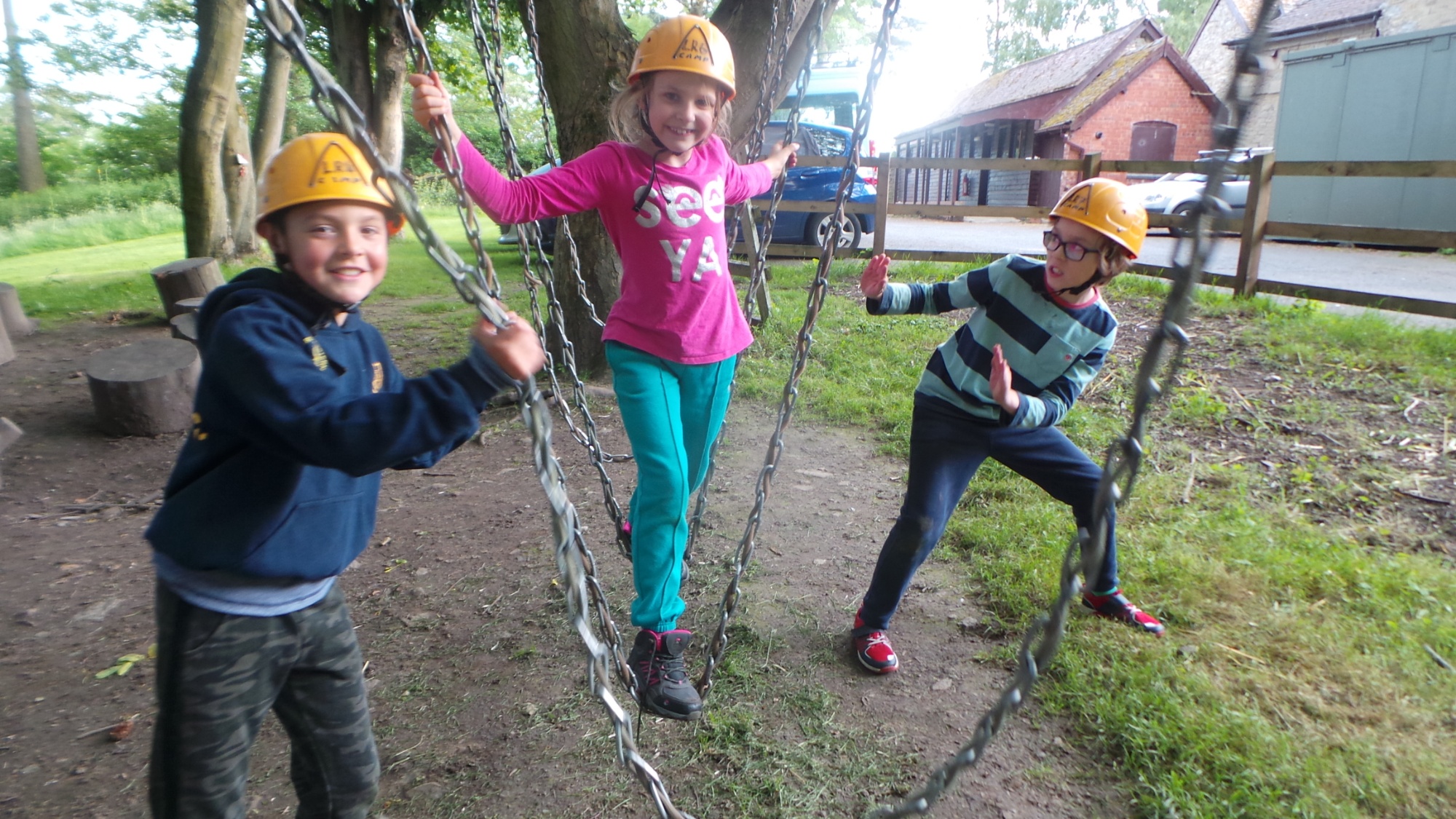 Woodland Wonder!
We took part in a range of new experiences and learned some acquired some great new skills during our Woodland Wonder topic. Whilst on our trip to the Wyre Forest, we enjoyed using our map skills to complete an orienteering activity as well as identifying a range of creatures whilst pond dipping and bug hunting. We loved getting a close up look at some of the creatures we found especially the toad in the pond and the frog under the log! We are in the process of finishing off our bug hotels and look forward to posting them on here when they are complete.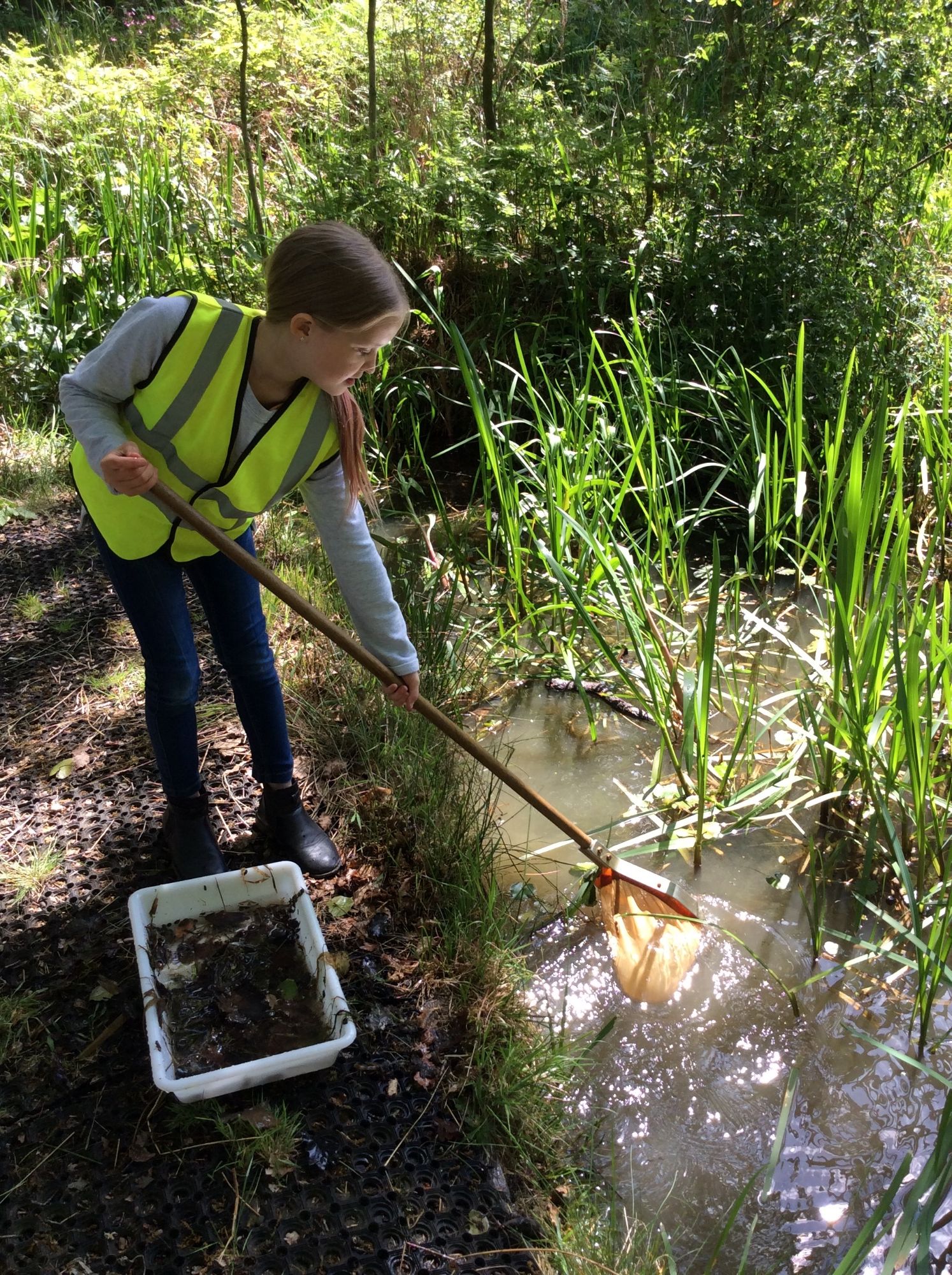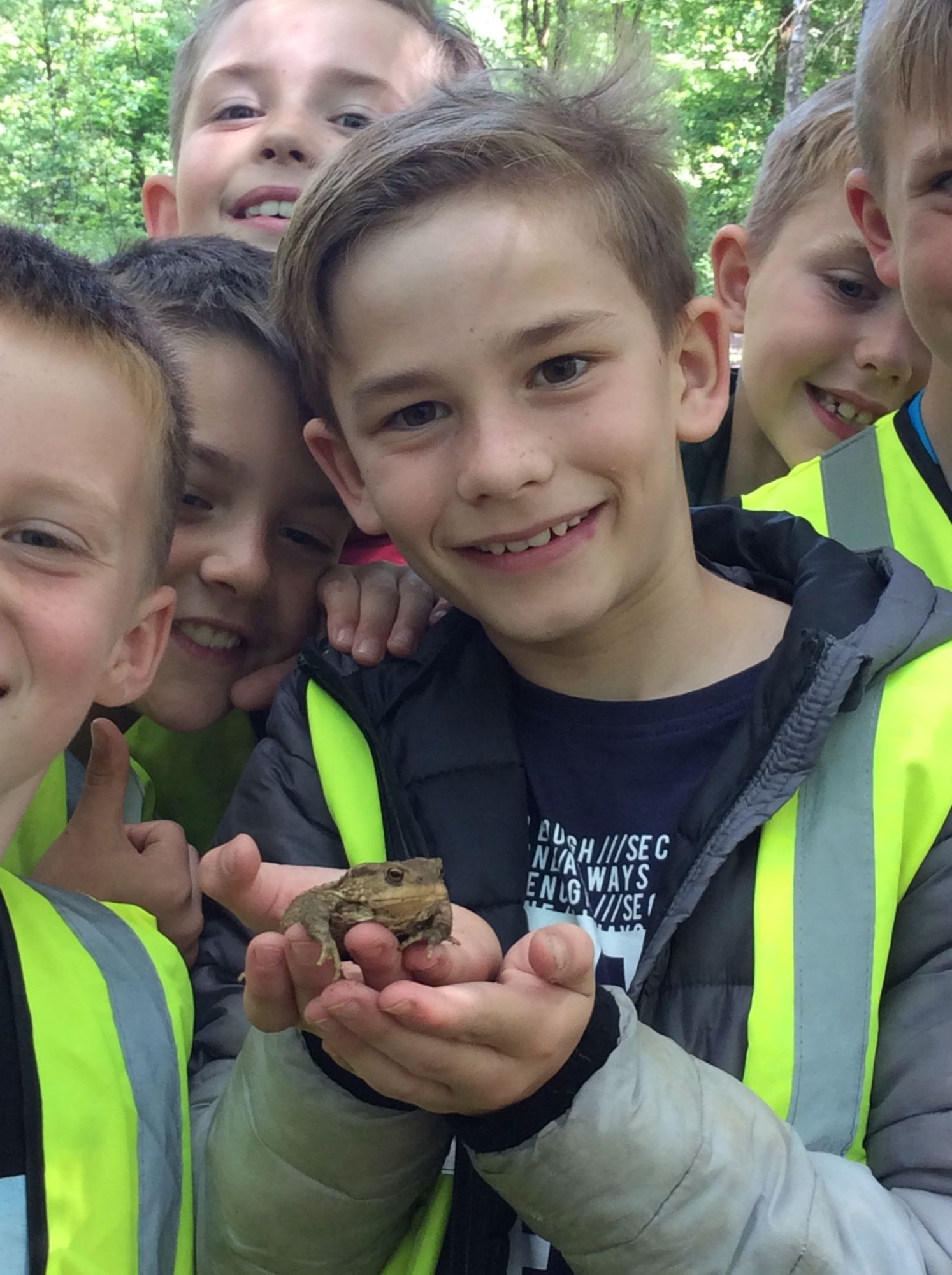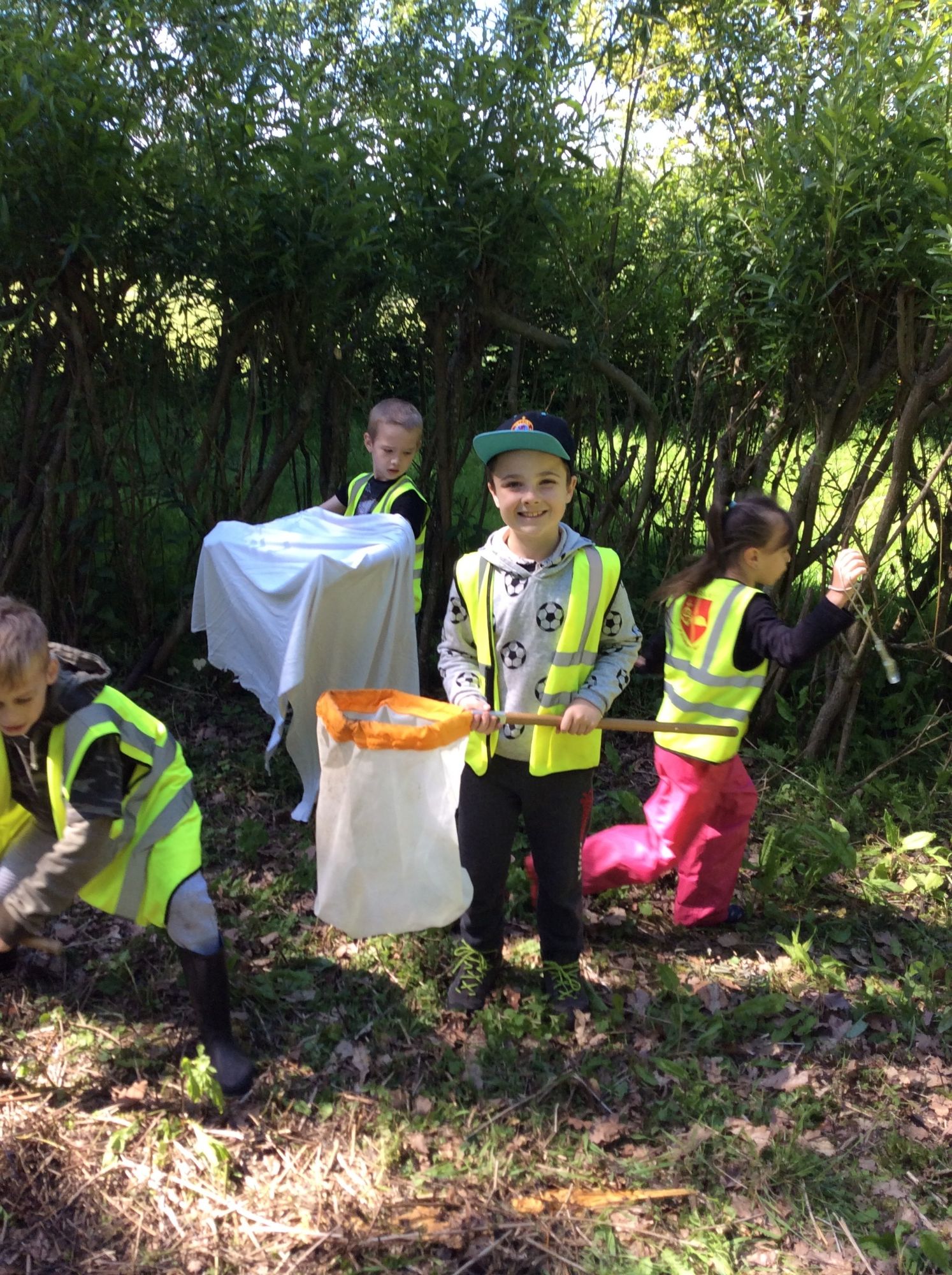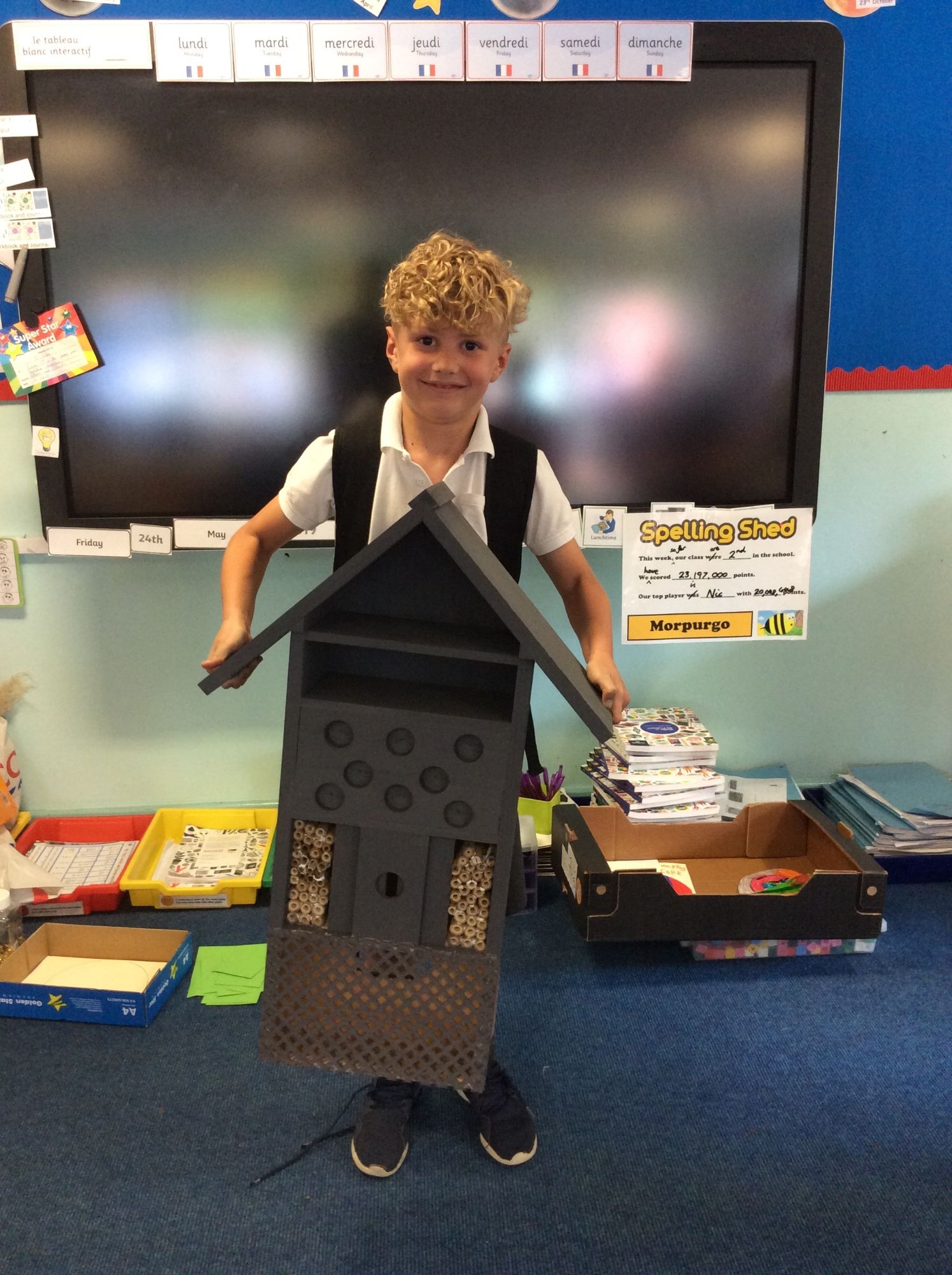 Art Attack!
LKS2 spent the whole of their last sequence of learning immersed in the Art World. Whether they were observing, creating, designing or reviewing the children's work was heavily influenced by the work of a range of famous artists but in particular that of Andy Warhol, Vincent van Gogh and LS Lowry. Within Art lessons themselves, the children have improved in a range of skills in attempting to recreate famous pieces of Art such as "Sunflowers" and "Starry Night" by Vincent van Gogh and "Going to Work" by LS Lowry.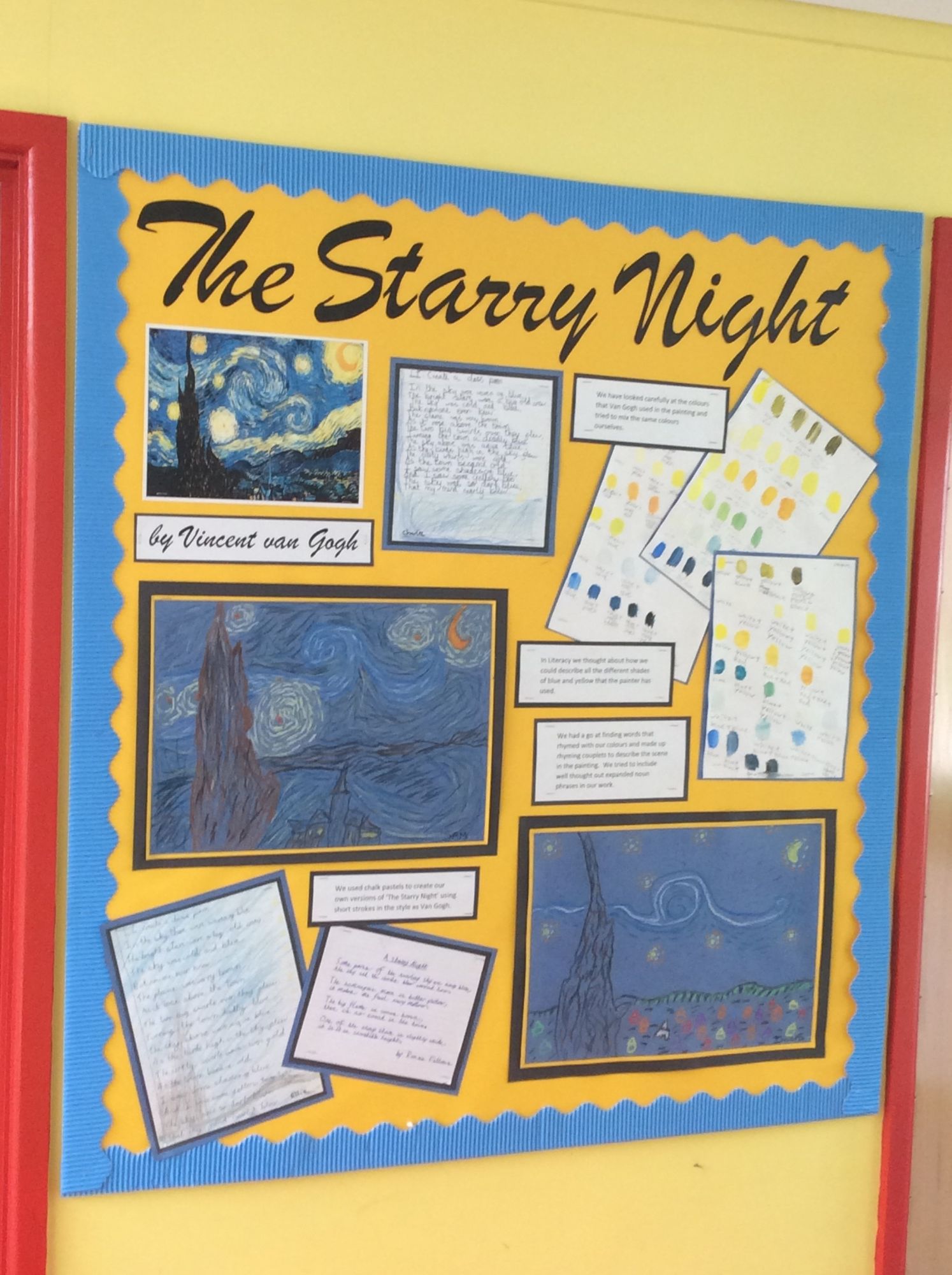 They were able to experiment and improve their brush techniques, colour mixing and perspective drawing and painting. We all thoroughly enjoyed our trip to Wolverhampton Art Gallery where the children were able to take part in some art appreciation as well as take part in some expert-led sculpture and Pop Art workshops. The children produced some fabulous pieces of Art, some of which I know have made it home to you!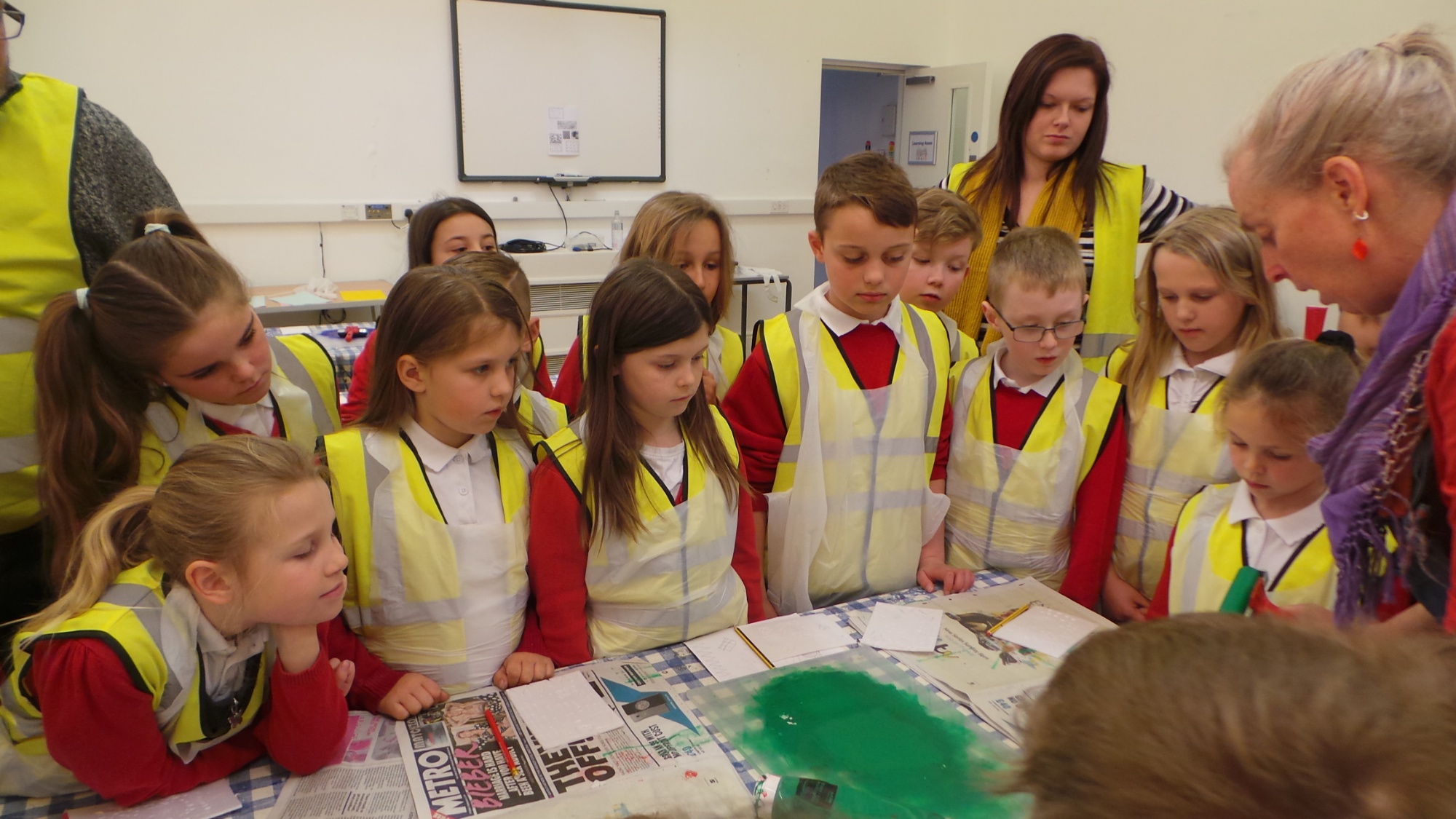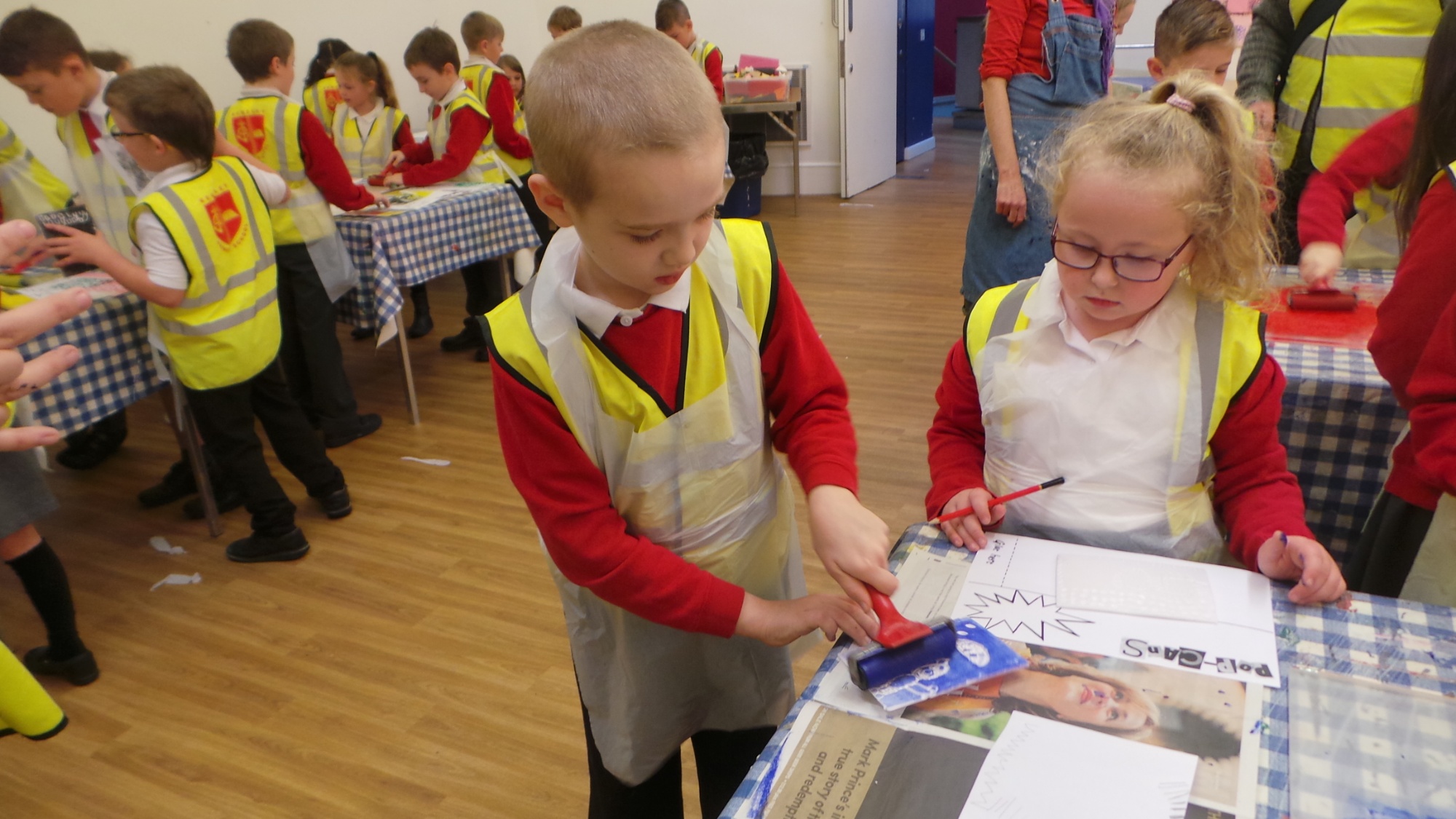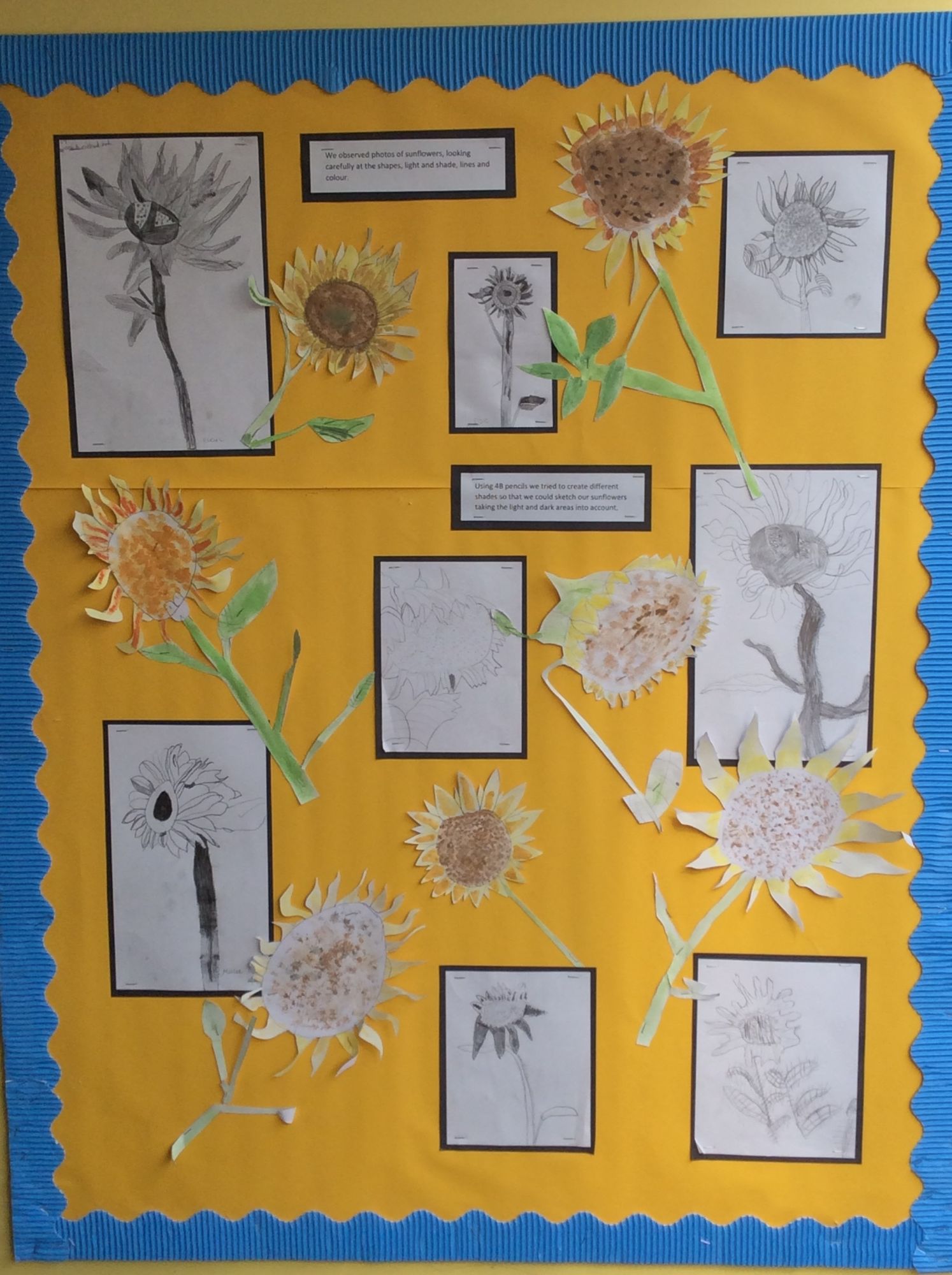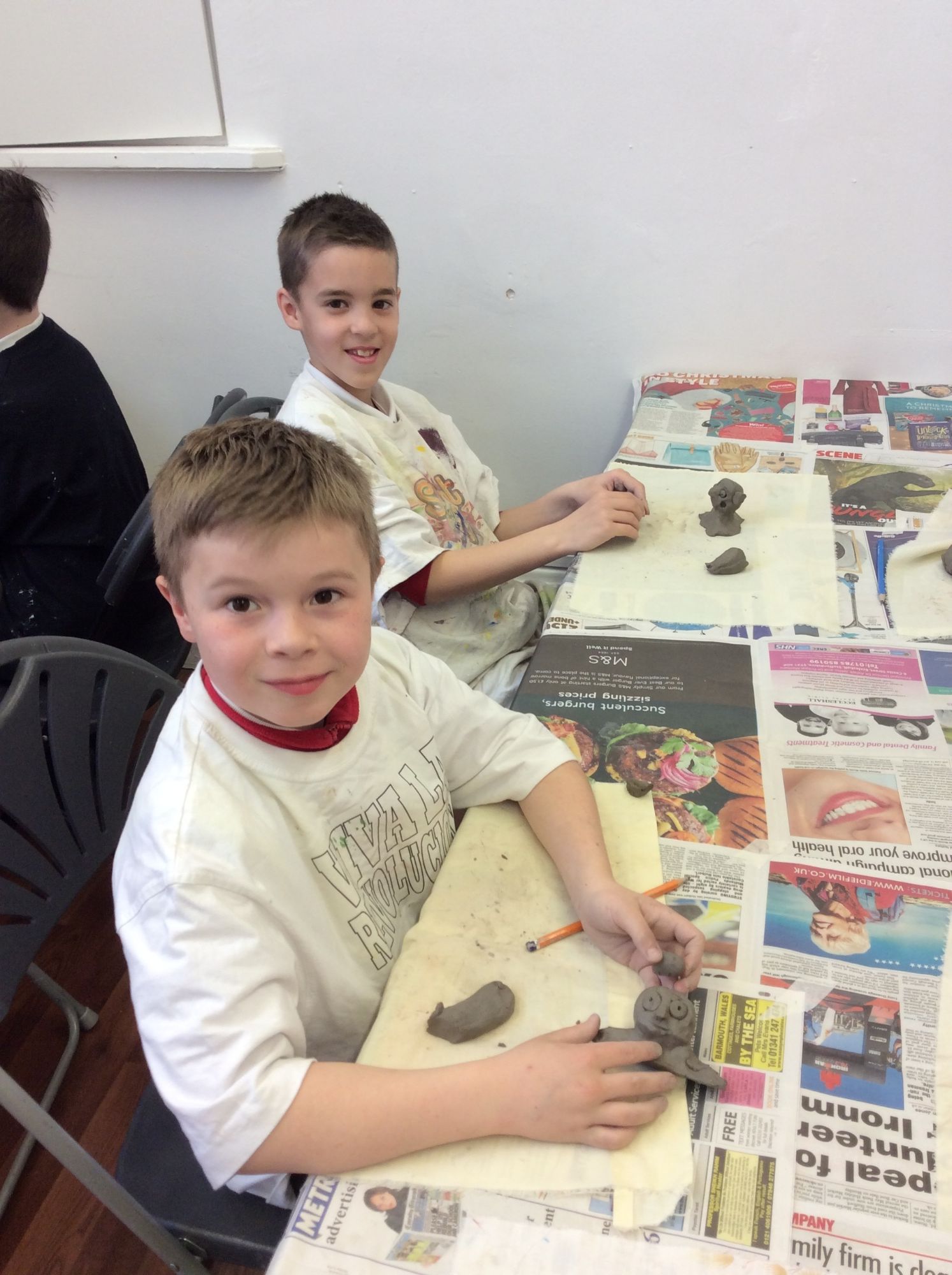 Our Art topic was heavily influenced by our chosen Literacy text for our Talk For Writing sequence which was based on the book "Katie and the Starry Night" by James Mayhew. A story about a little girl who visits a gallery and then finds that she is able to jump inside famous paintings, wander around and meet the people in the paintings.
The children really enjoyed the text and were able to use their story planning skills, a range of new topic based vocabulary and their visit to the Art Gallery to write their own super gallery stories. They used their imagination to write their own version of the text where they were magically able to jump inside one of the paintings they had seen on their visit.
In Science we were investigating Forces. This was mainly based on Magnetism where the children learned all about magnetic forces and tested a range of metals to see which were magnetic. They also planned and carried out their own experiments to test the strength of different magnets and to see if paper clips could hover!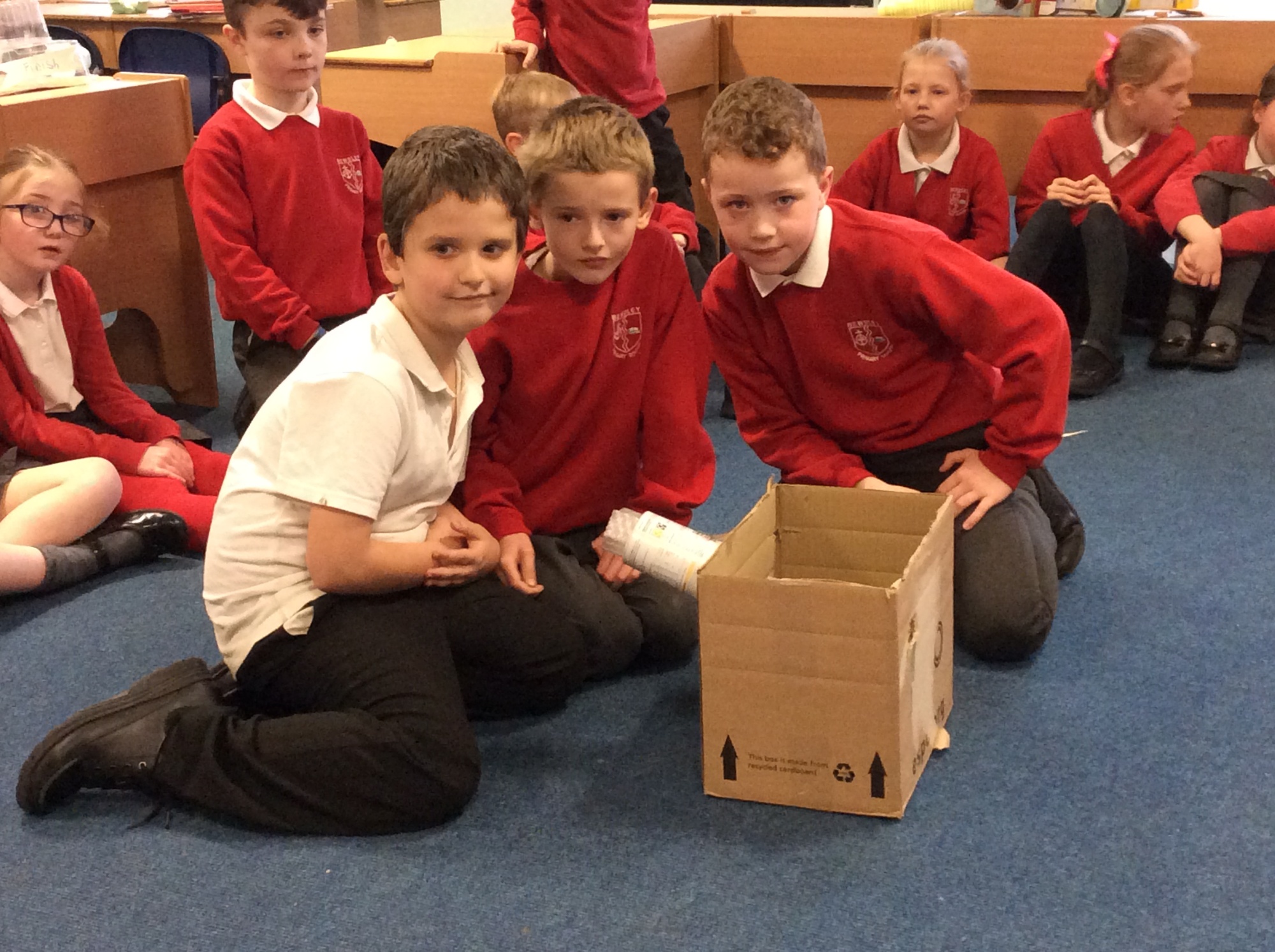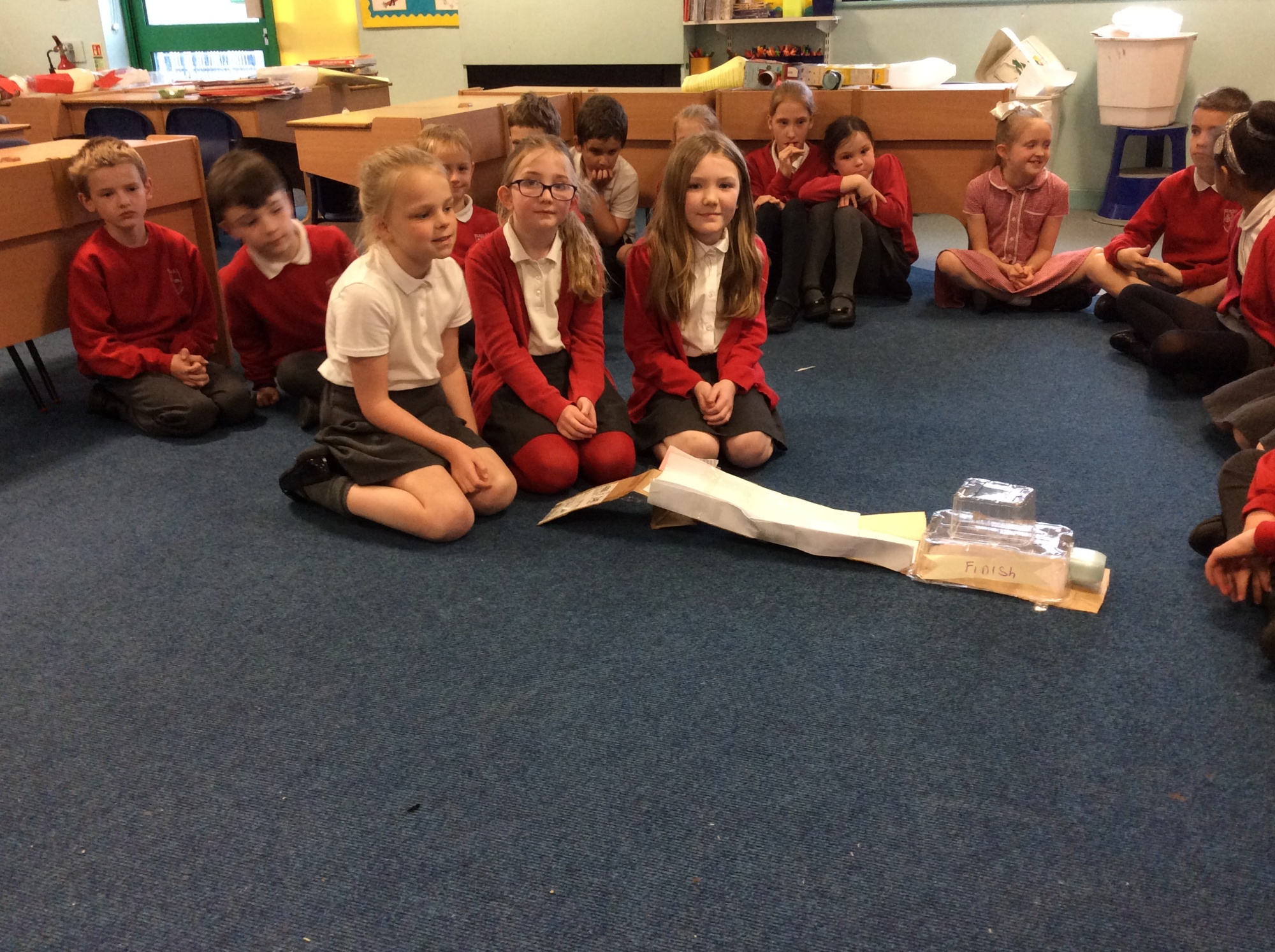 When studying Friction as a force, the children designed and made marble runs to see who could create the smoothest run and therefore win the marble race! Throughout all these investigations, they have worked on writing scientific reports so that others can fully understand the process they went through in order to answer a scientific question.
Dancefest and School Games Dance Festival
The children in Morpurgo were lucky enough to be invited to the 'Dancefest and School Games Dance Festival', which was held at Baxter college.
They used the Roald Dahl story 'Matilda' to help inspire their performance. Their choreography was led by former Bewdley Primary pupil Milly Dalton who is currently studying Dance at Kidderminster College . The children really enjoyed watching the other schools performing at the festival and were great ambassadors for Bewdley Primary.
Rocks, Soils and Fossils
Year 3/4 studied Rocks, Soils and Fossils as part of our "Prehistopic" sequence of Learning. This was a Science-led topic that improved their knowledge as well as their observation and recording skills whilst conducting a series of investigations. The children sorted and classified a variety of Igneous, Sedimentary and Metamorphic rocks as well as testing them for their density, durability and permeability. They enjoyed the circus of activities that allowed to conduct these tests. The children also learned about soil and its different components – and undoubtedly their favourite part of this was creating and observing our own class Worm Worlds.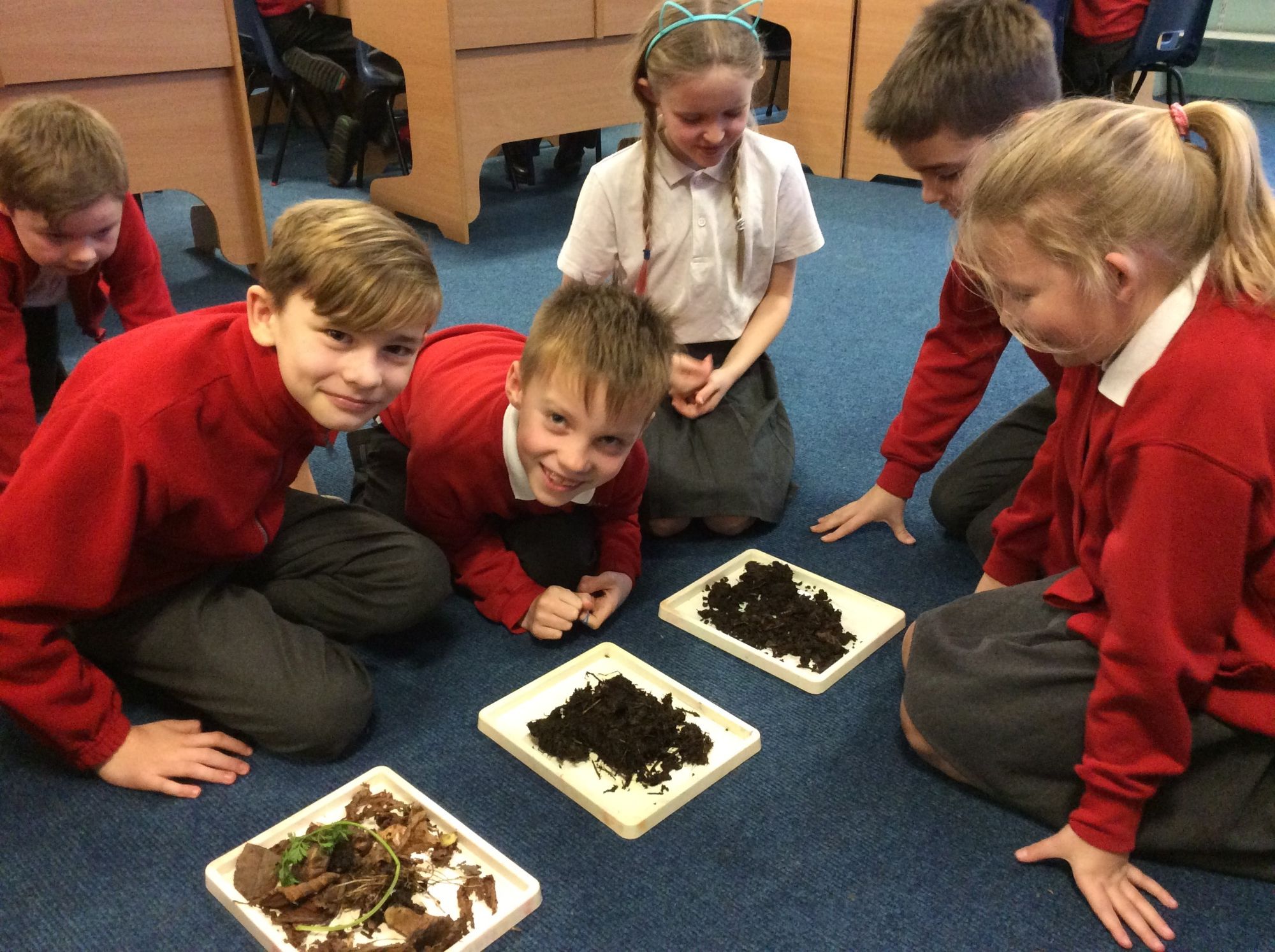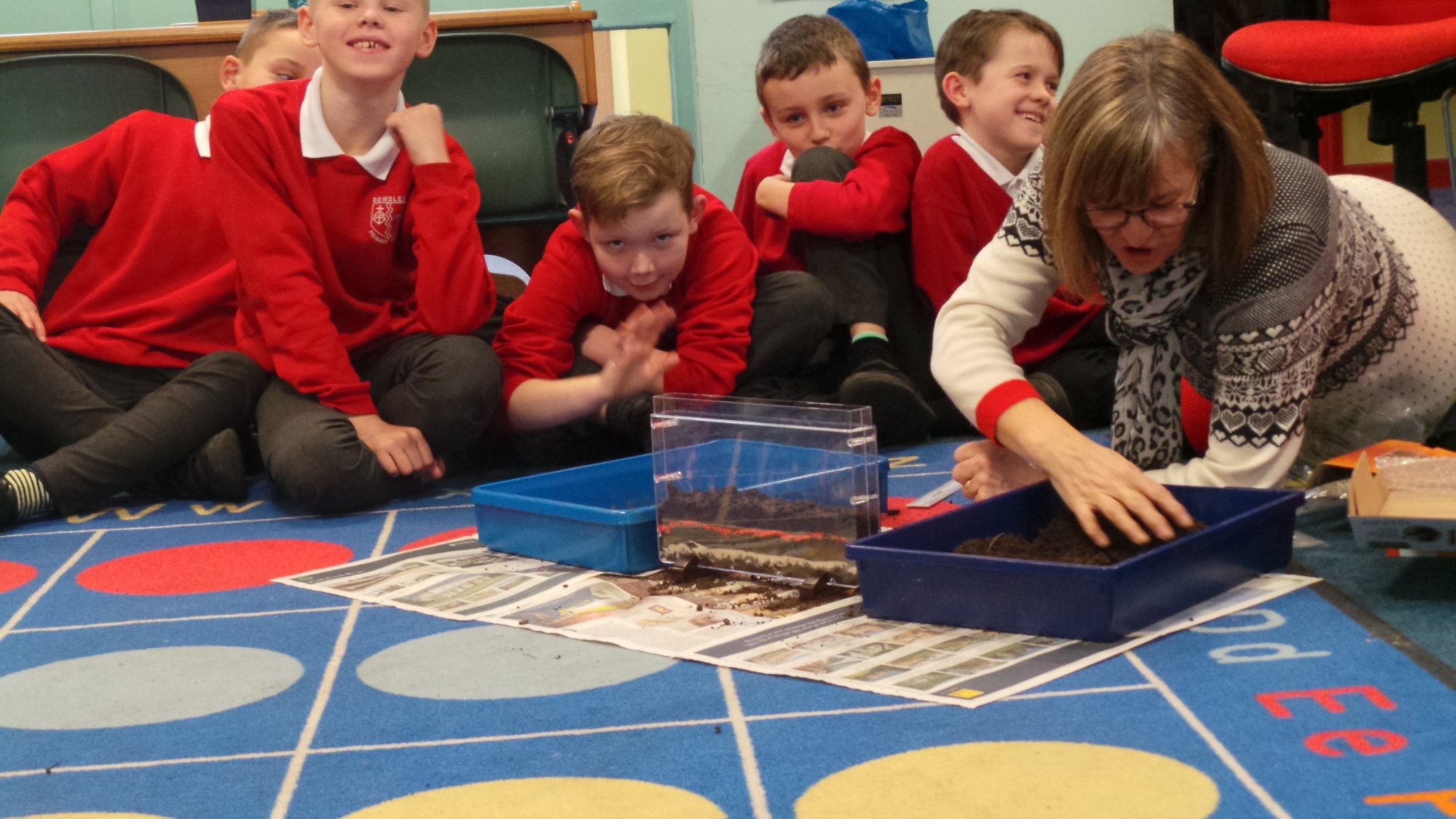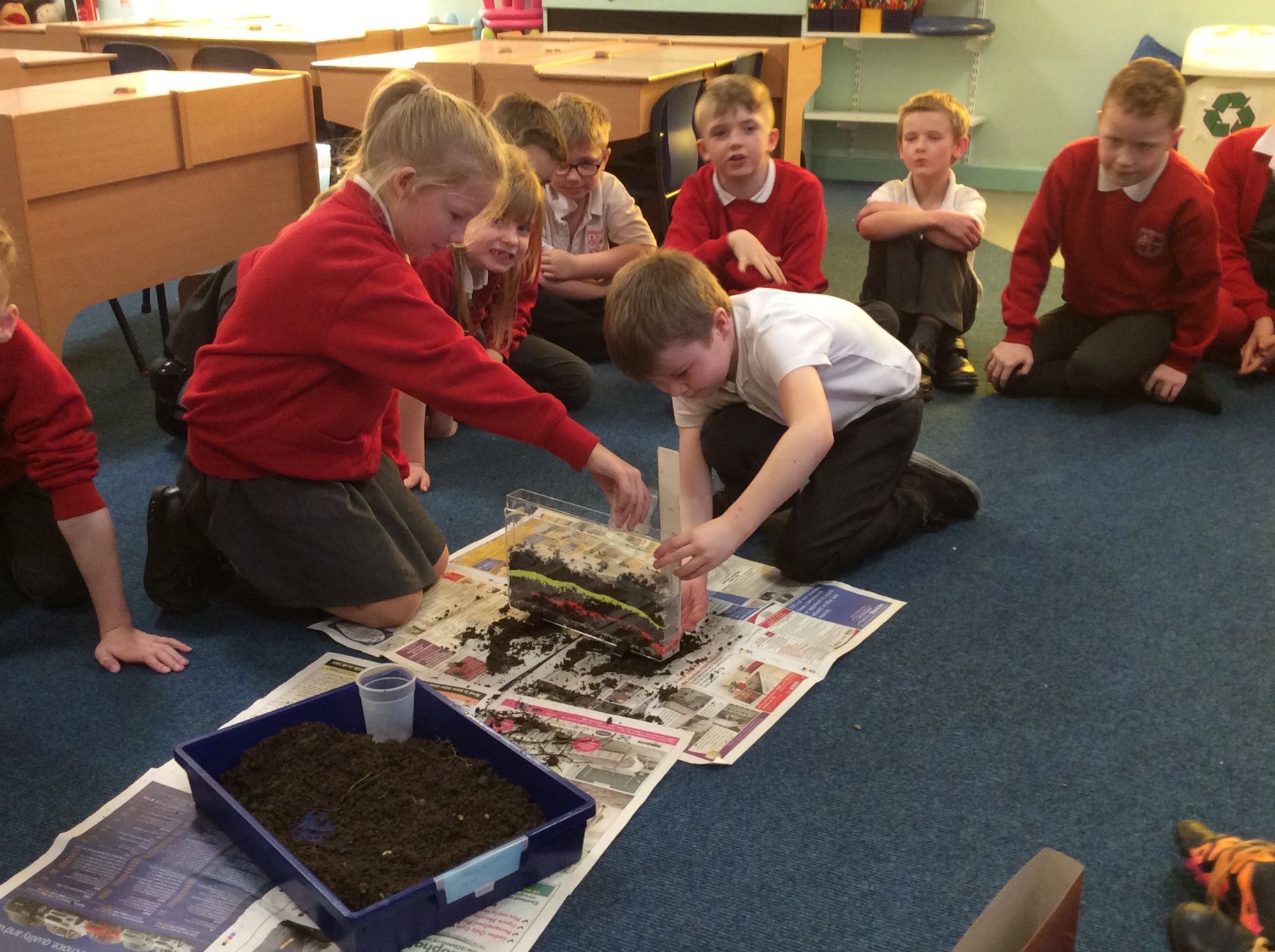 The children enjoyed learning about Fossils, and creating our own fossil molds and casts from clay and plaster of paris to represent the process of fossilisation. This was enhanced by our visit from Mr Stevenson, Nonin's dad, with his Lapworth Museum Palaeontology team, who brought in a collection of fossils for the children to analyse and discuss. The History element of our topic came through our look at Prehistoric times and in particular finding out about a range of dinosaurs. The children used the internet and reference books to make dinosaur Top Trumps cards and most of all enjoyed planning our own Prehistoric Parks – a Jurassic park style destination where people could enjoy visiting dinosaurs in an appropriate, enjoyable but safe environment.
In Literacy we used our book, "Stone Girl, Bone Girl" by Laurence Anholt, to become familiar with the life of Mary Anning, a famous fossil collector from Lyme Regis. The children then wrote some super stories about themselves as collectors of precious items.
In our Art lessons we have improved our observational drawing skills by looking carefully at our rock collections and sketching them to show the difference between the different rock types. The main element of our Design Technology has been our work with Jon from Eastnor Pottery who came to visit and help us to create large clay dinosaur heads that will eventually be installed in the Key Stage. The children helped make the head of each dinosaur and then created dinosaur inspired scales to add to the dinosaur. We all absolutely loved this day of Art and Design.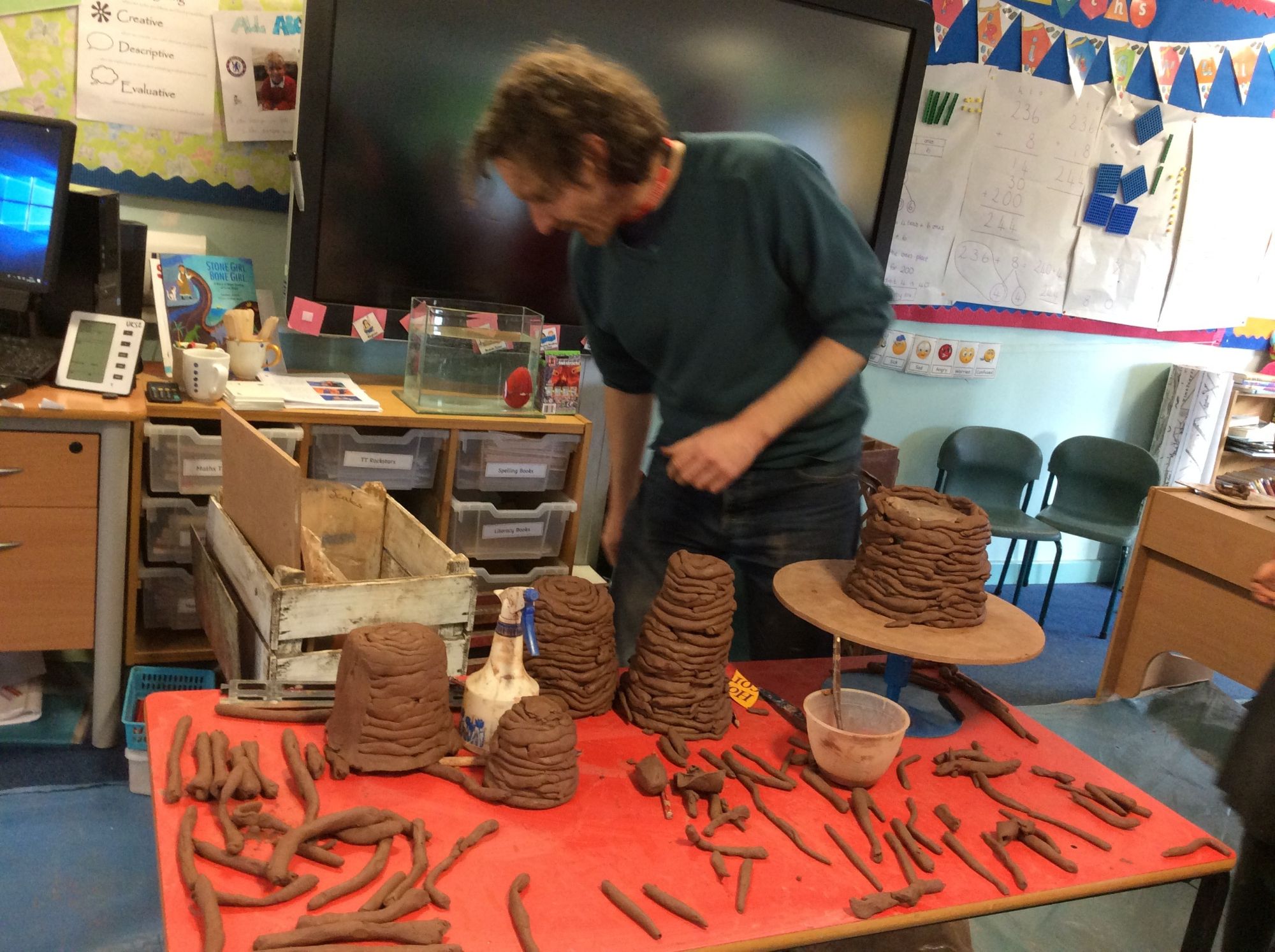 Land of the Free topic
Year 3/4 studied America as part of our "Land of the Free" topic. They improved their mapping skills by locating and learning the name of the 7 continents and focussing on North America. We also compared the geographical differences between a range of American Cities and with some in the UK.
We had some super research lessons where the children had to research the pros and cons of living in a particular American City - ranging from Orlando, Seattle, San Francisco, New Orleans. They then presented their city to the group so that we could choose where we would like to live. Most children chose Orlando Florida – I wonder why?!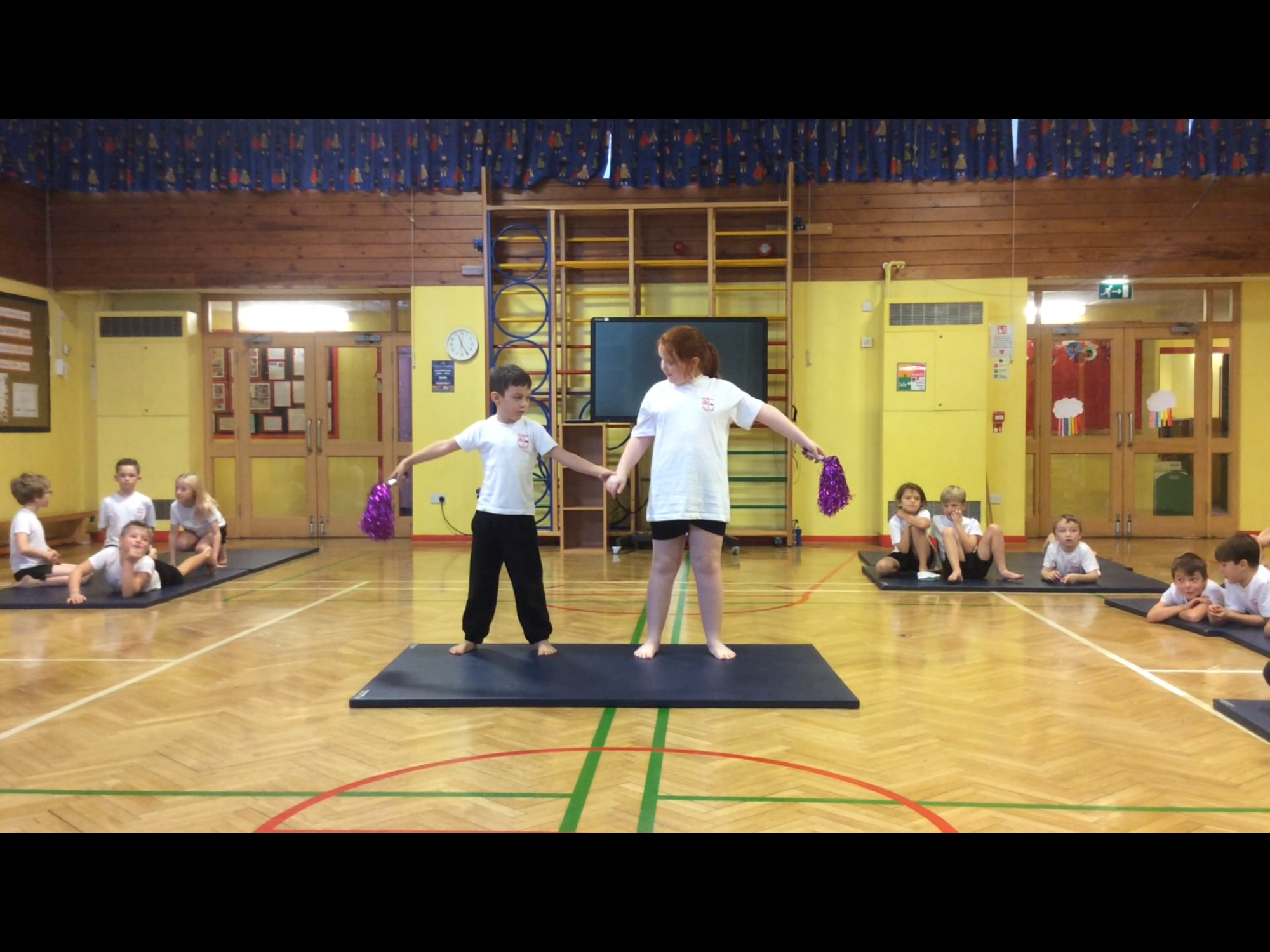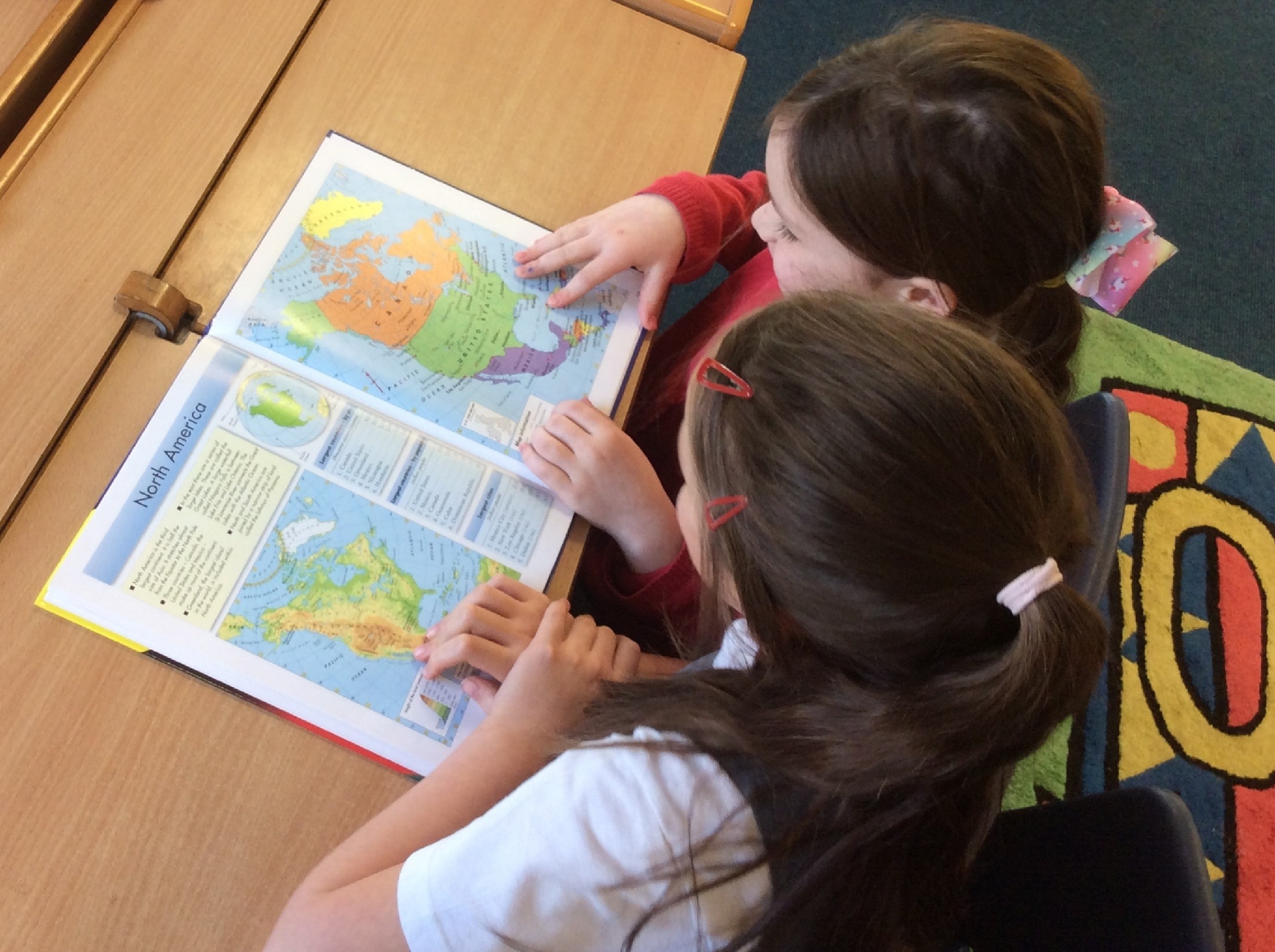 We looked at several elements of American culture including sports and food. In PE, the children really enjoyed our unit on Cheerleading and created some excellent routines that any American Sports team would be proud of.
In Design and Technology, we decided to create American Muffins – it wasn't a hardship to research and taste different flavours. The children then conducted research amongst the teachers to find out their favourite flavours and their favourite things about America so that they could design both the muffin and the packaging tailored to a particular teacher. Needless to say, the results were good and there were a lot of very happy teachers across the school.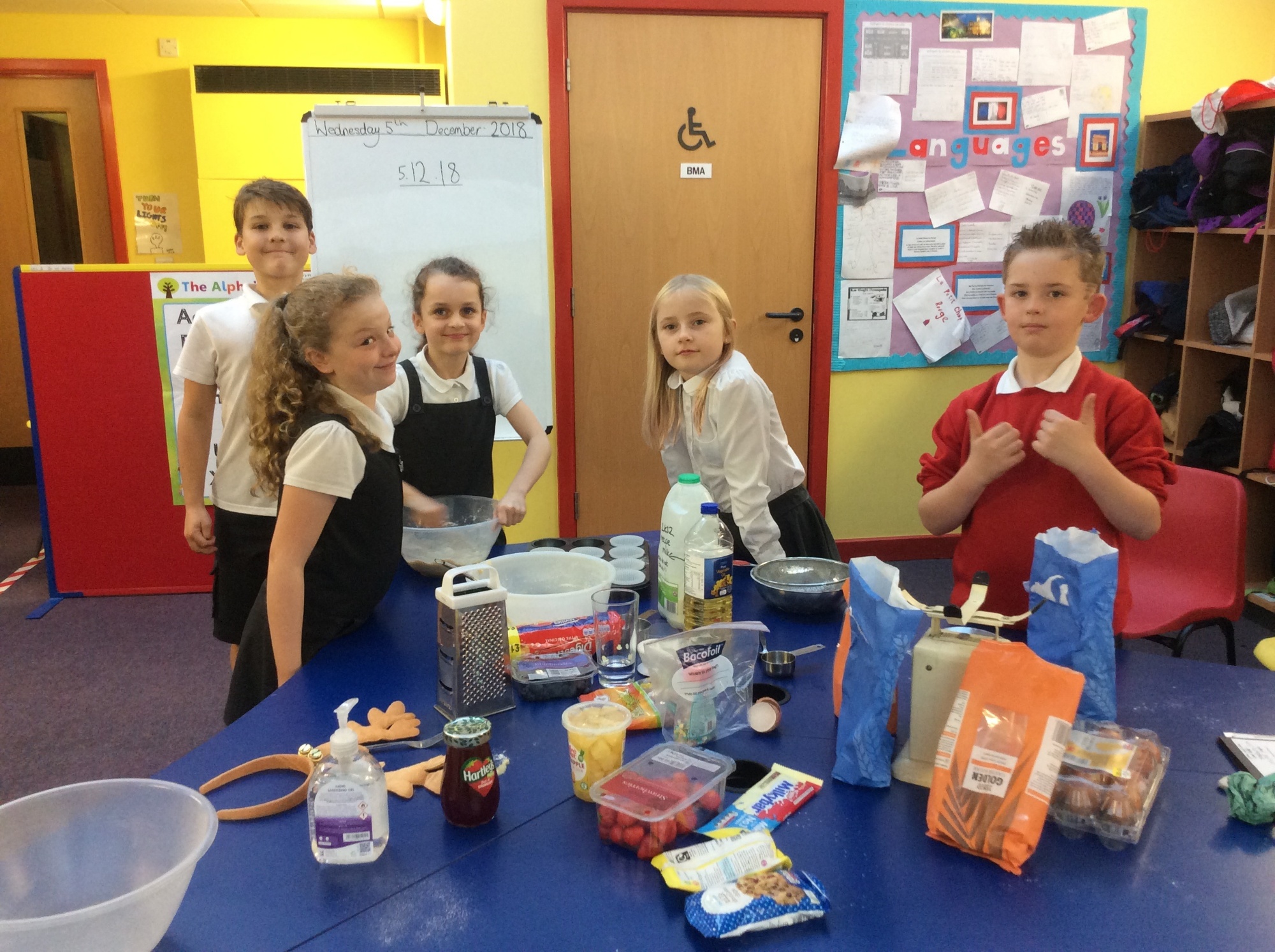 Severn Valley Railway Trip
We had a fabulous time evacuating from Bewdley to Highley. We waved off our parents, sang all the way and took part in some super home front activities. We even had an email from the SVR to say how marvellous we were for participating in our trip with such enthusiasm!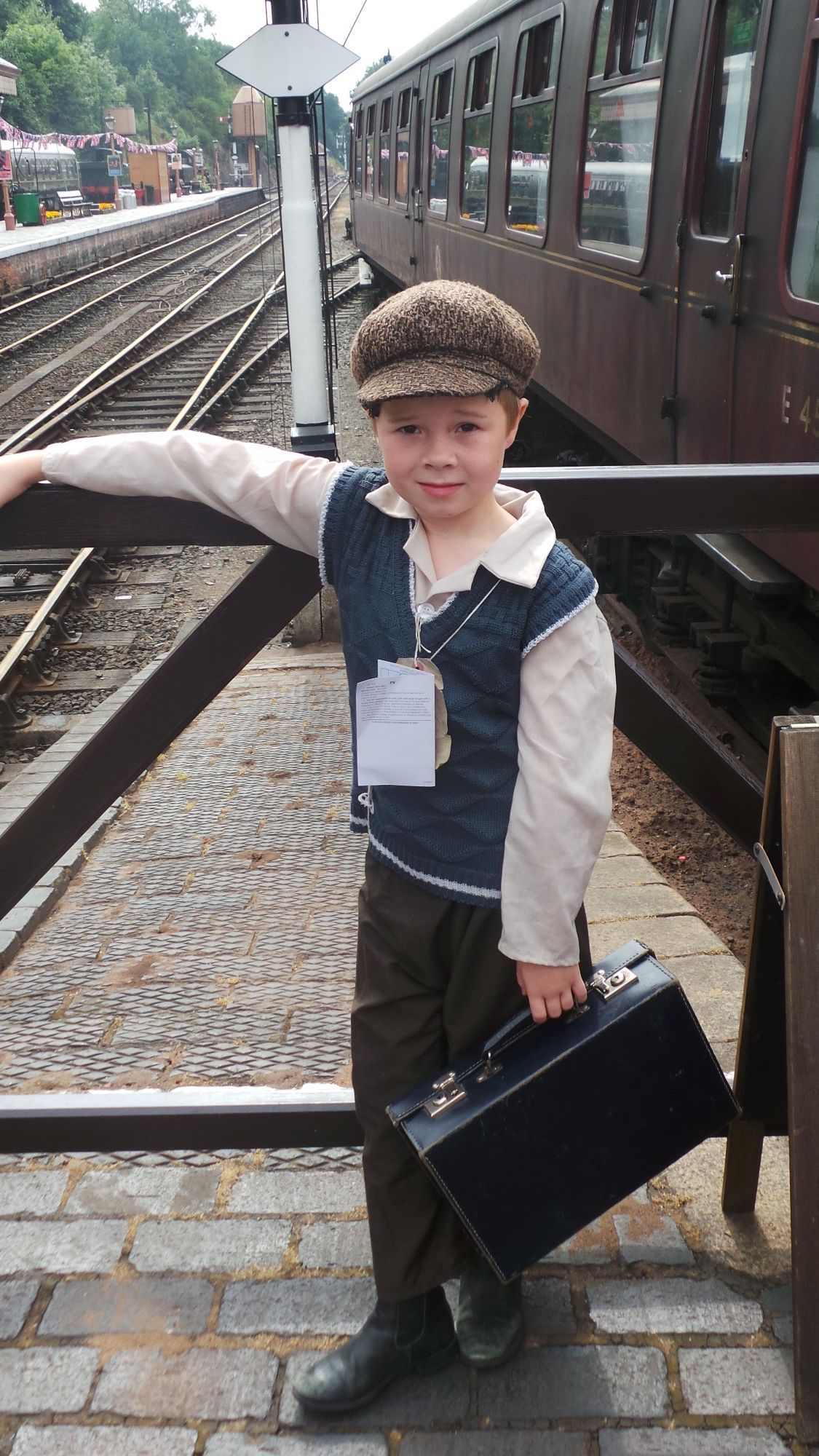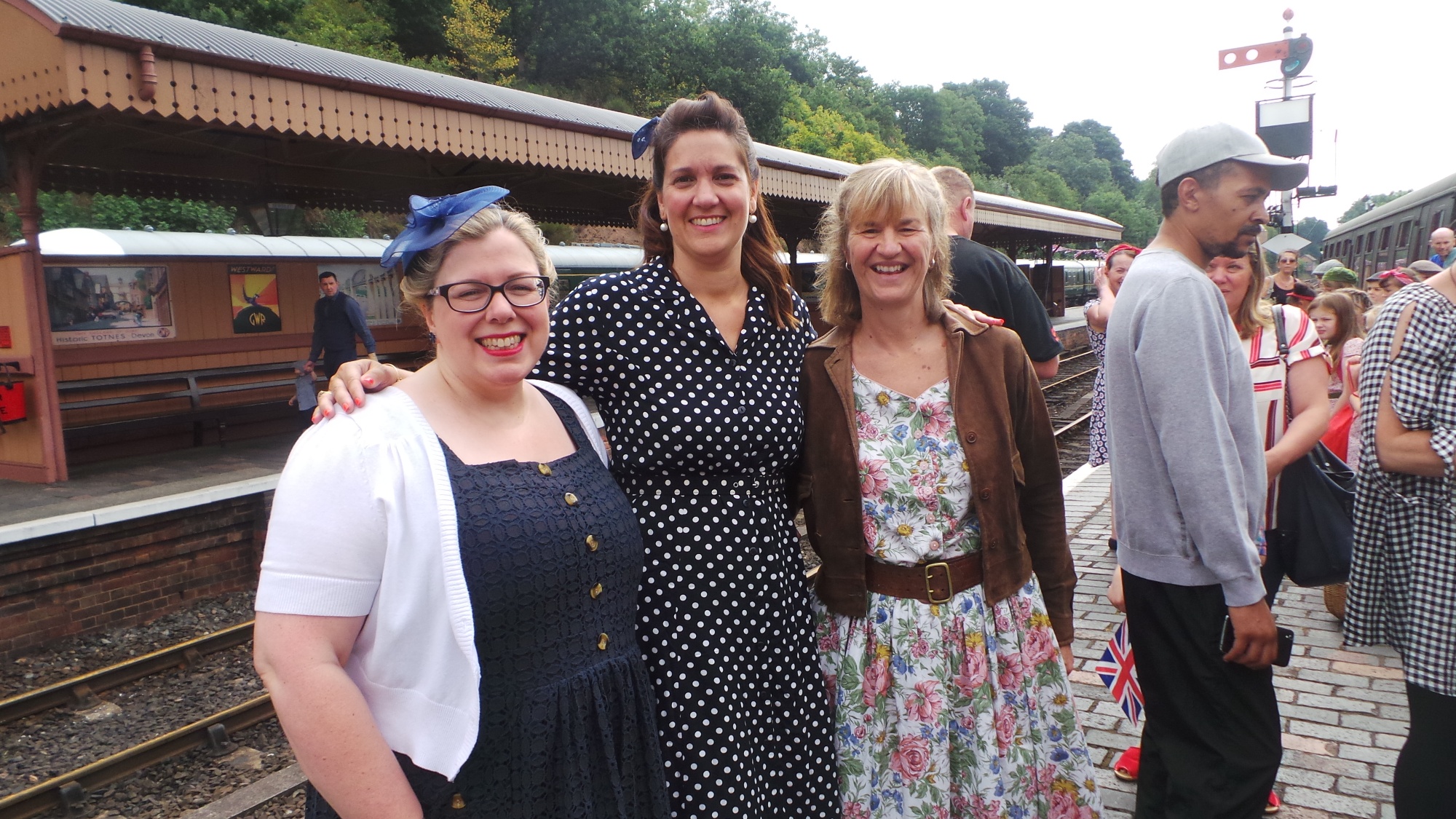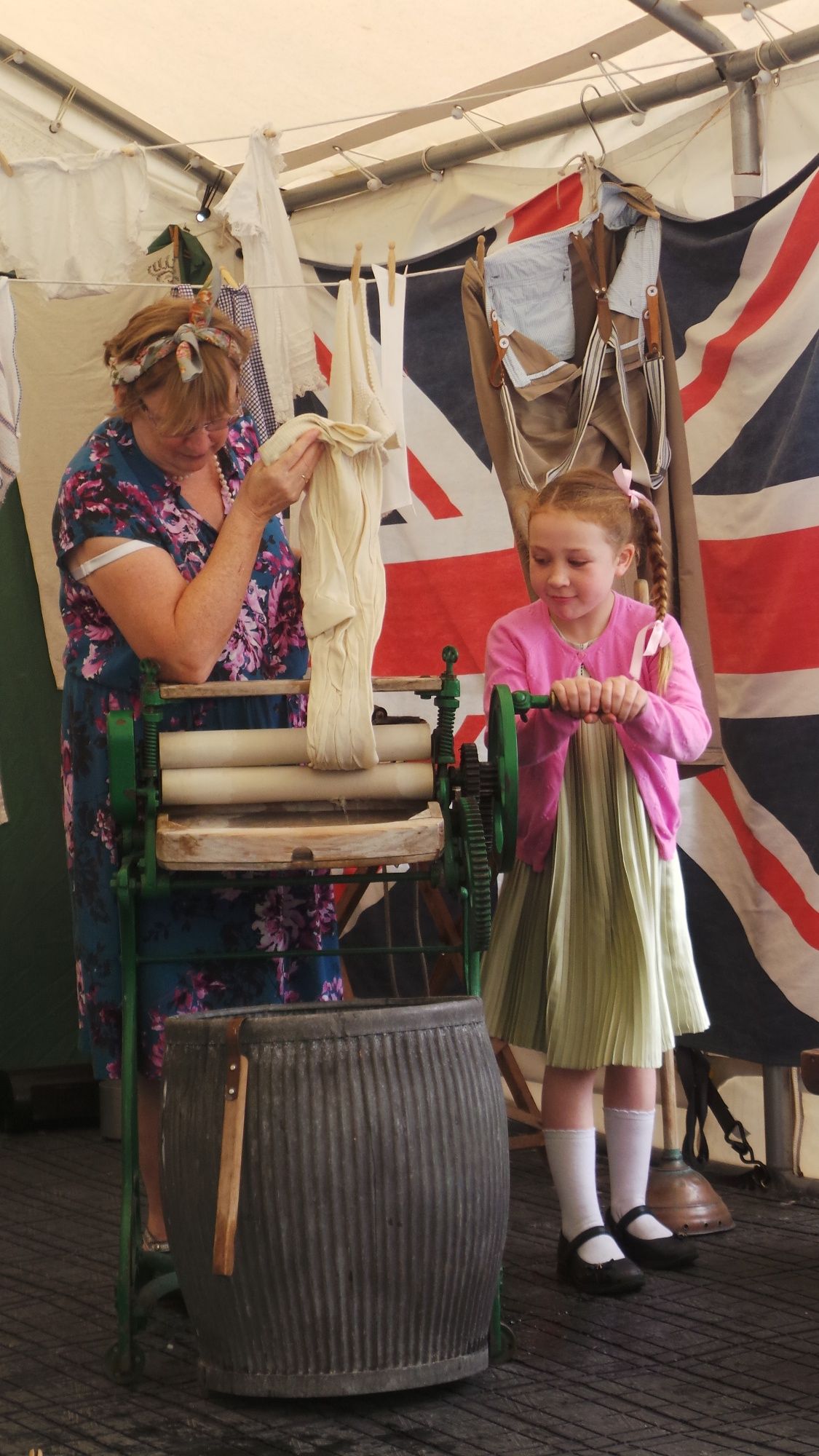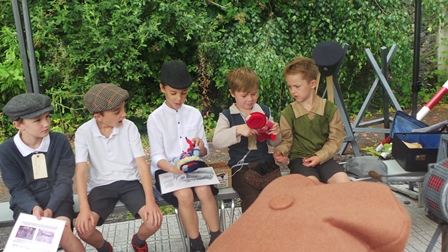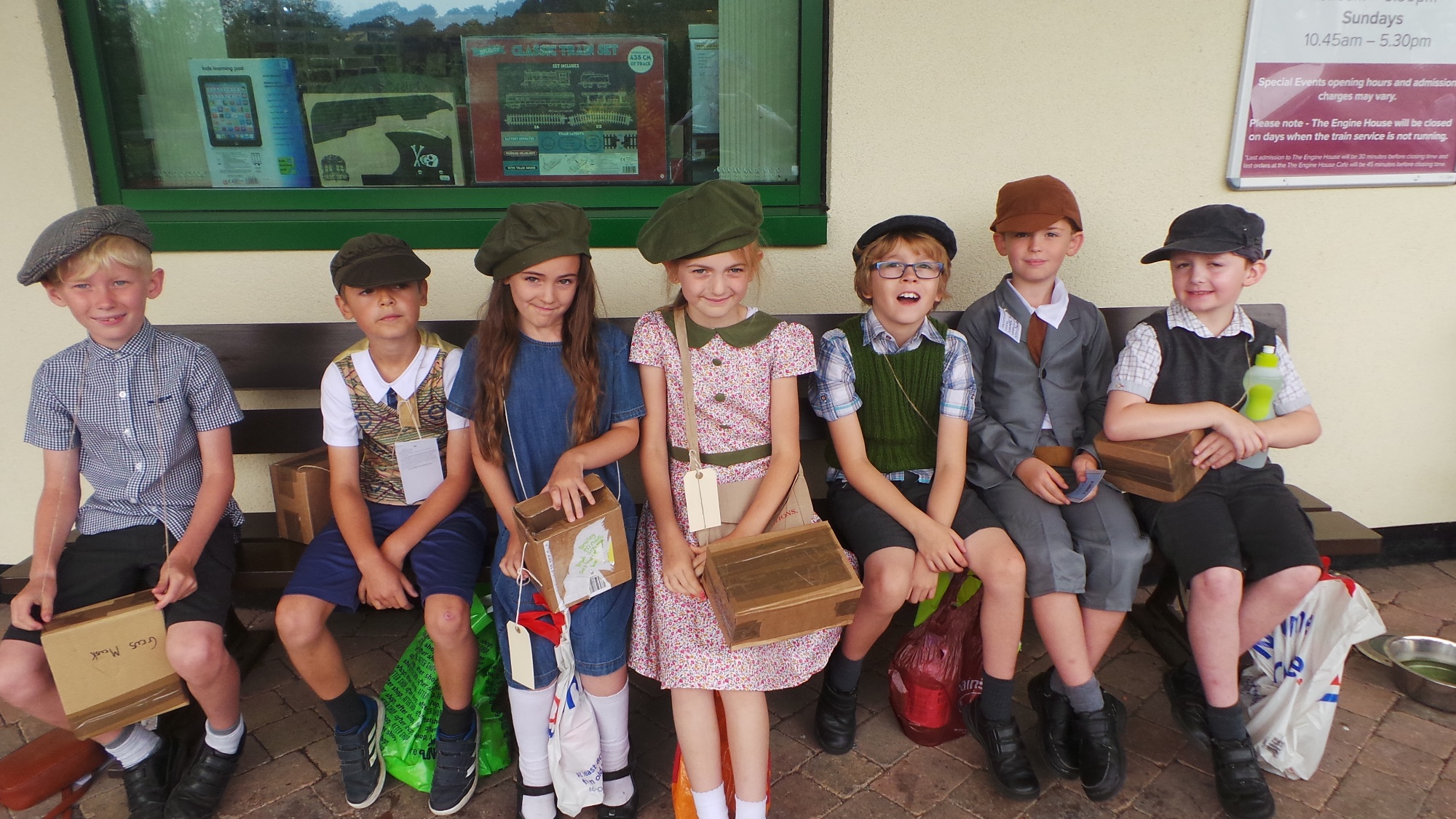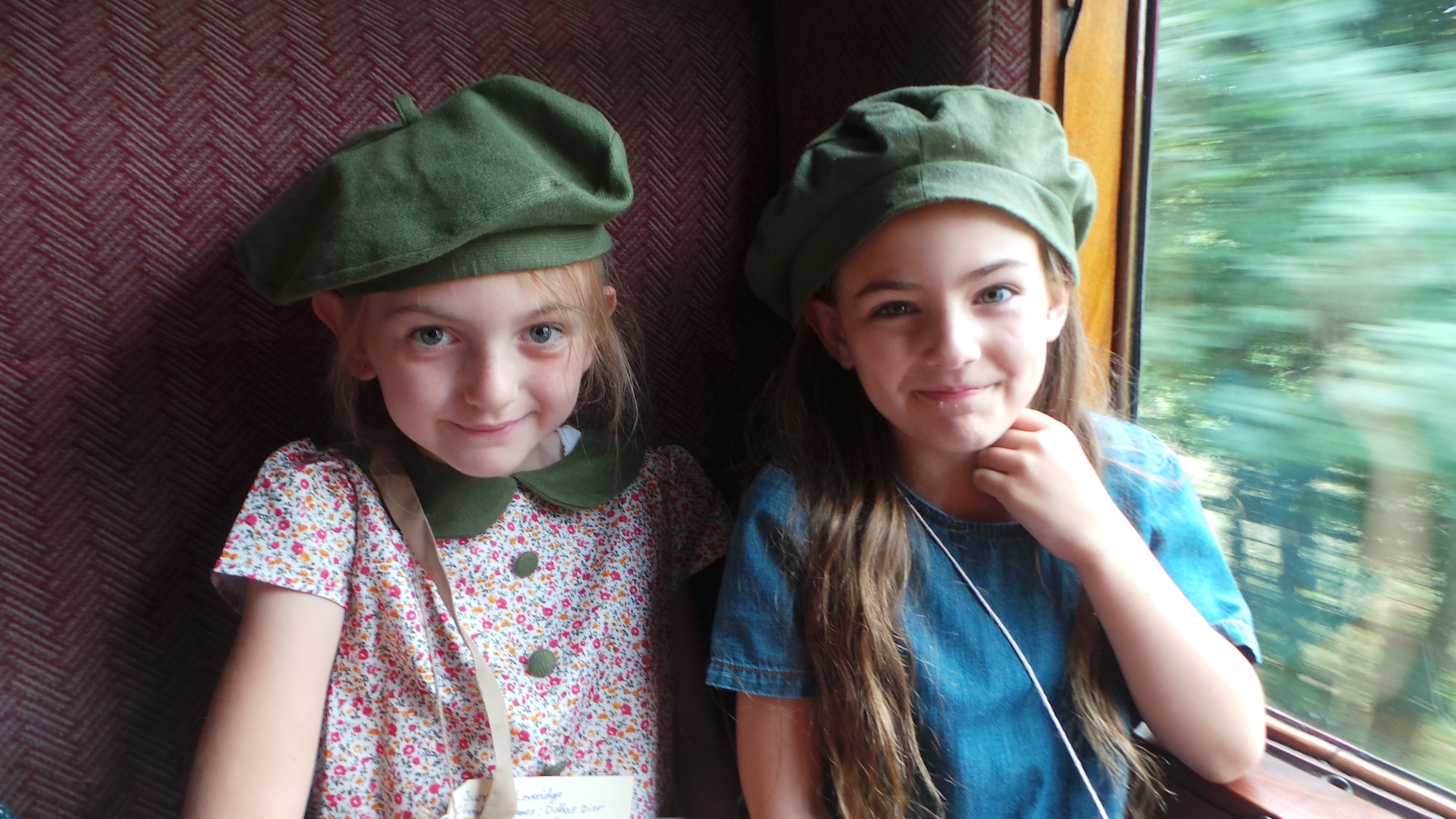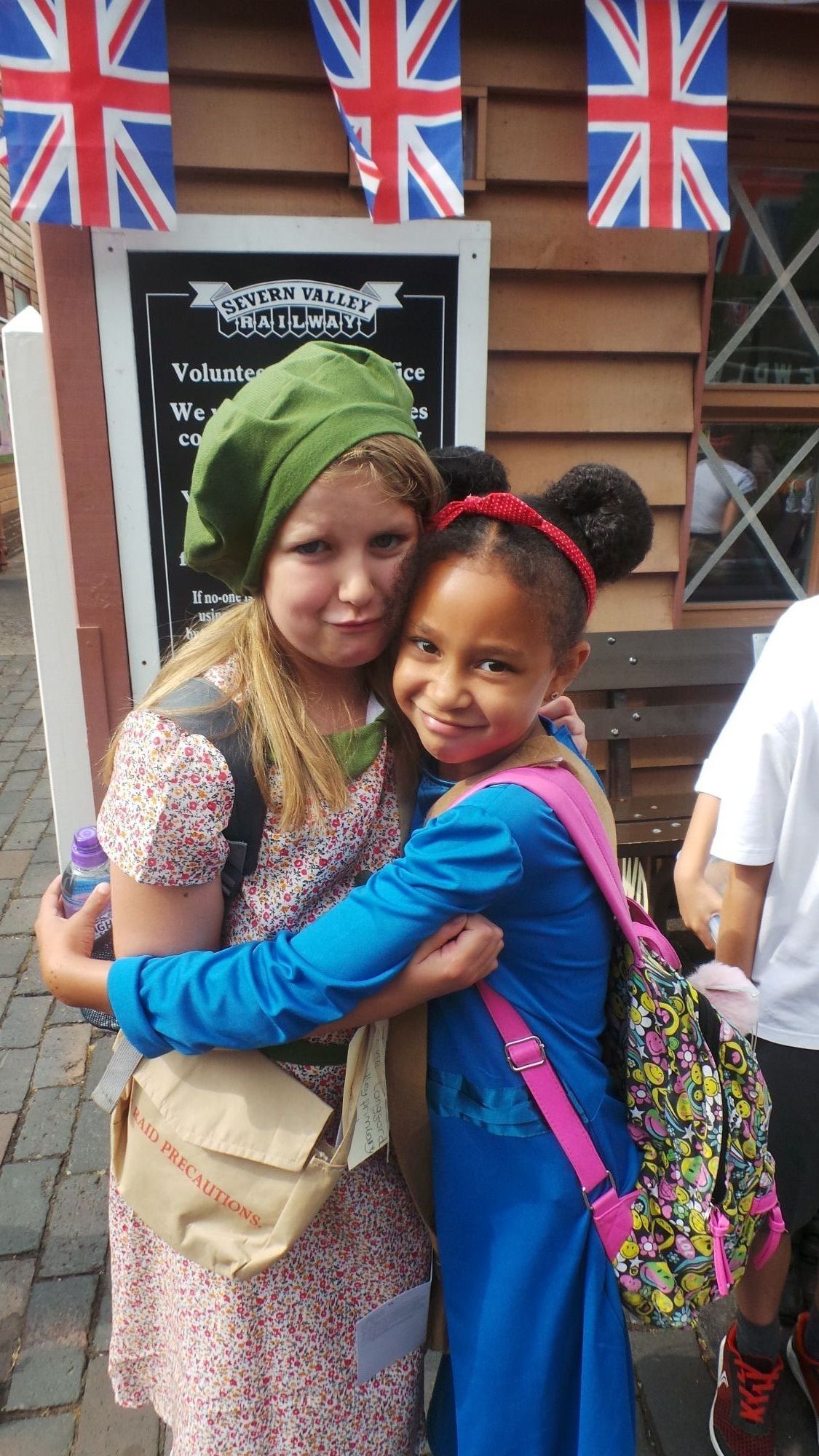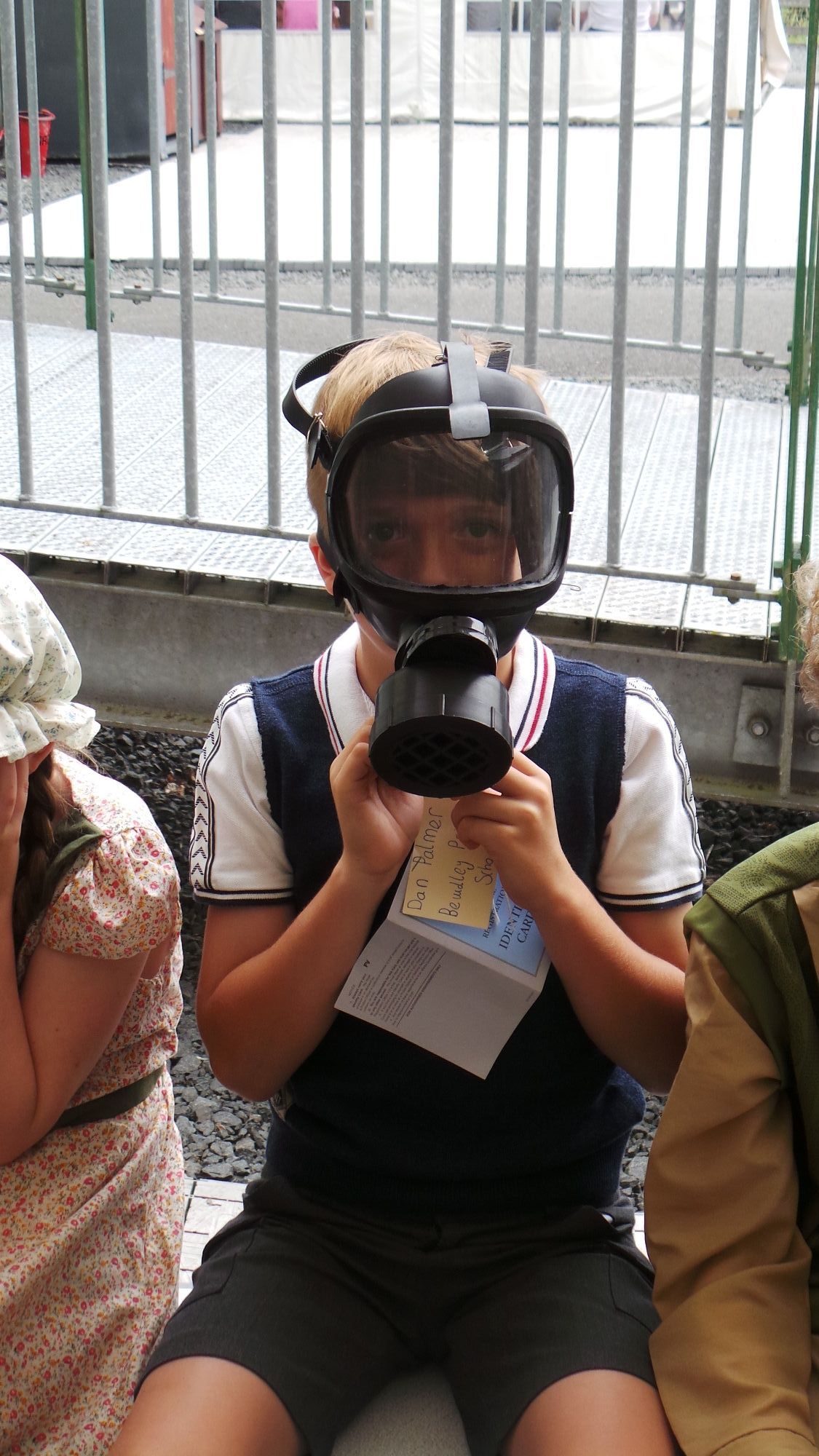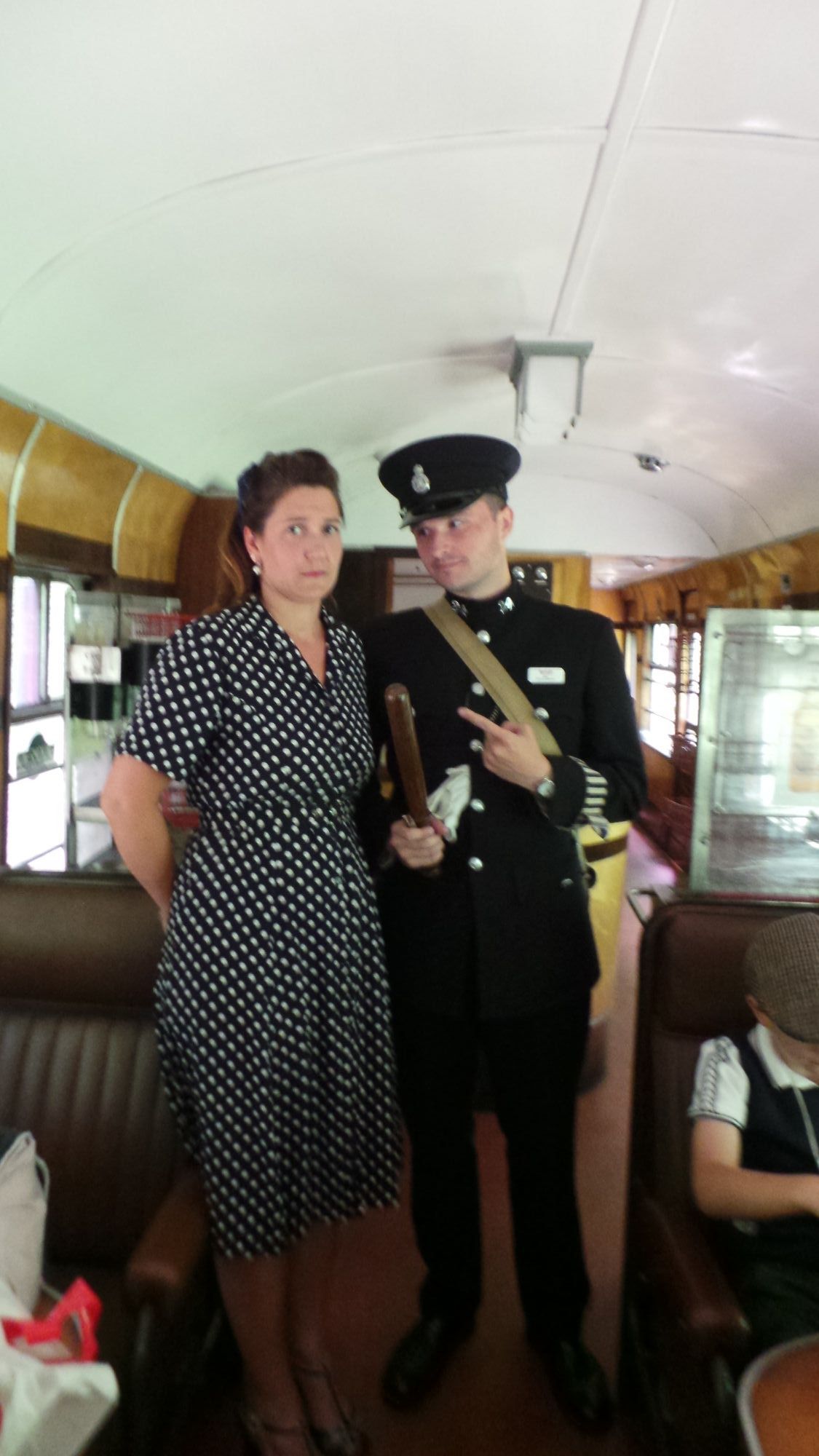 Manor Adventure
We spent a fantastic residential activity weekend at Manor Adventure in Shropshire.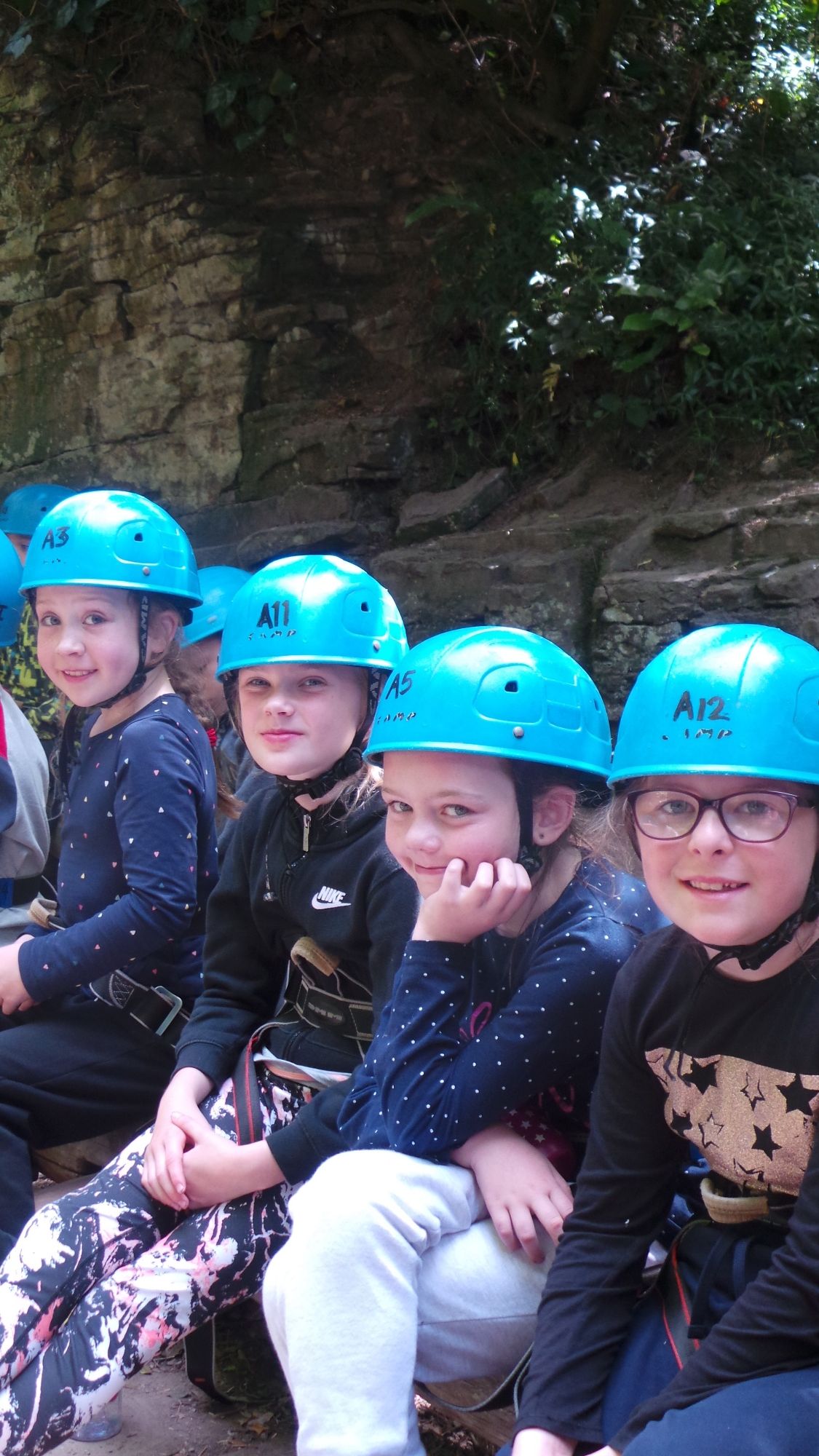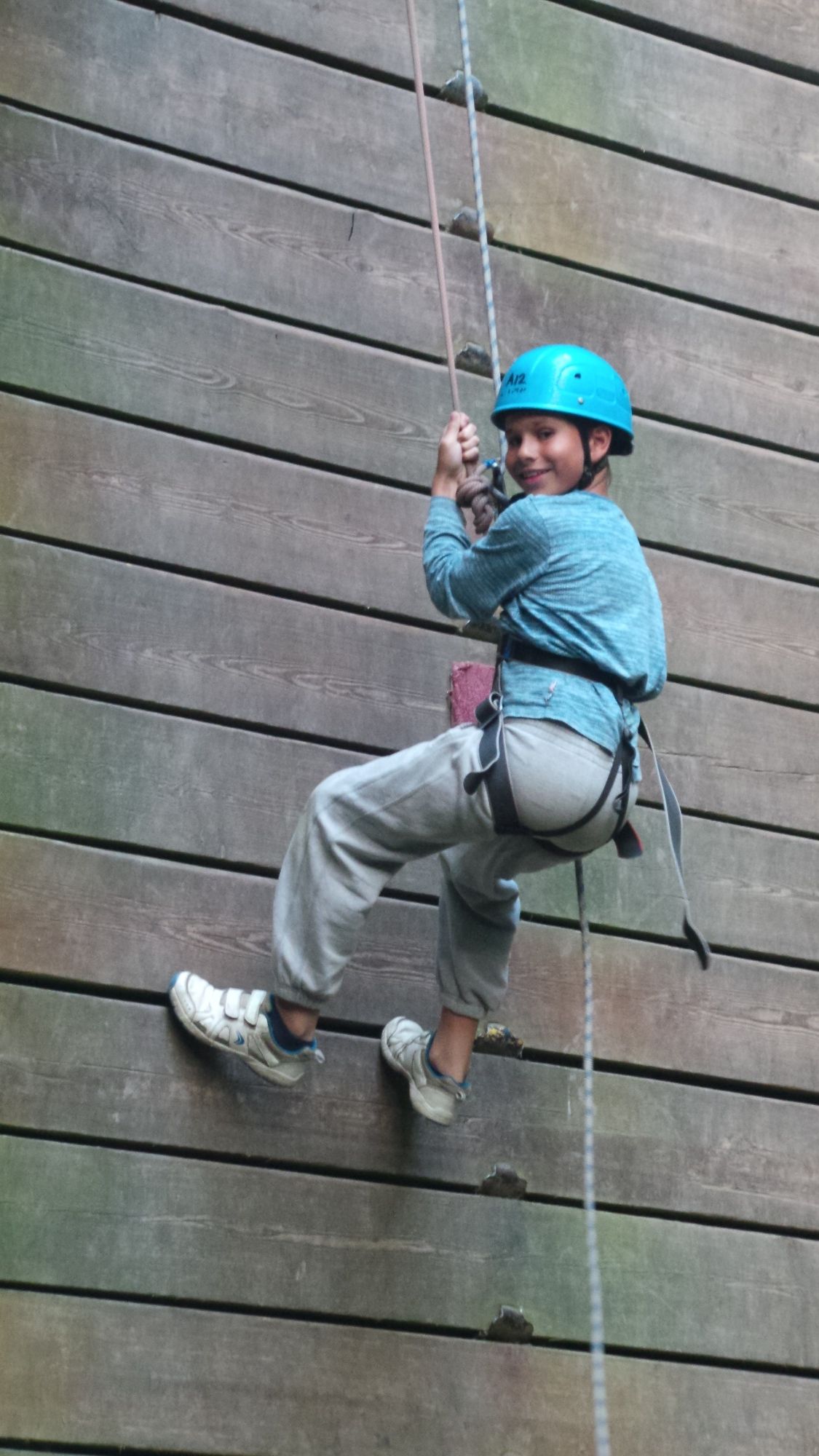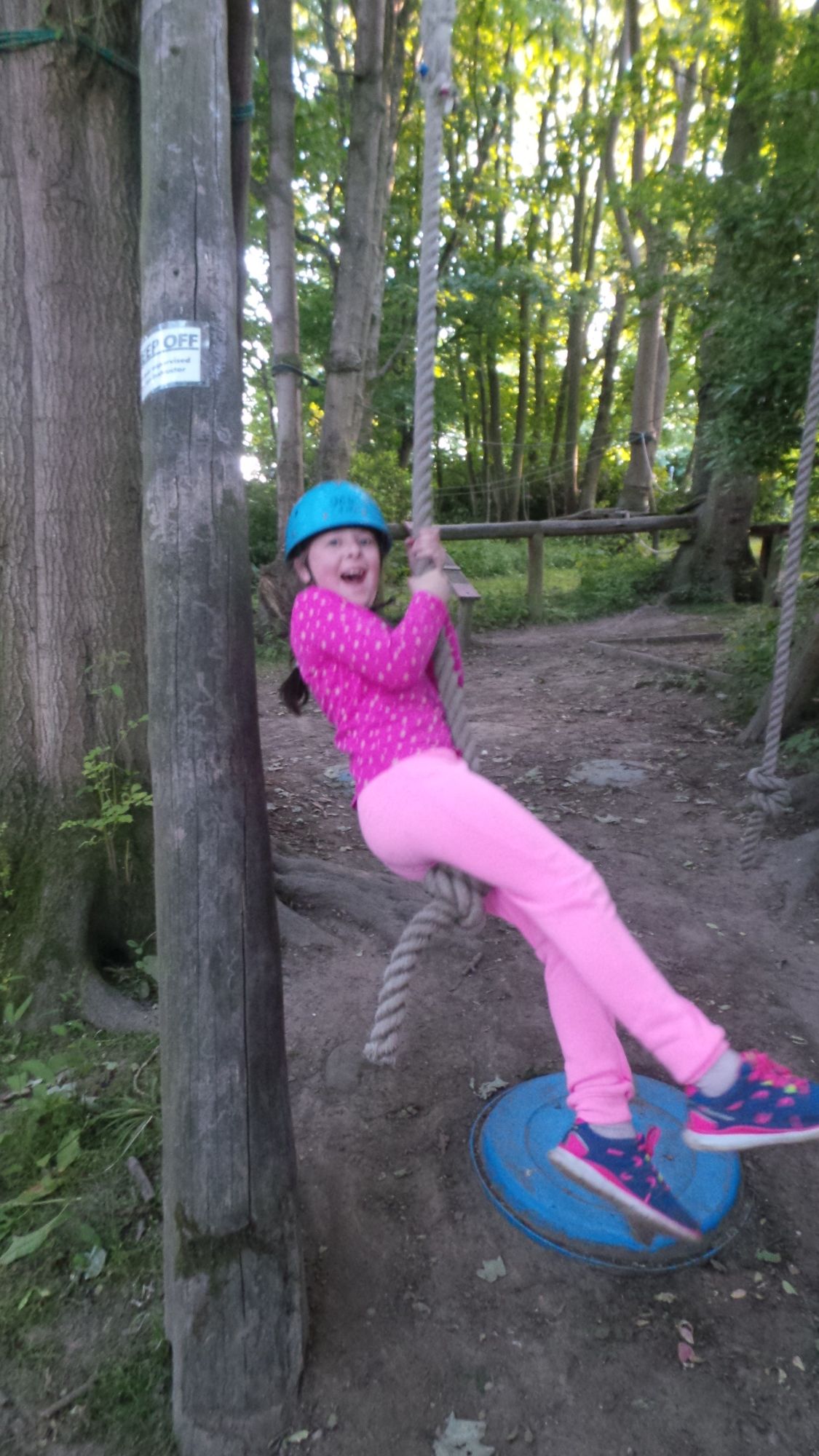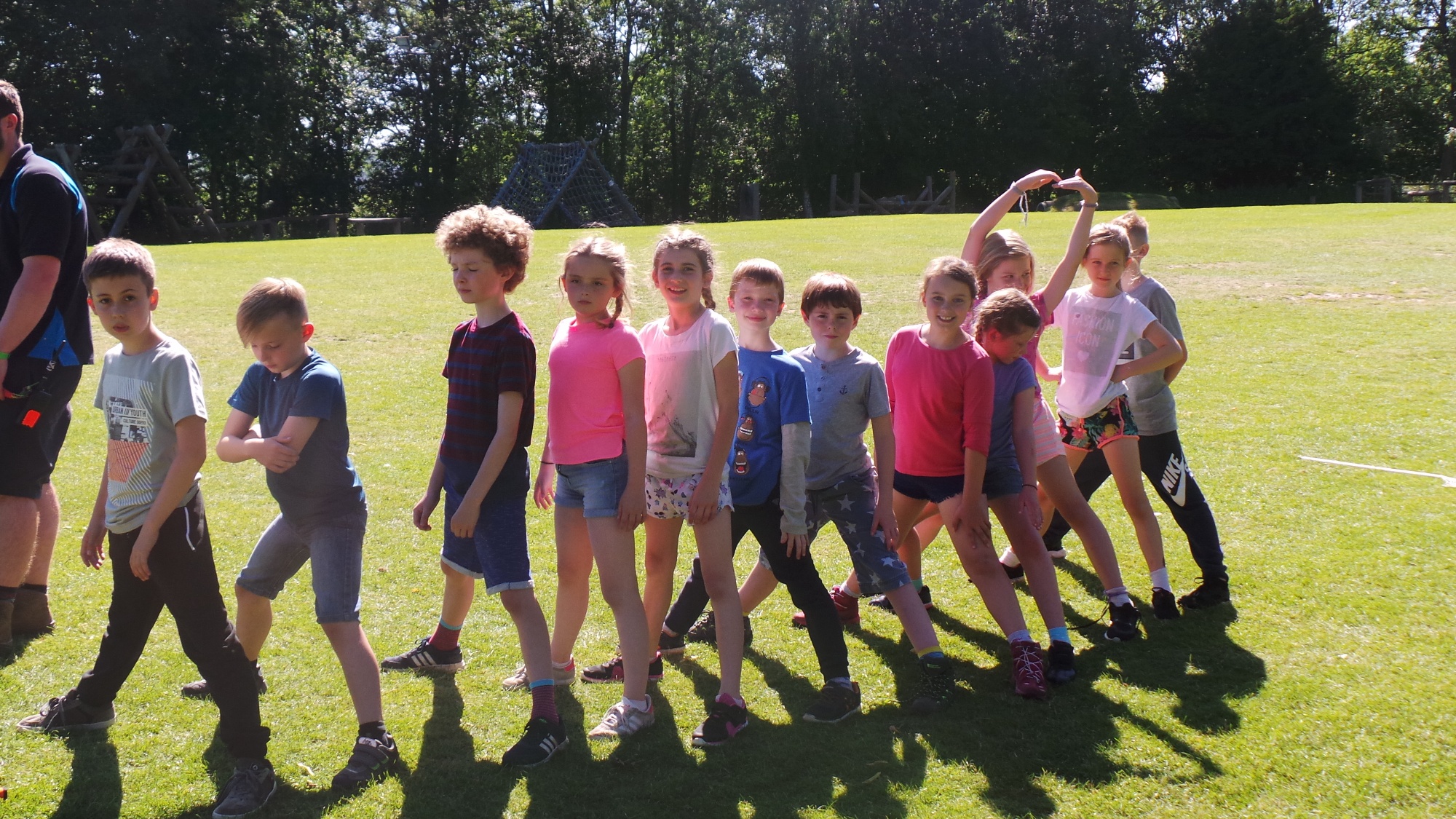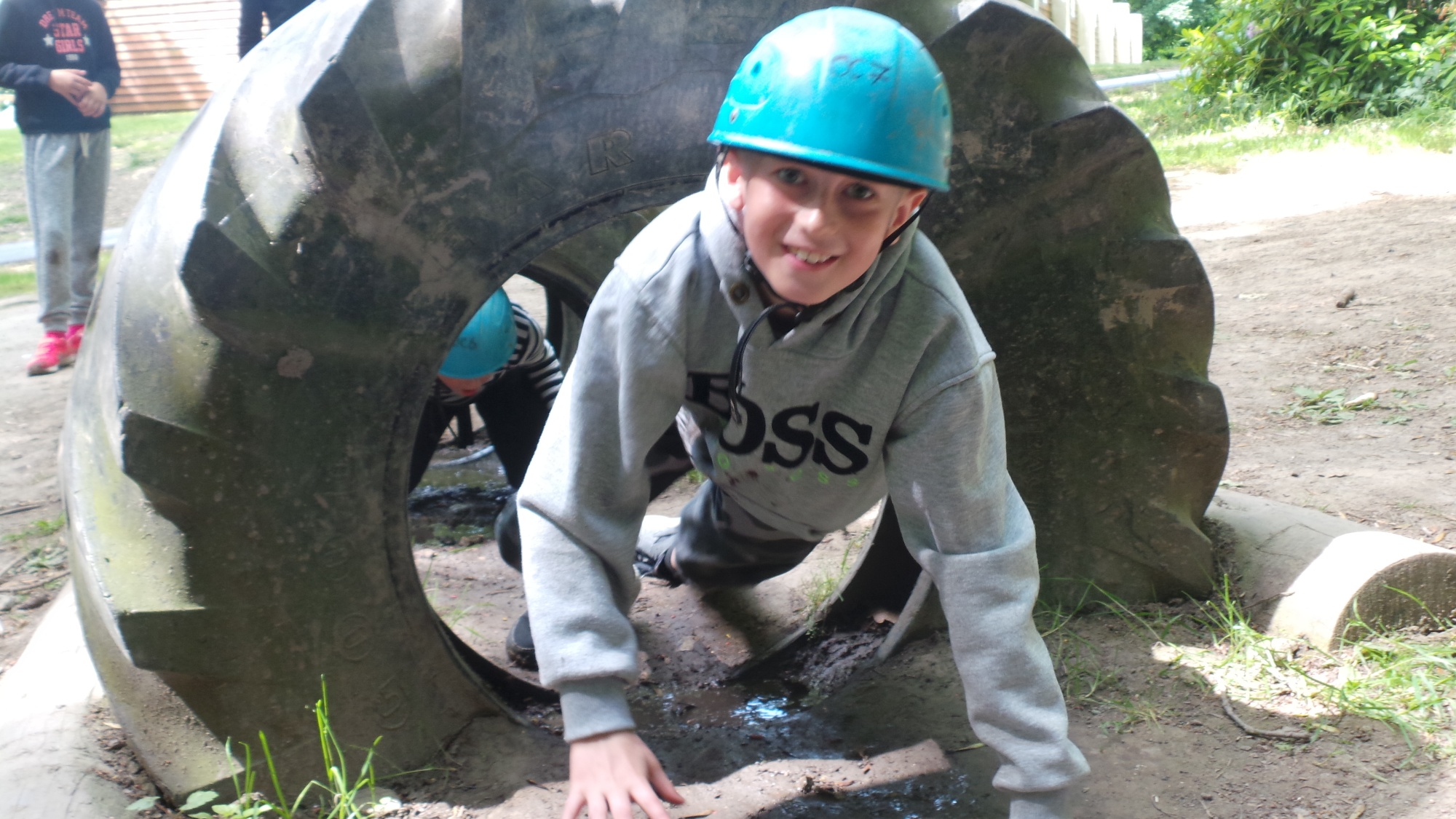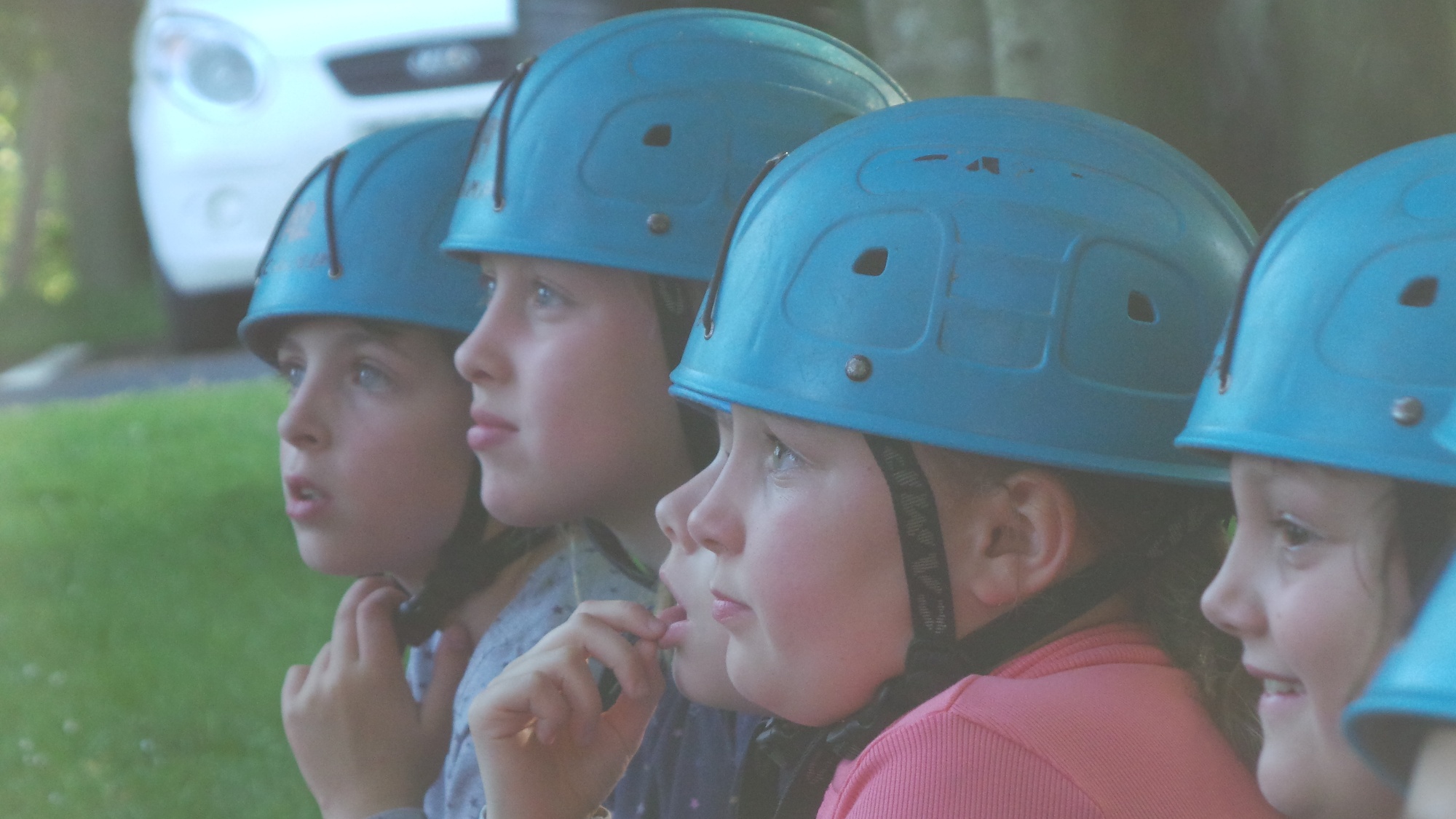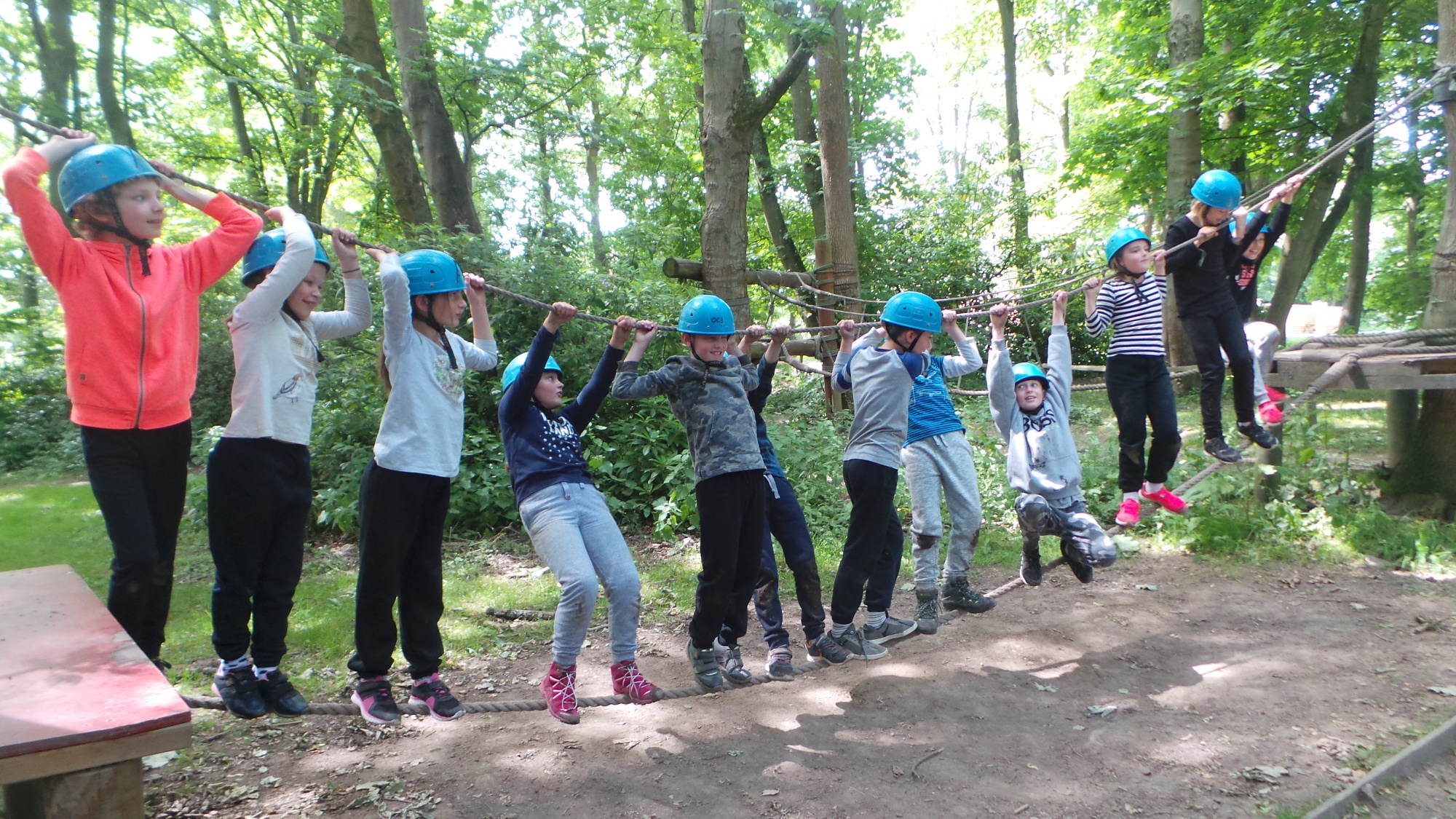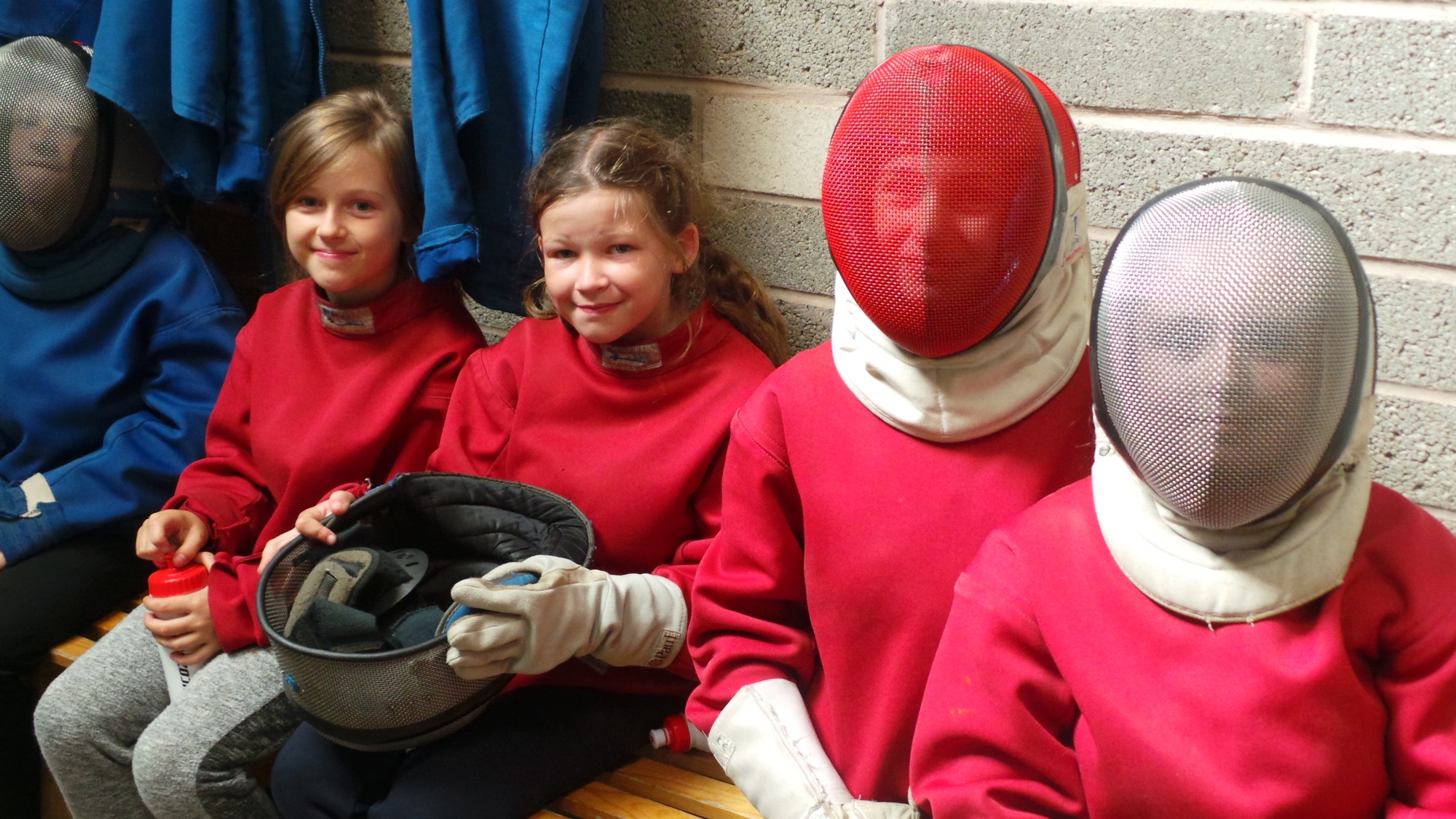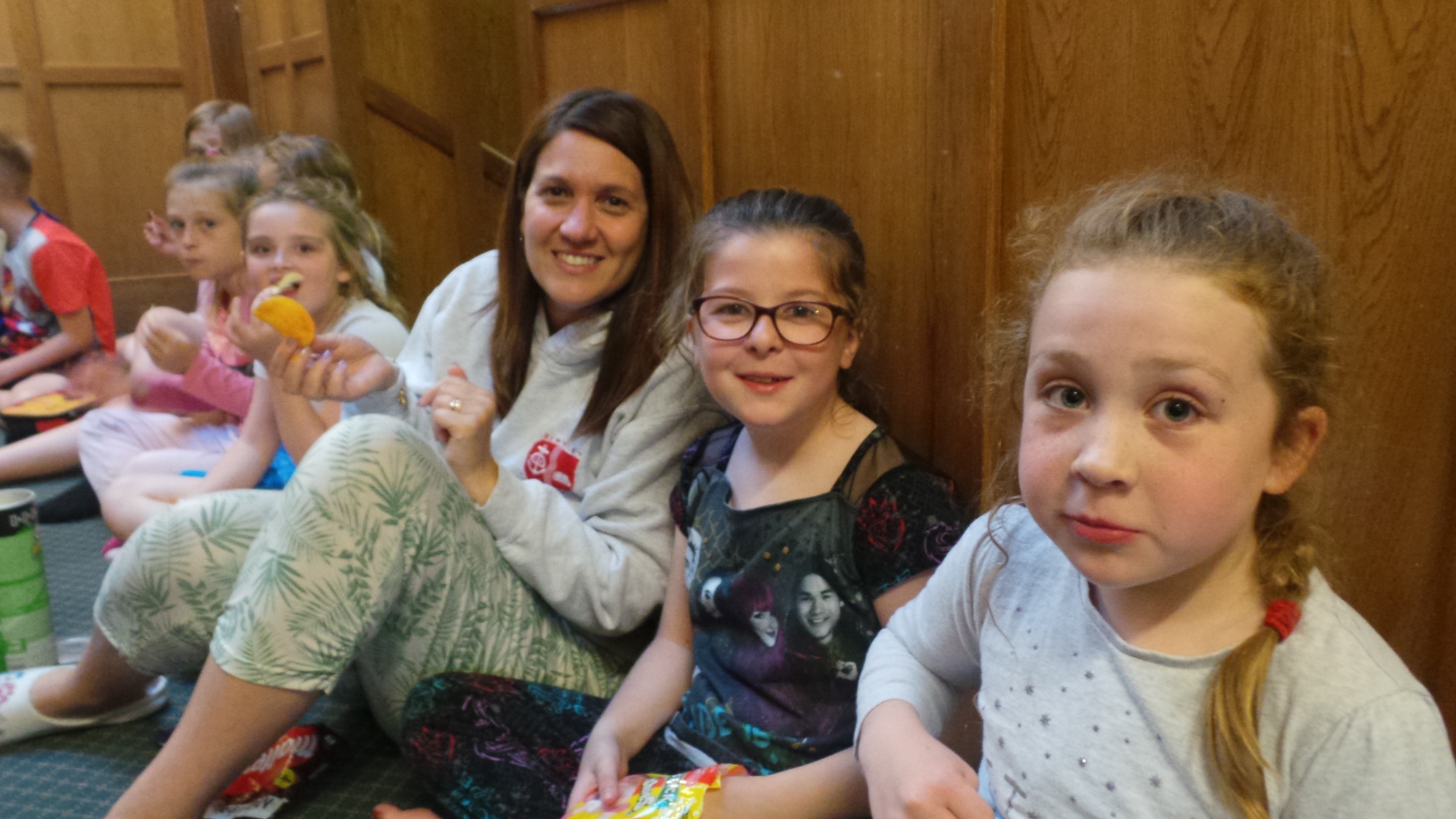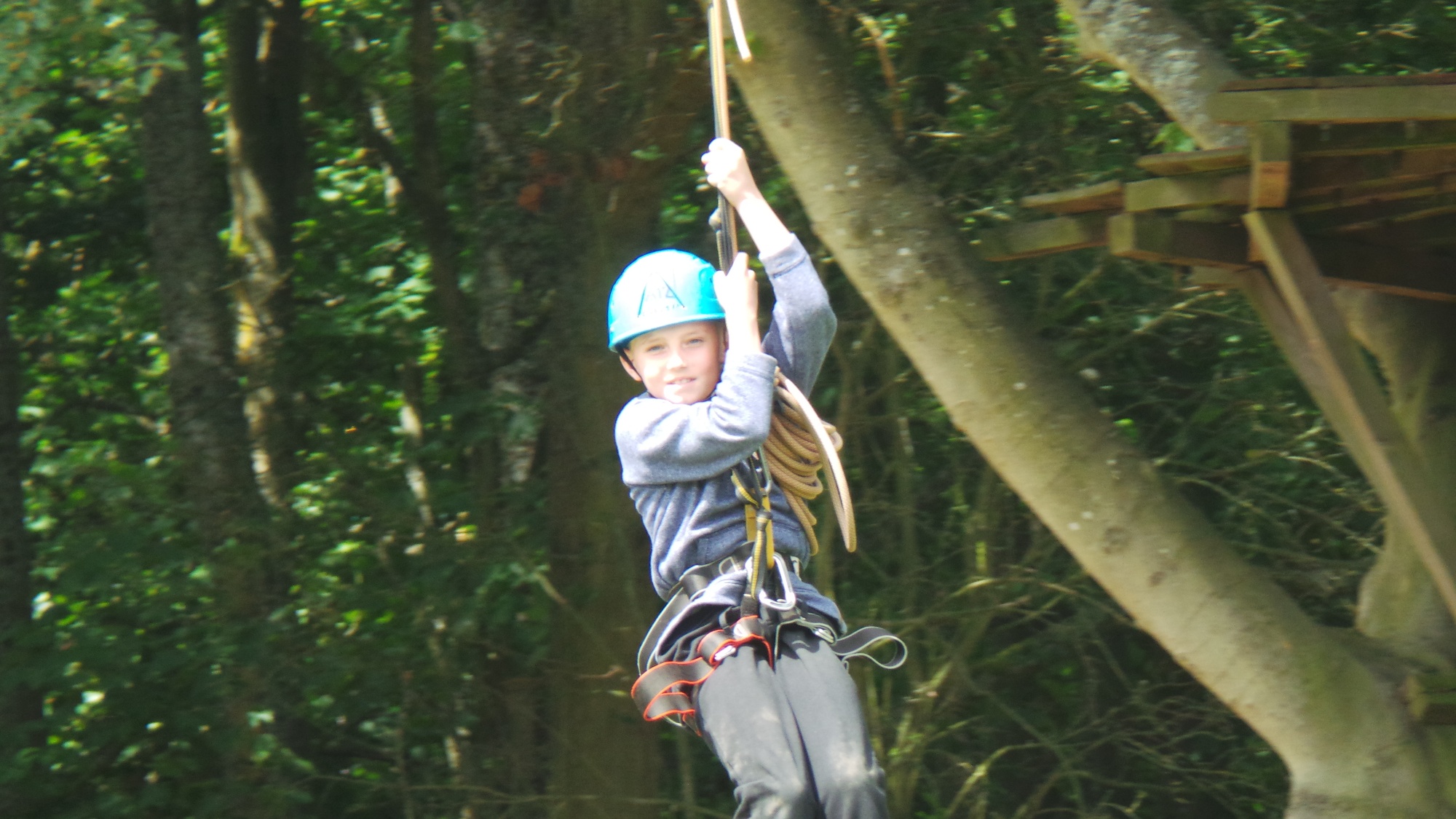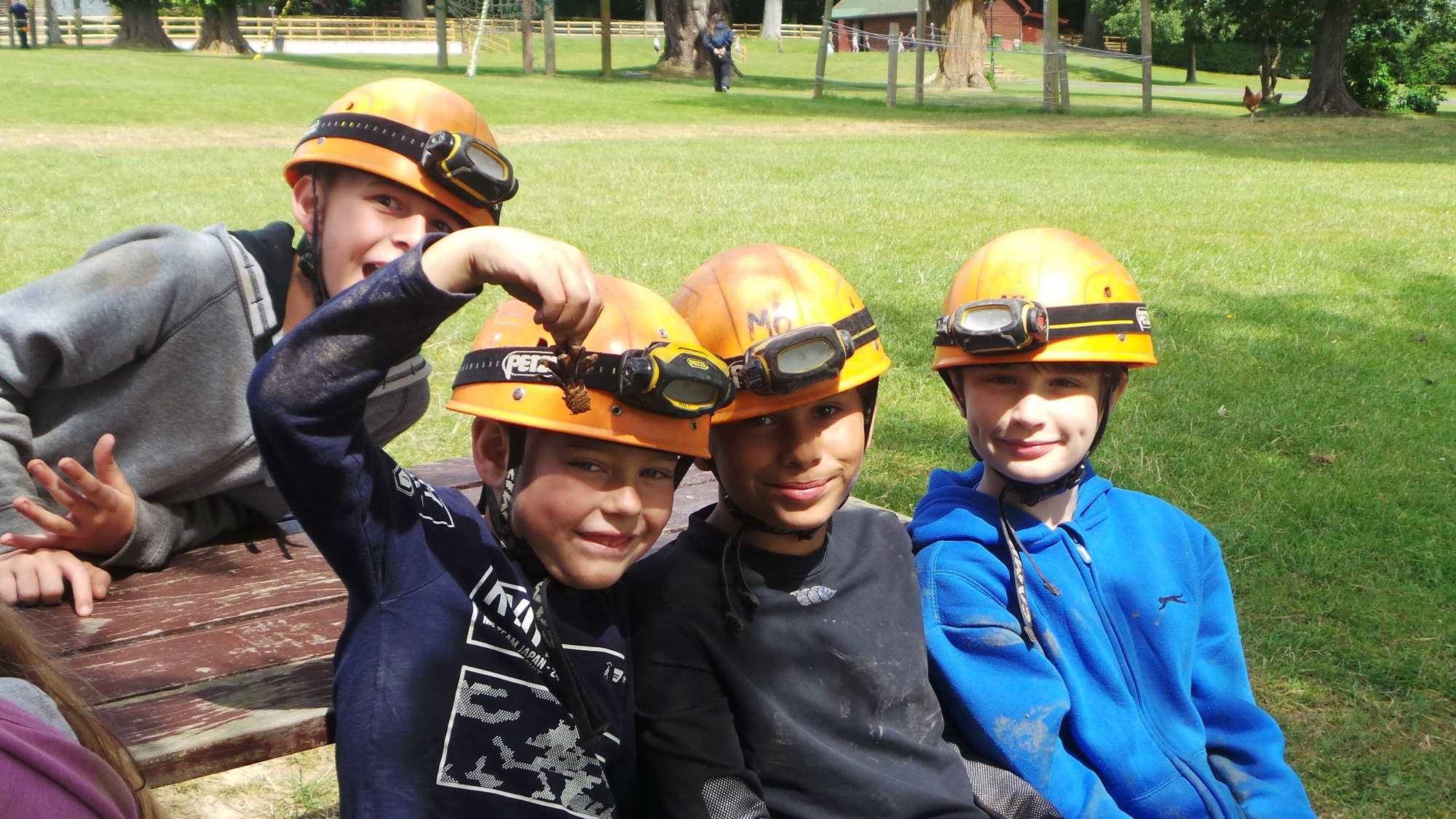 Children making their own clay pots
In Lower Key Stage Two our topic began with the Stone Age and has ended with the Vikings. Each child in the key stage made their own clay pots, just like they would have in the stone age. They also had a go at making their very own Viking weaving. Mrs Jones' class had a visit down to forest school where they made there very own Viking tools including bows and arrows, and hammers.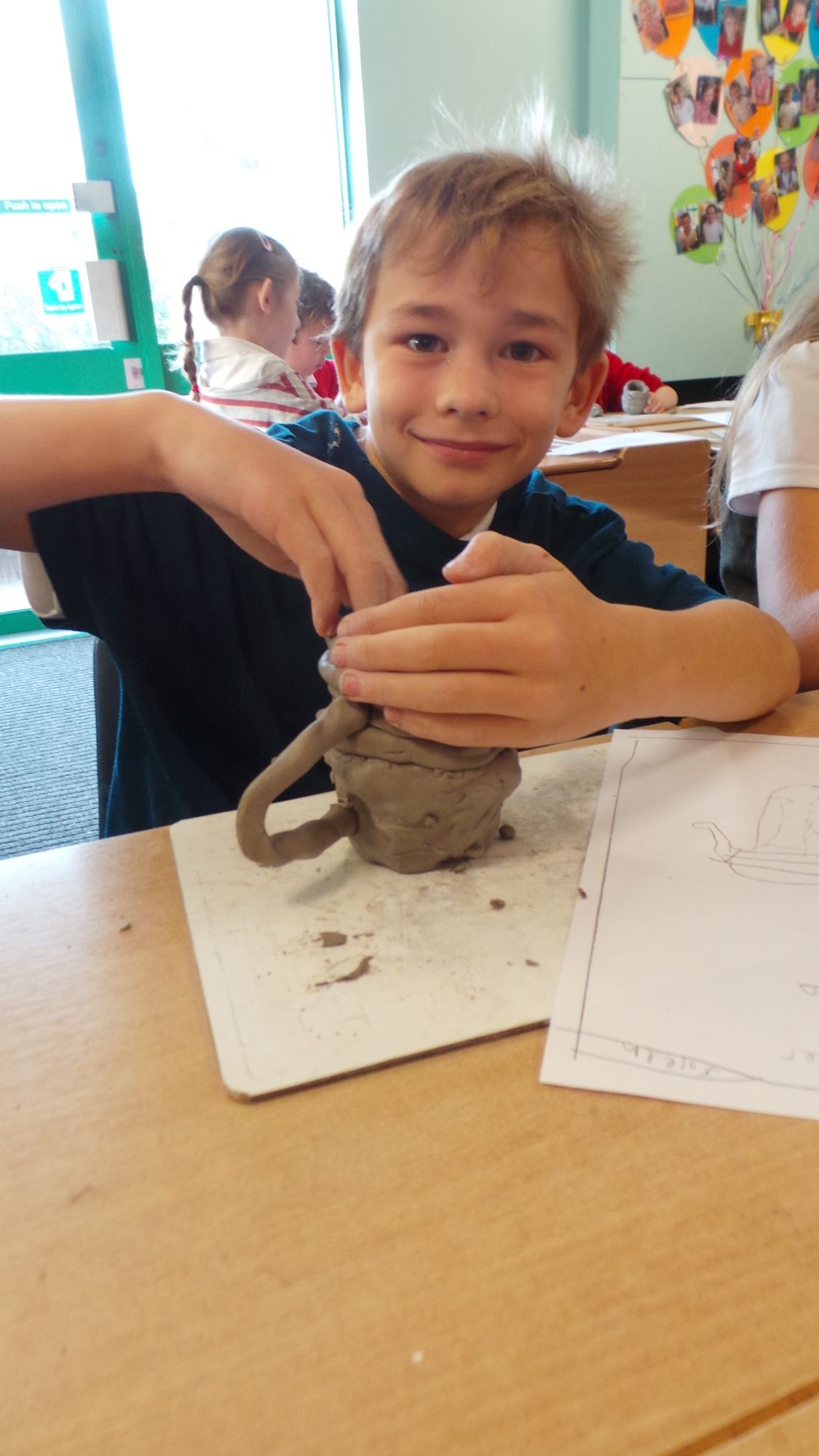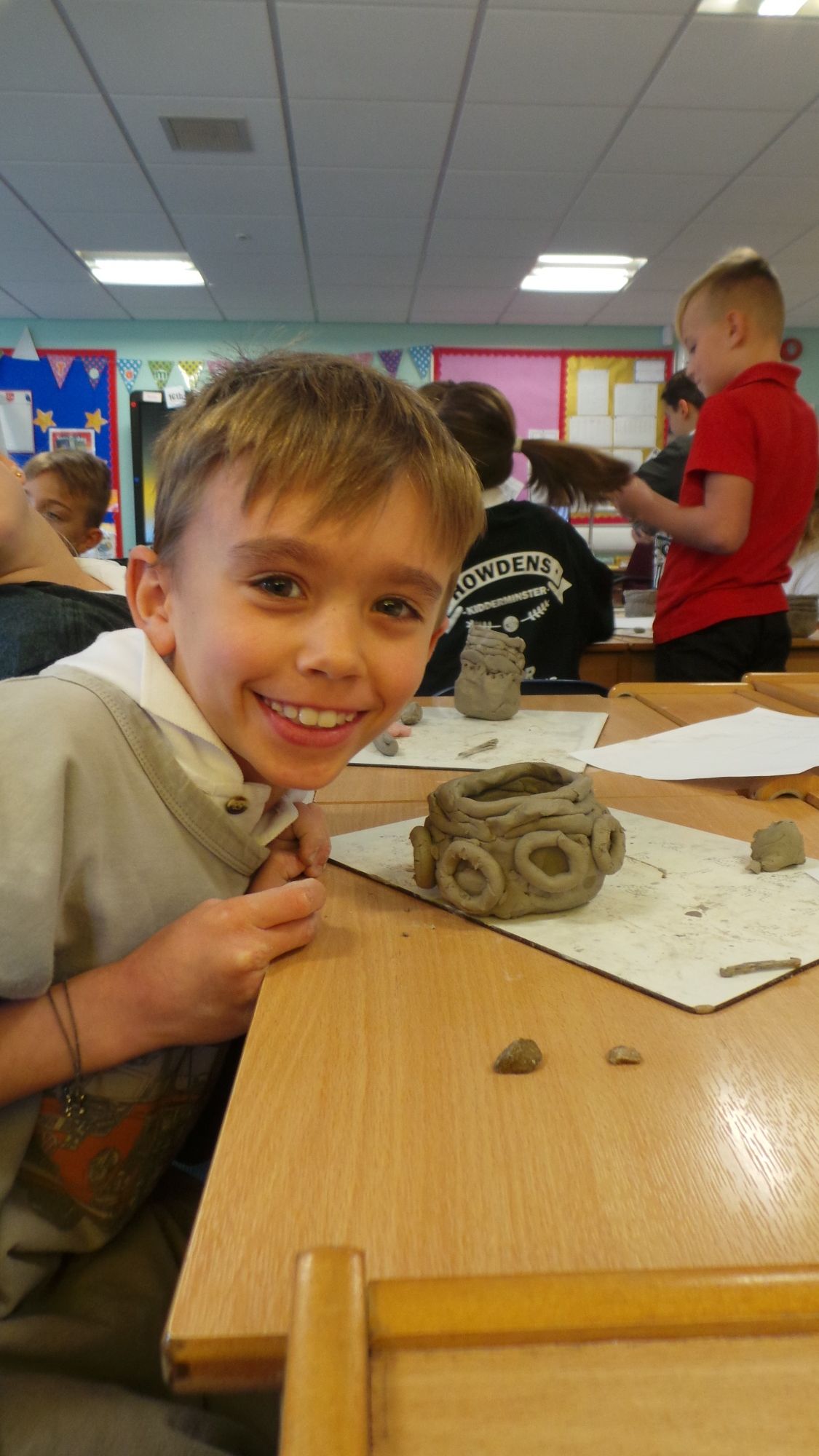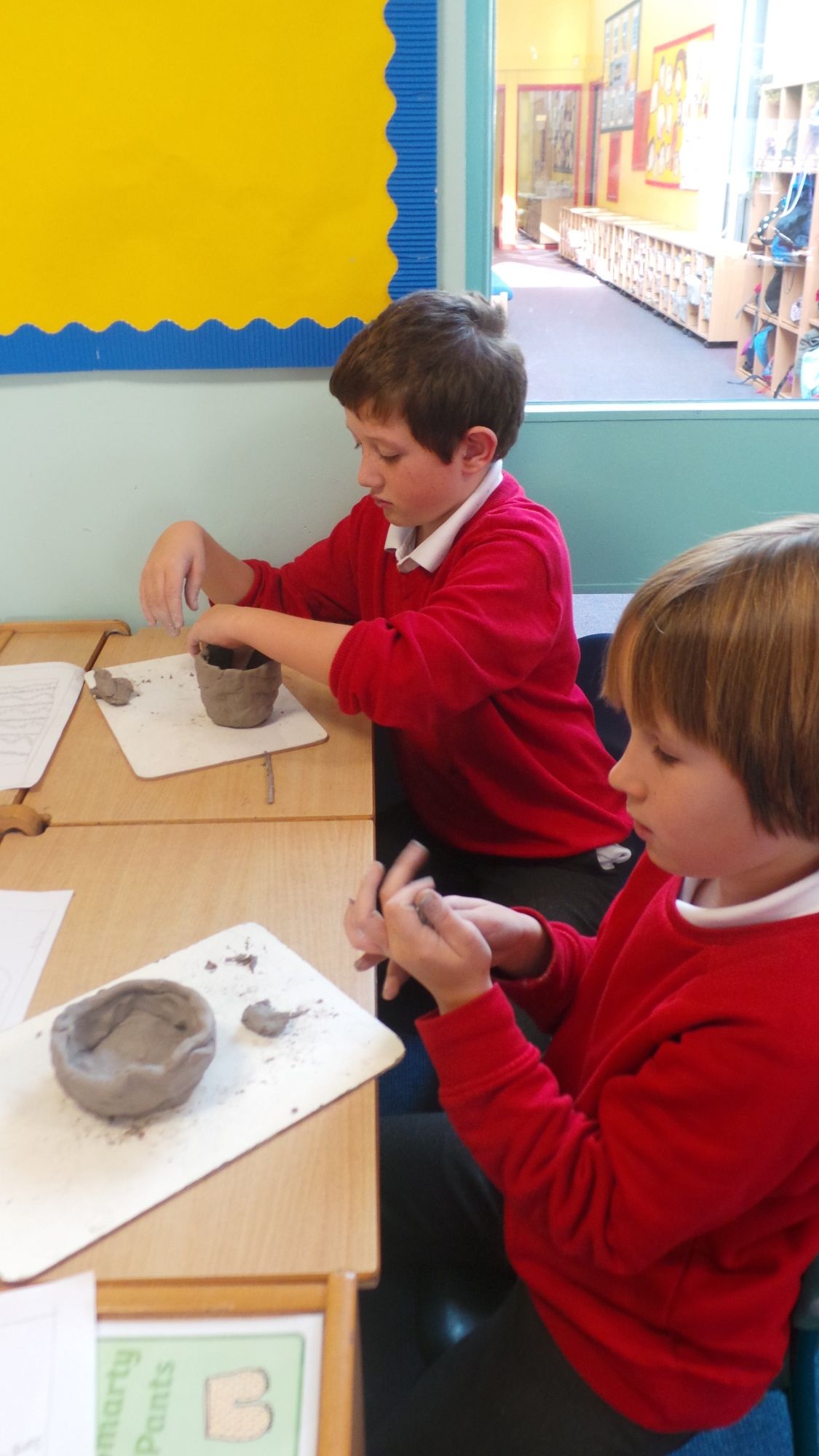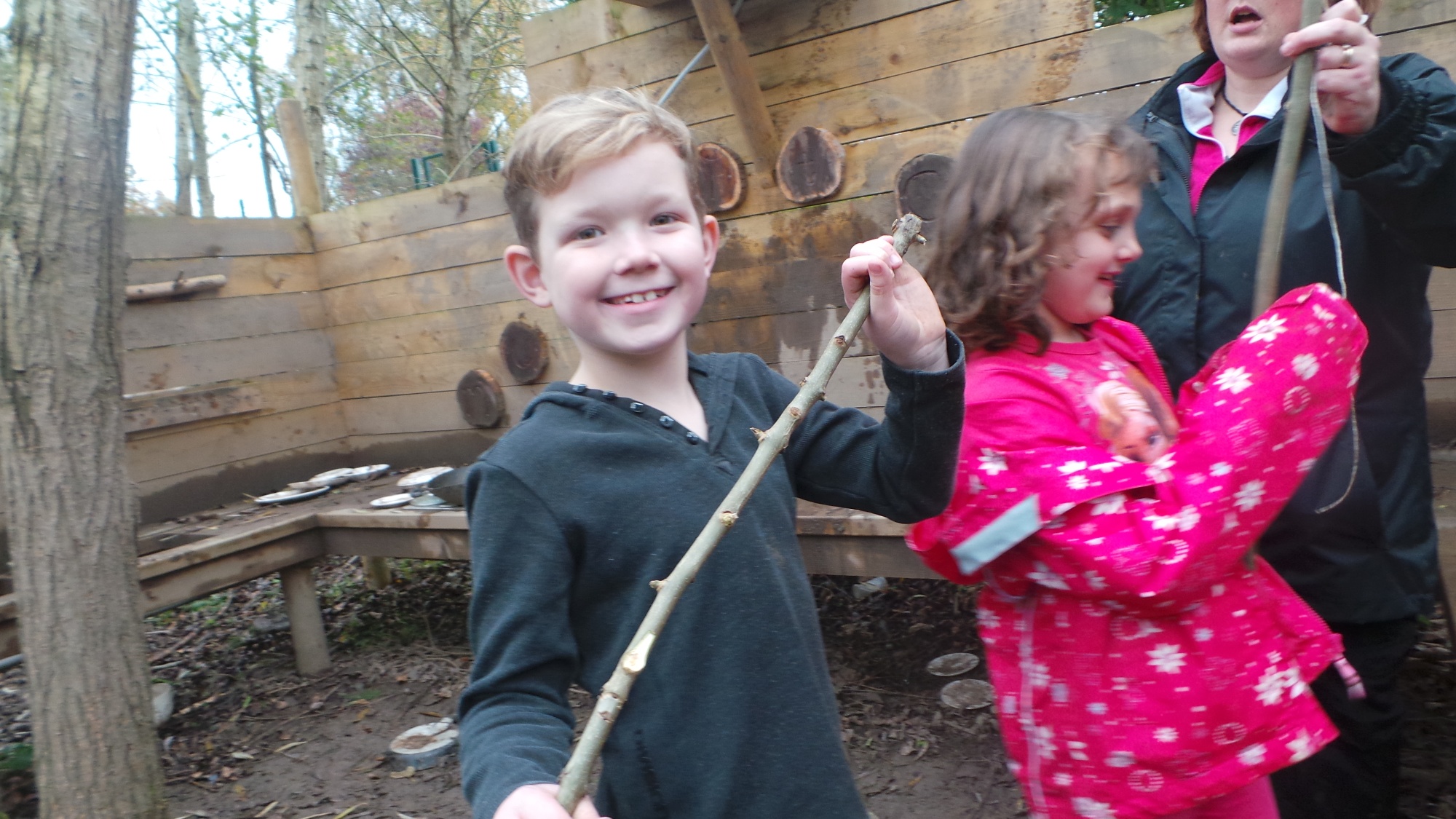 Forest School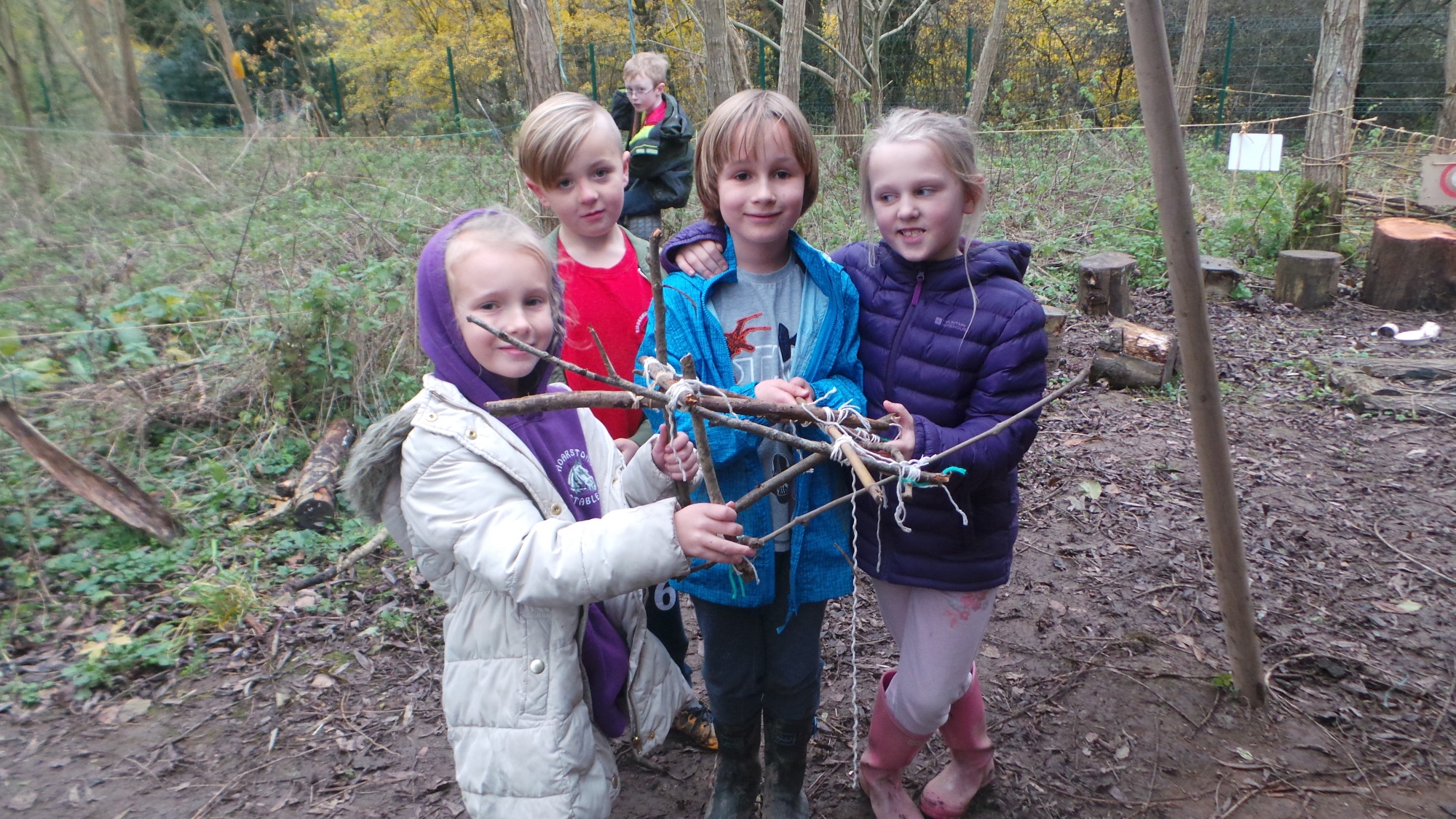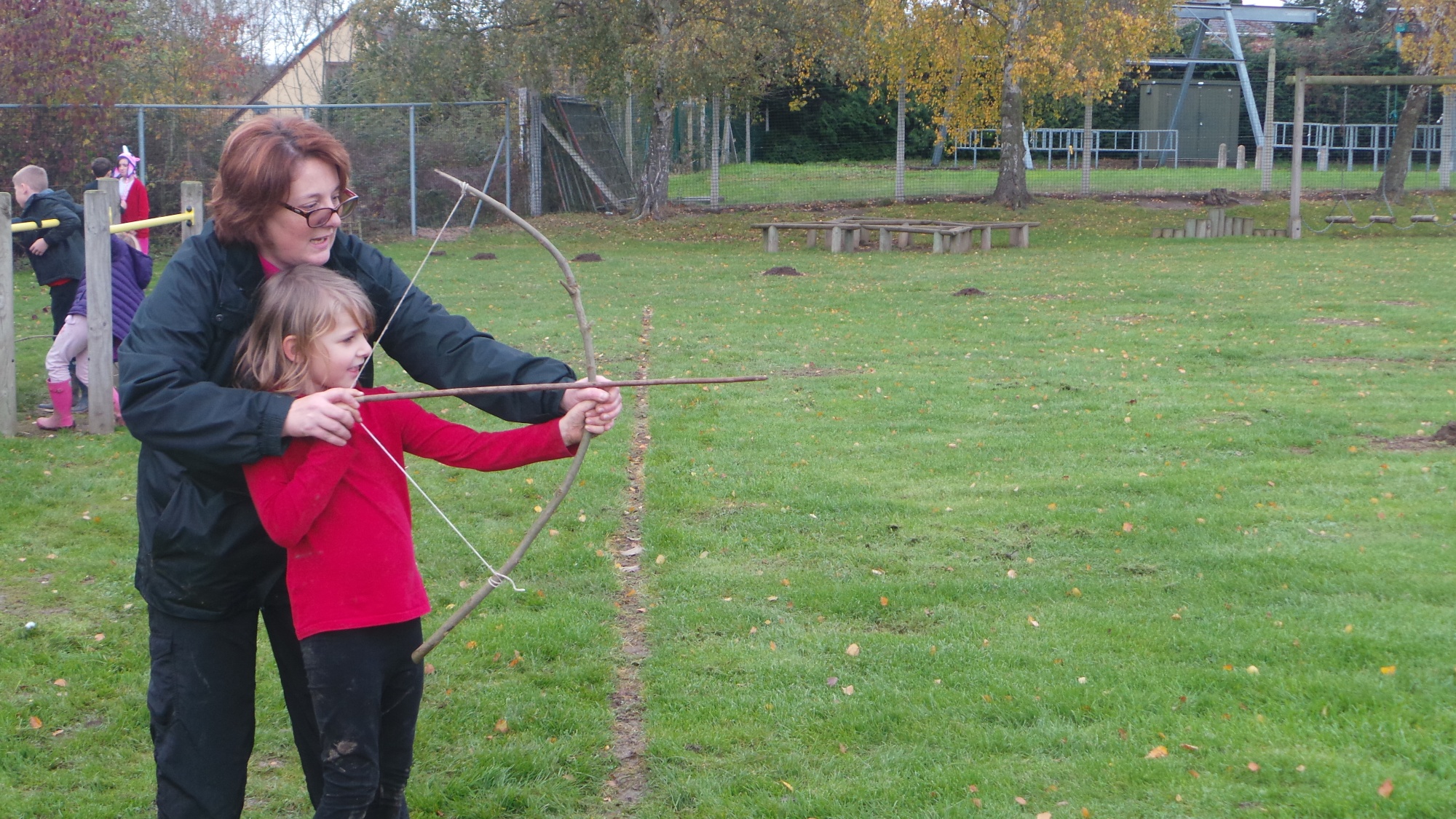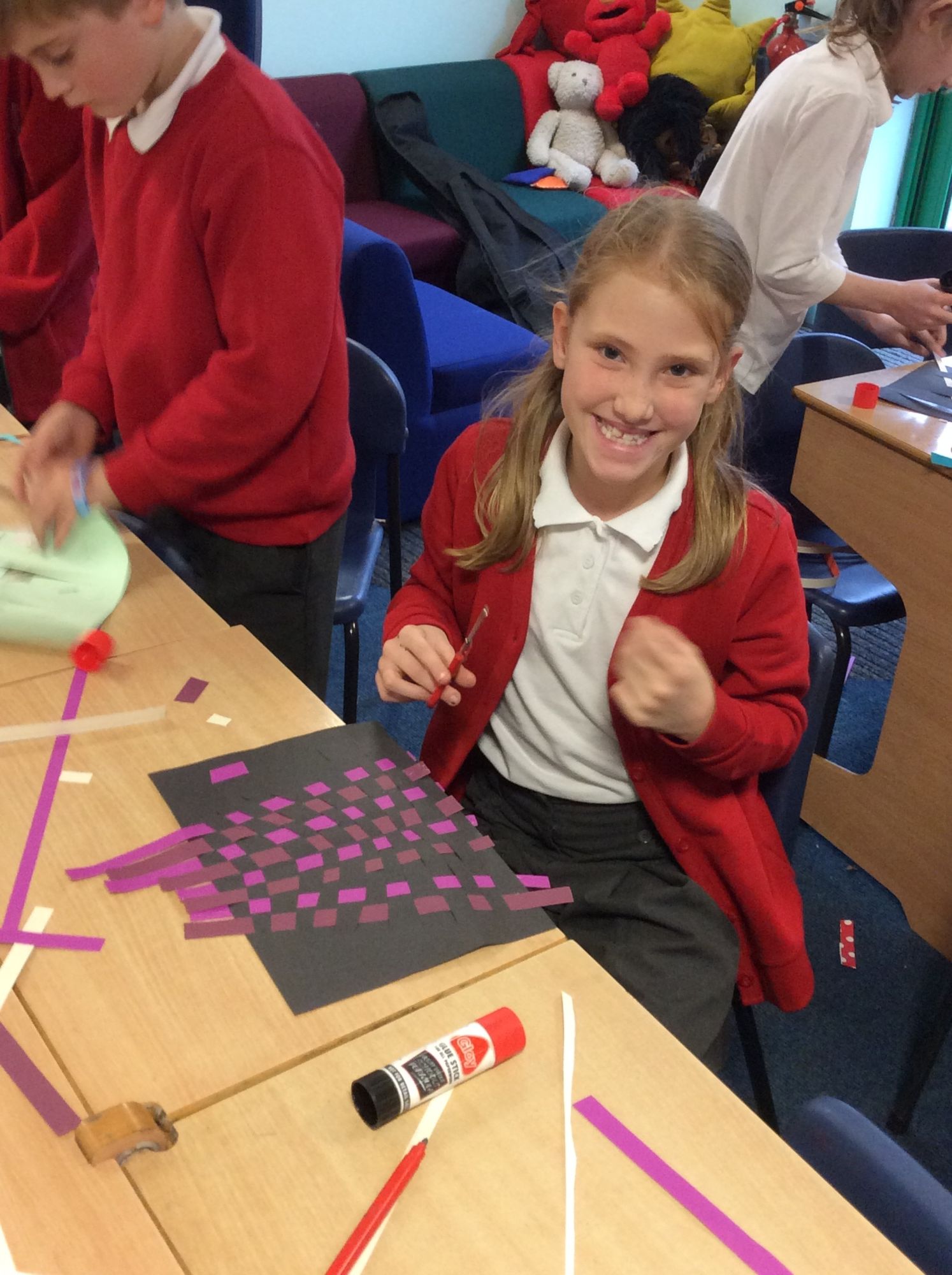 Viking Weaving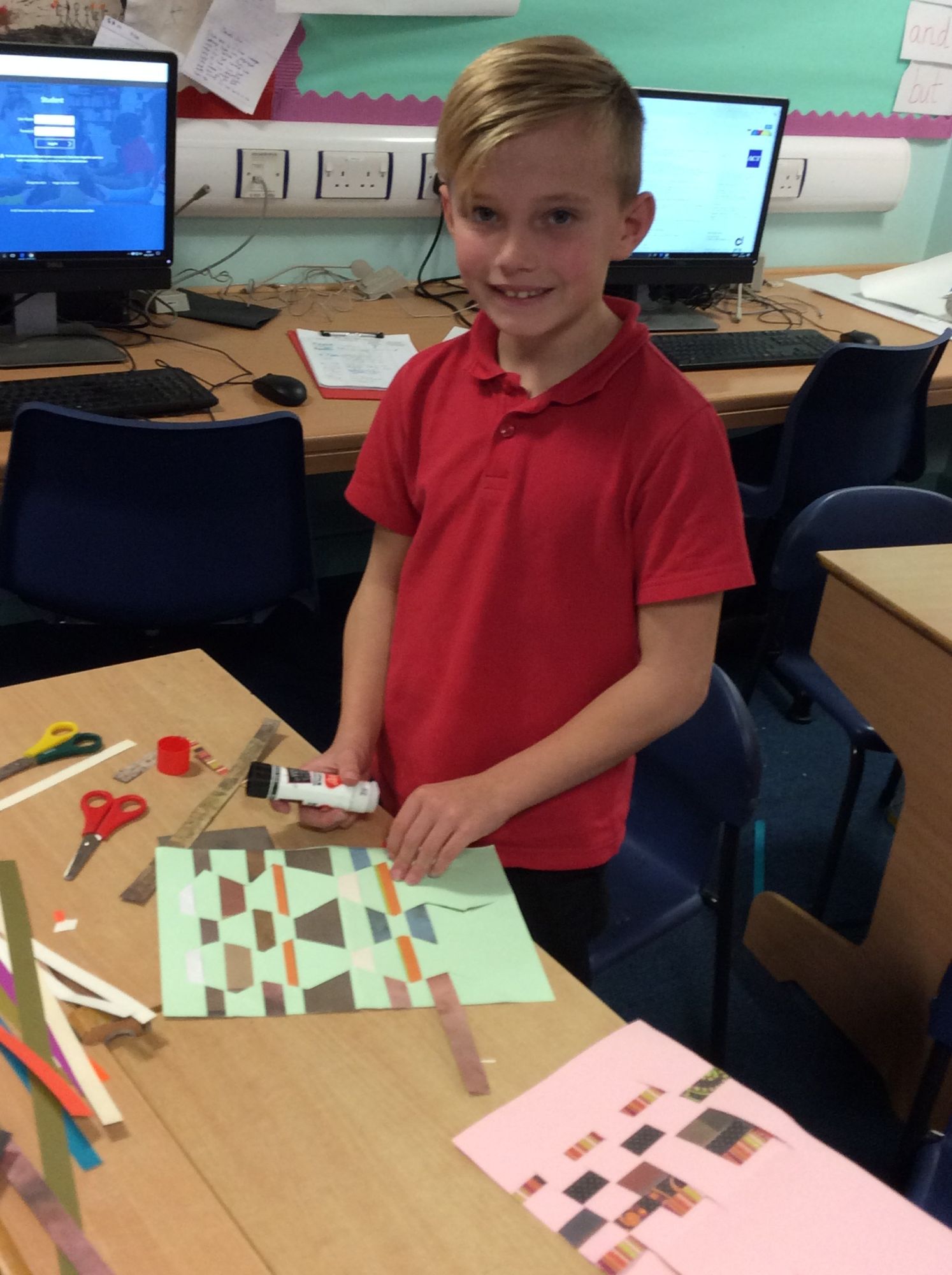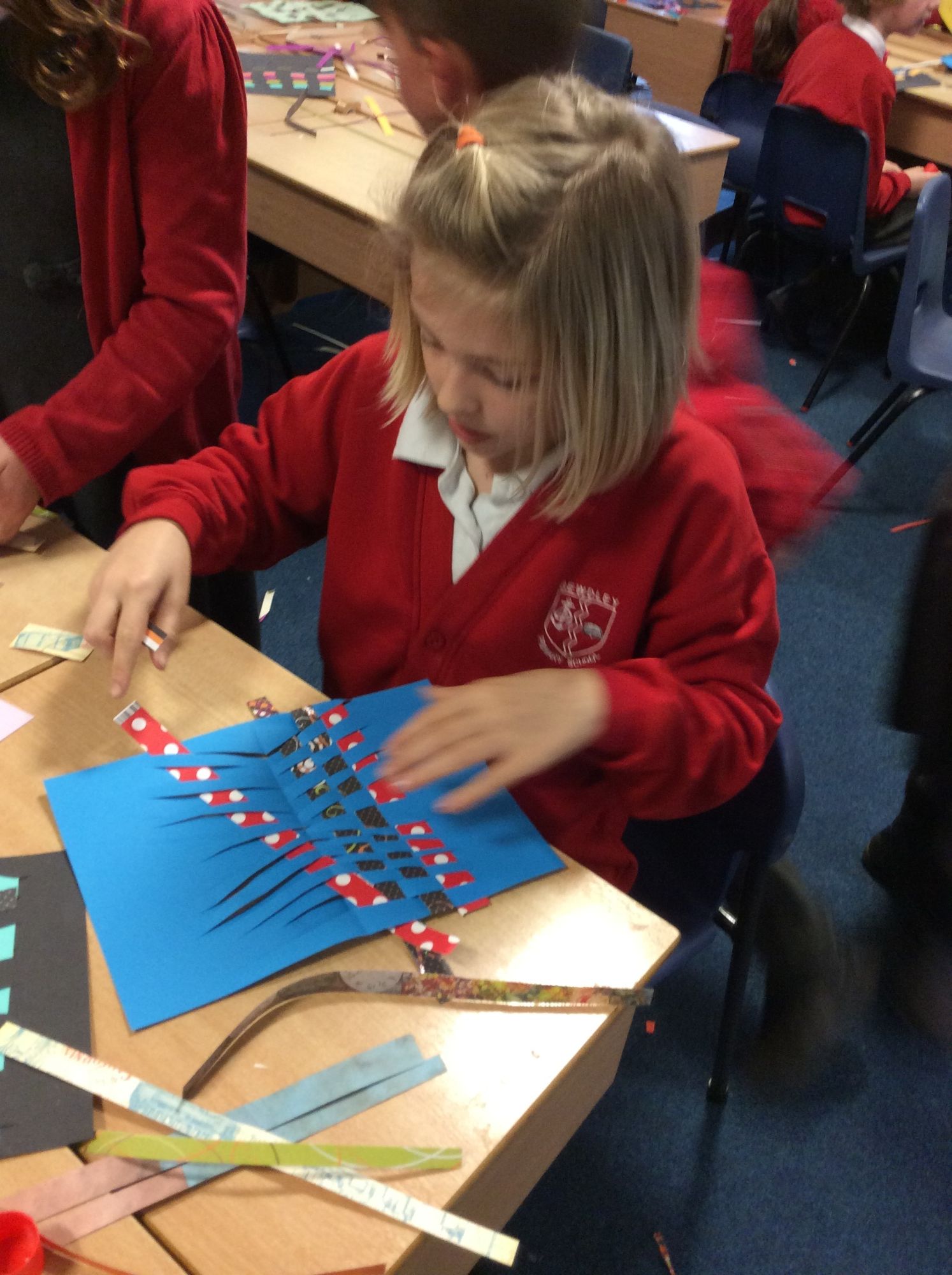 In Science the children have been learning all about teeth. In Mrs Hares' class they carried out an experiment to see which drinks would effect their teeth the most. They did this by placing pennies into three separate cups, one with water, one with milk and one with Coca Cola. They then monitored the cups for three days checking every day to see if the pennies had changed.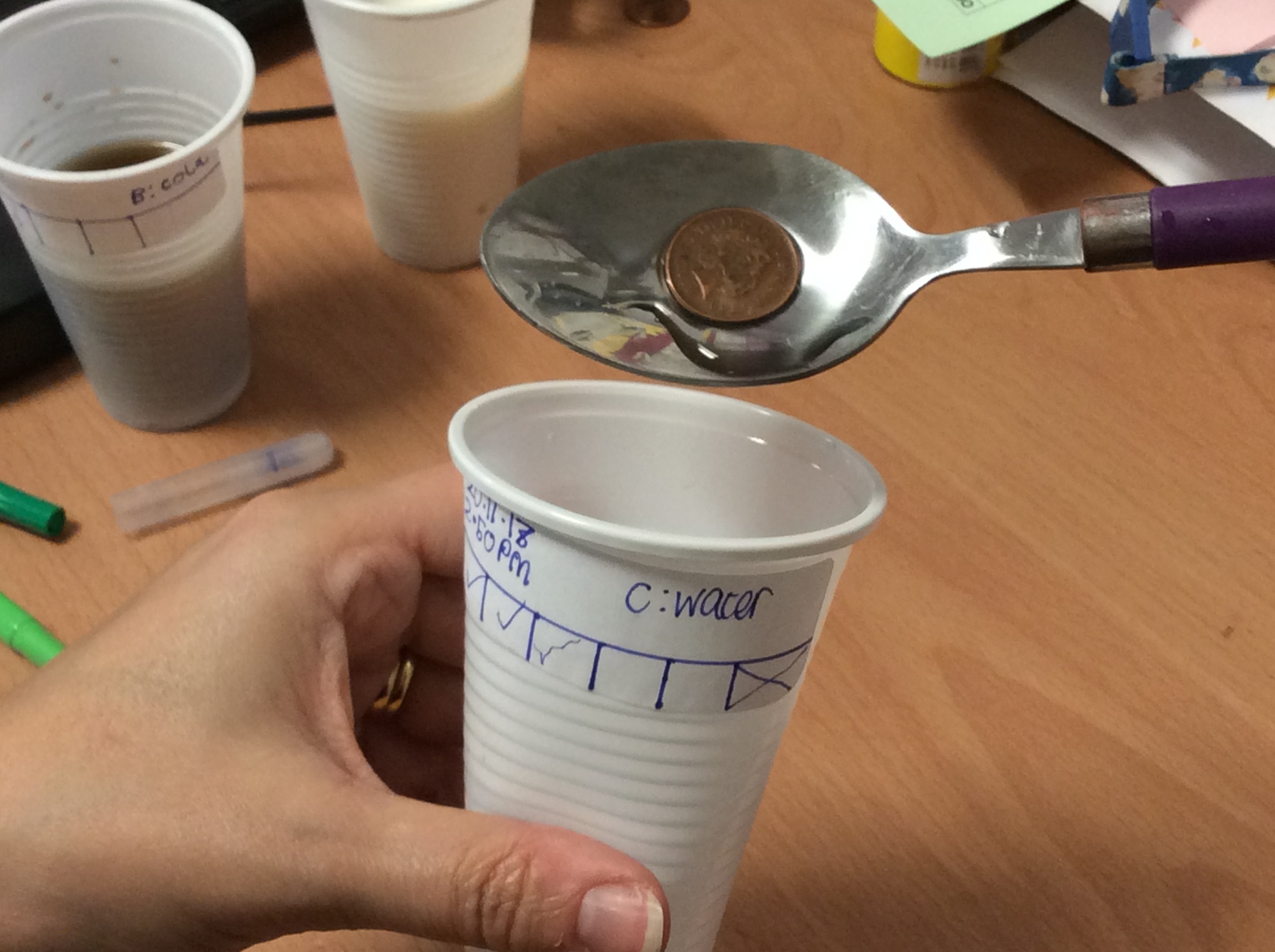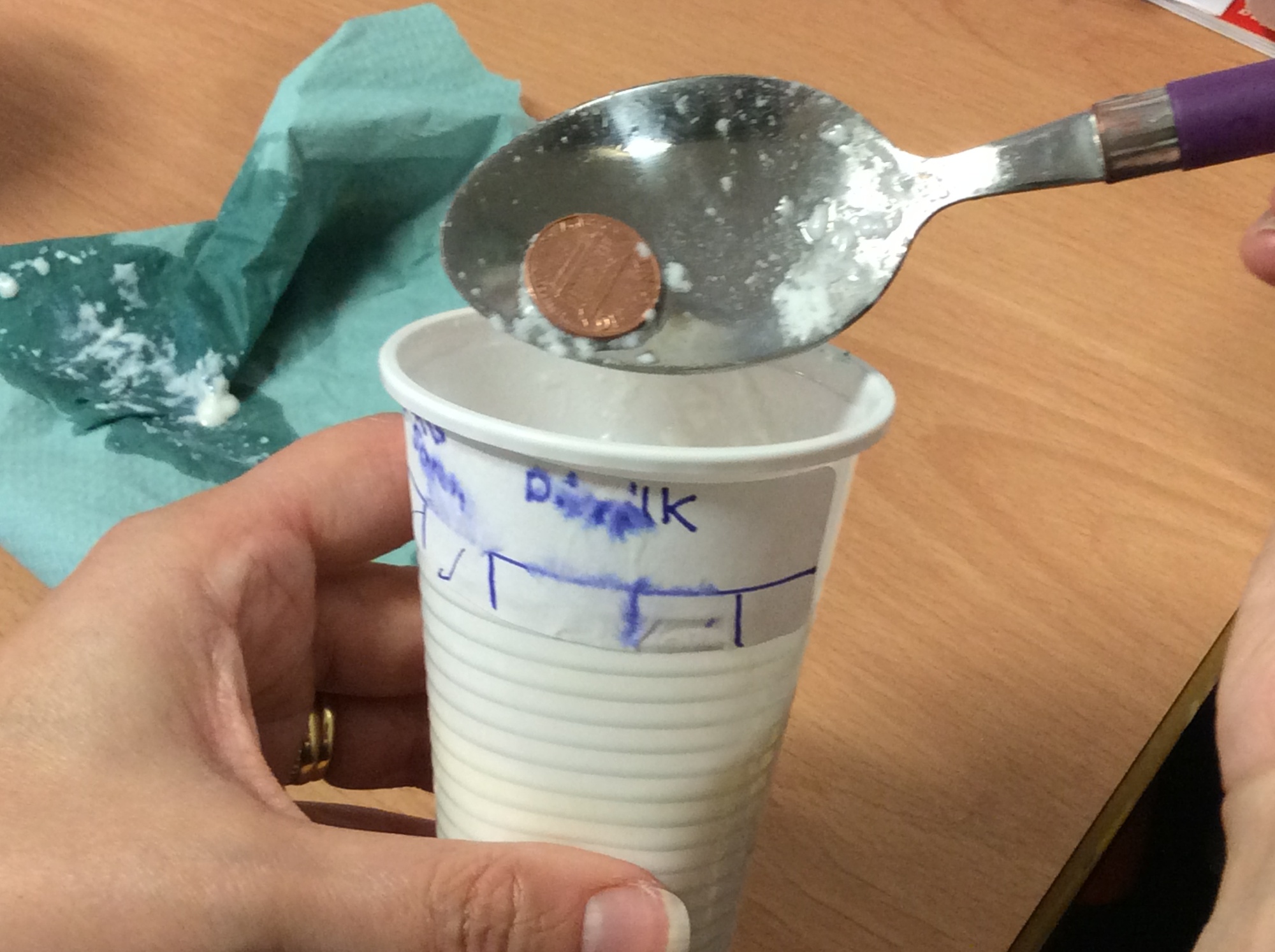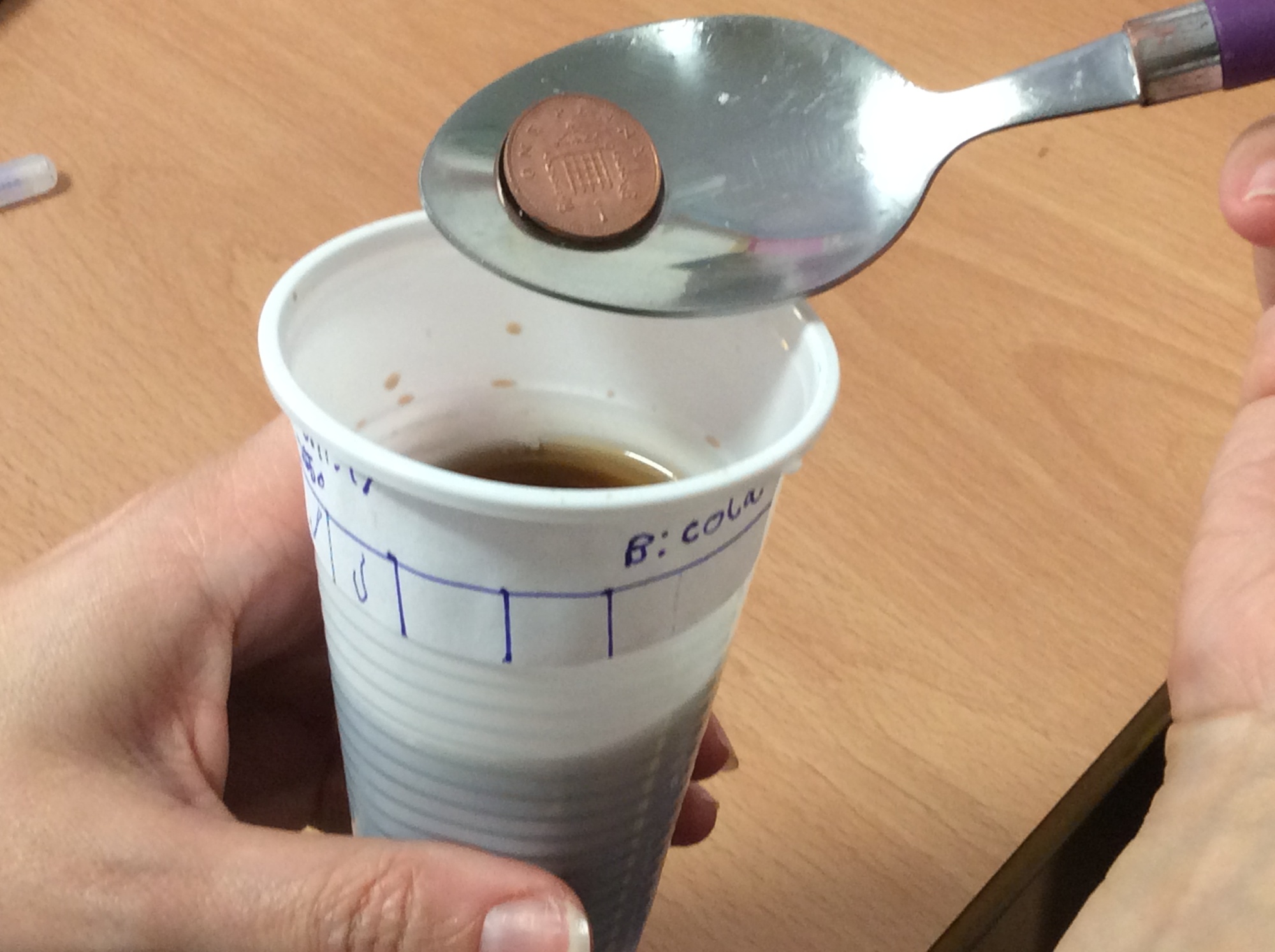 In Numeracy the children have been working very hard. Each class has tackled a number of different topics since September. Mrs Pages' numeracy group did a very fun activity where they measured different items in the classroom including the carpet, desks and even each other.