Well Done Awards
This page will contain details of our Well Done Awards and celebrating our children's achievement.
Friday 18th September
We held our second socially distance Well Done Assembly this week with Years Five and Six in the hall whilst the other children watched from their classrooms. We celebrated a wide range of wonderful qualities including artistic talents, sprinting skills, promoting our school's community and, of course, going above and beyond. Congratulations to Milne who are our Spelling Shed class of the week and Bond who came top in AR. What a great week for Year Two!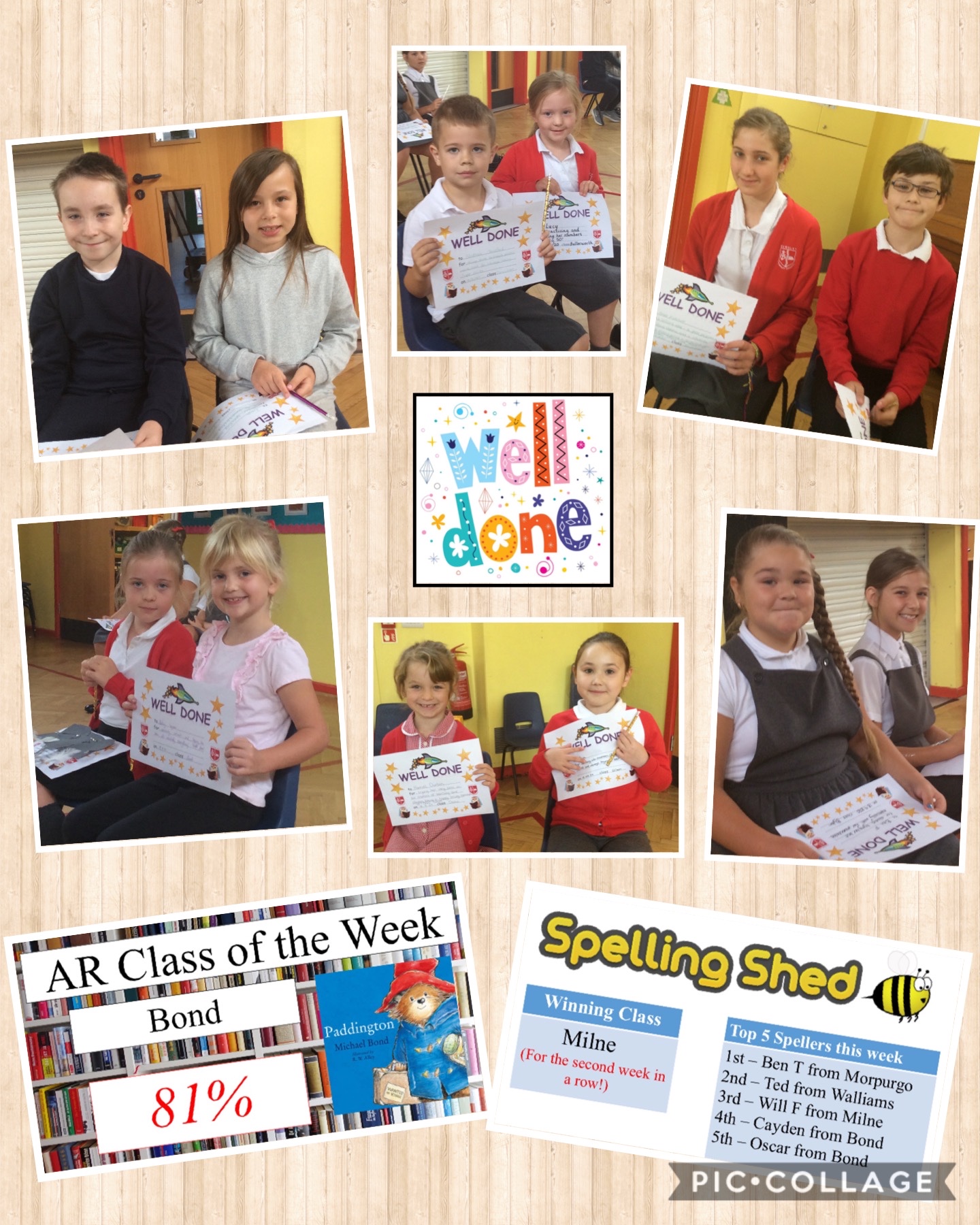 Times Table Championship
We had our first Times Table Championship of the academic year this morning and it was another great opportunity to come together as a school for a slice of normality. Our Class Champions all came in to the hall while their classes supported them from their classrooms using the video link or from inside the hall. Congratulations to all of our Class Champions but well done, in particular, to Ronnie from Blackman, Rueben from Blyton and Bailey from Bond who also became their Key Stage Champion too! Next week, we'll be sticking with the 2 times table for Years One and Two, and the 3 times table for Years Three, Four, Five and Six. We're all very excited to see what this term's mystery class prize will be for the overall winners, just before Christmas!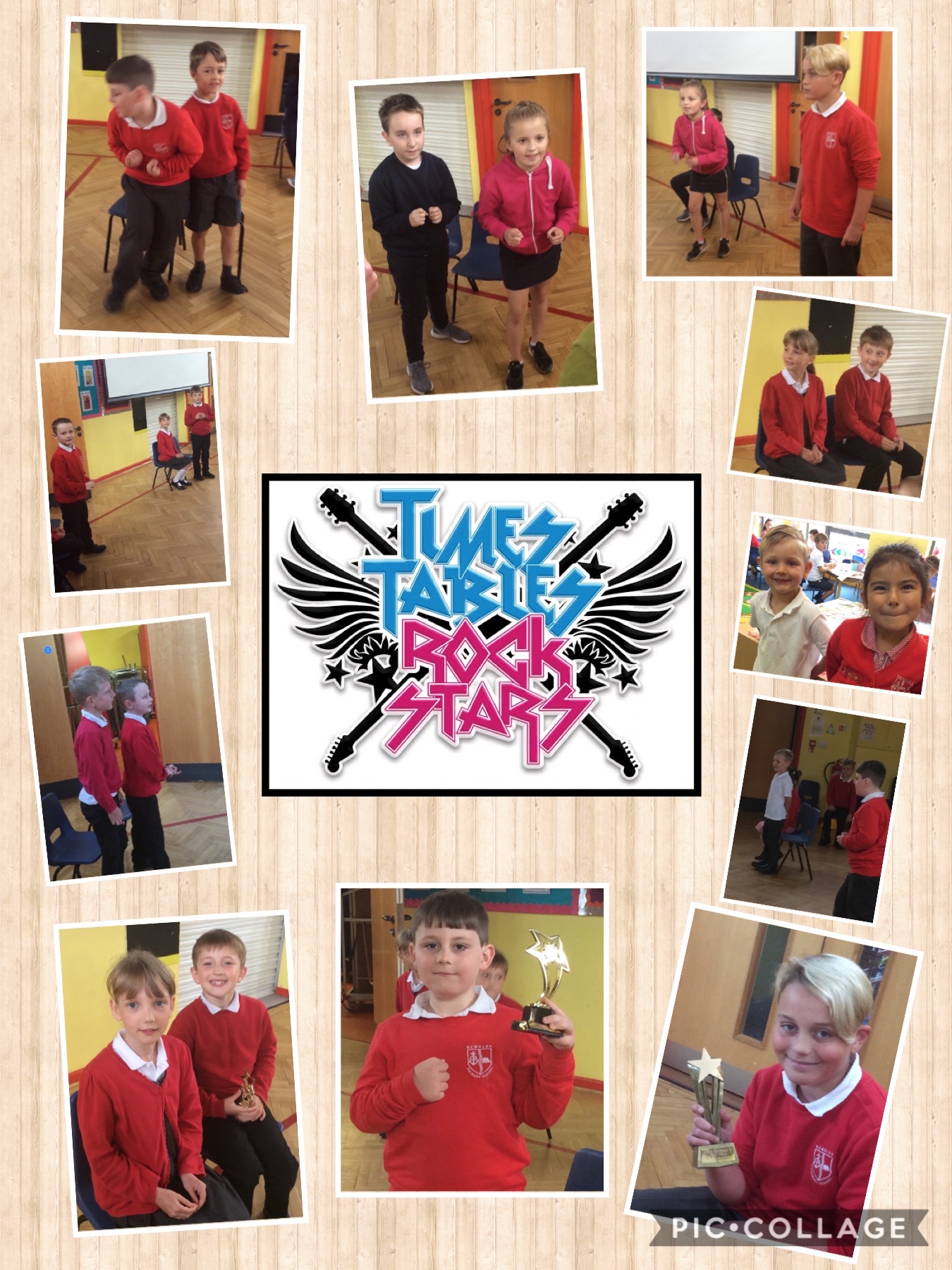 Friday 11th September
We held our first ever socially distanced assembly today and it was a big hit! Two of our year group bubbles were in the hall as usual, along with all of our Well Done Award winners. The other children then watched the assembly from their classrooms, thanks to the power of technology. The teachers particularly enjoyed using the walkie talkies to talk to the whole school when they were giving their Well Done Awards!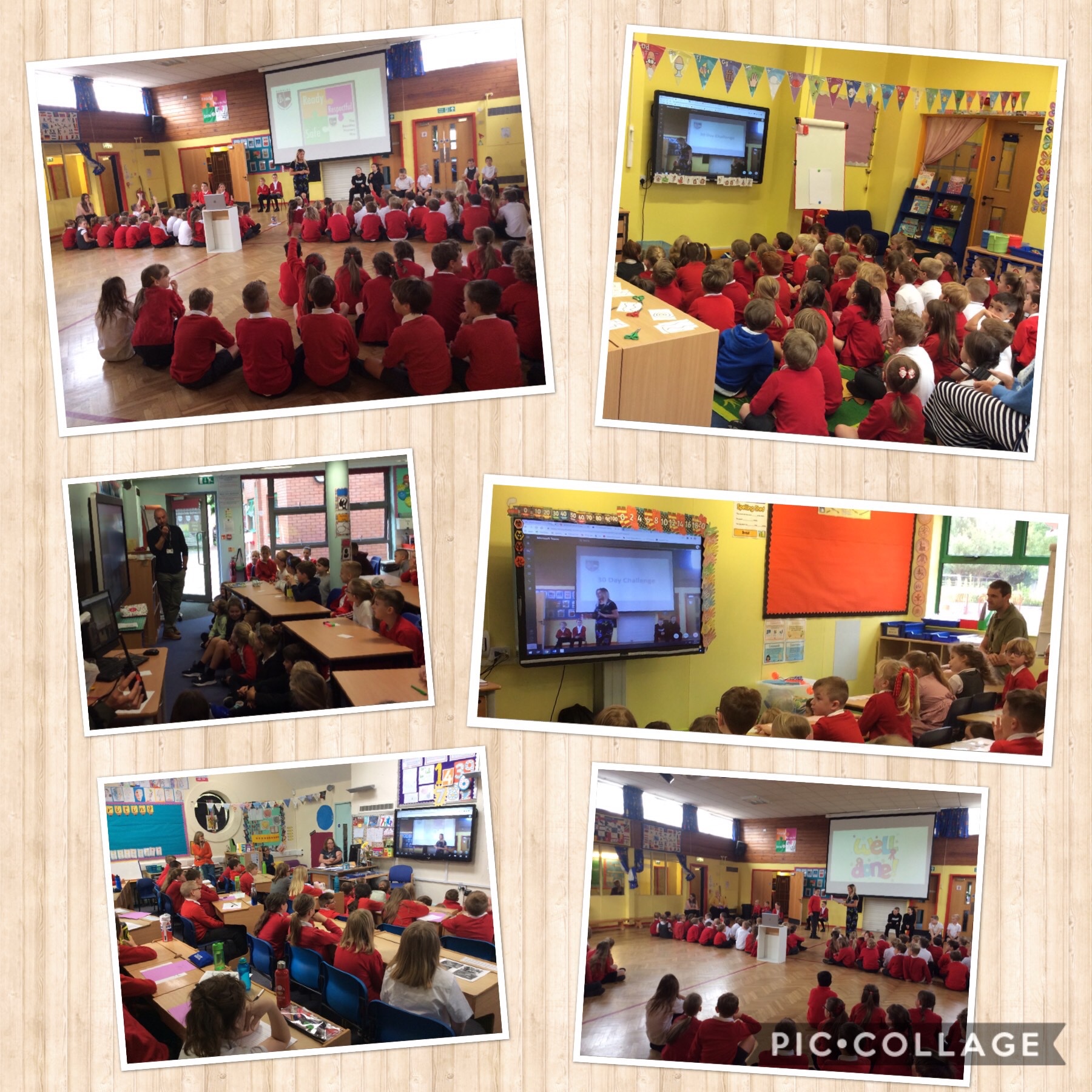 As you can imagine, our first Well Done assembly of the year was absolutely packed with children who've been going above and beyond in school this week! All of the teachers found it very tricky to pick just one winner from each class and it was so lovely to still be able to celebrate the achievements together.
Our Times Table Rockstar challenge starts again today so each Key Stage will be practising a different times table ready for next Friday's battle! Years One and Two are starting with the 2 times tables, while Years Three, Four, Five and Six are all practising their 3 times table!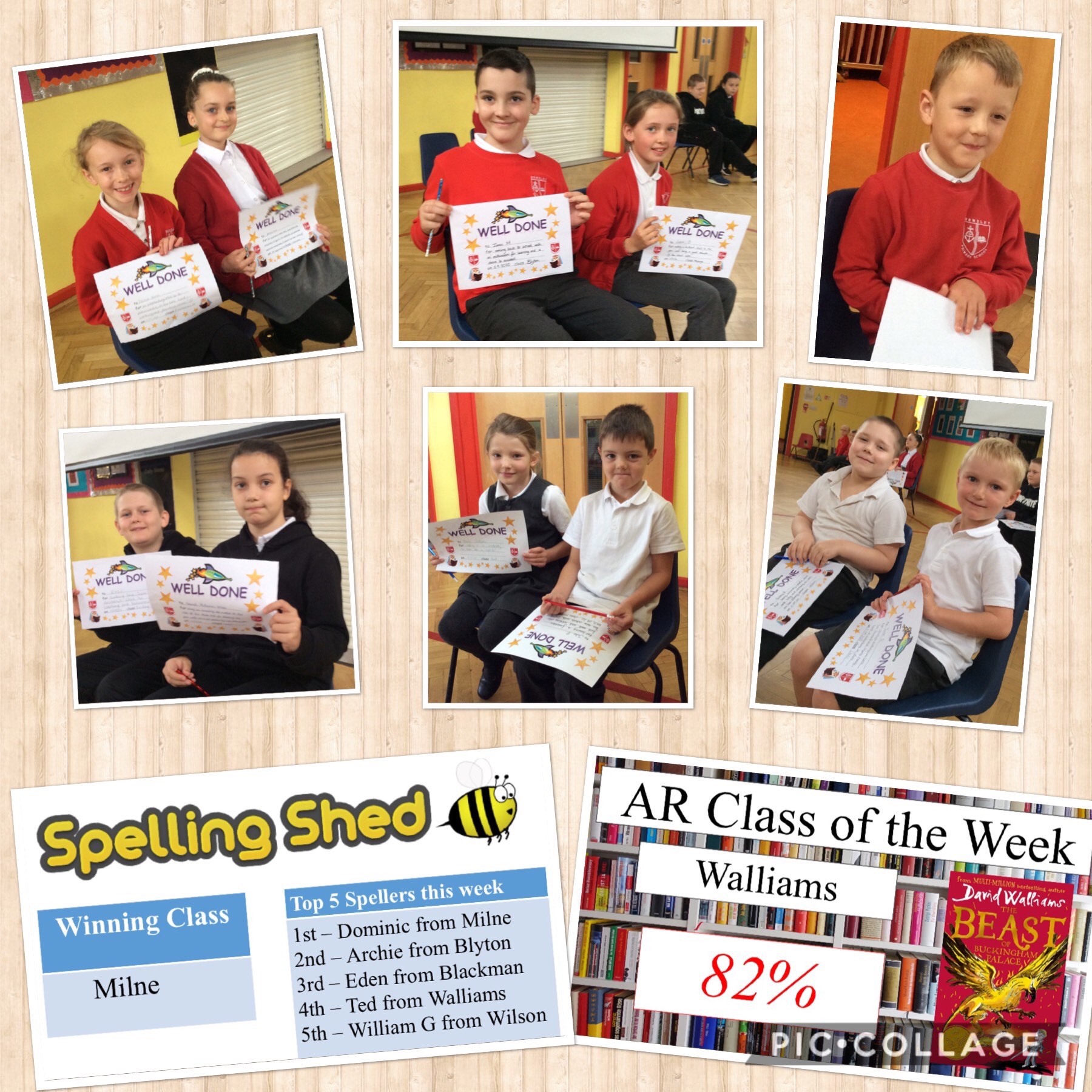 Friday 20th March
Times Tables
Despite being our first ever Times Table Championship to be held behind closed doors, it didn't make it any less dramatic or competitive! It began with three brand-new weekly winners and congratulations go to Ewan from Lewis, Daniel from Blyton and Bailey from Donaldson who all took their places on Winners Row.
The Winners Row competition was absolutely incredible and the children all demonstrated their determination and enthusiasm as well as their impressive times table knowledge.
Huge congratulations go to our overall winners for this term - Poppy from Bond, Leo from Morpurgo and Leo from Walliams! All of our finalists will enjoy bouncy castle sessions tomorrow, along with all of the children in Bond, Morpurgo and Walliams!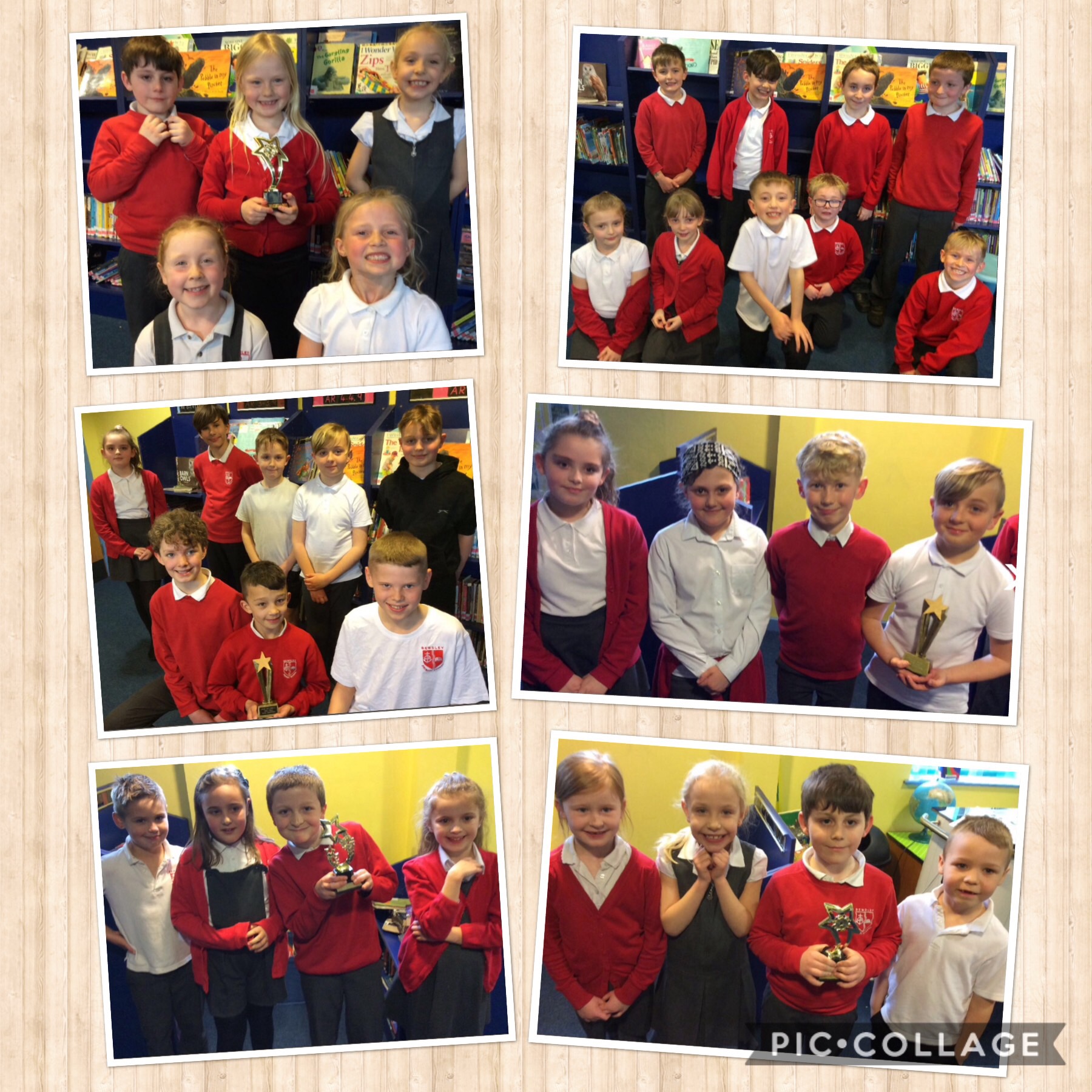 Friday 13th March
It was another fabulous week in our Well Done assembly with so many children being rewarded for their positive attitude and incredible work this week. Riley from Bond had a Special Mention this week for using his pocket money to buy sweets for the emergency workers who helped to make the bridge safe. Theo from Donaldson was also given a Special Mention for his great behaviour and attitude this week. A massive congratulations to Walliams class who earned a whopping 100% on their AR quizzes this week!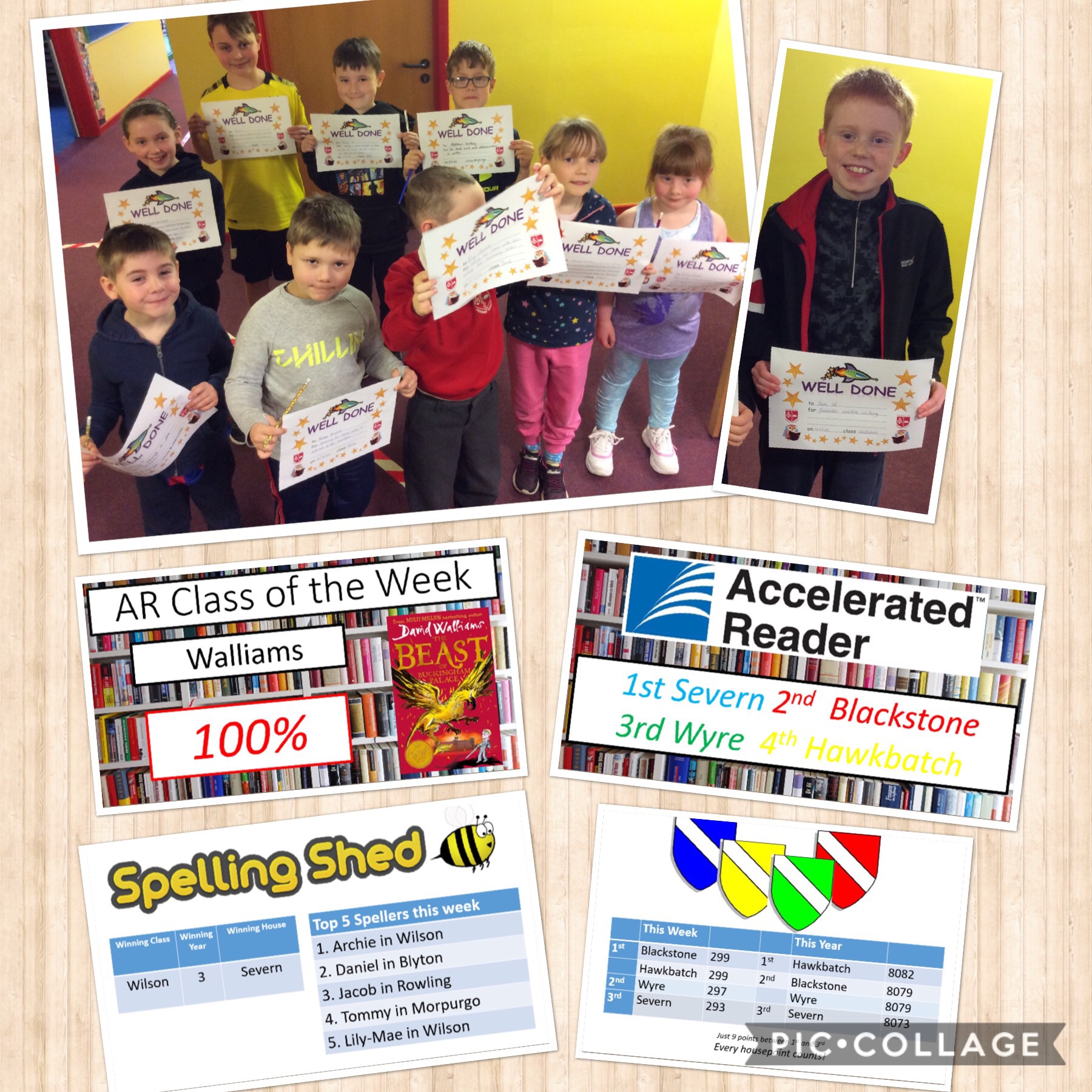 Our Times Table challenges are so close and competitive now! Congratulations to Louis from Blackman class, Daisy from Wilson class and Riley from Bond class who were this week's Key Stage Champions and take their places on Winners Row. Both Louis and Daisy were first time finalists!
It's going to be VERY interesting in next week's final as the whole school is working on the four times table this week!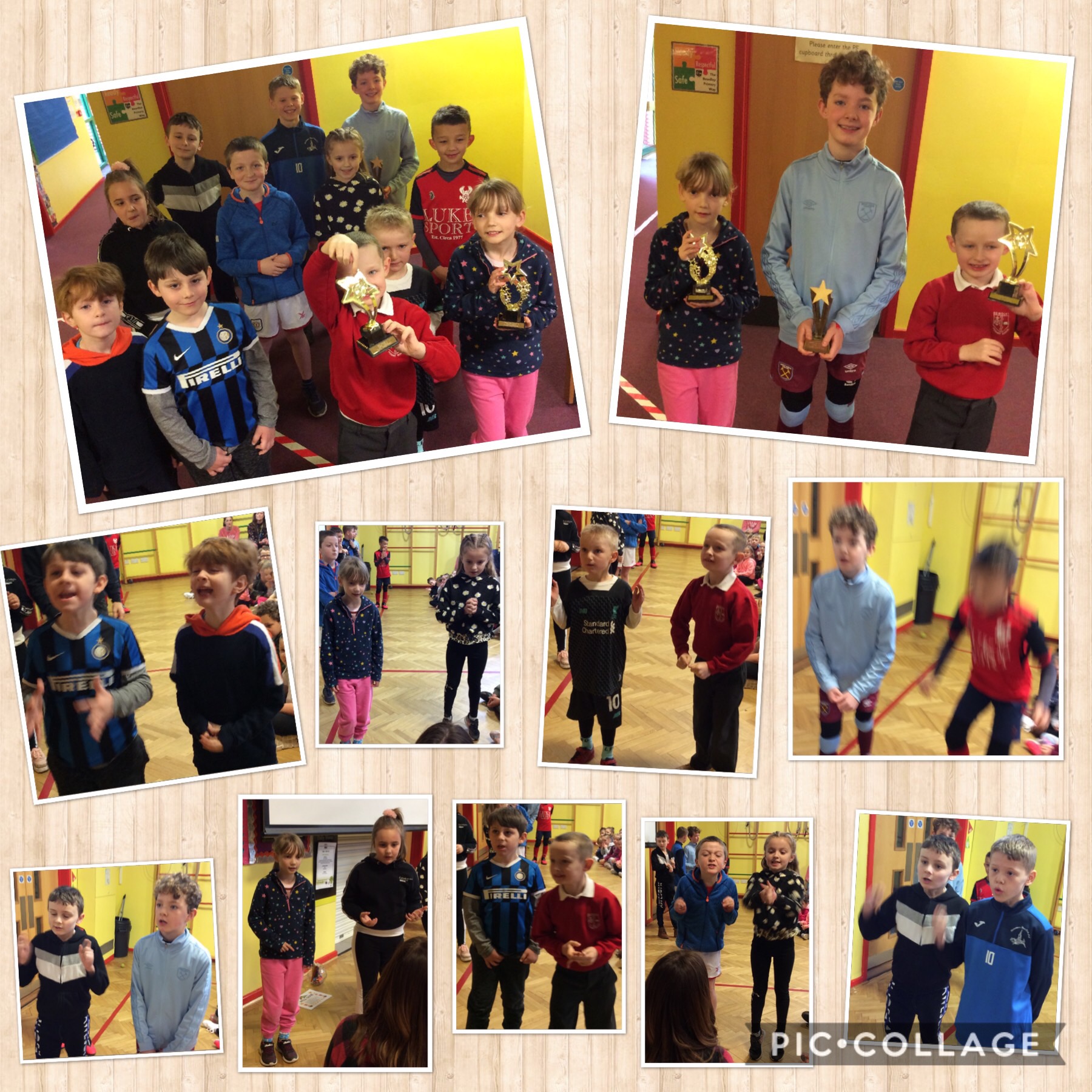 Friday 6th March
Congratulations to all of this week's Well Done Award winners. Unsurprisingly, most of the awards were linked to books, reading and enthusiasm for Book Week 2020! Well done to Lexie from Dahl class who has achieved her Copper Music Medal for her great work on the keyboard.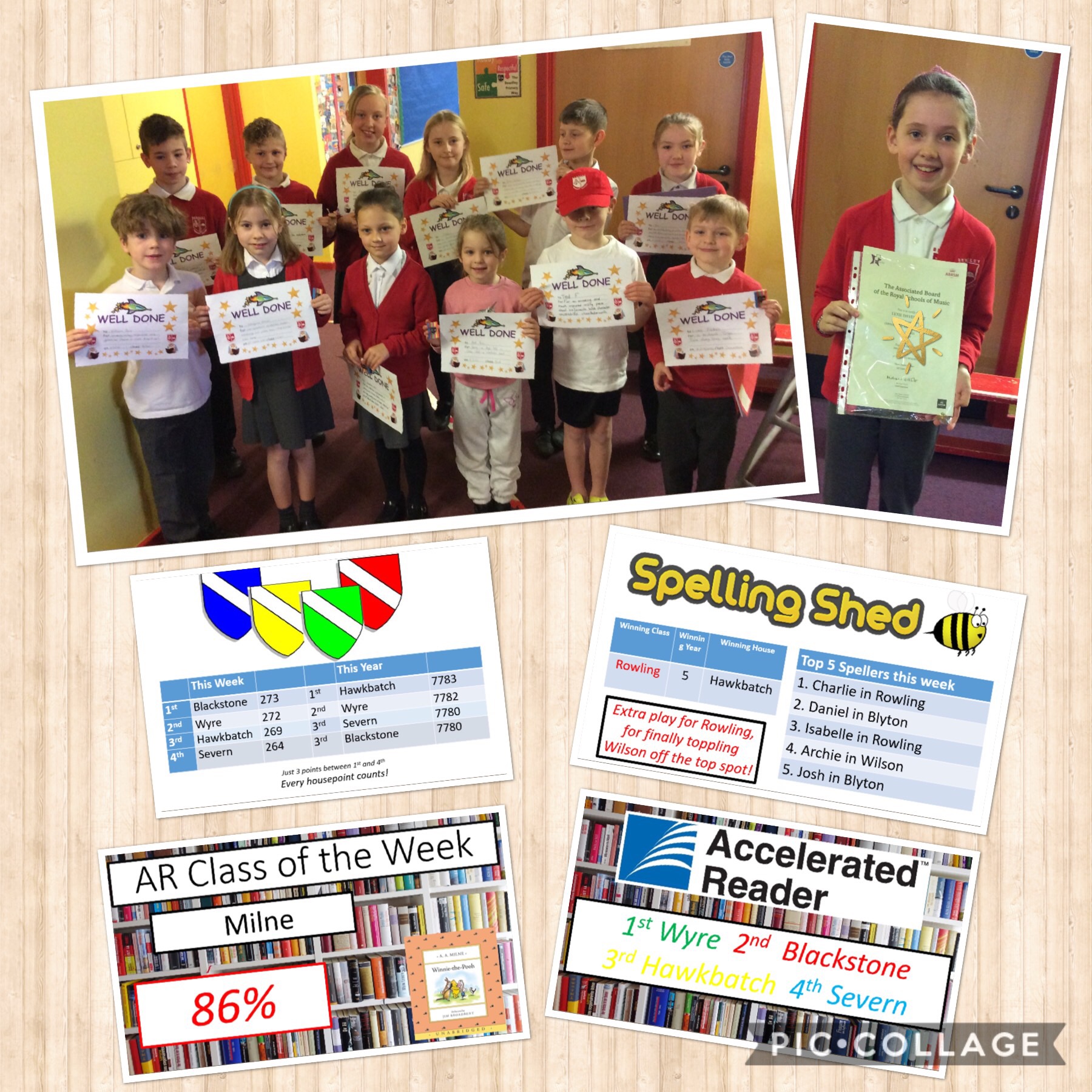 The Times Table championships were as entertaining as ever this week, after another enthralling competition! Congratulations to Evie from Blackman, Nic from Morpurgo and Lola from Bond who will all take their seats on Winners Row. Next week, Years 1 and 2 will be continuing with the tricky 4s, Years 3 and 4 will be tested on their 3s and Years 5 and 6 will also be going for the 3s.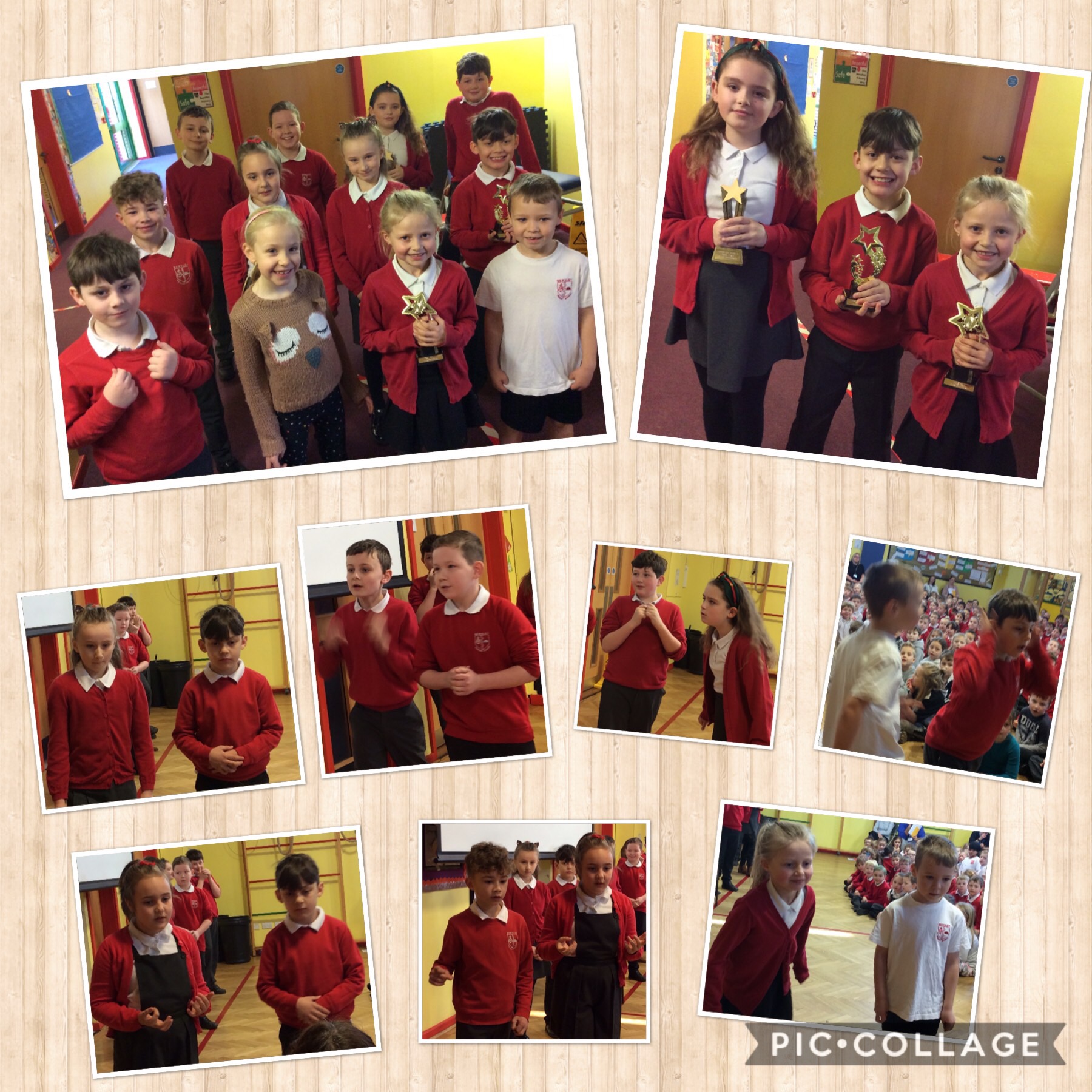 Friday 28th February
We had a great variety of awards this week, ranging from impressive writing skills to incredible news presenters, and congratulations to Alexis, who's passed her Copper Music Medal on the keyboard. The times table competition continues to be a closely fought battle with Lola from Bond, Elliot from Wilson and Ronnie from Lewis taking the top spots this week! For Friday's competition, Year 5/6 will be showing off their knowledge of the 6s, Year 3/4 will be mastering the 3s and Year 1/2 will be beginning to learn the 4s!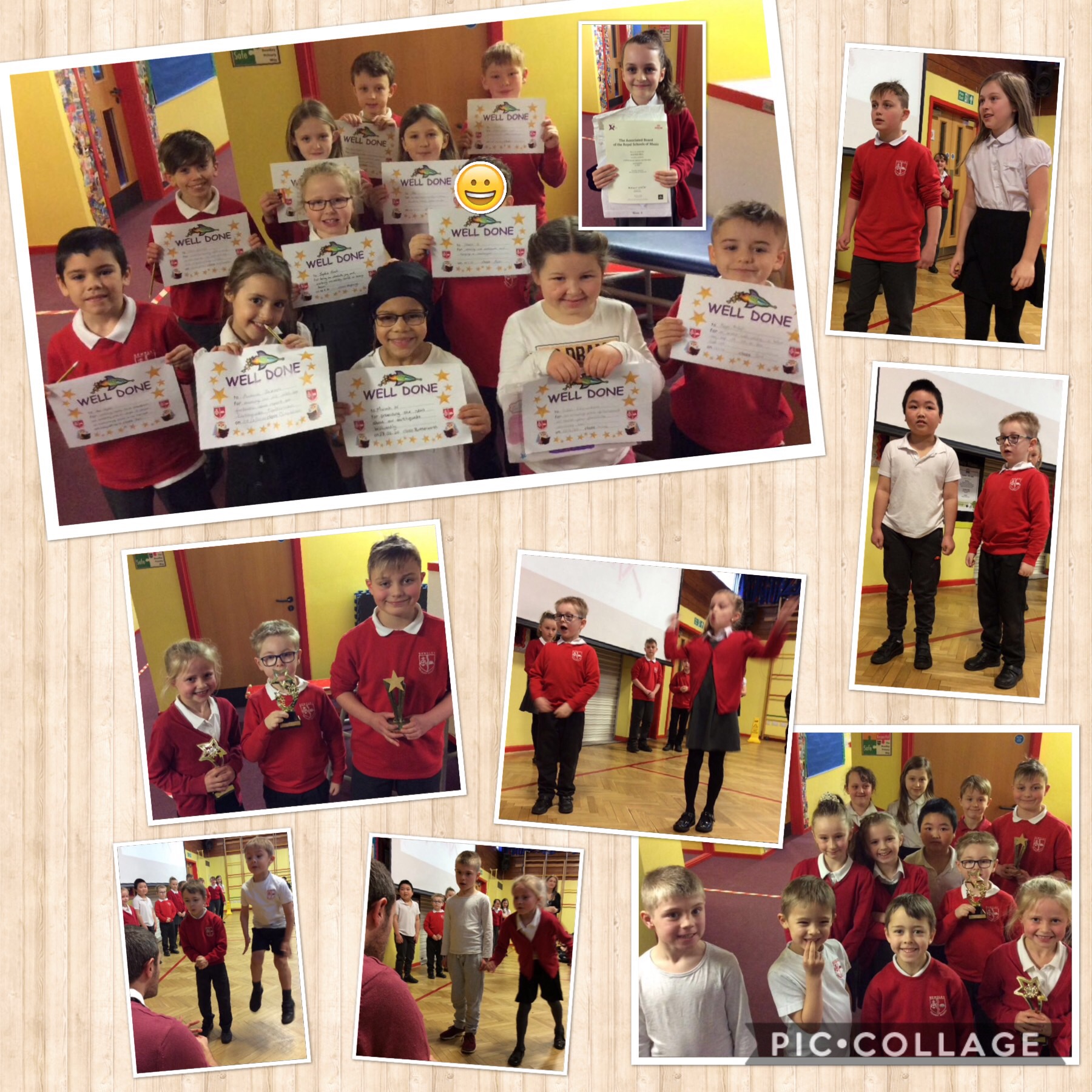 Friday 14th February
Swimming Awards
Congratulations to all of the Year Three and Four children who were presented with certificates in this week's Swimming Assembly. There were a variety of different awards given out which have been earned over the last three half terms. All of the children in the top left picture were given their 10 Metre Award - quite possibly the hardest one to achieve!
A special mention must go to Tilly, Ben, Ted, Alexis and Rueben who swam 500 metres (20 laps of the pool), without stopping and in under 30 minutes!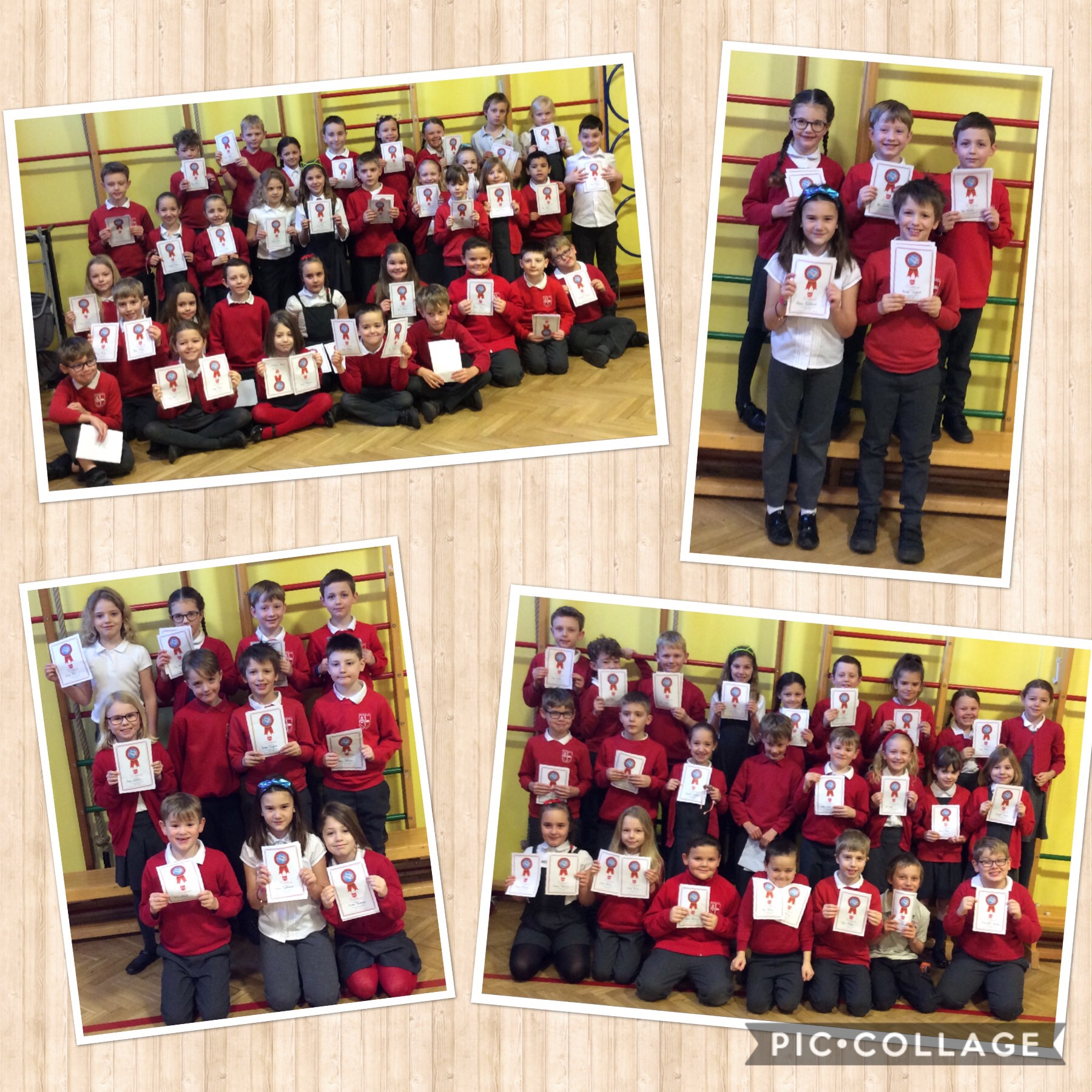 Friday 7th February
Times Tables
There were so many new Times Table Class Champions in the hall today and three more Key Stage Champions taking their places on Winners Row! Congratulations to all of the children who are competing in the competition - the improvements in multiplication skills can be seen throughout the school, in all ages and abilities. Next week, Years 1 and 2 are developing their 2s, Years 3 and 4 are starting their 7s and Years 5 and 6 are now working on their 9s!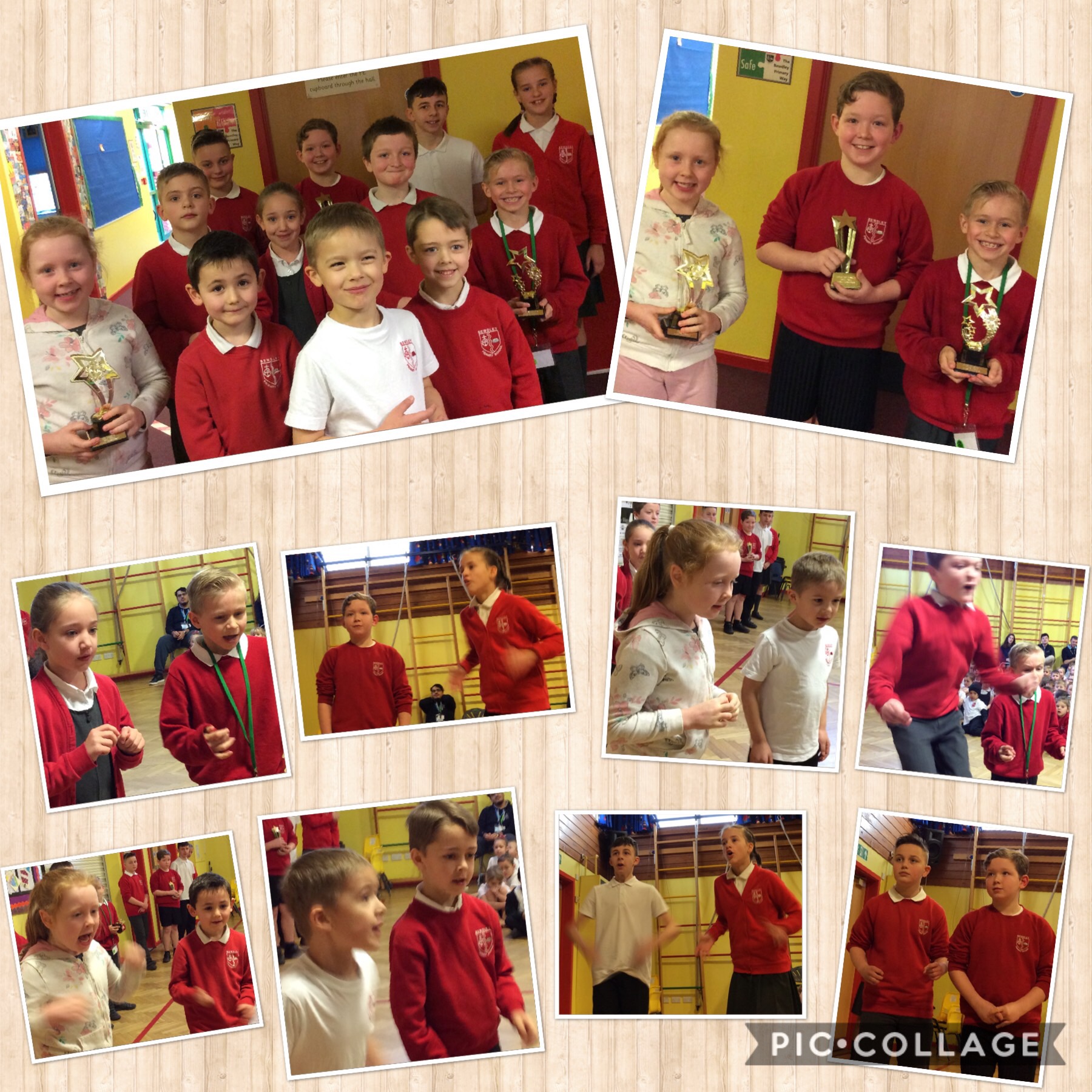 Well Dones
This week's Well Done Assembly started with the announcement of the winners of the 'If I were Prime Minister... Competition'. Congratulations to everyone who entered - it was a tricky task for our judges! Congratulations to Charlie in Donaldson class who recently won an award for his dressage work at horse riding and to Rosie from Walliams and Molly from Lewis represented BPS yesterday at the new Wyre Forest Fire Station in Kidderminster after winning a competition last year!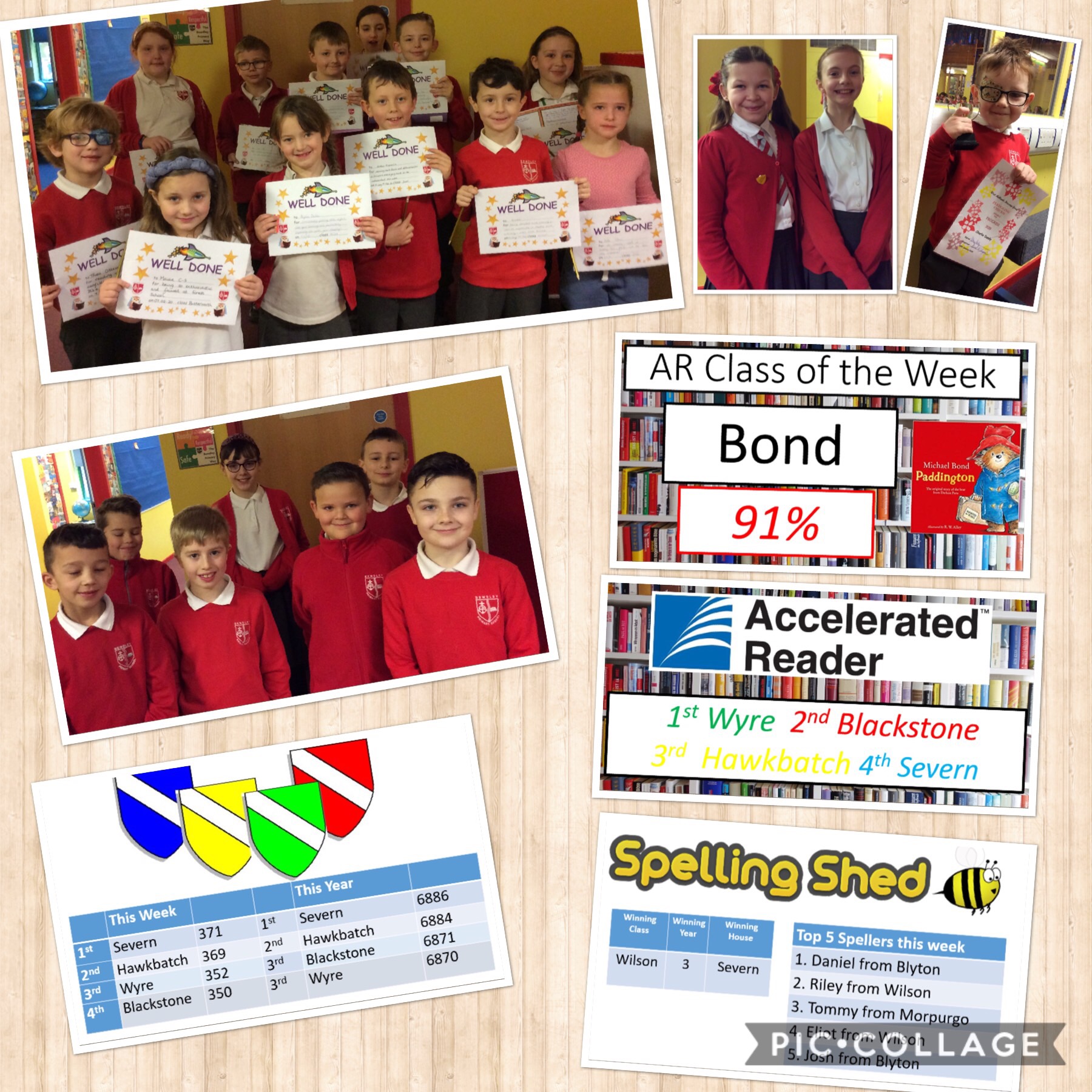 Friday 31st January
Times Tables
There were some familiar faces from last term returning to the Times Table Championship this week, along with some brand new class champions. Congratulations to Poppy from Bond class, Archie from Wilson class and Leo from Walliams class who all take their place on Winners Row!
Next week, Years 1 and 2 will be focusing on their 10s, Years 3 and 4 will be continuing with their 9s and Years 5 and 6 are sticking with the 7s!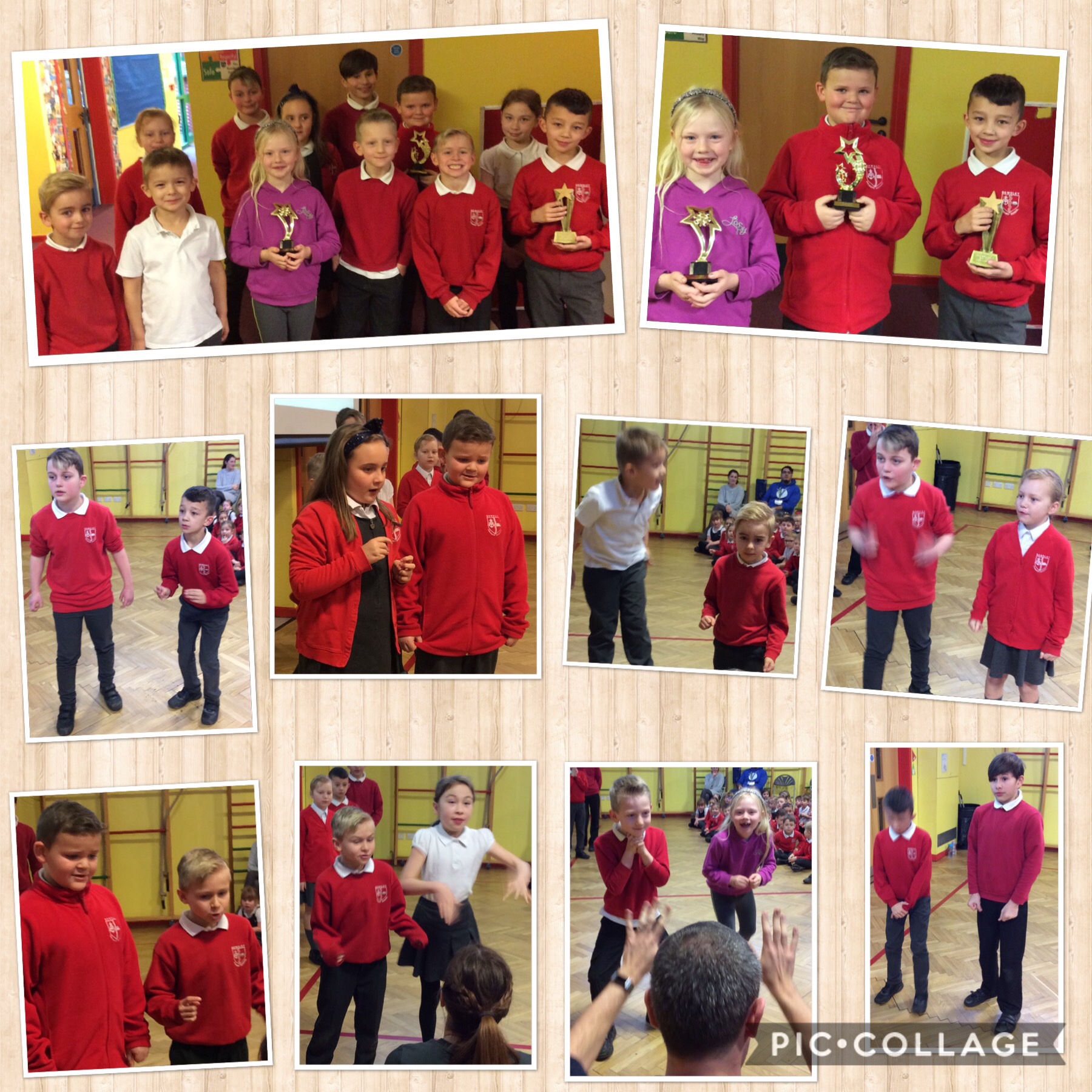 Well Dones!
It was another busy Well Done Assembly today with children being praised for their effort and enthusiasm, from Year 1 to Year 6. We also congratulated Freya from Morpurgo who came first in a cheer leading competition this week - Mrs Woakes has asked her to give the staff a couple of workshops! Our AR Millionaires Club (children who have read more than one million words since September!) continues to grow as Persephone from Walliams, Louis from Blackman and Nonin from Morpurgo have all joined this week.
Three of our Eco Team (Tilly, Maya and Persephone from Walliams) launched our 'Show the Love' Day which is on Friday, 14th February. More information about this can be found in this week's newsletter.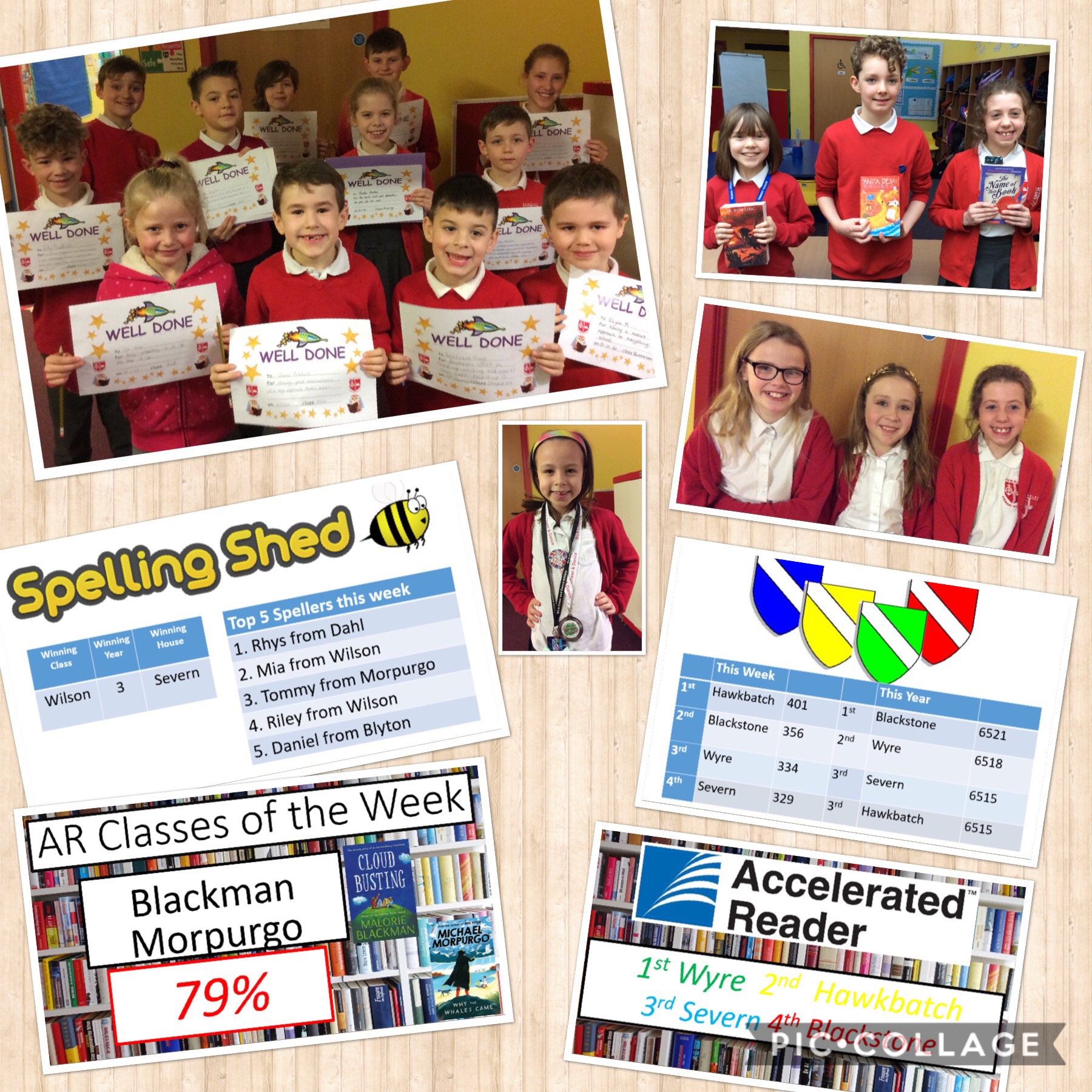 Friday 24th January
Our Times Table Championship was as exciting as possible this week with some new Ultimate Champions taking their seats on Winners Row! Well done to Ellie from Milne, Josh from Blyton and Sam from Rowling. Next week, the children are switching tables again with Years 1 and 2 working in their 5s at the moment, Years 3 and 4 starting to learn their 8s and Years 5 and 6 beginning with the 7s. Good luck, everyone!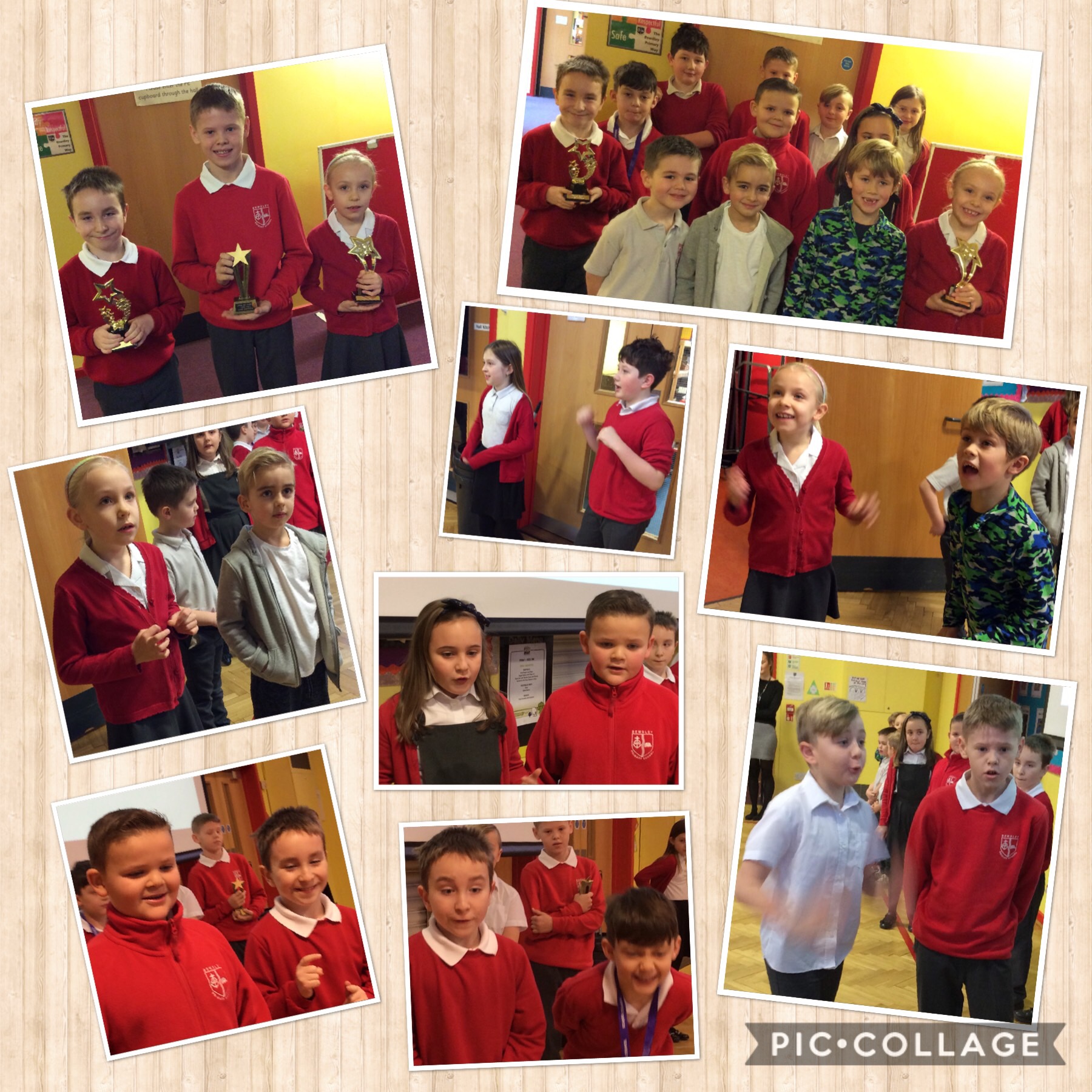 Our Well Done Awards this week celebrated a variety of skills and successes. Many of the children were rewarded for their great efforts and enthusiasm in reading, particularly in Year 6. Lower Key Stage Two are having a big push on independence and this was clear to see from the awards today!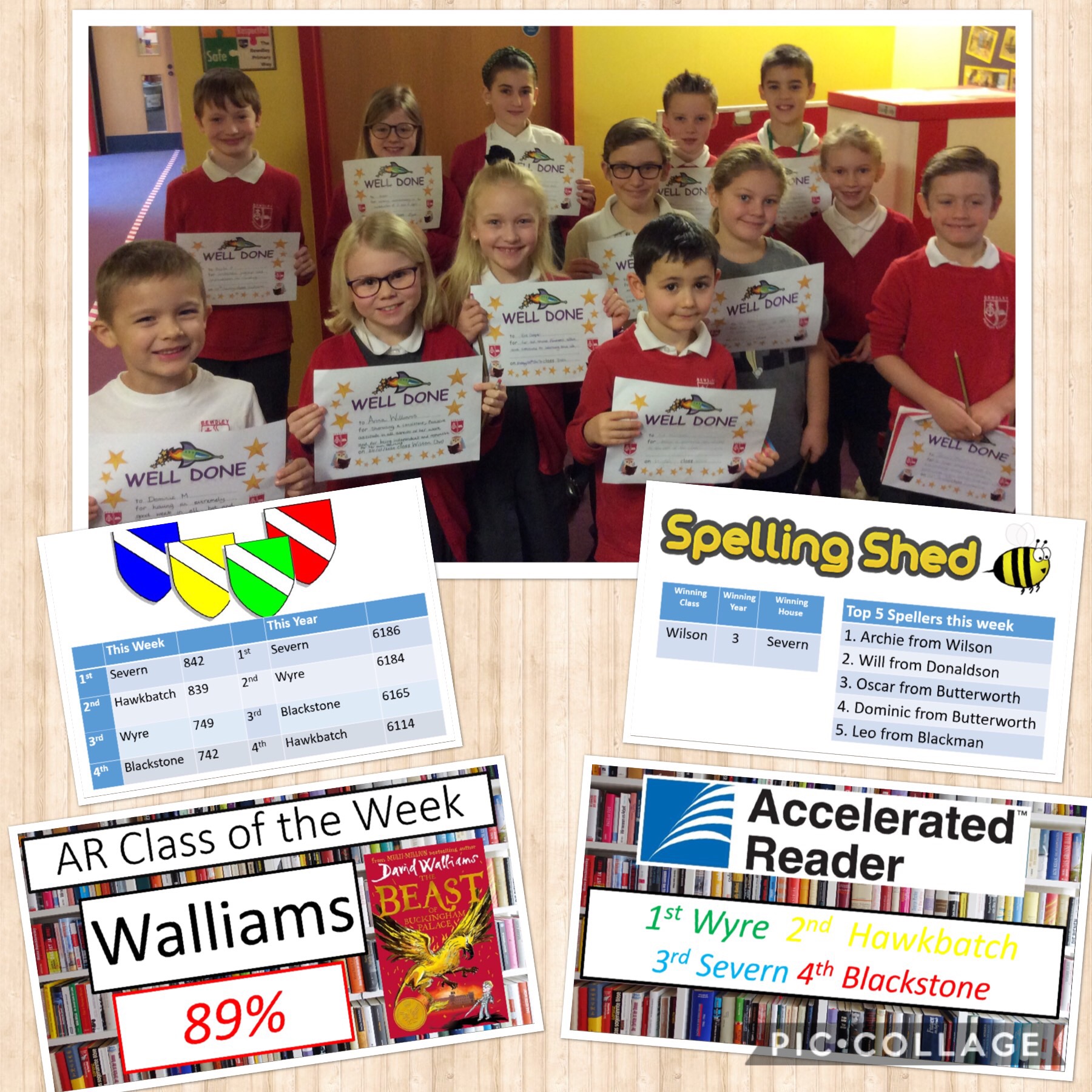 Friday 17th January
It was a jam-packed Well Done Assembly today with special mentions and celebrations throughout. Abbie in Rowling class received her Bronze Music Medal for her skills on the keyboard. Brook from Blackman class shared all of his swimming medals with us, which he's recently won with the Wyre Forest Swimming Club. He was also presented with a trophy for coming second in his age category at the W. W. S. C. Club Championships. Our Year 5 Police Cadets were announced this week and have already started their training - well done to everybody who applied for the positions.
Wilson class to continue to smash Spelling Shed while Morpurgo class were this week's AR class of the week. Severn led the way with this week's housepoints and they're now leading the yearly chart too!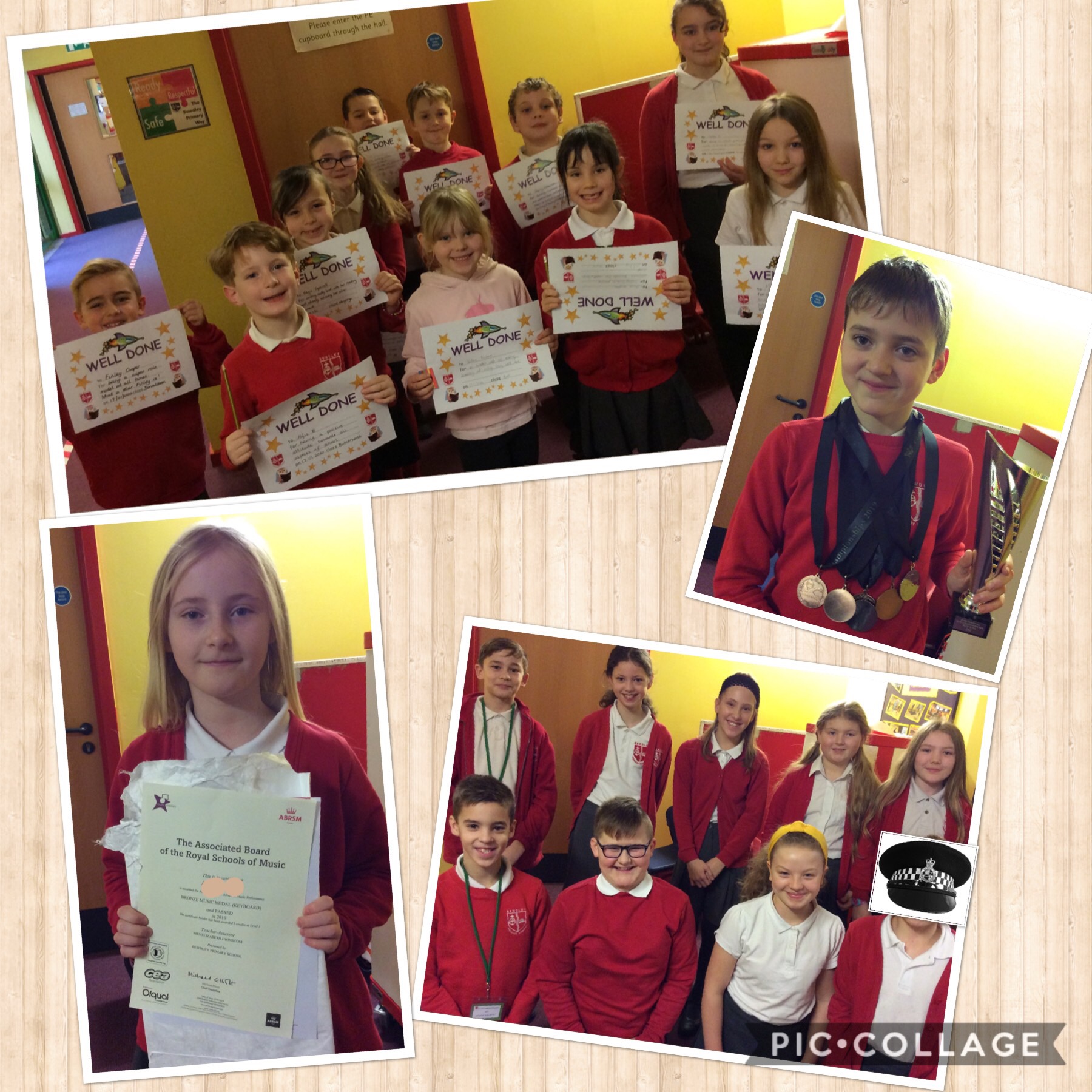 Another great week with our Times Table championship this week with some new faces sharing their success. Well done to Riley from Bond, James from Morpurgo and Evie from Blackman who will all take a space on Winners Row! For next week's competition, Years 1&2 will be continuing with the 2s, Years 3&4 will remain with the 8s and Years 5&6 are still with the 12s.​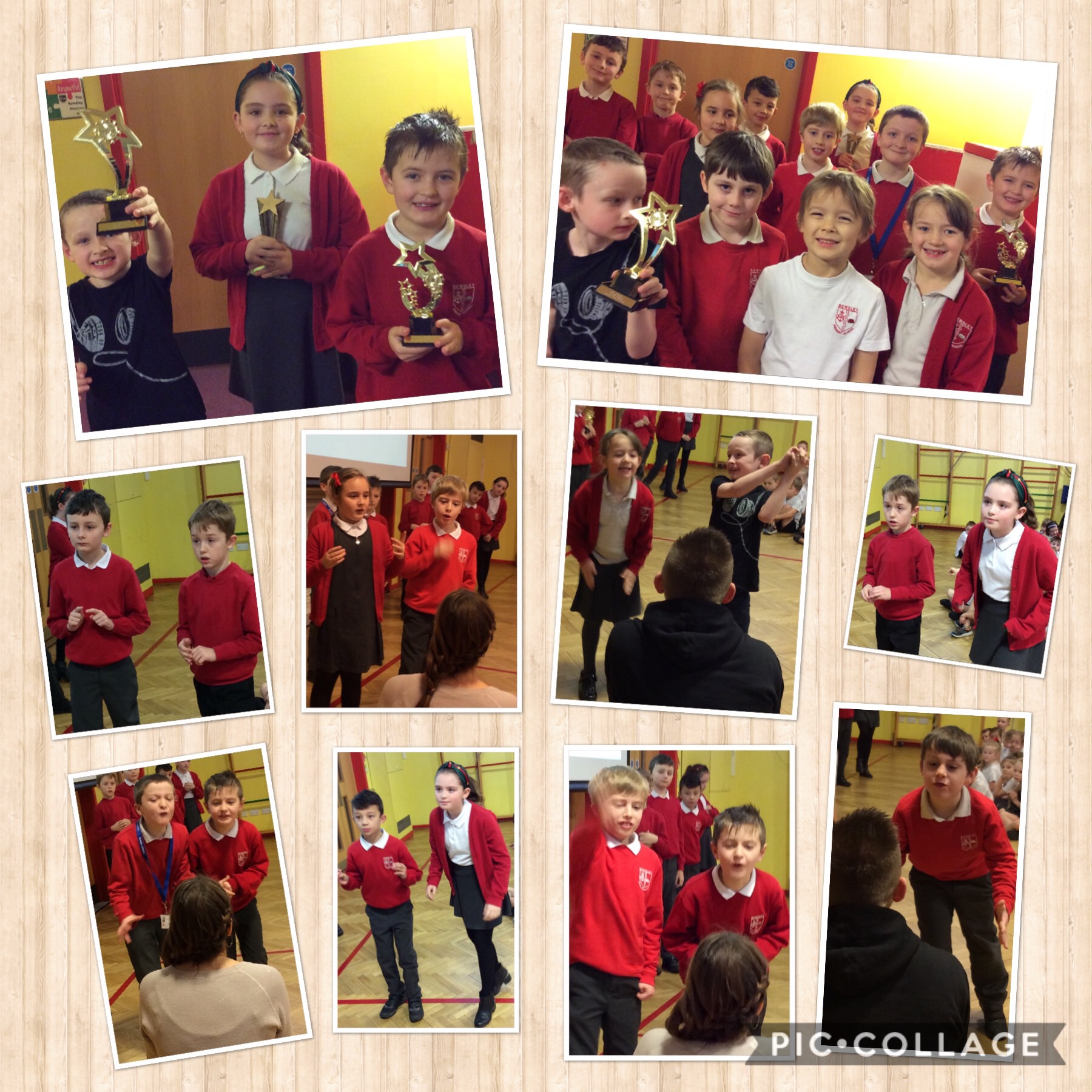 Friday 10th January
We had some outstanding Well Done Awards this week, with many being linked to the work we've been doing linked to climate change and the environment. It was also great to hear about all of the positive attitudes that have been noticed throughout the school too! Seb from Blyton passed his Bronze Music Medal with excellence and Daisy from Wilson completed Book 1 Piano in just one term! Karrie and Ryan, who are also in Wilson, were both awarded their Copper Music Medal today.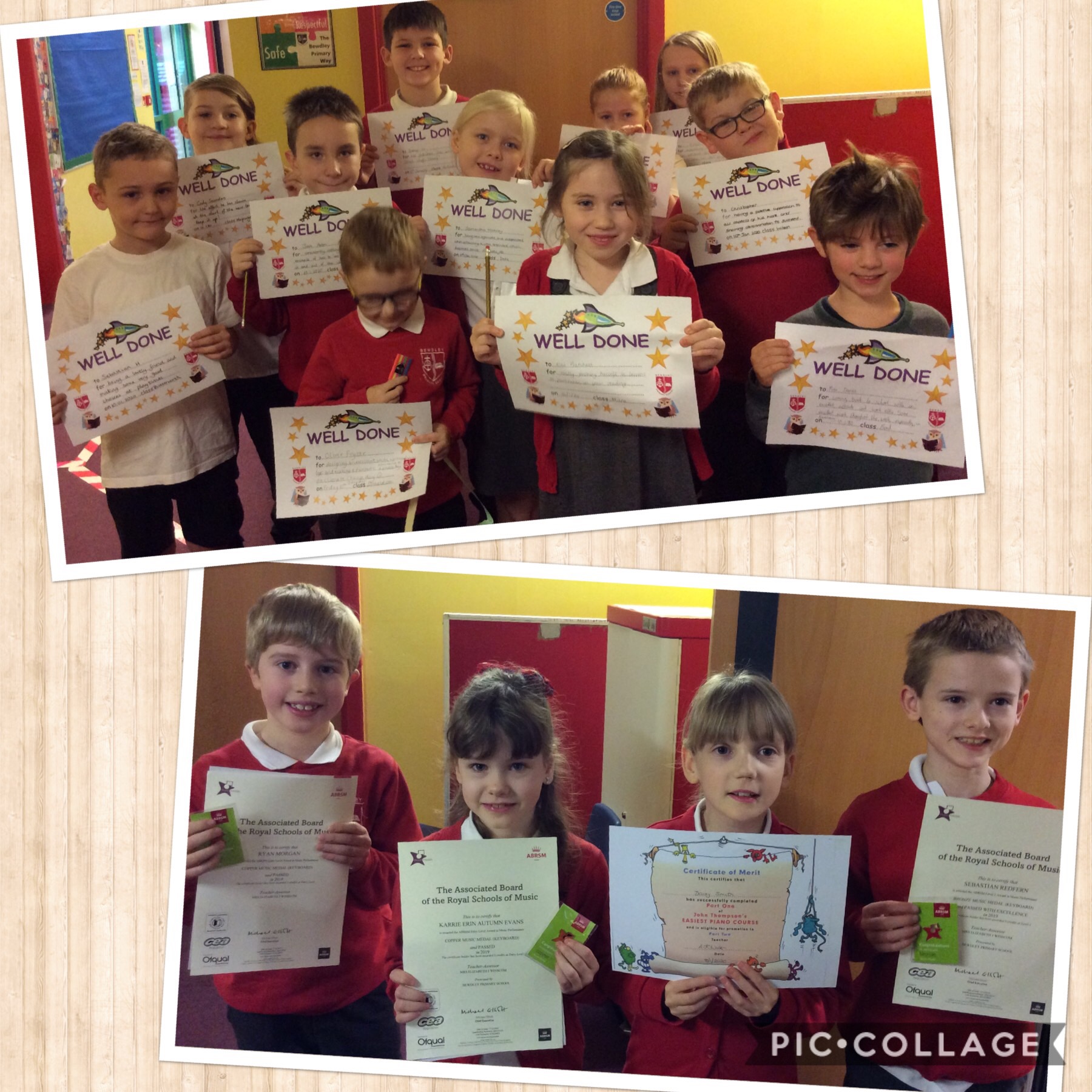 Our first Times Table Champions of 2020 are Riley, Reuben and Archie but the competition is getting so close every single time. Well done to all of our class champions who took part today. Next week, KS1 will be carrying on with the 2s, LKS2 are working on their 8s and UKS2 will still be practising the 12s!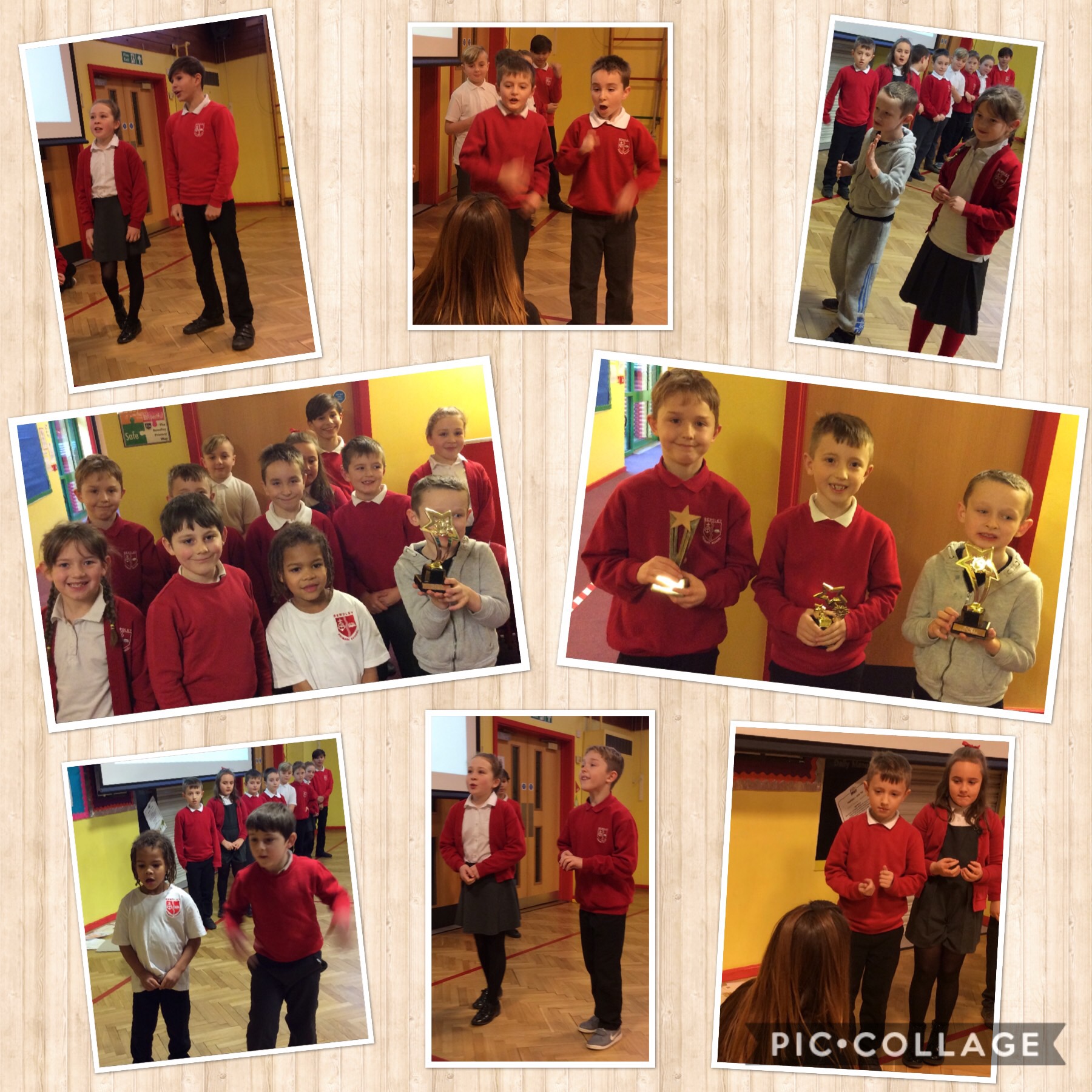 Friday 13th December
The major theme running through our Well Done awards this week was our fabulous Christmas productions. So many of our pupils were commended for their enthusiasm and dedication. Earlier in the week we also announced the winners of our Eco competition to encourage people to not drop litter. Congratulations to Josh, Willow and Maya who all won litter pickers! All of the finalists' posters can be seen on display in the magic corridor.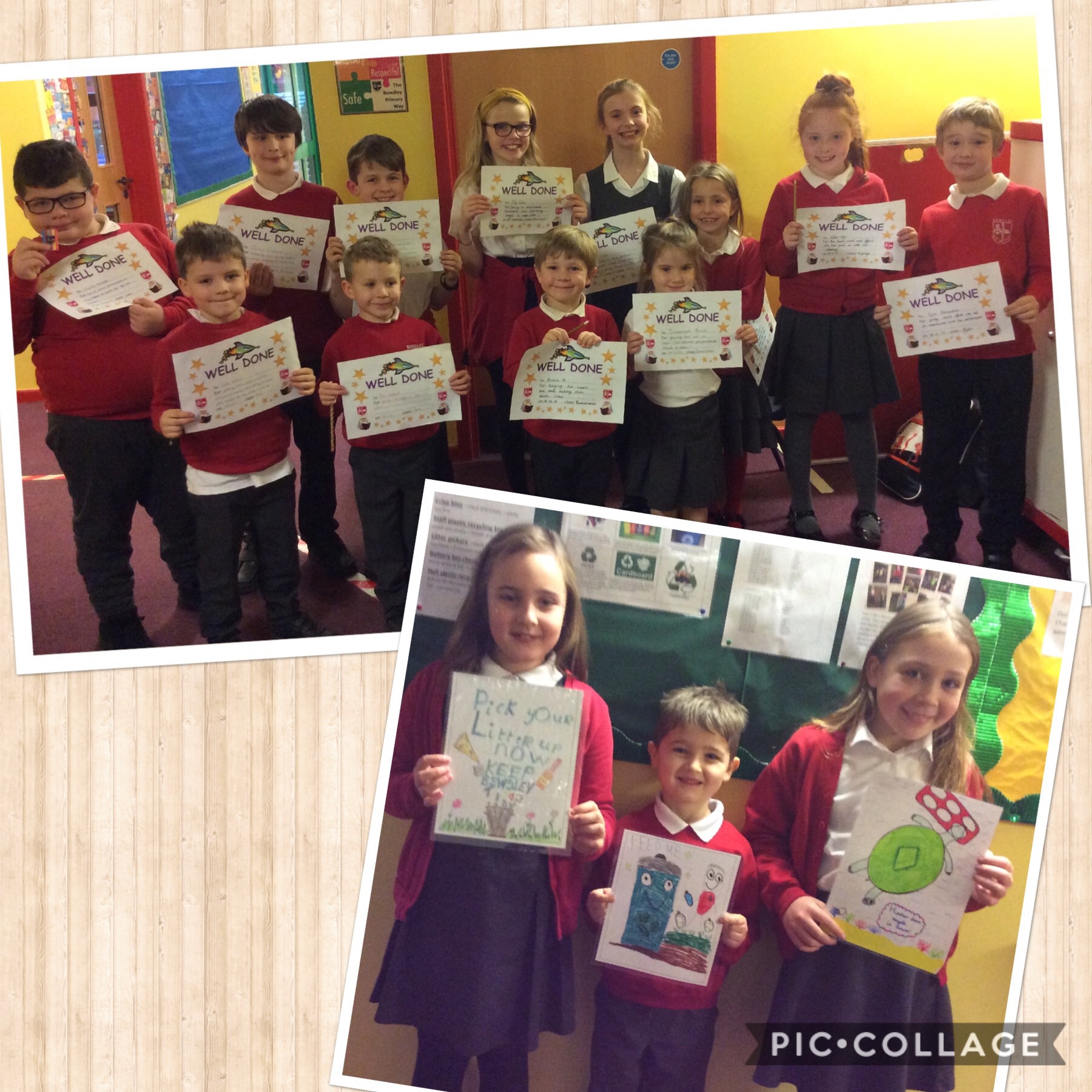 Friday 6th December
Our Well Done awards today were many and varied with lots of children receiving awards for their improved writing and desire to go above and beyond. Our maths championship is getting so competitive now, as you can see from the photos! Congratulations to Poppy, Phoebe and Leo who will represent their classes on Winners Row. Earlier in the week, we were lucky enough to have a performance from Seb on his keyboard playing Supercalifragilisticexpialidocious which was fabulous! Wyre continued with their winning ways and won both the housepoint and AR house challenges this week. Wilson appear unbeatable in the Spelling Shed competition while Milne were AR class winners for the second week in a row.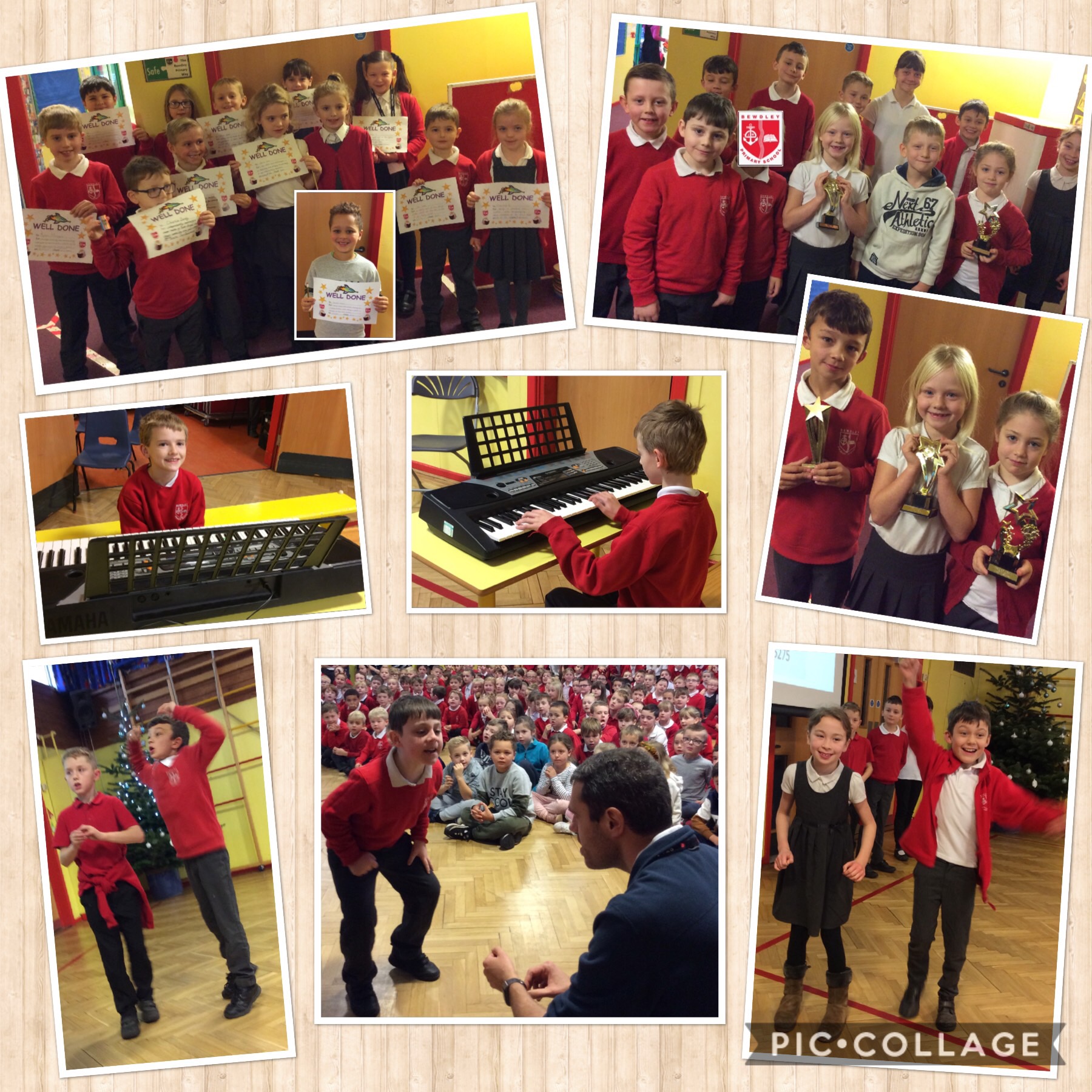 Friday 29th November
Congratulations to this week's Well Done Award winners! We had so many children being acknowledged for their fabulous attitude to work and for going above and beyond in a variety of different areas. Well done to all of this week's Times Table Class Champions and to our new Key Stage Champions who will take their place on Winners Row. We also congratulated Finley on being Swimmer of the Month at his swimming club. Wyre are certainly the house to beat at the moment as they are currently leading the weekly housepoints, the yearly housepoints and the AR house of the week! For the fifth week in a row, Wilson class have been our Spelling Shed winners and Milne class came top in Accelerated Reader quizzes.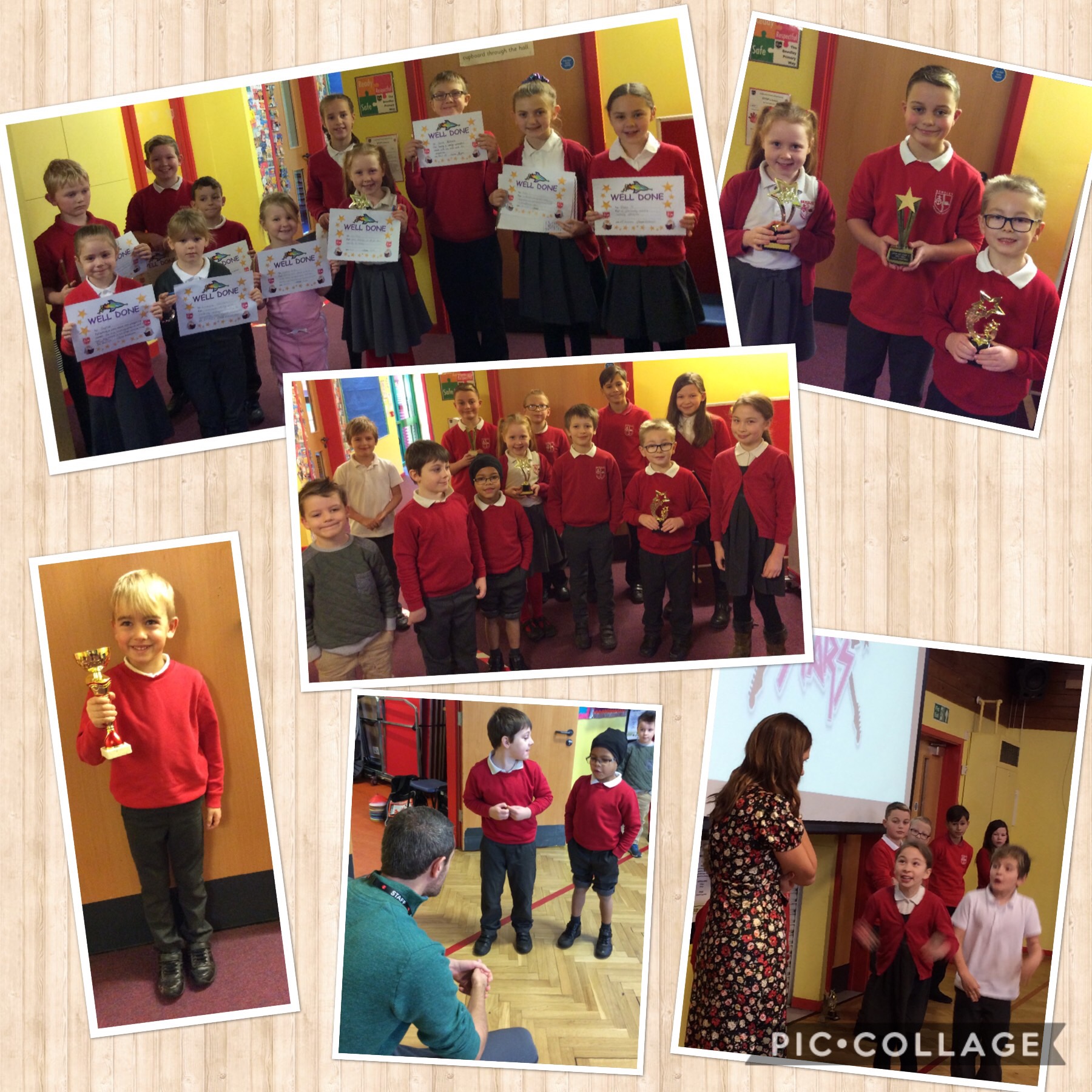 Friday 22nd November
Lots of our Well Done Award winners this week were chosen for their improved confidence and willingness to have a go at anything! Year Six were given a Special Mention for the way they conducted themselves whilst out Geocaching yesterday. In our second week of the Times Table Championship, we had some returning Class Champions as well as some new faces. Congratulations to Jack, Josh and Oliver who are this week's Key Stage Champions. Severn earned the most amount of house points this week although Blackstone are still leading overall. Wilson won our Spelling Shed class of the week (for the fourth week in a row!) and Blackman were our AR class of the week!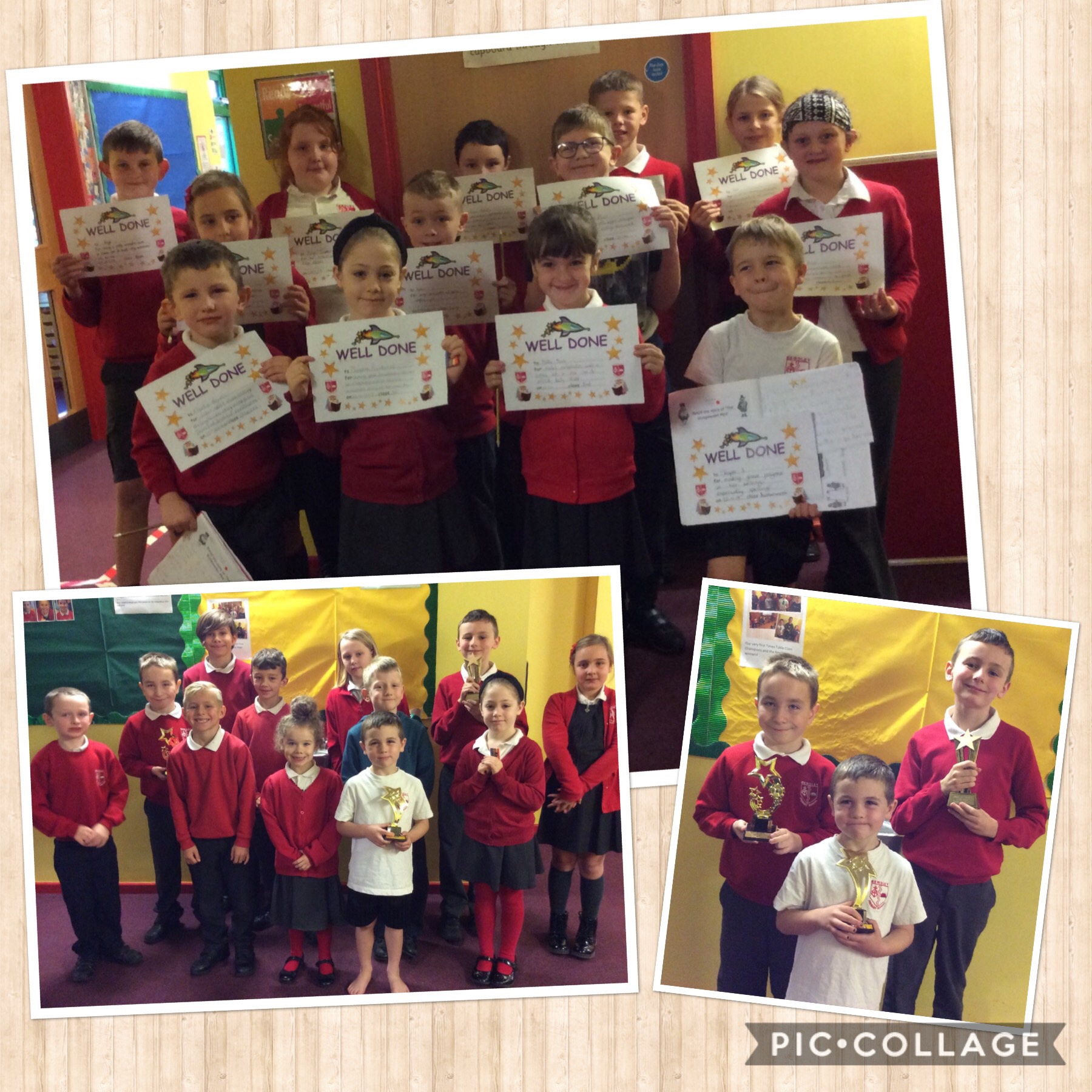 Monday 18th November
We celebrated our postponed Well Done Awards today with many children being highlighted for the additional work they're choosing to do at home and the great impact that's having on their school work. We also had many commendations linked to our new Times Table Championship and the enthusiasm and hard work that's being seen across the school. Julia helped us to count this week's winners in Polish whilst Caitlyn shared her many gymnastics medals from her recent competition and told us all of the different skills she had to demonstrate to win them! Well done to everyone who bought donations in on Friday for Children in Need, we managed to raise almost £670.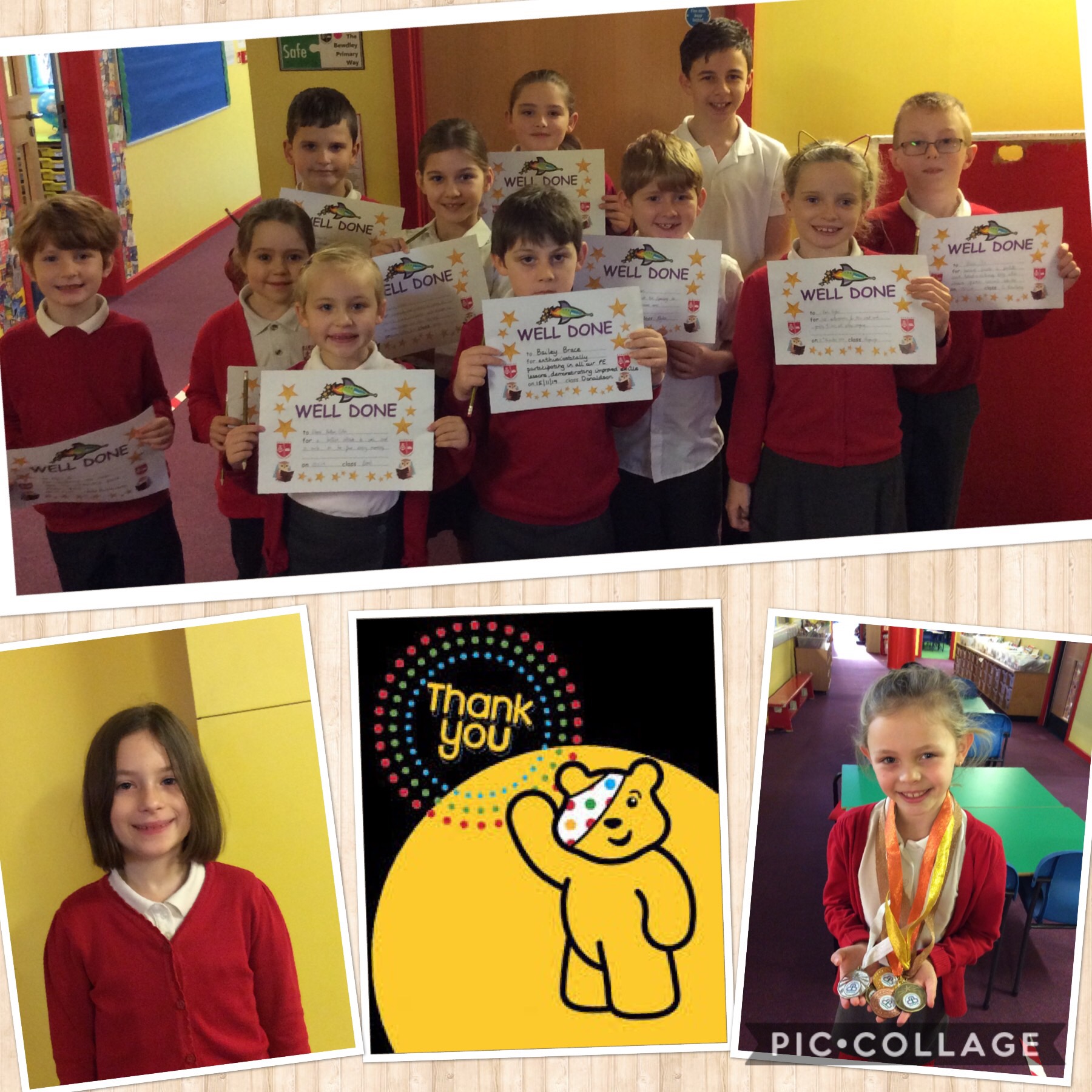 Friday 7th November
Unsurprisingly, all of our Well Done Awards this week were along the theme of aspiration, determination and positive attitudes. Many of our winners shared their own aspirations, including a Blue Peter presenter, a dentist, a pilot refuse and Prime Minister! We were also treated to a performance from choir of 'When I Grow Up' from the musical Matilda. The full video can now be seen on our Facebook page.
Wilson class was our top Spelling Shed class again and Wyre topped the weekly housepoint table for the second week in a row and are now only 7 points behind Blackstone in the overall housepoint total for the year!