Bewdley Carnival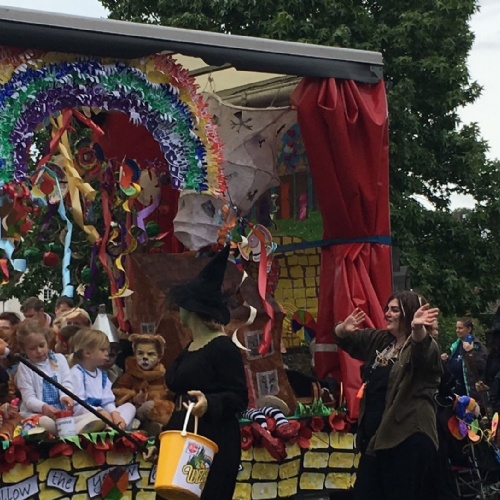 Bewdley Primary School had much to celebrate this week with the release of our 'Good' Ofsted inspection and being awarded 1st place, and the Bewdley Rowing Club Trophy, at Saturday's Bewdley Carnival.
Over 150 children and staff braved the weather to present an impressive float and walking tableau entitled 'Follow the Yellow Brick Road…'. The Wizard of Oz theme extended to their entertainment which included dancing, singing and kazooing!
In the run up to the carnival, all of the Bewdley Primary children enjoyed 'Arts Week' which included a variety of art, dance and music workshops. To create the decorations for the float, including life-sized models of the characters, the children used as many recycled materials as possible.
Jane Woakes, headteacher at the school, said, "This week has been incredible. Such a creative and energetic week has given the children so many new experiences and skills. We've used the theme of The Wizard of Oz to support our PSHE curriculum too, teaching the children about friendship, courage and self-belief. To take part in the carnival, and for the children to have their hard-work rewarded, has been the perfect end to our week. It is wonderful that so many pupils and staff wanted to participate in this community event."
In our recent OFSTED inspection, which praised the school's pupils, leaders and governing body, Bewdley Primary were able to retain their 'Good' rating. The report commented on the school being 'a friendly place where all are welcomed and supported' and this was reinforced by the parent questionnaire where 96% of parents agreed that their child was happy and well taught at the school.
We have recently had approval to increase our pupil admission numbers and, therefore, have places available in all year groups, from September. For further information, please contact the school on 01299 403796.
Songs from the carnival
Kazoo Practice!